The Gadgeteer is supported by readers like you! If you buy something through links on our site, we may earn an affiliate commission. Thank you! Learn more.
Just found an interesting little doodad in my mailbox today. The Earbud Clip from PKOH NYC. Basically it is a Lexan polycarbonate clip that allows you to easily secure your earbud cord around your audio device. Comes in a set of 4 for $9.95.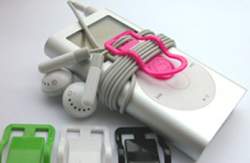 —
I'm hoping my Cingular Treo 650 will be delivered today. I've been using my Verizon Treo as a PDA for the past week and it feels like an old friend. Fast, great display, and lots of apps. I'm glad to get back to a real smartphone.
—
I ordered a Mac mini last week as a 2nd computer, and may order an iBook this week as a travel computer for an upcoming trip. The switch to Apple is sticking this time folks :o)