We use affiliate links. If you buy something through the links on this page, we may earn a commission at no cost to you. Learn more.
I have been reviewing Slappa DVD
and CD cases since last year, and in that time I have found them to be the best
portable audio-video storage solutions I have ever
used. Slappa's attention to the smallest storage details – and the quality
materials from which they make their cases – sets theirs apart from every other
product in the same category. When I was first told that Slappa would be
coming out with a line of laptop cases, I thought the idea was great but
I wasn't sure what to expect. Would this new line be something similar to their
typical combination of rigid outer shells with soft inner filler? I think I must
have been envisioning a cushy shoulder strap attached to a bag resembling their
360Pro DVD case – rugged,
safe, lots of pockets and very well made – but perhaps not such a great
looking bag. See, I was having trouble envisioning how their tried and true
design would translate into a usable bag, which is why they are the
manufacturer and I am the reviewer.
I did not have to wait very long before I saw
pictures of Slappa's new
laptop line, and while there is one bag that
cleverly utilizes their
tough shell design, I am pleased to say that none of their bags look like a
glorified CD or DVD case. While managing to stay true to Slappa's best
qualities, these bags also manage to introduce several unique features which I
have not yet seen in any other laptop bags. I was sent their Velocity PRO Laptop
Backpack, which we will be taking a look at today. Available in black on
black or silver on black, I was sent the solid black version.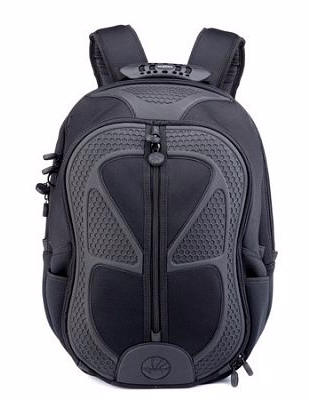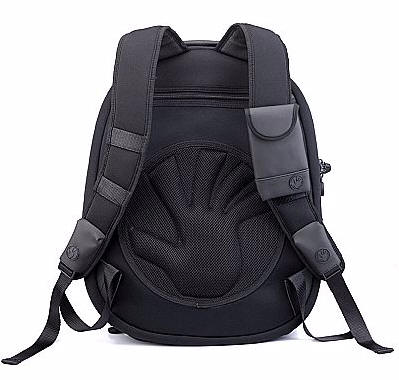 photos courtesy of Slappa
The Velocity PRO is composed of a combination of "scuba-prene" and rubber,
and it measures approximately 17.5" tall x 13" wide x  6" deep and weighs
about 3.5 pounds. Because the bag is made of stretchy, light and water-resistant
material, it will adapt to fit just about anything the owner needs to carry – in
just about any weather conditions. I'll warn our readers now that there are
quite a few logos on this bag. Although most are black and they blend in quite
nicely, they may still bother some consumers.
The backpack is divided into five sections, each accessible through dual
zippers capped with distinctive rubber Slappa pulls.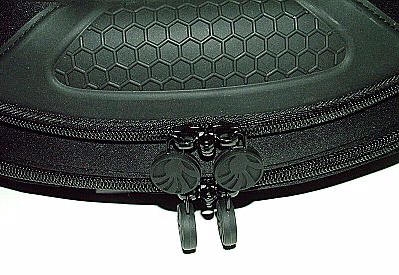 Each end of every exterior zipper has a rubber catch to cradle the base of a
zipper when one is in the retracted position. Notice that the exterior zippers
also have built-in metal loops, which allows them to be locked when they are in
the closed position.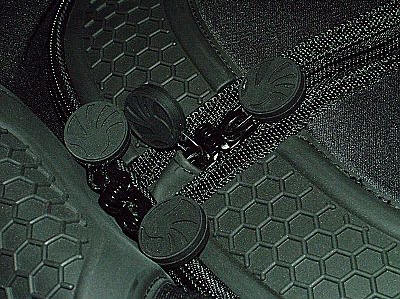 There are two open scuba-prene pockets measuring approximately 4" tall x 3"
wide on either side of the front section, into which an iPod, small camera, or
other small flat item can be kept when the owner needs it to be immediately
accessible. Each pocket is lined in soft black micro-fleece.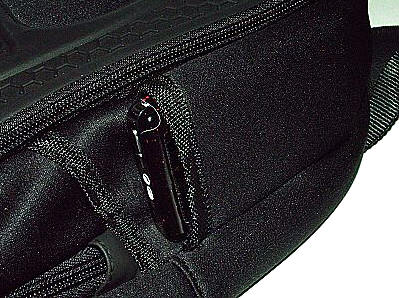 Directly above the left side's pocket is a metal D ring, suitable for
attaching keys or other items.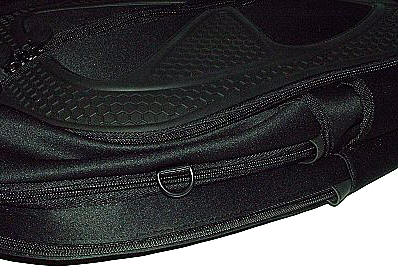 The top of the backpack has a very substantial (1" thick) rubber handle which
will provide an easy and comfortable way to tote the bag when the owner does not
want to carry it upon his or her shoulders. This handle alone earned significant
exterior points with me, because nothing sours me on a bag quicker than thin –
meaning painful to lug- handles.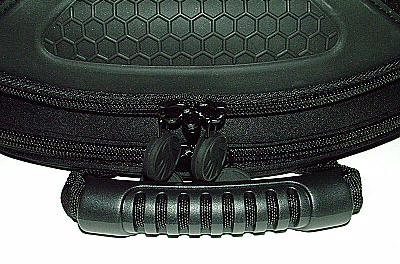 The shoulder straps are approximately 2.75" wide and they measure 0.73" thick
due to their padding.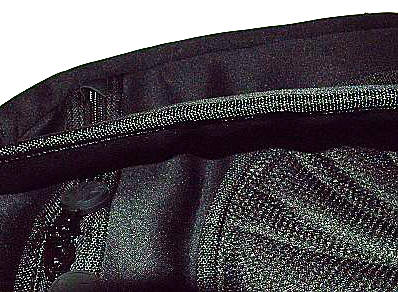 The portion that faces the outside is covered in scuba-prene, while the
underside has a rubbery texture that helps keep the straps from slipping. Each
shoulder strap has two substantial nylon straps placed horizontally
approximately 2.5" inches from each other.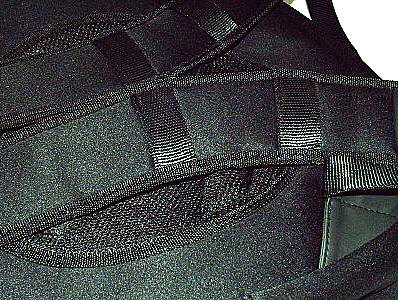 These straps are suitable for attaching additional pouches or other
accessories – such as the included mobile phone carrying case.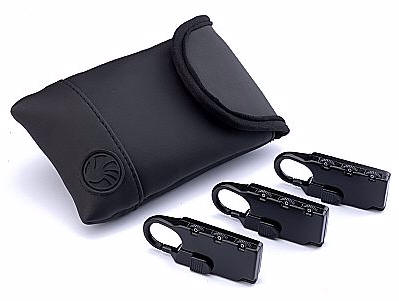 photo courtesy of Slappa
The locks shown in the above picture are also included, allowing three of the
five exterior zippered compartments to be secured from nosy roommates or
officemates. Also included is a heavy duty rubber luggage tag into which a
business card may be inserted. This tag can either stay on the backpack to
identify it as the owner's, or it can be attached to another piece of luggage.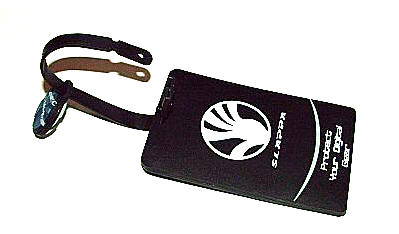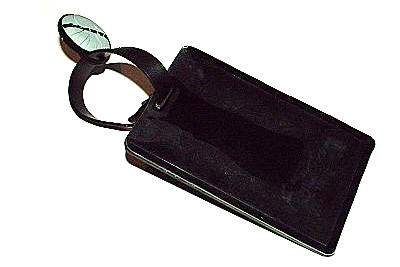 The shoulder straps are adjustable on the rear of the backpack, and they can
actually be unclipped – although they are not removable. The portion of the
strap containing the clips is covered with a flexible rubber boot.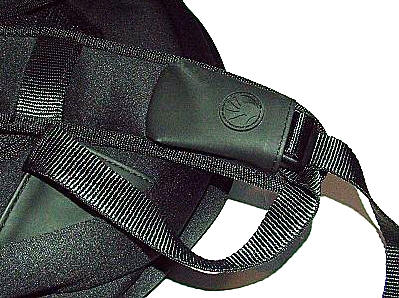 Now we'll take a look at the various compartments which make up the bag…
The first section, located behind a 12.5" dual zipper on the front, is a open
chamber measuring approximately 15.5" tall x 10.5" wide. When empty, this
chamber lays flat, but when items are added it will expand to a depth of perhaps
an inch or two. The entire compartment is lined in soft black micro-fleece.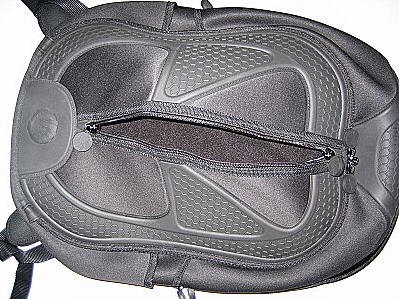 Directly behind, is a dual zippered compartment which measures approximately
16" tall x 11" wide. This entire compartment is also lined in cushioning black
micro-fleece, but instead of being an open cavity it features quite a few
organizational compartments. On the portion of the flap which folds away when
unzipped, there is a zipper which secures an 8" wide x 6" deep pocket. Because
of the way this flap opens, it can be laid open completely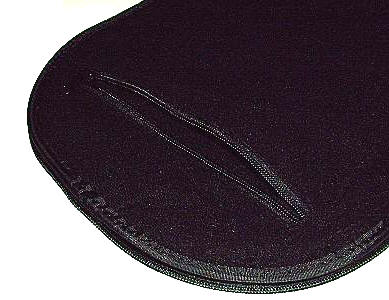 The opposite side holds a keyring clip and a 10.5" wide x 6" deep zippered
pocket which sits directly behind an organizational panel. The panel contains
two 0.75" micro-fleece pen slots which should hold anything from a wider
fountain pen to a highlighter. The pen slots are flanked by two micro-fleece,
Velcro-tab secured pockets. The pocket on the left measures 2.5" wide x 5" tall,
and is gusseted to accept an item up to 0.75" thick. The pocket on the right
measures 3.75" wide x 5" tall, and is also gusseted to accept up to an inch
thick item. The first thoughts I have as to how to use these pockets would be
for a digital music player in the thinner pocket and a PDA in the other.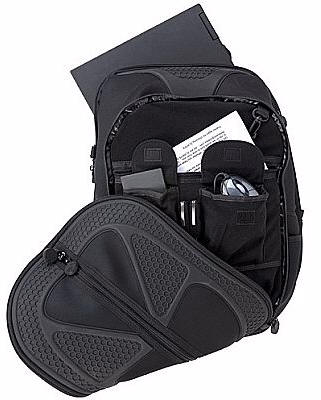 photo courtesy of Slappa
Directly behind the organizational compartment is an approximately 17" tall x
13" wide x 3.5" deep compartment that would be perfect for holding books, files
or other bulky items which the owner would like to keep separate from the laptop
compartment.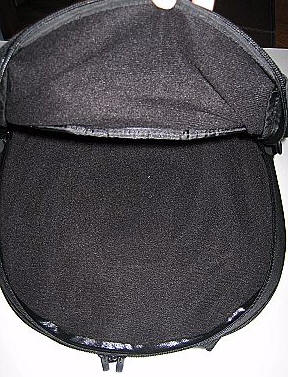 On the inside right of this micro-fleece lined compartment is a mesh pocket,
which would be suitable for keeping a smaller thermos, water or soda bottle
secure. People that don't like to display their beverage of choice prominently
on the outside of their bag will appreciate this feature – just remember to keep
that cap screwed down tightly!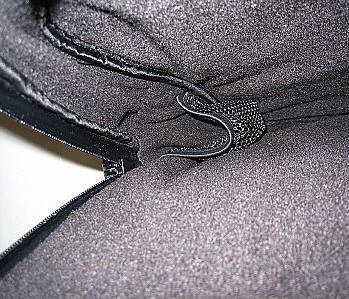 The last pocket accessible from the front of the backpack is the laptop area.
This is a 17" tall x 13" wide x 2" compartment that features a padded
micro-fleece lined pocket with a Velcro secured flap. Depending on the width of
the owner's laptop, thin files or books could also be stored in the front
portion of this compartment, separate from the laptop's padded pocket. This
laptop pocket is made to safely carry up to a 16" portable computer.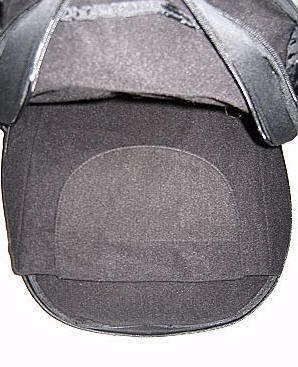 The last compartment is located on the rear of the bag, and it is not one
that I have ever seen in a laptop bag of any kind. This 14" tall x 13" wide
pocket is insulated and composed of a flexible plastic "stay cool" lining for
keeping cold items cold. The pocket is made to expand into the backpack; its
depth will be determined by how full the backpack is kept.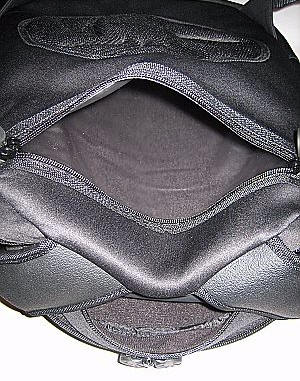 The Velocity PRO is also available in a
messenger sling style
for those which prefer the backpack shape but a differently configured strap
system.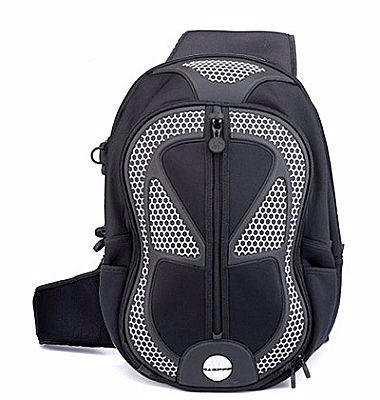 photo courtesy of Slappa
As I mentioned before, Slappa's new line has managed to stay true to their
best qualities while also introducing several unique features. I suspect that
once the word gets out, other companies may decide to incorporate a few of these
new conveniences. If you are in the market for a laptop backpack that has a safe
place for your music player, PDA, laptop and lunch – then the Velocity
PRO may be just what is needed.
Product Information
Price:
79.99
Manufacturer:
SLAPPA
Pros:

Extremely well constructed with quality materials and workmanship
Light, stretchy and water resistant scuba-prene and rubber exterior
Thick handle on the top
Hidden beverage holder
Insulated lunch compartment
Micro-fleece lining in almost every compartment and pocket

Cons:

All of the logos may annoy some consumers