We use affiliate links. If you buy something through the links on this page, we may earn a commission at no cost to you. Learn more.
Back when I was using a Fuji P2110 laptop as my main computer, I would get
concerned because its underside always seemed to be so hot to the touch. Not
surprisingly, it wasn't unusual to have an occasional blue screen reset after
periods of hard use. I suspected that these "blue screens of death" were
directly related to my laptop overheating, which was causing an unstable
environment for my hard drive. Actually, it's a wonder I never lost all of my
data. Not long after the crashes began occurring, I began to use and appreciate
products that helped keep my inadequately cooled laptop in a safe operating
zone.
In the past I have reviewed Jetart Technology's

NP4000 and the

NP5000 Notebook Coolers, today I will take a look at the
NP6900 which takes the genre to a whole new level.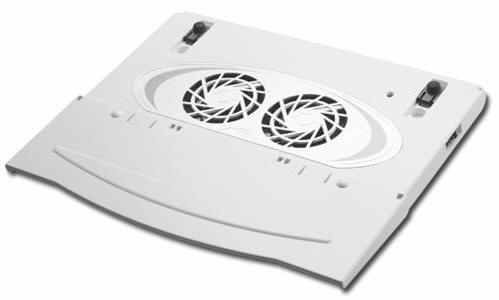 Photo courtesy of the Jetart website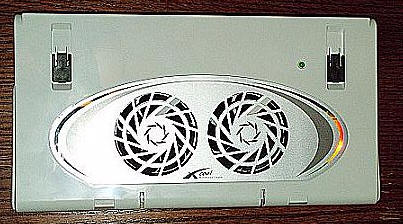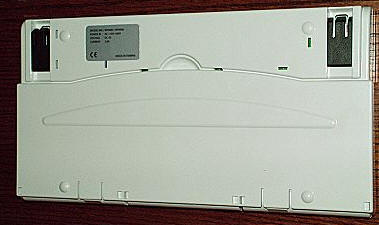 Past notebook coolers that I have reviewed have been portable, but this one
takes that idea to a new level. Measuring approximately 11.75" wide x 6.25"
x 1" thick when
folded, it opens to 11.75" tall x  10" wide x 1" thick.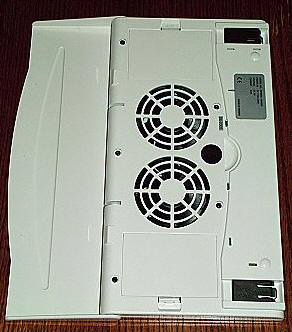 The entire unit weighs 1 pound, 4.1 ounces. The entire package is very
packable, light and thin; it would be no problem to include this portable cooler
in most laptop bags. Included in the packaging is the NP6900 Portable XCool Notebook Cooler, an
installation driver CD, a USB to mini-USB cable, a USB power cable, and an AC
Adapter.
The NP6900 is composed of creamy white plastic with a grey and silver inset
in the area containing the dual fans. These bearing driven cooling fans generate


1800 ~ 2500 RPM depending upon which speed the
fans are running. According to the



Jetart FAQ, a single
bearing fan should last

for 30000~50000 hours. I was impressed by how quiet the fans were as
they ran, even on their highest setting they up to their billing as "ultra
silent".
Charcoal gray feet flip back to expose rubberized risers which will allow air
to circulate between the bottom of the laptop and the fans.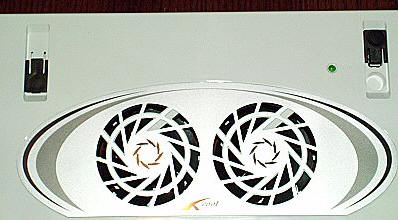 There is a green LED power light in the upper right corner, which comes on
when power is supplied to the cooler – via either USB from the Notebook or AC
power from a wall outlet. It's great that there is a power light, but I question its placement
as it does not show when a laptop is sitting in its proper place – directly
above the light. Perhaps moving it to either the left or right side would make
more sense.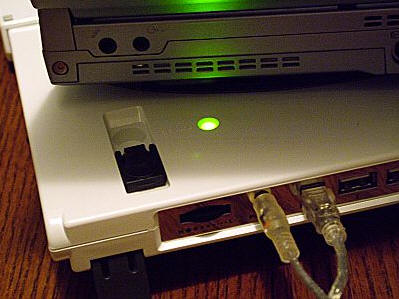 The laptop cooler should be able to accommodate even the widest laptops, it
is actually a little bit big for the 10.5" wide by 7.5" deep Fuji.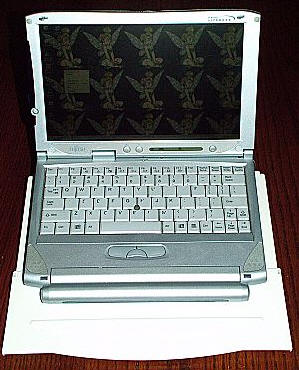 The underside of the NP6900 has openings for the two fans, two gray plastic
feet for raising the cooler off a tabletop and two 3" x 2" storage areas which
are perfect for the two USB cables or other small items, such as spare memory
cards.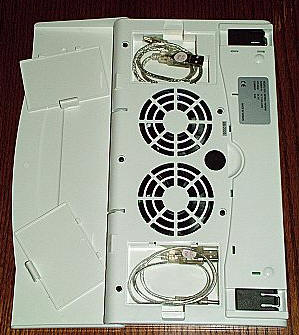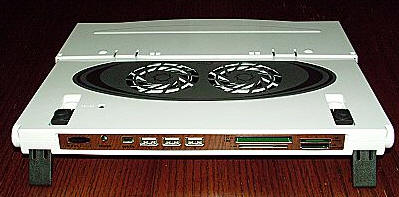 On the right side is an on off switch that turns the fans on or off. These
fans can be powered either by using the AC adapter in a wall outlet or by
plugging the USB power cord into an empty slot on the laptop.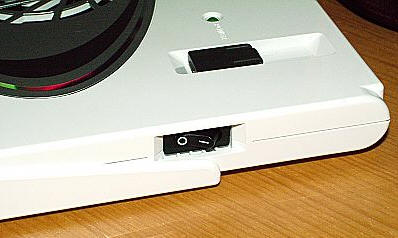 As it stands, this would be a very nice portable laptop cooler, but as the
late night infomercials say, "Wait, there's more!"
Built into the rear of the cooler is a switch that adjusts the speed of the
fan, the power cable plug, the mini USB to USB port…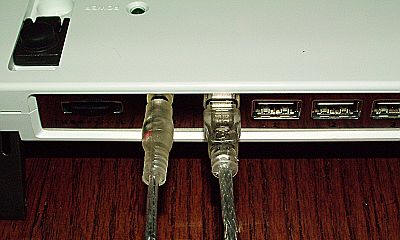 …three 2.0 USB ports as well as four slots which will accept up to eight types of memory cards – Compact
Flash (CF), Compact Flash II (CFII), Memory Drive (MD), Secure Digital (SD), 
Multi Media Card (MMC), Smart Media (SM) Memory Stick (MS) and Memory Stick Pro (MS Pro).
With the proper adapter, mini-SD cards will fit, but there is no slot for the
Extreme Digital Picture Card (xD) which my camera takes.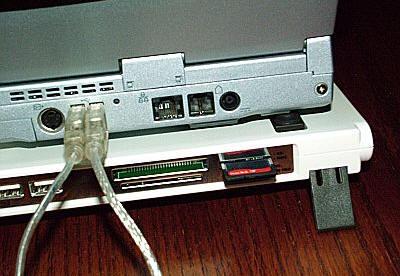 Even though there is an included installation disk, the card readers were all
plug and play on the laptop's XP home system. Operation Systems mentioned on the
driver CD included Windows 98SE, ME, 2000 and XP, as well as Mac OS8 ~9.0X.
The Jetart Technology NP6900 Portable XCool Notebook Cooler is a slick
all-in-one unit which really impressed me with its portability and its function.
Judging by past Jetart accessories I have tested, it should prove to be durable
and with the extra features – money well spent. 
Product Information
Price:
89.99
Manufacturer:
Jetart Technology
Requirements:

Windows 98SE, ME, 2000 and XP
Mac OS8 ~ 9.0X.

Pros:

Portable laptop cooling
Dual fans that are "ultra quiet" and long lasting
Built in USB 2.0 ports as well as multi-card reader slots

Cons:

No xD slot in card reader