We use affiliate links. If you buy something through the links on this page, we may earn a commission at no cost to you. Learn more.
I have always had a thing for itty bitty gadgets, tools and gizmos. When I was a kid, I would put little things in a zippered pouch and call it my spy kit. Not that I ever actually did any spying mind you, but I was totally prepared for it should the occasion present itself. It must be hereditary because now my 12 year old niece Jessica is always asking me for spy stuff. She must think I'm Jane Bond or something. So, it was only natural that when USB Geek started carrying the Super Mini Aluminum 4 Port USB 2.0 Hub, I knew I wanted to take a closer look if only because it is very small, made of metal and looks like something a spy might have in their gear bag.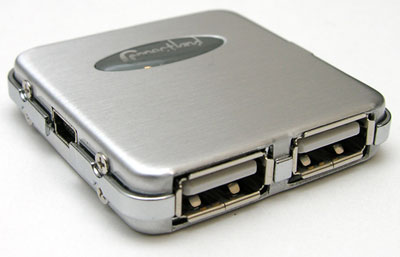 This device houses a self-powered 4 port USB 2.0 hub. That in itself is not all that exciting, but the fact that it is all crammed into a ~1.375 x 1.375 x .25 inch aluminum box is pretty cool. Anyone know if a smaller 4 port USB hub on the market?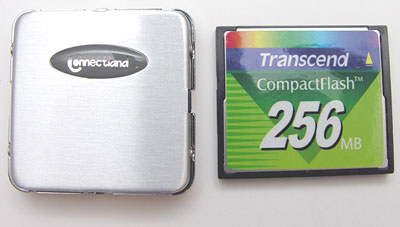 The hub is constructed of a brushed aluminum shell with chrome sides. There are 2 USB ports directly opposite each other, along with a mini USB connector that is used to connect the device to your computer (a 5ft cable is included with the hub for this exact purpose). On the opposite side of the mini connector is a connection for an AC adapter. Problem is that the adapter is not included with this hub. Don't fret though, the hub is self powered and should work with most peripherals that don't need a lot of extra juice.
This hub is compatible with USB 2.0 and 1.1 devices. It has over-current protection and can support speeds of 480 Mbps, 12 Mbps and 1.5 Mbps. It is also plug and play for Windows and Mac computers. I tested with both and did not need drivers of any kind in order for Windows XP or Mac OS X to recognize it.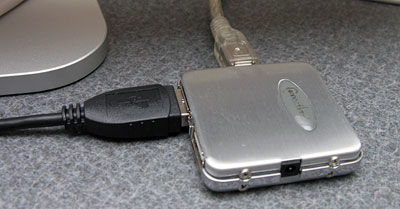 I had no problems using this hub with my devices. The only power issue I had was with the Qcool portable USB drive. This hub would not power it without the AC adapter connected to the Qcool. I pretty much expected this to be the case though… Other devices such as card readers, keyboards, mice and flash drives seemed to work just fine. I should mention that because the USB connectors are so close together, you may have problems plugging certain devices side by side into the ports.
Since you just never know when you might need to plug in more than the allotted number of USB devices, the Super Mini Aluminum 4 Port USB 2.0 Hub has become a permanent resident of my spy kit. I mean gear bag! Priced at $15, you might consider it for your gear bag too.
Never miss one of our posts again. Sent MON, WED, and FRI with the latest gadget reviews and news!
Price: $15.00
Pros:
Tiny
Fits easily into a gear bag
Self powered
Cons:
Doesn't ship with an AC adapter
USB ports very close together
Product Information
Price:
15.0
Manufacturer:
USB Geek
Pros:

Tiny
Fits easily into a gear bag
Self powered

Cons:

Doesn't ship with an AC adapter
USB ports very close together