We use affiliate links. If you buy something through the links on this page, we may earn a commission at no cost to you. Learn more.
Product Requirements:
Device:
Various portable electronic devices such as mobile
phones, PDAs, digital cameras, MP3 players and more
You may remember Judie's review of the
iGo Juice
Combination AC and Auto/Air Notebook Power Adapter. Made by
Mobility Electronics, this
charger allowed for notebook charging along with another device. Well, now we
have a new charging product by the same company: the iGo EverywherePower. Based
on the same principle as the iGo Juice, this new version is more compact while
retaining the same basic charging features, minus one. Read on…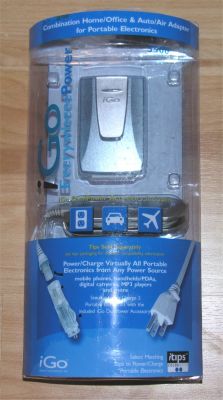 Package Contents
iGo EverywherePower adapter
iGo DualPower adapter
Electronic Device Input Cord
Standard Wall Outlet AC Power Cord
Auto/Air EmPower DC Power Cord
Zippered carrying pouch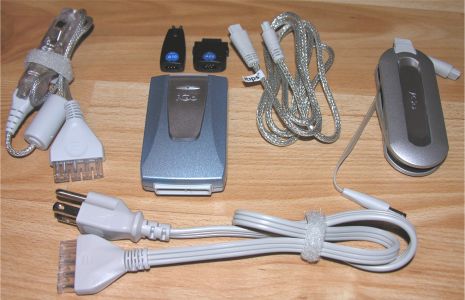 Hardware Specs
AC Adapter
Input: 100-230 VAC ~1.5A 50/60Hz
Main Output: 3-10 VDC
Sec. Output :19 VDC
Total Power: 15W
DC Adapter
Input: 10.75-30 VCD 3A Max.
Main Output: 3-10 VDC
Sec. Output: 19 VDC
Total Power 15 W
 
The main iGo EverywherePower adapter is about the size of a deck of cards.
It's a chunky blue module with a blue LED on the front and connectors on either
end. Here's how it works…. plug in either the 3 prong wall outlet cord or
Car/Air cord into the bottom end of the main adapter.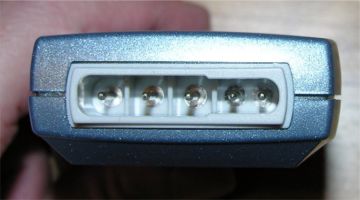 Then plug in Electronic Device Input Cord and/or the iGo DualPower adapter
into the other end of the adapter. If you want to just charge one device, use on
the Electronic Device Input cord. If you want to charge two devices at once,
plug in the DualPower adapter too.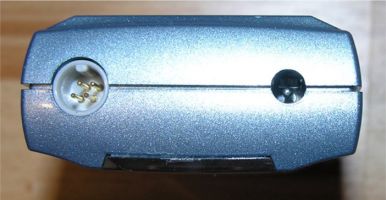 The DualPower Adapter is like a oblong spool with a wrap around cable
attached to it. The spool must house some additional electronics due to its
size. I guess I would be happier if the cable wasn't as long and didn't need to
be wrapped around the body of the module for storage.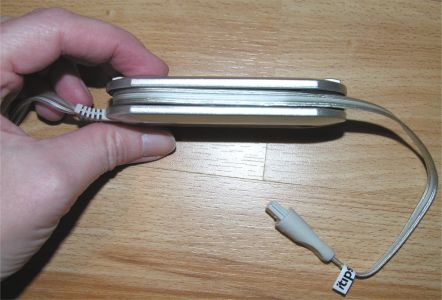 Once you have the two cables attached to the main adapter, the next step is
to connect your electronic devices for charging. Here's where the cool part
comes in… The iGo EverywherePower adapter can charge a whole cornucopia of
devices. I like the word cornucopia, don't you? ;o) In order for the iGo
to charge your devices, you will need little connectors called iTips that snap
onto the end of DualPower Adapter cord and the Electronic Device Input cord.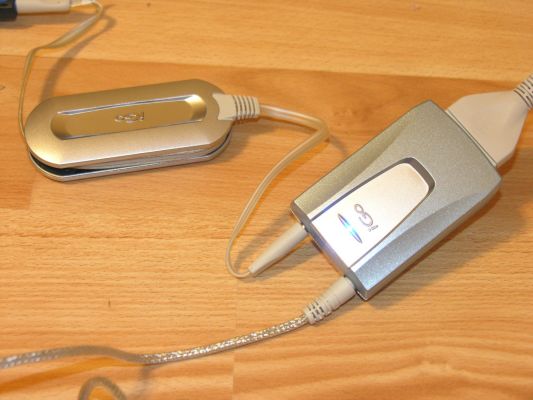 For this review, I was sent an iTip for my junko Motorola cell phone and my
HP HX4700 iPAQ. The iTips are sold separately and range in price from $9.99 to
$14.99 and are available for various mobile phones, PDAs, digital cameras, mp3
players etc.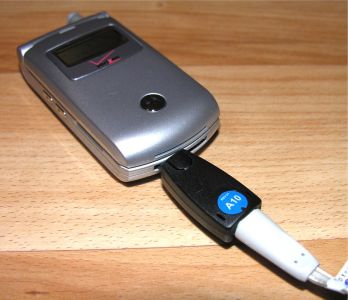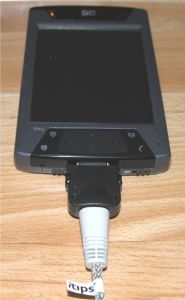 The iTips snap onto the ends of the cables easily yet snuggly and connect to
the devices securely.
Once you have everything configured, it is a snap to charge two devices at
one time utilizing just one wall outlet auto cigarette lighter outlet or
airplane EmPower connector (the end of the cigarette lighter adapter pulls off
the reveal the EmPower connector). I'm sure you've guessed that this product
makes traveling much more convenient as you do not need to pack a power brick
for each device that you bring along with you on your trips. Instead, you just
bring an iTip for each device and charge 2 at a time. Nice!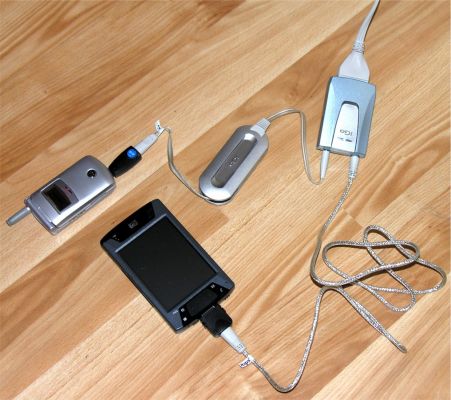 Whenever the iGo is plugged into a power source, the LED on the front glows
blue. This LED does not turn off when the devices are fully charged. You'll need
to manually check the devices themselves for their charging status.
I should note that the main iGo EverywherePower adapter does become slightly
warm while plugged in. It's not hot, but it is warm to the touch.
This is a great product for travelers or even home use as it frees up one
wall outlet for other use. You will recall at the beginning of the review, I
said that this product is similar to the model that Judie reviewed except that
it lacks one feature. That feature is the ability to charge a notebook computer.
If you want that feature, you'll have to buy the larger iGo Juice power adapter. 
The other only little gripe that I have with the iGo
EverywherePower is that the regular wall outlet cable is just a bit short at
34". That said, I will not hesitate to pack this product in my luggage the next
time I take a trip with my gadgets.
Price: $69.99 (assorted iTips are sold separately)
Pros:
Ability to charge 2 devices at once using 1 power source
Works with a wall outlet, car or airplane power source
2yr warranty
Cons:
Must buy iTips for your devices
May not be compatible with all your devices
AC power cord a bit short
Product Information
Price:
69.99
Manufacturer:
Mobility Electronics
Pros:

Ability to charge 2 devices at once using 1 power source
Works with a wall outlet, car or airplane power source
2yr warranty

Cons:

Must buy iTips for your devices
May not be compatible with all your devices
AC power cord a bit short