We use affiliate links. If you buy something through the links on this page, we may earn a commission at no cost to you. Learn more.
Product Requirements:
Device:
Mac OS X computer or laptop with a free USB port, Windows PC or laptop with a free USB port
Do high schools still teach touch typing these days? I don't think I'll ever forget Typing 101 with Mr. Owens. With his salt and pepper afro and the way he'd say gobblygook and apple pie order, I hated that class. But all these years later, I'm glad I took it and learned to type. Hunt and pecking is fine for most folks, but I spend my entire day in front of a keyboard. Having the ability to type up to 70 WPM allows me to answer help desk tickets quicker (day job), or compose a review faster (gadgeteer job).
As a touch typist, I know what I like and don't like when it comes to keyboards. I definitely prefer a desktop keyboard to a laptop keyboard if only due to their overall size. I can't stand my hands being cramped when I'm trying to type. Then there is key pitch and travel. The pitch is the distance between keys, and the travel is the distance that a key moves when you press it down. While I like the keyboard on my PowerBook, it's very flat and the key travel is shallow. That's fine when I'm on the road, but when I'm at home, in my computer room, I want to be as comfortable as possible. That's why I knew I had to try out the Matias Tactile Pro Mac keyboard when I happened upon it during a google search.

The Tactile Pro is a full-sized 108 key USB keyboard that has a lot going for it. Besides looking pretty spiffy with it's clear plastic shell, it has special Mac keys such as CD eject, volume up/down/mute, control, option, and a shutdown/restart/sleep button. All these special button features are plug and play if you are running OS X 10.3 or later. Earlier versions of the OS will require the installation of an included driver.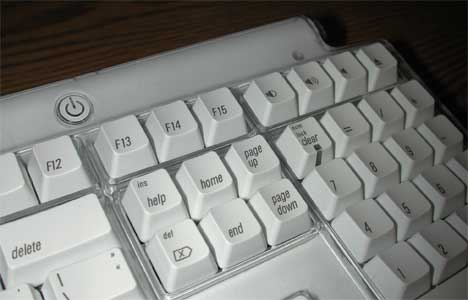 In addition to the familiar English lettering on the key caps, there are also special characters and symbols available when you press the keys in combination with the option or shift-option keys. This really saves time when you need to type things like: ¢π©™ because you don't need to launch a symbol picker to find them.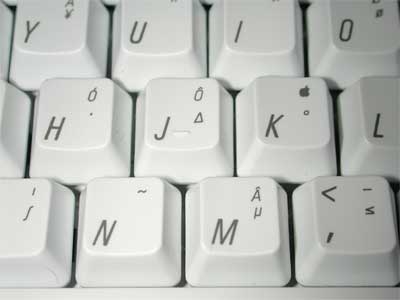 The keys themselves have superb tactile feedback… hence the name Tactile Pro. This feedback is made possible due to the use of high quality Alps mechanical key switches. Although I have no prior experience with Apple keyboards, the Tactile Pro is supposed to be as great as the original Apple Extended Keyboards. All I can say is that this keyboard feels great to touch type on. It reminds me of the old IBM keyboards in the computer lab when I was in college. I actually feel like I'm typing faster and more accurately when I'm here at home than when I'm at work using my IBM Intellistation keyboard. There's definitely a crisper and more precise feel to it.
But this increased tactile feedback, comes at a price. The price is paid in clicks and clacks. Typing with this keyboard may annoy you, or those around you. If you happen to have your computer setup in a bedroom, your significant other may throw a pillow at you if you try to work when they might be trying to sleep. When I first started using the Tactile Pro, I was very much aware of the noise it produced. But like many things, you get used to it over time. Now I don't notice it much at all and I might even say that I like the noise as it seems like I'm sort of making music while I type. I get into a rhythm of clicks and clacks that gives me momentum to continue typing. Yeah, I'm weird…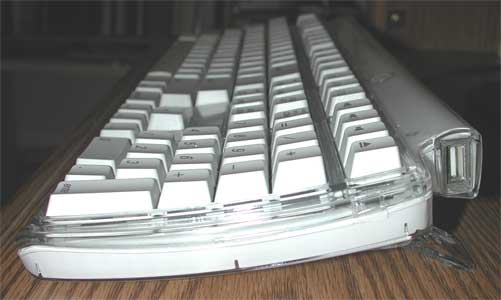 Like most keyboards, this one has two pop out stands that allow you to incline the keyboard into a comfortable typing angle.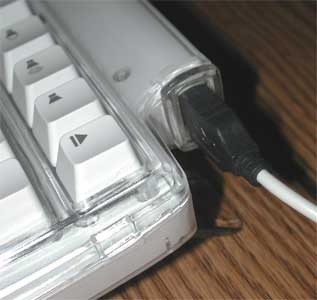 There's also the built-in 2 port USB hub. There is one port on either side of the keyboard. This is a great feature as I am able to plug in a USB mouse into the right port, and leave the left port for a PDA sync cable, or flash card reader. The only little gripe that I have is the fact that they are only USB 1.1 ports and not 2.0. Oh well…
I've been using this keyboard for several weeks and I have to tell you that I absolutely love it. I wish I had on at work too. My day job computer is a Windows PC and although this keyboard will work with a PC, the F13, F14, F15 keys are different from the usual PC keys in
that location, and the Alt/Win keys are swapped. I'm also not so sure that the the eject, volume buttons will work… Matias is working on a PC version of this keyboard, but a release date is not available yet.
My wish list for the next version of the Tactile Pro is pretty short. It would be great if it was wireless and had USB 2.0 ports. It would also be nice if the price was a little cheaper. But you have to understand that this isn't a $9.99 keyboard that you can pick up from Walmart or OfficeMax. This is a professional grade input device that any touch typist would love to get their hands on.
Price: $99.95
Pros:
Great tactile feedback
2 USB ports

Special Mac keys
Great look
 
Cons:

Noisy
Expensive
Product Information
Price:
99.95
Manufacturer:
Matias Corporation
Pros:

Great tactile feedback
2 USB ports
Special Mac keys
Great look

Cons: