We use affiliate links. If you buy something through the links on this page, we may earn a commission at no cost to you. Learn more.
Product Requirements:
USB port on computer or laptop
The day that the first computer appeared with a USB port must have been the
time that many an inventor started thinking, "Hmmm – what would I like
to power with my desktop?" Some of the applications made sense – in fact they have
become almost the standard: USB powered keyboards, mice, PDAs sync/charge cables and the
like. But there have also been a lot of novelty products such as the
USB Christmas Tree Light, the
USB Cup Warmer,
the USB Glowing Aquarium.
Today, I am going to look at a product that may or may not fall into the novelty
category –  the
Cyclops
AP280 USB Mini Ionizer / Air
Purifier.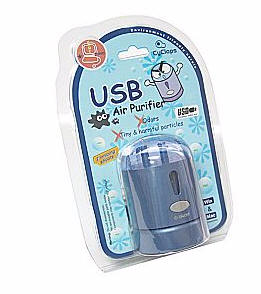 photo courtesy of
Brando
Before I begin talking about this product, let's take a look at Ionization
and what the process actually entails…
This is the definition of ionization:
I`on`i`za¥tion
n. 1. (Elec. Chem.)

the

process

of

converting

neutral

atoms

or

molecules

into

ions.

The

process

may

occur

by

dissolving

an

ionic

substance

in

a

dissociating

solvent,

such

as

water,

or

by

adding

or

subtracting

an

electron

to

or

from

an

atom

or

molecule.

The

latter

process

occurs,

for

example,

in

an

electron

beam

in

a

mass

spectrometer

and

by

interaction

of

substances

with

ionizing radiation. (online
source)
What does ionization have to do with getting rid of odors and purifying air?
According to the Holmes Website,
"An ionizer is a collection of vibrating needles in the unit that release
negative ions into the air. These negative ions some into contact with small
airborne particles and join with positively changed particles to form a larger
particle. This larger particle can then be drawn back into the unit in the air
stream. It will then be captured in the filter. Ionizers are usually combined
with other technologies, including different types of filters. Ionization units
emit a small change to the air stream as it passes through the unit. This charge
causes the particles to stick together making them larger. As the passes back
through the filter the particulate will be larger and easier to capture." (online
source)
Ok – so if I understand this correctly, an ionizer will release negatively
charged ions which attach to positively charged airborne dust particles causing
them to drop down. If there is a suction of some kind, then the particles can
then be sucked into a filter. But if there is no filter and no suction, then
what happens? Unless I am reaching the wrong conclusion, instead of airborne
dust particles, you will now have a heavier layer of dust coating the room where
the ionization occurred. With that in mind, I think the logical conclusion would
be that an effective ionizer would have to also have a method of suction
and filter to trap the ionized particles in order to be beneficial. Otherwise
you are just moving dust from one area to another – and possibly creating
"heavier" dust in the process. Sound reasonable?
So back to the Cyclops Ionizer…
Included in the package is the unit itself, a sticker disk for attaching it
to whatever surface you choose, and a detachable 62" (over 5′!) USB/DC cord.
This cord is extremely generous, especially if your available USB ports all
happen to be on the back of your desktop. Since mine are on the front, I had to
make a tidy cord coil.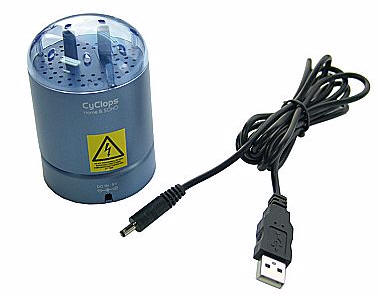 photo courtesy of
Brando
The ionizer measures approximately 3.25" tall x 2.25" wide and deep. The body
is comprised of light steel blue plastic, except for the dome on top which is
translucent blue-tinged plastic. The dome is perforated with holes measuring 1cm
which I presume are for the escaping ions. An on/off button in
silver plastic is on the front of the unit, and when it is pressed a pleasant
blue light comes on. There is a barely audible whirring sound, which I really
didn't notice after a few moments.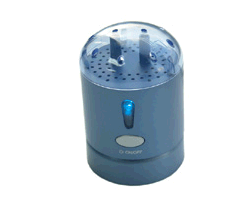 photo courtesy of Brando
How to test the ionizer…that was the question. I figured an effective test
would answer two questions: Did the ionizer have any type of suction to collect
the ionized particles, and did it actually purify the air – which I would
consider successful if recently introduced odors were removed.
In the interest of full disclosure, I have a Whirlpool
Whispure 510 air cleaner
running most of the time in our office. This largish device actually employs a
true HEPA filter and moves the air as it
sucks particles, releasing the purified air after filtration. It was not running
when I conducted the tests, but it was running before and I just turned it back
on – a full 24 hours after I conducted the tests.  In contrast, the Cyclops
Ionizer had been running for over 24 hours before the tests were conducted and
is continuing to run as I type this review.
Steve doesn't smoke his cigars in the house, but I asked him to for my tests.
The first test, or suction test, was initiated when Steve lit a La Gloria
Cubana Purito. I asked him to blow the smoke in the general vicinity of the
ionizer, and waited to see what happened. Well, it shouldn't be too much of a
surprise that the smoke was actually pushed away, because of the ionized
air blowing out of the top of the unit. So the first test was answered: there is
no real suction on this ionizer; the ionized dust particles will just fall where
they fall and none will be collected. This was not unexpected, due to the size
of the ionizer and the fact that it does not have a user changeable filter.
The second test, or odor test, actually had a surprising result. I say
surprising because in all honesty, I really didn't expect much of anything from
a $20 USB (what I considered to be) novelty item. While the mini cigar was
quite pungent while burning, an hour or so after it had been smoked I did
not notice any odor in the office. Hmmm.
I don't know how much was normal odor dissipation and how much was the result
of the ionizer, but on the surface the ionizer appears to have worked. However,
I am waiting to see if my white-topped desk starts to acquire a heavier
than usual dust layer.
For $20, a little bit less than the cost of a larger sized scented candle,
the Cyclops Mini Ionizer is not a wallet-buster. It runs 24/7 in the background
and might actually be accomplishing some good. The jury is still out on
"particle fallout" – but I will update this review should I decide that my
desk's dust accumulation is heavier than normal.
The Cyclops AP280 USB Mini
Ionizer / Air Purifier is available from
Brando's USB Store and other retailers.
Price: $20
Pros:
Inexpensive
Compact unit
Actually appears to help neutralize odors
Cons:
May cause heavier than usual dust accumulation
Product Information
Price:
20.0
Pros:

Inexpensive
Compact unit
Actually appears to help neutralize odors

Cons:

May cause heavier than usual dust accumulation