We use affiliate links. If you buy something through the links on this page, we may earn a commission at no cost to you. Learn more.
Product Requirements:
Any of the PDAs, Cell Phones or
Digital Cameras listed
here
Most of you know by now that my favorite protectors are the ultra clear ones
– the type that look and feel like a naked PDA's screen when installed. One of
Julie's and my favorite vendors, Brando
Workshop, has recently come out with their answer for those that feel the
same, the
Ultra Clear Protector Plus.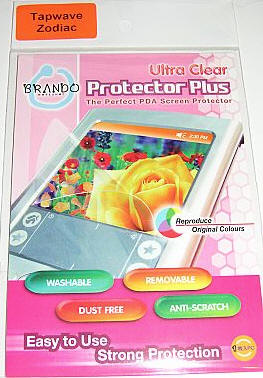 Unlike the previously reviewed
Protector Plus offered by Brando, these do not have a slight opaqueness for
anti-glare nor do they have a textured feel for those that like the sensation of
writing on paper when they enter data in their PDA. Instead, these Brandos are
glass-like in their transparency and completely smooth in feel.
Similar to the ARM Kit
protector that I previously reviewed, the Brando has a thin plastic film
covering both its front and rear sides. You must first expose the back side,
install the protector, then remove the plastic covering the front. Unlike the
ARM Kit, the Brando protector has tabs attached to the film making it much
easier for a beginner (or someone more experienced) to install.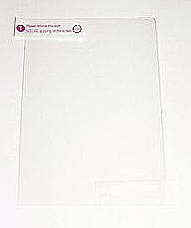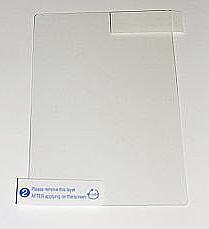 Due to the gentle silicone adhesive, it is extremely easy to lift a corner
should you get a bit of lint under the protector while installing. You can also
pull the entire protector up and start over, should you realize that you had it
misaligned from the start.
Once on, the Brando provides clear, beautiful, unadulterated viewing of the
screen. While Julie was here in Texas, I installed one on her TH55. She doesn't
usually use screen protection, but since I am always harping at her about how
bad it is to use an exposed PDA screen, she agreed to give this one a try. 
Julie mentioned to me the other day that it was still on her TH55 and that she
could almost forget that she had a protector on – it was so clear. That's high
praise, indeed!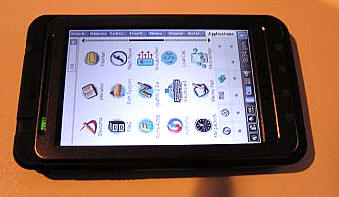 Modern screen Protectors sure have come a long way, haven't they? As with
most of the other premium protectors available, the Brandos are removable,
washable, and unless you are brutal with your stylus – very long lasting.
They are a veritable bargain, considering that you should get at least six
month's use from them.
Price: $13
Pros:
Extremely clear
Long lasting
Removable
Washable
Easy to apply
Inexpensive
Cons:
None
Product Information
Price:
13.0
Manufacturer:
Brando
Pros:

Extremely clear
Long lasting
Removable
Washable
Easy to apply
Inexpensive

Cons: