We use affiliate links. If you buy something through the links on this page, we may earn a commission at no cost to you. Learn more.
Product Requirements:
A mobile phone with a universal 2.5mm
plug, adapter required for those not compatible
There are a couple reasons why the idea of wearing a headset while using my
cell phone does not appeal. For one, their weight after perching on my ear for
any amount of time can become painful. Furthermore, all of the ear-pieces on the
headsets I have ever tried don't seem to fit my weirdly shaped ears comfortably.
Then there is the fact that most of the people I see using a headset always seem
to be talking really loudly, as if they can't hear the person to whom
they are speaking – or as if they believe that person can't hear them. You have
to admit that it is a turn-off to watch someone as they walk along, shouting at
themselves like a crazy person.
When I was approached by Etymotic Research
(pronounced "et-im-OH-tik," it means "true to the ear.") about trying their
ETY.COM Mobile Phone Headset,
I knew that this product would be different than the others I had tried. I had
already experienced the extra-ordinary noise blocking properties of their ear
tips while at CES with Julie. She had brought along a couple pair of their
audio earphones which she was in
the process of reviewing. I just didn't know what to expect regarding the
overall fit and feel once I was actually wearing the headset. Would these be
something I would want to use when I needed my phone to be hands-free,
like while driving? I was soon able to find out…
But before I go much further, I should tell you a little bit more about what
sets this particular headset apart from any other, beyond those noise blocking
ear tips. Etymotic is a company that has been around since 1983. Etymotic
Research "has developed and patented some of the most innovative hearing
technology available today. ER's products are used worldwide by scientists,
hearing practitioners, hearing-impaired consumers, professional and amateur
musicians, and others who insist on superior sound quality." By utilizing
the same technology that is used in their stereo earphones and hearing aid
devices, Etymotic is able to keep background noise from entering the ear and
directional microphone. What this means is that the user can easily hear the
person to whom they are speaking, and the person on the other end will be able
to clearly hear the speaker without a lot of background noise. In other words –
no more yelling.
According to the Etymotic site, the ETY.COM headset provides more "sound
isolation than any other mobile phone headset: Noise reduction is 37 dB
(averaged over octave frequencies from 125-8000 Hz) and has a calculated noise
reduction rating (NRR) of 24 dB." In addition, it "incorporates
noise-canceling microphone technology that rejects 4-11 dB more noise than other
microphones at the same location, and up to 25 dB more noise rejection than
booms that are not close to the mouth."
So needless to say, this headset is billed as being one that would give the
user an excellent environment in which to conduct a conversation – even if in a
noisy location. Thinking outside the box for a moment, I can imagine many places
where this could come in very handy. For instance, how about a sports
arena? Have you ever tried to conduct even a quick conversation on your cell
phone with all the crowd noise around you? It is almost an exercise in futility
– but if you were using this headset, then it would be possible. Whether it is a
noisy street, a concert, or a sports event, the Etymotic technology will it
possible for you to take part in a conversation comfortably.
With that in mind, let's get back to my experience…
Once the package arrived, I opened it to find a headset with an ear tip in
place, a plastic bag containing three different sized ear tips as well as one
large and one small foam (disposable) ear tip, and a second plastic bag
containing an extra filter and a filter removal tool.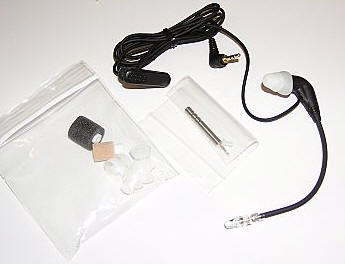 The headset looked elegant in its simplicity – and I was pleased to note that
there was no over the ear baggage. There will be those that grumble because this
is a "wired" headset – but just remember, the presence of a wire allows the
headset to be as minimal as possible as there is no need for a Bluetooth
receiver.
An included storage pouch would keep everything neat when not in use.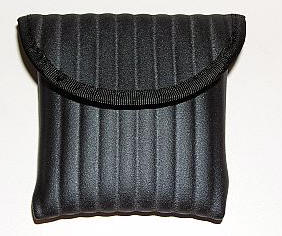 In case you are wondering what holds the headset in place, it is the tension
of the earpiece inside the outer-ear canal. That is just one of the reasons why
it is so important to chose an ear tip that fits tightly, yet isn't so big as to
be painful. Once you have chosen the correct ear piece, you simply plug the
2.5mm tip into your cell phone's head set jack. There is a small clip that keeps
the headset attached to your collar when you are not wearing it.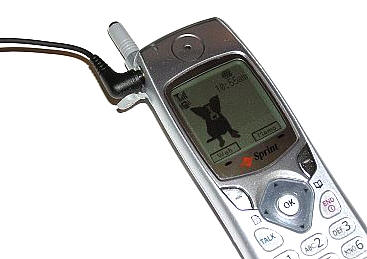 To wear the headset, you just insert the tip into your ear and make sure that
you have a good tight fit, one that will keep everything in position even as
your jaw is moving while you talk. You don't want the microphone to start
drooping or the earpiece to fall out by using too small of a tip.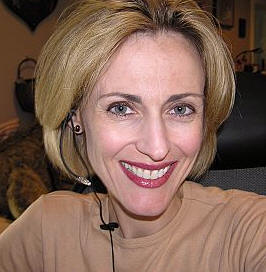 Operators are standing by…
Once the tip is in place, there is an immediately noticeable deadening
of noise in that particular ear, beyond what you might expect. The rubber ear
tip completely fills your canal, effectively blocking out everything but
whatever sound travels through its center.
Since the microphone is so sensitive and directional, it is important to
position the "boom" so that it is bent to end approximately 1/2" from your
mouth. If you don't, then the microphone will reject your voice – cutting it out
as background noise. Once you have everything in place, then you will be able to
conduct conversations while speaking in a normal voice and you will be able to
easily hear the person with whom you are conversing.
I have been pleasantly surprised with how comfortable everything feels
when the ETY.COM headset is in my ear. With nothing actually touching any part
of my outer ear, I can wear this headset for extended periods of time without
irritation. When driving, I can keep the ear tip firmly in place. When it is not
needed, I allow the headset to dangle, suspended by the clip until I need it
again. I am also extremely pleased with how clear sound is through the headset.
But what's even better is the fact that I feel no need to shout while using it.
If you are someone that doesn't like conventional headsets because you feel
that they are uncomfortable or that they do not afford you necessary privacy
when being used, then you should definitely take a look at this item. I have
finally found a headset that I will use, and that is saying a lot!
Price: $69.00
Pros:
Very comfortable for extended periods of time
Background noise is almost completely blocked both for the wearer and the one
with whom they are conversing
Minimal styling, nothing touches outer ear
Cons:
The wire may seem a bit "retro" for some
Product Information
Price:
69.0
Manufacturer:
Etymotic Research
Pros:

Very comfortable for extended periods of time
Background noise is almost completely blocked both for the wearer and the one
with whom they are conversing
Minimal styling, nothing touches outer ear

Cons:

The wire may seem a bit "retro" for some