The Gadgeteer is supported by readers like you! If you buy something through links on our site, we may earn an affiliate commission at no cost to you. Thank you! Learn more.
Product Requirements:
Device:
PC or MAC with a USB 1.1 or 2.0 port
I'm a tea drinker and have been since I came out of the womb. My mom would
fix us hot tea every morning for breakfast (good old Lipton) and we would then
have iced tea for supper. It's no wonder that now, every morning at about
8:30am, I make myself a cup of hot tea. It doesn't matter if it's Spring,
Summer, Fall or Winter, my day wouldn't be complete without a cup of tea. The
thing is though, I'm a sipper, not gulper. By the time I drink the last drop, my
hot tea has turned into cold tea… bleh! So, when
Brando sent me the USB Cup Warmer,
I was anxious to see if it might keep my tea warm to the last drop.
The USB Cup Warmer is a black stretchy neoprene 11.5 inch wrap with a 38 inch
USB cable extending out of one end. A 2.5 inch cutout to allow for a coffee cup
handle is located on one end of the wrap. The idea is that you slide the cup
handle through the cutout, then pull the wrap around the cup, where it is held
in place with Velcro. In practice, the wrap fit my standard sized mug perfectly
snug.
You then plug the USB connector into a free USB 1.1 or 2.0 port on your PC or
MAC computer, where it will draw enough power to warm the wrap and the cup that
it is enclosing. By the way, it's a good idea to put the wrap on before
you fill the cup up with boiling hot water. Wrestling with the wrap while the
cup is full, is a good way to spill hot water on your hand… ouch!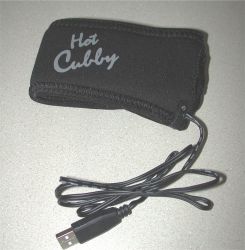 The Cup Warmer does not require a driver or any special computer settings. As long as
you plug it directly into a free USB port and not a hub (unless you have a
powered hub), it should be a simple matter of plug and play.
Of course, I wasn't going to believe the colorful chart printed on the
packaging, which said that the wrap would maintain the temperature of a hot
beverage at 40°C (104°F)
after one hour, I had to see for myself. So, I washed up my favorite mug, filled
a tea ball full of Orange Pekoe, put a
kettle of water on the stove and waited for it to boil…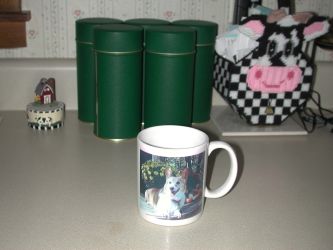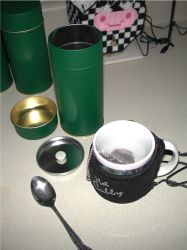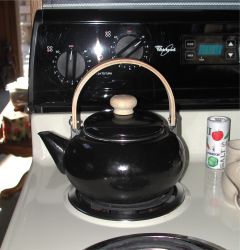 You know the old saying: a watched pot never boils… It seems
to be true!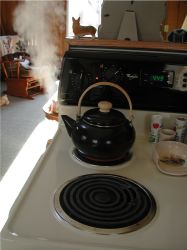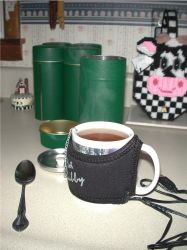 Of course, it finally did boil. After which point, I poured the boiling water
in the cup, and let the tea steep for 3 minutes.
When the 3 minutes were up, I used a cooking thermometer to check the
temperature.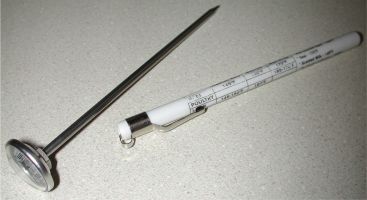 I recorded the reading, set the timer for 5 minutes and continued to record
readings at 5 minute intervals.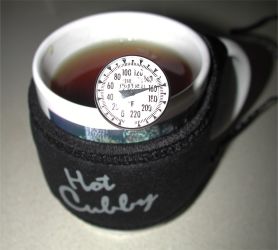 For the first test, I didn't plug the Cup Warmer into the computer. On the
2nd test I did.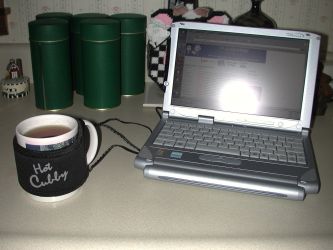 Here are the results. The test was done in a 74°
room.
Time Elapsed
Beverage temperature
(Fahrenheit) without Cup Warmer plugged into USB port
Beverage temperature
(Fahrenheit) with Cup Warmer plugged into USB port
Actual impression of
temperature
Begin
160°
160°
Scalding
5min
152°
148°
Very hot
10min
142°
138°
Hot
15min
131°
131°
Very warm*
20min
122°
125°
Warm
25min
112°
120°
 
30min
107°
117°
 
35min
102°
113°
 
40min
98°
110°
 
45min
 
107°
 
50min
 
105°
 
55min
 
103°
 
1hr
 
101°
 
* optimal drinking temperature (for me anyway…)
As you can see from the readings, when the wrap wasn't plugged in, the
temperature dropped approximately 10 degrees every 5 minutes during the first 25
minutes. However, when the wrap was
plugged in, the temperature dropped at a slower pace. True to the packaging, the
wrap kept the liquid at approximately 104° (or 101°
in my test) after 1 hour.
Here's the thing though… 101° is not really
all that warm. At least it doesn't seem very warm to me. Maybe lukewarm.
Another consideration is the length of the USB cable. People that have their
USB ports on the back of their desktop machines will probably be unable to drink
from the cup without pulling the cable out of the PC. Notebook users will have a
much easier time though. I would prefer if this product was a hot plate type of
warmer instead. That way you could just set your cup on a heated base and lift
it off when you needed a sip.
The USB Cup Warmer is a novelty more than anything. Although it will keep
your beverage somewhat warmer for a longer period of time, it's up to you to
decide if warm is warm enough.
Price: $10
Pros:
Use for USB port other than something computer related
Inexpensive
Plug and play
Cons:
101 – 104° really isn't that warm
Product Information
Price:
10.0
Manufacturer:
Brando
Pros:

Use for USB port other than something computer related
Inexpensive
Plug and play

Cons:

101 - 104° really isn't that warm