We use affiliate links. If you buy something through the links on this page, we may earn a commission at no cost to you. Learn more.
Product Requirements:
Device:
Palm Tungsten T PDA
If you need an inexpensive yet quality case for your Palm Tungsten T PDA, the
Digital Express Flip Top case from Brando
will definitely fit the bill. Made of soft black leather, this case has a lot
going for it while remaining at a frugal price.
This is a play through style case that employs a leather holster to hold the
PDA in place without the need of Velcro (thank goodness!). Only the bottom
portion of the Tungsten is held by the holster. This allows gives you the
ability to pull the top portion of the PDA up to expose the graffiti area.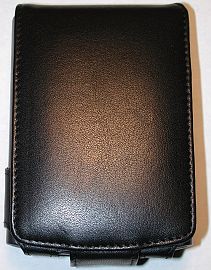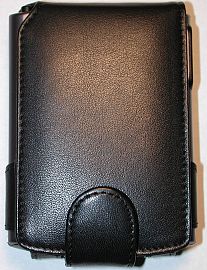 The holster has one cutout that provides access to the nav pad and
application buttons. The bottom of the holster is open so that you can use a
hotsync cable to sync and charge with your PC. Unfortunately, if you do not have
such a cable, you will need to remove the Tungsten from this case for these
tasks as the case won't allow you to fit the PDA in the cradle.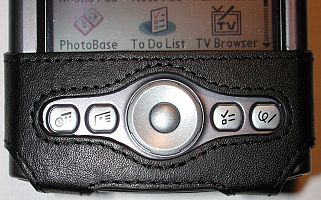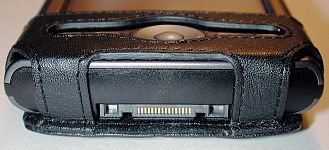 The case itself is very well made. It is well padded on the front and back,
while the interior is lined with black velvet. The front and back are also quite
rigid which helps to protect the screen from typical everyday abuse.
The Digital Express case uses a magnetic snap to hold the cover securely
closed. I like this closure method quite a bit. When the case is closed, the
sides of the Tungsten are exposed. Dropping the PDA while in the case only
allows for protection of the front and back.


For storage, you're given two standard credit card slots and one SD card
slot. The only problem with the slots is the fact that the SD slot is too deep.
The first time I inserted a card, I slid it too far into the slot and then
couldn't retrieve it without the aid of needle nose pliers. EEP! The slot is
pretty tight, so now I just make sure to let the top of the card peek out a
little so that I can get a grip on it.
Although this case does add some thickness to the PDA, I still enjoy using
it. Because the sides are exposed, it gives me a better grip on the PDA when I'm
doing things like reading e-books. The only time I remove my TT from this case
is to charge and sync.
Price: $29.00
Pros:
Good protection to front and back
Inexpensive
Cons:
SD slot too deep
Must use cable or remove to sync and charge
Product Information
Price:
29.0
Manufacturer:
Brando
Pros:

Good protection to front and back
Inexpensive

Cons:

SD slot too deep
Must use cable or remove to sync and charge