We use affiliate links. If you buy something through the links on this page, we may earn a commission at no cost to you. Learn more.
Product Requirements:
Device:
Many PDAs.
The Chameleon line of styli from Pilot
Pentopia have been popular with PDA owners for quite awhile now. In the
past, we've taken a look at several of versions, including ones for the
Sony CLIÉ n700
series,
Palm m100 series, and

Palm III series. Pilot Pentopia now have a brand new version of their stylus
that is called the Chameleon One Universal Stylus.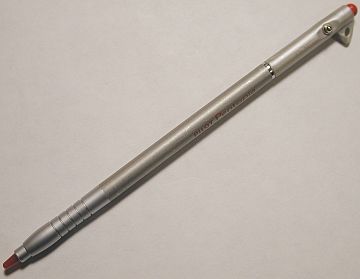 The difference with this new stylus is that it hasn't been created for any
one specific PDA. Instead it can fit in a wide variety of PDA silos. Some of the
devices that are listed as being compatible with this stylus are:
Palm III series, V series, VII series, m100 series, m500 series, i705 and
Zire
Handspring Visor, Prism, Deluxe, Platinum, Pro and Neo
Sony CLIÉ S300, S360C, S760C and N700C
HP Jornada
Toshiba e570
Sharp Zaurus
I personally tested the Universal stylus with the following PDAs (some of
which were not included in the listing of compatible PDAs on Pilot's site):
Palm III, Palm V, Palm m100, Palm m505
Handspring Visor, Prism
Sony CLIÉ T615C, NR70V
Toshiba e570
HP Jornada 565
Compaq iPAQ 3600, 3800
Zayo
Zaurus SL5000D
More about how the stylus worked out with my PDAs in a sec…
The stylus is a combination of metal and plastic. The entire .183in (4.67mm)
diameter barrel is made of a silver metal with the Pilot Pentopia name
silk-screened in thin red letters along the side. The barrel is smooth and
straight while the finger grip area is slightly molded with ridges. The stylus
has a nice weight and good balance.
The stylus tip is red in color and smooth in feel on all PDA screens I tested
it with. The only disappointing fact about the stylus tip is the fact that it is
NOT the typical Chameleon spring-action tip. Instead, it is a stationary tip.
I'll admit that I was bummed with this revelation. I was also not too happy to
find out that a reset pin was also not included.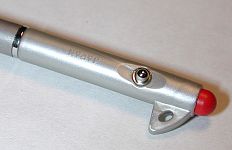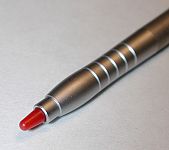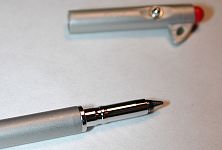 The top of the stylus has a grey plastic cap. The cap has a soft plastic bulb
at the top which can be used to press the application buttons on your PDA.
Removing the cap reveals a black ballpoint pen tip. I found the pen to write
smoothly without any skipping or ink blobs.
The cap is actually the most important feature of this whole stylus. It is
what gives the stylus its universal capability. Two small spring loaded metal
buttons protrude out of opposite sides of the plastic cap. These buttons enable
the stylus to fit into stylus silos that would otherwise be too large for it.
I tested the Universal with a pretty good selection of PDAs to get an idea of
just how 'universal' it really is. Here are my results…
Palm III – Fits but can be shook out with medium force. Not long enough to
fit properly in silo. Looks too small.
Palm V – Good fit. Slightly short.
Palm m505 – Best fit of all the PDAs I tested.
Palm m100 – Wouldn't use with this PDA. Doesn't fit as intended. Wants to twist
in silo so that only one button is holding it in place.
Handspring Visor, Prism – Fits very well, but short in the silo.
Sony CLIÉ T615C, NR70V – Didn't fit at all. Too large.
Toshiba e570 – Loose fit and rattles.
HP Jornada 565 – Fits but is slightly difficult to remove.
Compaq iPAQ 3600, 3800 – Loose fit, rattles and sticks out of the top of the PDA
too far.
Zayo – Fits, but is too short in the silo.
Zaurus SL5000D – Fits, but sticks too far out of the silo.
| | | | |
| --- | --- | --- | --- |
| Palm m505 | Handspring Visor Prism | Sharp Zaurus | Palm III |
After all those tests, I came to the opinion that this stylus is best suited
for the Palm m500 series. It works with most of the others, but doesn't REALLY
look stock enough to appeal to me. Maybe if it had the spring-action tip, I'd
overlook the fact that it is too short in most PDA silos. But as is, I'd pass if
you're not a Palm m500 series owner.
Available at StylusCentral and
other retailers.
Price: $12.95
Pros:
Compatible with a wide variety of PDAs
Ballpoint pen included
Cons:
Doesn't have the famous spring-action stylus tip
No reset tip
Too short for most PDA silos
Product Information
Price:
12.95
Manufacturer:
Pilot Pentopia
Pros:

Compatible with a wide variety of PDAs
Ballpoint pen included

Cons:

Doesn't have the famous spring-action stylus tip
No reset tip
Too short for most PDA silos