We use affiliate links. If you buy something through the links on this page, we may earn a commission at no cost to you. Learn more.
Product Requirements:
Device:
Palm V, Vx, m500, m505, m515
People looking for a case for their PDA usually fall into one of two groups.
Those that are interested in a hard shell type case like Rhinoskin's
Titanium or
Aluminum Sliders, and those that are interested in a soft case made of leather
or neoprene. For those of you in the first category, this is a review for you.
The Samsonite Flipper is a hard shell type case for the Palm V and m500
series PDAs. It is made of plastic and is available in 4 colors: Silver
Metallic, Red Metallic, Black Metallic, and Tortoise. I was sent the Tortoise
color. What sets it apart from
other hard cases is its sliding cover and built-in easel.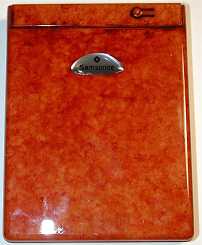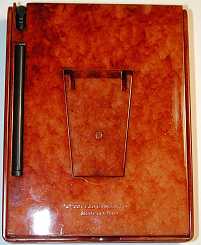 Like I said, this case is made of plastic. It isn't a flexible type of
plastic, but more of a brittle feeling material. I don't know if it actually IS
brittle, but it feels like it could crack if you tried to flex it or bend it
with much pressure. I definitely wouldn't want to drop it.
Right from the get go, I was pretty sure I wouldn't like this case…
First of all, the method in which you insert and remove the PDA is a little
tedious when compared to other cases. Depending on which PDA you have, you may
need to use one of the included foam pad sheets. Palm V owners use one
thickness, m500 use another, while m505/515 don't use any. These sheets have an
adhesive backing and are applied to the bottom shell of the case.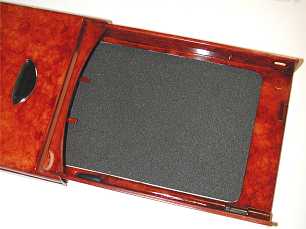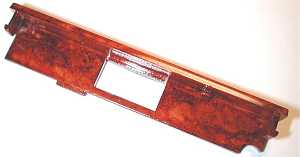 After you have applied the necessary the sheets, you have to remove the top panel of
the case. This requires you to flex the sides of the case in order to dislodge
the panel tabs from the slots in the sides. At this point, you can then slide
the PDA into the case and onto 2 plastic posts which line up with the hotsync
connector on the PDA. The top panel can then be snapped back in place.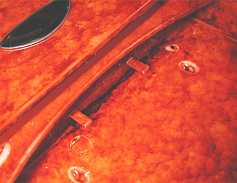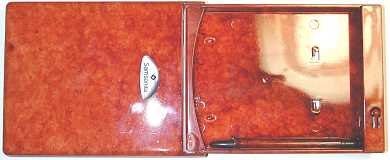 While in the Flipper, you have access to the IR port, application buttons and
scroll buttons. You do not however, have access to the SD card, reset switch,
power button and stylus. Luckily, there is a solution for the power button and
stylus… A separate stylus silo is built into the back of the Flipper case and
a cheap plastic stylus is included in this slot. I should also point out, that
the silo is too big to hold a regular Palm V or m500 series stylus. The power
button problem is solved with a plastic push "button" that is built into the top
panel. Although this button is rather stiff, it does work.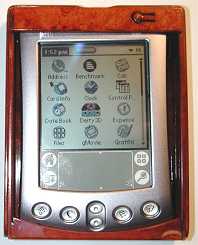 When you slide the cover closed, the PDA will be completely (except for the
IR port) encased and ready for transport. But, if you need to sync or charge
with your cradle, you have to remove the PDA from the case which is a real pain.
The Flipper cover is one of the main features of this case. Instead of
opening book style, it can slide straight down and then swivel backwards and lay
flat beneath the PDA. This makes the case great for left or right handed people
because there is nothing to get in your way while using it. However, this idea
isn't new, I remember reviewing a similar case
for the original PalmPilot a several years ago. By the way, it was actually a
nicer case…
Another feature of the Samsonite Flipper case is its built in easel which
allows you to prop the PDA up in 6 different elevations for easy viewing and use
while on a desktop. This is probably the only good thing about this case in my
opinion.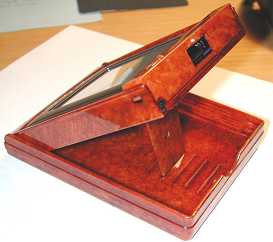 This case just feels and looks too clunky in my opinion. It turns your Palm V, m500 series
PDA
into a big plastic block that will get on your nerves after the 2nd or 3rd time
you have to remove or insert the PDA.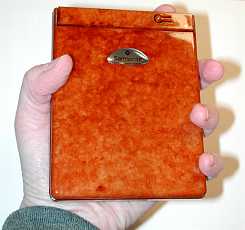 [It's a handful…]
The Flipper case could be so much better if it were:
1. Made of a light weight metal.
2. Had a smaller form factor.
3. At least included a cutout for a hotsync cable.
As it stands, I can't recommend this case for much more than as a "transport to
and from" type case.
Available at
Styluscentral and other retailers.
Price: $25.00
Pros:
Rigid protection
Built-in desk stand
Cons:
Must remove to sync and charge with cradle
Can't use stock stylus
No access to SD card
No access to reset switch
Feels clunky
Product Information
Price:
25.0
Manufacturer:
Samsonite
Pros:

Rigid protection
Built-in desk stand

Cons:

Must remove to sync and charge with cradle
Can't use stock stylus
No access to SD card
No access to reset switch
Feels clunky