We use affiliate links. If you buy something through the links on this page, we may earn a commission at no cost to you. Learn more.
Product Requirements:
Device:
Sony CLIÉ N610C, N710C, N760C
Before anything else I want to apologize for the bad pictures. I really need
to get a better digital camera.
I was a happy Palm Vx user for about a year and a half. Of all the functionality and
happiness that PDA gave me, I think one of the more memorable aspects was the
Palm Hard Case that I used with it. It was sleek, light and more importantly
very protective. When I finally decided to move to the Sony CLIÉ N760c I was
determined to find a similar case for it. Despite the lack of accessories for
CLIÉ's at the time I bought mine, I knew they would eventually start making
them. Fortunately my patience was rewarded by the  Dr. Palm PDA Protector
Hard case for
Sony CLIÉ N700 Series and N600 Series. (I've also heard that this case will fit
the S300 series although I haven't tried it myself.)

Before I get into the review I have to say that this case is quite difficult
to find. As a matter of fact the only place I could find this case was from a
little outfit out of Hong Kong called Brando. (Cliesource recently started
selling it as well.) At first I was apprehensive about purchasing this case
online from a small company, but the lack of hard cases for my CLIÉ really left
me with no choice. I bought two cases and although one of the cases was
flawless, to my horror the other one was slightly scuffed up. I emailed Brando
with a picture of the case and asked them if they could exchange the case. They
emailed me right back and they said they would send me another one free of
charge even without waiting for me to return mine. I was ecstatic! These guys
are great.
Now for the review…
THE GOOD
The case is exactly 2.95"(75mm) wide, 5.03" (128mm) long and 0.79" (20mm) thick.
Considering the N760c's dimensions are 2.80" x 4.72" x 0.66" it virtually adds
nothing to the overall size of the unit. As you can see the case is barely
visible placed underneath the CLIÉ. Since the N760 is a quite large it was
important that the case would not make it even bigger. The latch free design
allows the case to stay closed by four quite powerful magnets. No amount of
shaking on my part could open it. Even putting it through the "Julie Test" didn't
yield any creaks or bends. It's absolutely solid in every aspect.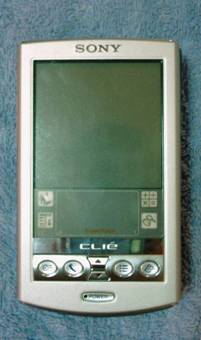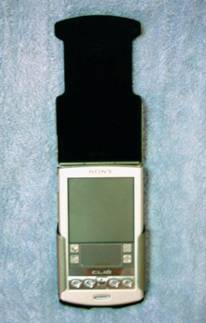 I purchased the dark grey color and it matches beautifully with my Nokia 6210.
The finish feels nice to the touch. I've had it for about a week now and there
are no visible signs of any scratches or bumps. The inside of the case is lined
with black felt securing the CLIÉ snugly and allowing it to be attached and
detached quite easily.
THE BAD
Unfortunately this case is not without flaws. One flaw is the fact that the CLIÉ has
to be removed to be synced or charged. Also the hold button is completely covered by
one of the "wings." Lastly the case only opens 180 degrees instead of folding
all the way back. Although I don't mind that it doesn't open fully, some people prefer cases
which go all the way back.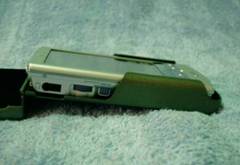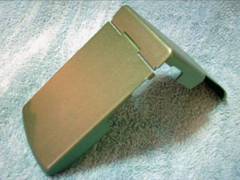 FINAL VERDICT
This case is a must buy. I wouldn't compare it to the DSI case simply because
that one is not solid metal and it's a book type case. The Dr. Palm PDA Protector
Hard case offers great protection and it looks amazing. It's a solid 9.5 out of 10
with its few flaws that really prevent it from being a perfect 10. Craftsmanship
is very good. For its price, compared to other metal cases, you will definitely
be hard pressed to find a better one.
Available at Brando &
Cliesource.
 
Price: $30.00 to $32.00 (3 Month Warranty)
Pros:
Great Fit
Great Craftsmanship
Secure Latch Mechanism
High "cool" factor
Cons:
Must remove from case to sync and charge
Hold button on N760C concealed by wings.
Product Information
Price:
30.0
Manufacturer:
Brando
Pros:

Great Fit
Great Craftsmanship
Secure Latch Mechanism
High "cool" factor

Cons:

Must remove from case to sync and charge
Hold button on N760C concealed by wings.