Product Requirements: 
Device: Naked Compaq iPAQ
While so many companies are focusing on trying to combine completely
unrelated electronic devices into one easy to carry unit; it is great to see
that there is a company that remembered that there are other items in our lives
that we need combined, and thus simplified.
The #802
Sync-able iPAQ Billfold Case by Vaja 
has got to be one of the best executed examples of convergence I have seen in
some time. Granted, it won't make your iPAQ take digital pictures or accept
cellular phone calls – but it will allow you to merge the contents of your
wallet and the contents of your PDA into one sleek pocketable item.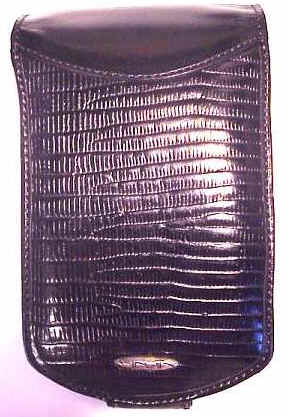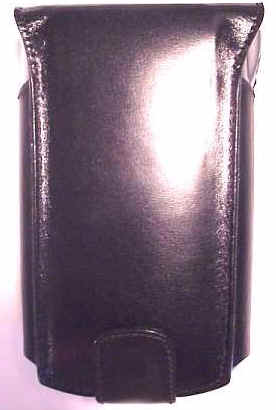 The #802 is available in Blue, Cherry, Green, or Black grained leather; Black or Cognac Faux
Ostrich; and Black Faux Alligator. For this review, I was presented with the
Black Faux Alligator. Knowing that I am not a huge belt-clip fan, Vaja was kind
enough to provide me with the slick-back model.
Before I get into the features of this case; let's go over the materials and
workmanship that are present. First of all, the deep smell of quality leather
will greet you as you open the box that holds this new Vaja. As I mentioned
before, the case in my possession is the faux alligator print, which actually looks
more like lizard in my opinion. Black stitching complements the highly polished
black exterior, and there are no flaws or "off-stitches" present that
I can see. This case exudes a stylish, yet professional vibe.
The #802 appears to be a regular Naked iPAQ case, with the exception being
that you can see that the flip-cover is slightly thicker than it usually
appears. Completely stuffed, this case measures 5.3" (13.5cm) tall,
3.2" (8.1cm) wide, and 1.5" (3.8cm) thick, and the #802 weighs
2.6ounces (74g) when empty. 
While I wouldn't recommend putting this billfold case in your back pocket; it
should easily fit in a suit pocket, cargo-pant pocket, in a briefcase, or a
purse. The belt-clip version would of course, fit right on your hip.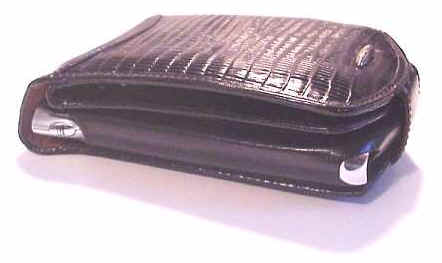 iPAQ Billfold totally stuffed…
As you can see, the thick flip-cover should provide a bit of protection should
something hit the screen of your iPAQ while it is in this Vaja case. The #802 is certainly not crushproof, nor would you expect it to be.
As with all Vaja cases I have ever reviewed, the leather comprising the
holster is lined in nylon.  I assume that this is to keep the holster from
ever stretching out of shape. As always, the Vaja holster is perfectly
proportioned to fit around the iPAQ's screen, joy-pad, and buttons without
obstructing their use or view. The record button on the iPAQ's side is also
easily accessed.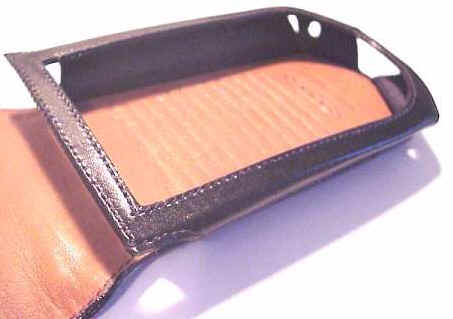 There are spaces for two ID or credit cards in the flap lid that covers the
iPAQ's screen. This should make it extremely easy to whip out a business card
without actually having to open the billfold section.

Most of the case's surfaces are done in black leather, except for the area
directly behind the iPAQ's holster and the inside of the billfold. Both are done
in an extremely soft brown leather, with contrasting black stitching. The #802
is held closed with a tab of leather that snaps to the back side of the case.
By unsnapping the two flaps of leather that comprise the flip-lid, you expose
the billfold portion of this case. Inside are 4 credit card or ID slots, and two
deep pockets, perfect for receipts or extra cards. Because this case uses snap
closures and no magnets, you are safe to store credit cards and other ID cards
that include magnetic strips in the wallet portion.

Running the length of this opened section is a true money-sized pocket, that
will easily accommodate all of your bills – unless you usually carry a wad
of them!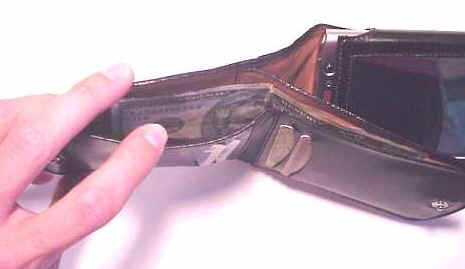 Cut-outs in the proper areas allows for syncing and charging while in the
cradle. A round cut-out is also present for soft resets.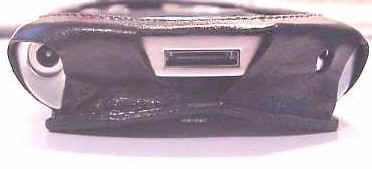 Some might object to the fact that there is no cut-out to allow head-phone
jack access when the #802 is closed. Since there is no room for an expansion
sleeve with an inserted memory card that might hold more than a couple mp3s,
this isn't too big of an issue with me.
An attractive feature to the #802 is that you can sync your iPAQ while it is
in the case. I gave it a try and had no trouble getting a good connection.
Overall, I am very pleased with this new Vaja. The only thing I would do
differently would be to also offer this same case to fit the iPAQ and its
expansion sleeves. I mean, doesn't almost everybody use one? :0)
Price: $72.90, w/clip: $74.90
Available in Blue, Cherry, Green, or Black grained leather; Black or Cognac Faux
Ostrich; and Black Faux Alligator 
If you want the leather gift bag, add $7.90
Pros:

Able to sync while iPAQ is in the case
Combines wallet and iPAQ in a sharp case, without adding massive bulk
Can attach charging cable to iPAQ while in case
Cons:

Only available for the Naked iPAQ

No hole for head-phone jack provided

I wouldn't recommend sticking it in your back pocket…