The Gadgeteer is supported by readers like you! If you buy something through links on our site, we may earn an affiliate commission. Thank you! Learn more.
Product Requirements:
Device:
Accommodates most PDAs with dimensions under 5.25″ x 3.25″ x
0.8″.
This includes: All Palm models, All Handspring
Visor, Platinum & Prism models, Sony Clié, Compaq iPAQ, HP Jornada 540
series, Compaq Aero, Casio Cassiopeia, V-Tech Helio
I have found that there are two types of cases in the world – when all things
are considered:
There is the "play-though" case, which basically has to be formed
to fit each individual PDA; and then there is the "planner-style"
case, which usually uses Velcro to hold a wide variety of PDAs in its
book-style enclosure.
The Rhino·skin Tri-Fold
Leather Case is definitely the latter style, but they have added a twist
that takes it beyond any case of this type that I have ever encountered.
Upon first look, the Rhino·skin is your typical smooth leather book-style
case. The one that I was presented for review happened to be Black. This case is
also available in Brown.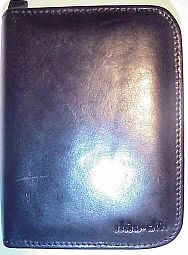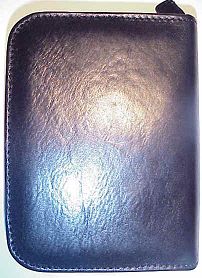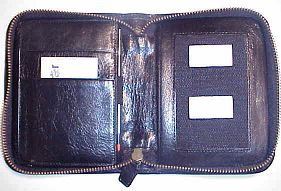 The Tri-Fold has a brass zipper that goes around three of the four sides, and
a subtle embossed "Rhino·skin" logo on the lower-right front.
Personally – I like the Rhino·skin logo, and I don't mind seeing it here. The
case is finished out with matching black stitching, which wraps around all of the case's edges. This case is
understated, and very businesslike. It looks so much like a small planner, that
folks at your next business meeting might think that you have regressed, and
gone back to paper…
Imagine their surprise, when you unzip it, and not only is your PDA lying
there in all it's glory; but you also appear to have a mini-briefcase, based on
all the hidden pockets and compartments revealed as you flip open the inside
flap, searching for a needed receipt.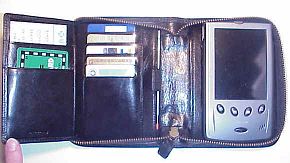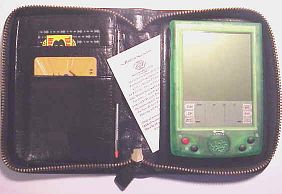 Sounds good, right? Well, it's time to slow down just a second… While there
are some really great features to this case;  there are also definitely
some questionable aspects that I think need addressing.
The largest concern I immediately encountered had to do with the
Rhino·skin's smell.
That's right, its smell.
I want to warn you right now: I opened the plastic wrapped box that the
Rhino·skin comes in, and the smell of this case nearly knocked me
out. It is a foul stench, that I can only imagine must have come
from the tanning or dying process, possibly in China, which is where the case is
made. It would not be possible for me to give you an accurate description of how
foul this smell was, and still is to a lesser degree – but I will try. The best
I can tell you, is that it's somewhere between sulpher springs and rotting
garbage. Does that give you any idea at all? Hopefully it at least gives you a
place to start, as you contemplate all the bad smells you have ever encountered
in your life.
The good news is that it eventually begins to fade. The bad news is, that it
doesn't happen overnight. This is definitely something you need to consider when
thinking about purchasing this case. I have had the Tri-Fold out of it's box for
almost a week, and the smell has just now gotten to where it isn't a full
frontal assault.
Assuming that I haven't scared you off; I'll now continue with my impressions
of this case…
The Rhino·skin Tri-Fold is quite thick when filled, easily 1.75″, and
it adds a minimum of 4.5 ounces (it's empty weight) to your PDA. Since you
can  really "stuff" this case – you could theoretically add 2 or
3 more ounces to it, in cards, bills, and receipts alone. Since it only takes 16
ounces to make a pound – by the time you add your PDA, you might be getting on
up there…
There are two slash pockets on the flap that faces your PDA. They are sized
and situated, so that you can fit a standard 3″x5″ writing pad in the
top pocket – should you have a need to jot quick notes to your non-PDA carrying
co-workers.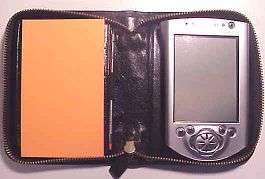 Opening the front flap, reveals another flap with two slash pockets like the
first; with an additional pocket behind them for receipts or bills. On the
inside of the case, you will now see five ID, credit, or business card pockets,
also with a lengthwise pocket behind them. There is yet another long pocket
behind where your PDA fastens to the case with Velcro. All of the long slash
pockets are deep, and can hold quite a bit of whatever you need to stuff inside.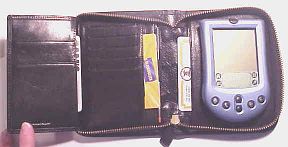 One thing I should note at this point, is that instead of putting the soft,
"loopy" Velcro on the panel that touches your PDA, the stiffer
"hook" part of the Velcro was used. In my opinion, that should have
been reversed.
Actually though, this is one of those times when I don't necessarily know
what's best. I was told by one of our readers, Frank Bing, that there is a
reason why you would put the stiffer "hook" side in the case, and the
softer "loopy" side on the piece of Velcro that sticks to your PDA. In
Franks words: "Since the soft, wooly side has a limited life, that part
should be glued to the PDA. That way you can always replace it. The hard, loopy
side will last much longer and is best sewed into the case. it would be near
impossible to replace it." Frank is exactly right, and so I wanted to let
you know that that is why I am not going to consider that a "Con" in
regards to the Rhinoskin.  :0)
All of these pockets and card-holders are laid out in a very convenient
manner, and I can tell that quite a bit of thought went into it. For instance,
you could have a paper pad directly across from your PDA – right where it needs
to be for a quick jot of a note. Under the flap, your credit cards and ID are
safely tucked away, and only seen should you decide to reveal them. All in all,
excellent planning.
A small elastic loop for your stylus puts the finishing touch on the inside
of this Rhino·skin.
There is no stiffener added to the front of the Tri-Fold to protect your PDAs
screen; however, the case is thick enough that it should protect your PDA from
just about any ding or knock. The case certainly isn't crush-proof, though.
As mentioned before, this case can easily accommodate various PDAs. I was
even able to put my iPAQ – with Silver Slider installed – into the case, and it
closed with no problem.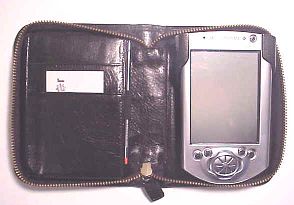 Just so you know what I am willing to go through for the sake of a review: I
actually installed the Velcro to my Silver Slider to test the fit. When the
review period was near completion; poor Julie was the victim of several frantic
ICQ messages, while we debated whether the removal of the Velcro would
cause  mortal damage to my Silver Slider's black metallic paint job. The
good news is that I was able to perform a successful removal without any residue
or paint removal – the bad news, is that I am still trying to figure out what I
was thinking, to go and apply a piece of Velcro to my
"baby"!!
Look – there is no way that I can completely put this case down as a lost
cause; but on the other hand, there is no way that I can wholeheartedly
recommend it, either.
I have owned several Rhino·skin cases in the past. Granted, they were the
titanium versions, but I would have expected that just as they had used top of the
line materials for those cases, the same would apply to their leather line.
Concerning the foul odor lingering on the Tri-Fold: this is not the type of quality that I am used to
seeing from Rhino·skin – and the only thing I can figure – is that perhaps they
got a good deal on some cheap leather, and they tried to make a quality case
with poorly tanned or dyed materials.***
.Price: $49.99
Available in Black or Brown
Pros:
Can hold massive amounts of ID, credit cards, business cards,
receipts, & your PDA
Heavy duty brass zipper
Tasteful embossed logo on front
Well crafted item
Pockets galore
Can use different PDAs with case
Cons:
Expensive
Foul odor, possibly from the tanning/dying process – it
does eventually fade…..somewhat…
Uses Velcro to attach PDA

***Rhinoskin contacted us to express their surprise
about the foul odor of this case. They are not noticing anything similar with
the cases in their factory. They are going to send several new samples to us for
a smell test. It is possible that we received a 'bad' case. Rhinoskin also
assured us that they use a very good quality Italian leather for this case. Look
for an update concerning these issues very soon…..Julie
2/25/01
Two new Rhino cases arrived here yesterday. Both cases have a very sharp odor
that isn't the typical "ahhhhhhhhhhhh, leather" smell that most people
are used to. I would have to say that it is an unpleasant smell. I had 2 other
people besides myself smell the cases and both agreed that they didn't care for
them either. I'm pretty sure that the odor has something to do with the dye or
tanning process. Of course the smell of the leather won't effect how useable
this case is,  it just doesn't help matters any….Julie

Support The Gadgeteer
:
The Gadgeteer is supported by readers like you! If you buy something through the links on our site, we may earn a small affiliate commission. Thank you! Learn more.
Product Information
Price:
$49.99
Manufacturer:
Rhinoskin
Pros:

Can hold massive amounts of ID, credit cards, business cards,
receipts, & your PDA
Heavy duty brass zipper
Tasteful embossed logo on front
Well crafted item
Pockets galore
Can use different PDAs with case

Cons:

Expensive
Foul odor, possibly from the tanning/dying process - it
does eventually fade.....somewhat...
Uses Velcro to attach PDA
***Rhinoskin contacted us to express their surprise
about the foul odor of this case. They are not noticing anything similar with
the cases in their factory. They are going to send several new samples to us for
a smell test. It is possible that we received a 'bad' case. Rhinoskin also
assured us that they use a very good quality Italian leather for this case. Look
for an update concerning these issues very soon.....Julie
2/25/01
Two new Rhino cases arrived here yesterday. Both cases have a very sharp odor
that isn't the typical "ahhhhhhhhhhhh, leather" smell that most people
are used to. I would have to say that it is an unpleasant smell. I had 2 other
people besides myself smell the cases and both agreed that they didn't care for
them either. I'm pretty sure that the odor has something to do with the dye or
tanning process. Of course the smell of the leather won't effect how useable
this case is,  it just doesn't help matters any....Julie