The Gadgeteer is supported by readers like you! If you buy something through links on our site, we may earn an affiliate commission. Thank you! Learn more.
Product Requirements:
Device:
Palm V/Vx or IBM WorkPad c3
Picture this, you are on your way to a business trip or vacation spot when
you realize that
you forgot to pack your Palm V Cradle and AC adapter. Now what are you
going to do if the
Palm V runs out of juice? Although I've never had this happen to me, I have
grabbed my Palm
V to take with me to work only realize that the battery was totally dead
(my Palm V isn't my
primary PDA). Instead of crawling around under my desk to unravel the
tangled web of cables
just to take the AC adapter and cradle with me, I instead could have just
popped a 9v
battery and the InnoPocket Palm V Emergency Charger into my gear bag and
headed out the
door.
The InnoPocket Palm V Emergency Charger is a small module that plugs into
the bottom of a
Palm V, Vx or IBM WorkPad c3 PDA and charges the internal lithium
rechargeable battery with
the juice from a regular 9v alkaline battery (not included).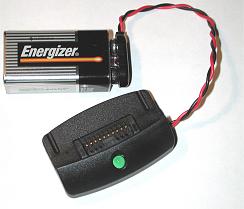 This charger is very similar to the Tech Center Labs Palm V Emergency
Charger. The main
differences are that the InnoPocket version is less expensive and is a
little larger in
size. The actual module part of the charger is about the size of a 9v
battery. So, it is a
convenient size that can fit into almost any bag, case or pocket.
Size: 1.97 x 1.30 x 0.67in (50 x 33 x 17 mm)
Weight: .35oz (10g)
The charger is easy to use. You just plug the module part into the hotsync
port on the PDA,
and a 9v battery attaches to the battery connector. If everything is
connected properly, a
green LED lights up on the module to indicate that the lithium batteries on
the PDA are
charging.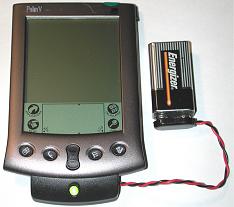 According to InnoPocket, the current output is limited and there is a
reverse circuit
protection. The module will only recharge the internal PDA battery up to
85% and will not
damage the Palm by over charging.
It takes around 45 minutes to recharge 85% of the internal
battery.
According to the instruction sheet that came with the charger, the internal
battery will be
charged from 0% to 45% within few minutes… I found that it takes maybe
20mins or so before
a totally dead PDA can even be turned on using this recharger. So, don't
assume that if your
PDA is dead as a doorknob, that you'll be able to plug this in and your Palm V
will start working
immediately. Also, realize that a totally dead PDA will most likely also be
a totally reset
PDA…meaning, all your data will be gone. It's a good idea to always keep
an eye on your
battery levels and to sync often so that your data will be backed up on
your desktop PC.
Since the charger does not charge the internal battery to a full 100%, the
LED on the module
stays lighted.  The LED doesn't turn off or turn to a different color. That's my only gripe about this product, there is no
indicator that charging
is finished…
Overall, I think this little charger is a great little accessory for the
Palm V/Vx/IBM c3
owner that is always on the move. I like the InnoPocket version better than
the Tech Center
Labs charger because it looks better, and is less expensive.
Price: $16.00
Pros:

Easy to use
Charges internal lithium battery to 85% full in 45mins
Small size
Cons:


No indicator to tell you that charging is finished
Support The Gadgeteer
:
The Gadgeteer is supported by readers like you! If you buy something through the links on our site, we may earn a small affiliate commission. Thank you! Learn more.
Product Information
Price:
$16.00
Manufacturer:
Innopocket
Pros:

Easy to use 
Charges internal lithium battery to 85% full in 45mins 
Small size

Cons:

No indicator to tell you that charging is finished