We use affiliate links. If you buy something through the links on this page, we may earn a commission at no cost to you. Learn more.
Product Requirements:
Device:
Handspring Visor, Visor Deluxe, Platinum, or Prism
FAFileMover Package from Kopsis (must be
purchased separately):
FAFileMv.prc 29k
CFATALib.prc 5k
CFFATLib.prc 23k
FAFormat.prc 8k
CFCardInfo.prc 11k
As a Handspring Visor owner, have you ever been jealous of Pocket PC owners
that have the ability to increase the storage space of their PDAs by just
popping in a CompactFlash card? It's true that Handspring sells an 8meg
Flash module and a 16meg
module, but those are currently your only choices. And at a price tag of
around $80 and $140, you might think twice about the purchase.
Now you have another option. The Removable MatchBookDrive
CF Adapter. This Springboard module will let you use a Type I CompactFlash card
(currently available in sizes up to 192meg) in your Visor.
A quick search on Pricewatch one of
my favorite price lookup sites, reveals that an 8meg and 16meg CF card can be
purchased at around $30 and $50 respectively. So, as you can see, CF cards
themselves are cheaper to purchase than a dedicated Handspring Springboard
memory module. And, you can always use a CF card in other devices such as MP3
players and digital cameras. So, is the MatchBookDrive and a CF card a better
solution? Maybe yes, maybe no. Let's take a closer look.
The MatchBookDrive is a very simple looking Springboard module. From what I
can tell, it is basically just a Springboard connector with a small circuit
board and a CF card connector attached to it. All enclosed in a transparent
Springboard module shell. That's it. No buttons, levers, LEDs, etc. It is just a
simple adapter.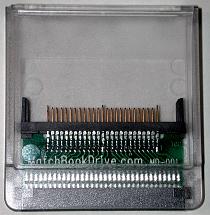 The module plugs into the Springboard slot on the back of the Visor. It fits
as well as any other module that I've tested in the past. If you insert an empty
MatchBookDrive into the Springboard slot nothing happens. But, if you insert a
MatchBookDrive with a CF card installed in it, into the Visor, the Visor will
automatically power on.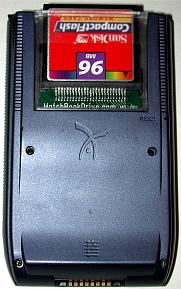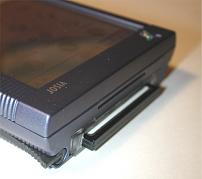 Inserting and removing CF cards from the adapter is not difficult due to the
fact that the CF connector inside of the adapter is keyed so that you can not
insert a CF card in the wrong direction.
One thing I should mention is that a CF card when installed into the
MatchBookDrive does not sit flush with the top of the Springboard module. It
actually sticks out approximately .150in (3.81mm). This could pose a problem
depending on what type of case that you use with your Visor.
The only quality issue with this adapter that I could find is with the actual
opening for the CF card. As you can see from the picture below, the opening
looks like it was created by hand with something similar to an X-acto knife.
Although this doesn't effect the operation of this module, it does make it look
a little more 'homebrew' than I would like.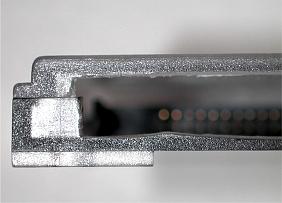 The biggest problem that I see with the MatchBookDrive adapter is that by
itself, it is useless. You can't do diddly with it when you first buy it even if
you already have a CF card to use with it. Why? Because the adapter requires a driver in
order for it to be recognized in the Visor. The adapter does not come with such a
driver. It must be purchased separately from another company. I would hope that
the company selling this adapter will come up with some kind of package deal in
the future that will include both the adapter and the necessary driver.
So, where do you get the driver? You have to buy it from Kopsis.
The driver / application that you need is called FAFileMover and is actually a group of 3
programs. A CF card info program, a CF card format program and the FileMover
program.
Files and / or programs can not be accessed directly from the CF card. You
have to copy the files to the Visor's internal RAM first. The FAFileMover
package makes this possible.
The CF Card Info program just accesses the inserted CF card to see if it is
recognized by the Adapter. If you get an error then you pretty much know that the CF
card you're trying to use is incompatible with the FileMover app. Kopsis keeps a
list of Compatible CF
cards on their site.
I have 8 different CF cards that I tested in the MatchBookDrive using the
FileMover app and only 4 of the 8 cards were usable. The cards that worked fine
were a 4mb Sandisk card, 96mb Sandisk card, 48mb Kingston card, and a 128mb
Kingston card. The cards I was unable to get to work were a 4mb Pretec card,
32mb Simple Technologies card, 8mb Lexar 4x card, and a 16mb Lexar 8x card.
The actual FAFileMover application is simple to use. You are presented
with a scrolling list of files that are stored on the Visor or files stored on
the CF card. You can either select all the files or individually select files to
copy to the CF card or Visor internal RAM.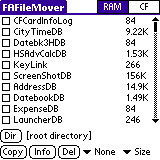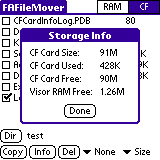 After you select the files and press the Copy button, a progress bar window
will popup. This status bar popups up almost instantly when you are copying a
file from CF to the Visor. But when you copy a file from the Visor to the CF
card, there is a definitely pause before the status bar is displayed. The first
time I tried it, I thought my Visor had locked up….
Copying files back and forth is a pretty quick operation depending on the
size and number of files involved. I can't really complain about the speed. But
I thought it was interesting to note that copying a file from the CF to the
Visor is a bit quicker than the other way around.
47 sec to copy a 1.92mb file from the Visor to the CF card
41 sec to copy a 1.92mb file from the CF card to the Visor
So, do I recommend the MatchBookDrive? I recommend it if you already have
several CF cards that are compatible with the FAFileMover application. If you
don't have any CF cards and think you only need 8mb or less of extra storage
needs, then at this point, I would tell you to buy the Handspring 8mb Flash
Memory Module instead. Although it may be slightly more expensive, a file mover
application is built into the module and you don't have to worry about
incompatibilities. If you need more than 8mb of storage, then I would make
doubly sure that the CF card that you buy is on the compatible cards list before
you buy it.
Price: $35 (plus an additional $2
shipping/handling), $10 for the FAFileMover application
Pros:

Easy to use
Ability to expand memory for a reasonable price
Cons:
Must purchase a separate driver/application in order to use this
module
Is not compatible with all CF cards
CF card does not sit flush with top of module
Slightly 'homebrew' look
Product Information
Price:
$35.00
Pros:

Easy to use
Ability to expand memory for a reasonable price

Cons:

Must purchase a separate driver/application in order to use this
module
Is not compatible with all CF cards
CF card does not sit flush with top of module
Slightly 'homebrew' look