We use affiliate links. If you buy something through the links on this page, we may earn a commission at no cost to you. Learn more.
Product Requirements:
Device:
Almost any PDA, such as: All Palm Models, All
Handspring Visor Models, Sony Clie, HP Jornada P/PCs, Casio E-series P/PCs,
Everex Freestyle, iPAQ, Phillips Nino, etc.
The Brenthaven Padded PDA Case is made of military grade black ballistic nylon, with a zipper
going around three of its sides, and it opens similar to a book.
This case is made with excellent craftsmanship, here in the USA. The ballistic
nylon used is tough and virtually indestructible on the exterior.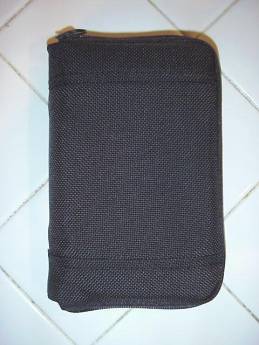 On the interior, you will be impressed by the layer of thick, heavy,
foam-coated plastic on both the front and backside of the case. I pulled the
foam liner out of the case to give you a better idea of what I am talking about.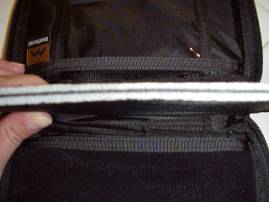 The best way for me to describe this inserted layer is to ask you to picture
a fabric bible-cover. You know, the type where you slip the front and back
covers of the bible into the slots of the cover, that make up two pockets when
your bible is in place. Well, that is how the foam layer fits into this case,
and it is in fact, removable – not that I am suggesting that you do so.
There is a very handy ID window for your driver's license or business card, as
well as three pockets that can hold receipts or other flat items. There are also
two slots in the spine for a full sized pen, and a couple of batteries –
should you need to carry any.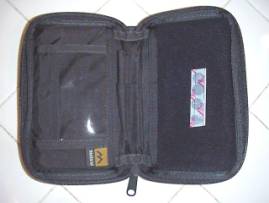 The soft fuzzy right side of this case attracts the four included pieces of
spiny Velcro, which you are to affix to the corners on the back of your PDA.
They are small circles that are rather unobtrusive, all things considered.
This case offers excellent protection, especially if you are in the habit of
tossing your PDA into your Briefcase. I can definitely see using this case when
traveling on a plane; it would certainly protect your PDA in any carry-on
bag.  That in itself may be the greatest thing about the Brenthaven PDA
Case.
The interior pockets are long enough to put bills in, and I can see how it would
be a convenient hand-held wallet for someone that doesn't like a bulge in
their pocket. In fact, the case is long enough that you can fit a checkbook in
it, on the side opposite of your PDA. You would still have the pocket behind
your PDA for inserting bills into, if you did decide to carry your checkbook.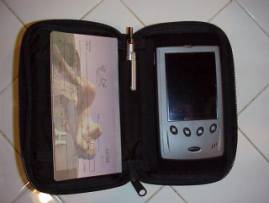 Because it is so understated and simple, it would be easy to dismiss this bag
as being plain, or generic when you first lay eyes on it. That might be a
mistake, if you are a person who needs padded protection for your PDA, without
looking like you are out-fitting yourself with the latest "outdoorsy"
fashions. This case would be presentable in a business situation; however, it is
a bit on the casual side.
The Brenthaven PDA Case measures 4" x 6 ¾" x 1" and it weighs .3 lbs,
empty. Once your PDA is inserted, the case is easily 1 ½" thick, and weighs
the .3lbs. plus the weight of your PDA. I am pointing this out because this is
where I begin to have trouble with the Brenthaven case.
You'll notice that it is simply called a PDA case – they are not
specifying which PDA, so that essentially means that it can fit a wide
range of sizes and styles.  I feel
that this case is almost too nonspecific in fit. A Palm V is shown in this case
on their website. I am reproducing their picture here for you: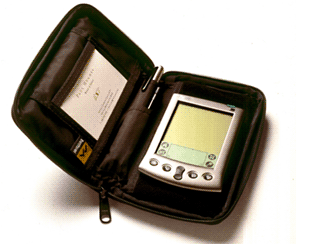 Notice that the case looks a little big – but not enormous, correct? Well,
we all know how much bigger the Palm IIIc is than the V, so look at my picture
of the IIIc in the case, as well as the similarly sized Hewlett-Packard Jornada
548.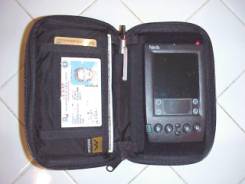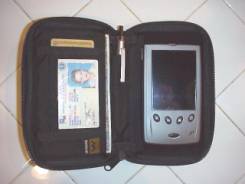 In my opinion, it fits way too big for my Palm IIIc, or my HP 548. It almost
looks like it would be large enough for the Palm IIIc with either a modem or the
Kodak PalmPix digital camera, if you scooted the Palm to the top of the case. In
fact, I went to Office Depot today, and Mark, the "world's friendliest
salesperson", allowed me to try both of those items in this case with my IIIc.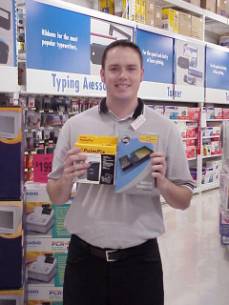 Say hello to Mark, everyone!
Unfortunately, with the Palm IIIc and either accessory, the case would not
zip closed – but it almost did.
With a Palm III – it might just work, since you are saving ½" by using a
shorter Palm.
For sure, you could easily fit your Palm with a Tale-light, Tale-vibe or one of those fabulous flash-plug memory modules. If there are any smaller accessories that attach to your
smaller Pocket PC (I am not including the Casio E-115 here), they might fit
also.
With just your smaller PDA in the case, you have a good inch on both the top
and bottom that is wasted space.  Now
I realize that it may not actually be "wasted space". By that, I mean that
since your PDA is basically not touching any edges due to all the extra length,
perhaps in a fall, it would make a big difference. I really can't say. However
– I just want you to be very advised that this case will add quite a bit of
bulk and size to your PDA. I don't believe it is a case you would ever want to
stick in your pocket – that's assuming you could get it in there in the
first place!  J
You know, this case may be exactly what you are looking for, if you need serious
protection, and don't mind the extra bulk or length.
Price: $39.50 (Brenthaven offers a Lifetime
Guarantee)
Pros:
Very padded
Lots of interior pockets for flat items
Cons:

Seems too long for the average PDA, yet too short for some added
accessories
Product Information
Price:
$39.50
Manufacturer:
Brenthaven
Pros:

Very padded
Lots of interior pockets for flat items

Cons:

Seems too long for the average PDA, yet too short for some added
accessories