We use affiliate links. If you buy something through the links on this page, we may earn a commission at no cost to you. Learn more.
Product Requirements:
Device:
Palm III, IIIe, IIIx, IIIxe, VII, VIIx, TRG Pro,
IBM WorkPad c5
Do you tire of changing the AAA batteries in your alkaline powered Palm
device every couple of weeks and feel guilty when you have to throw them away?
If so, you will be interested in checking out FullCharge from eXtend Computer and Instrument. FullCharge is a rechargeable NiMH battery pack and
AC adapter that can be used with Palm III and VII series devices. What makes
this solution more convenient than just buying a set of NiMH rechargeable
batteries and a charger is that you don't have to remove this battery pack from
the Palm in order to charge it.
Specs:
110 volt AC adapter with 2-pin microprocessor controlled battery connector
3 volt, 550mA-Hr NiMH battery
Fully charged voltage of the battery – 1.4 volts per cell and 2.8 volts for the
battery unit
Fully charged capacity of the battery – 550 mAh
FullCharge provides up to 75mA of current for charging the battery and for use
by the handheld device
FullCharge NiMH battery will provide approximately 500 full charging cycles,
depending on usage
With the package, you get a NiMH battery, a replacement battery cover and an
AC adapter charger. The battery which is one package instead of two separate
batteries, gets installed in your Palm handheld battery compartment.  The
FullCharge battery cover replaces your original Palm battery cover. It matches
the color of the casing so it looks like the original cover. The replacement
battery cover has two holes in it which allow the AC adapter charge cord to plug
directly into the battery.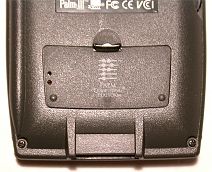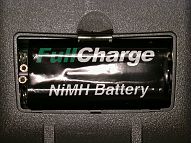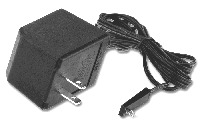 The charge cord plug is not keyed so it can be plugged into the battery in
either direction. You want to plug it in so that the cord is pointed towards the
top of the PDA. This allows you to put the PDA in the hotsync cradle and use it
while it is charging. Fortunately, you will know that you have the battery
plugged in correctly if the LED in the plug starts blinking red. When the
battery is fully charged, the LED will just glow a steady red. I'm not sure what
would happen if you accidentally left the cord plugged in the wrong
direction.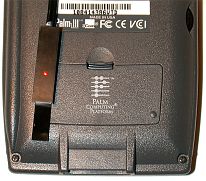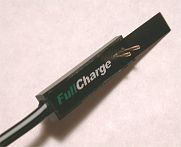 Charge time is approximately 10 hrs after a low battery warning
indication  and 12 hrs if the battery has become  completely
dissipated. How long does a charge last? FullCharge will last 2/3 as long as
alkaline batteries last.  Typically, a complete charge will last 2-3 weeks
according to the eXtend website.  If you plug FullCharge into your Palm for
an hour every couple of days, your Palm will stay fully charged.  You don't
want to allow the FullCharge battery to become fully drained, doing so will
result in shorter cycle life of the battery. I gave the FullCharge to my best
friend to use with her Palm III. She isn't a power user and only uses the Palm
III as a PIM, checking it a couple times a day to add or retrieve info. She
finds that she only needs to charge the battery about once a month. She likes
the FullCharge so much that she didn't want to switch to a Handspring Visor when
I offered it to her. When she asked if the FullCharge would work with the Visor,
and found that the answer was no, she said she would just keep the Palm
III.
You can use FullCharge while you are using your Palm, while you are using the
hotsync function, while you are using your modem, overnight etc. A microprocessor
control detects when the handheld is in use, and provides additional current and
will automatically shut off output when charging is complete.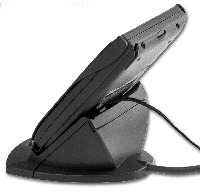 FullCharge is also really portable. You can easily toss the AC Adapter in
your bag when you travel.
The only negative aspect of this product is that the battery gauge will no
longer accurately show the battery level. The default battery gauge on the Palm
is set to alkaline batteries.  Therefore, the battery gauge will not read
as accurately when using NiMH batteries and will in fact will read lower than
the actual remaining battery capacity.  However, the Palm OS does support a
battery gauge for rechargeable batteries.  There are several
freeware/shareware programs which can change the displayed battery gauge to
match the rechargeable batteries. You can also change the default battery
setting by using a little hackery.
Simply put, FullCharge is a cinch to use, very portable and works great. It will save you
money and help the environment.
Price: $34.95 (replacement batteries are available
for $19.95)
Pros:
Easy to use.
Saves money on batteries.
Recharges batteries without removing from Palm.
Cons:
Default battery gauge on Palm doesn't give accurate reading.
Product Information
Price:
$34.95
Manufacturer:
eXtend
Pros:

Easy to use.
Saves money on batteries.
Recharges batteries without removing from Palm.

Cons:

Default battery gauge on Palm doesn't give accurate reading.