We use affiliate links. If you buy something through the links on this page, we may earn a commission at no cost to you. Learn more.
Product Requirements:
Device:
Any touch screen device
The Rotring 600 Trio-Pen, available from Stylus Central, could almost be described as a substitute weapon – it actually
resembles a self-defense tool that I was given as a gift years ago. It has the
heft, and the shape of an eyeball poker! J

This Rotring is actually a very functional multi-pen, with an industrial look
to it. The top of the barrel, and the bottom where you grasp it, are smooth and
round. The middle of the barrel is a long hexagonal shaft. Around the top edge
is the distinctive red band that all Rotrings have, and right next to that band
is the unique twist-action way to depress whichever tip you happen to be using.
This multi-pen comes in either a matte black or matte silver finish. For this
review, I will be showing pictures of the silver pen. You will notice that like
the other high-end Rotrings, the 600 Trio comes with a great gift case.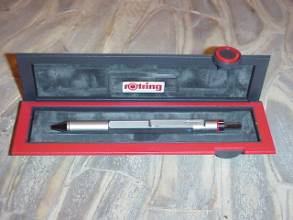 As the name implies, there are three tips included in the 600 Trio: a blue
ballpoint (which you can replace with black, should you prefer), a 0.7
mechanical pencil, and a yellow pointy-tip stylus. The red ink cartridge that
was replaced by the stylus is also included in the package.
One excellent feature of this multi-pen is the fact that because it has a 0.7
mechanical pencil, it is therefore an excellent gift for college students who
may have tests involving the use of #2 pencils and Scantron sheets.
I am pleased to say that the mechanical pencil works perfectly every time.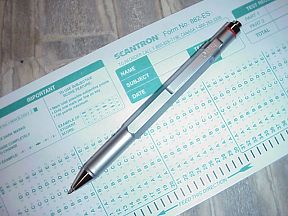 This Rotring comes with a wide pocket clip; however, this clip looks like it
could be removed, should you prefer.
As with most other multi-pens, you simply rotate the shaft of the pen until
the icon for the tip you want to use is facing up. Then you press the top
cylindrical cap, which also hides the eraser, to eject your choice.
The only thing that I would improve on this system, would be to find a way that
you could get the eraser cap off easier when the pencil was extended. There is
such a small end sticking out, that you are forced to retract the tip before you
can remove the cap. A small gripe, I know, but there it is…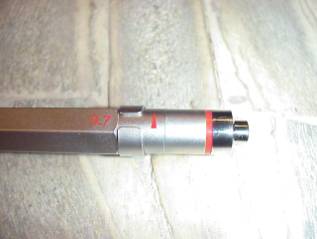 When you pick the 600 Trio up for the first time, you will most likely be
either impressed or dismayed by the sheer weight of the pen. It is
chrome-covered brass, so it definitely has some heft to it. It seems a little
bit top-heavy, but once in use, I actually found it to be well balanced and
comfortable for extended writing.
All in all, this is a pen that you will either really like or not, due to it's
strong styling and weight. Personally, I really like it.
Price: $69
Pros:

Appealing industrial design
Cons:

Expensive
Product Information
| | |
| --- | --- |
| Price: | $69.00 |
| Manufacturer: | Stylus Central |
| Pros: | Appealing industrial design |
| Cons: | |