We use affiliate links. If you buy something through the links on this page, we may earn a commission at no cost to you. Learn more.
The folks at Tech Center Labs have churned out another neat accessory for your PalmPilot, WorkPad or PalmIII. This one is called TaleVibes. What is it? It's a vibrating alarm module that plugs into the HotSync port on your Pilot.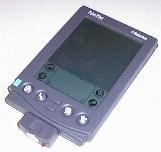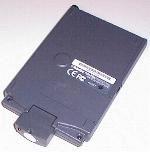 The module when inserted into the Pilot's HotSync port, extends out approximately a half inch. TaleVibes has its own power source (button cell batteries) so you won't have to worry about it draining the Pilot's batteries. Any button cell battery that can fit into the module will work fine. The batteries should last for hundreds of alarms if there is a little time between alarms for the battery to recover. To change batteries, you carefully pry the old cell out and pop a new one in.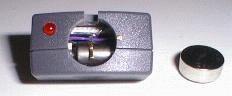 In addition to the vibrating alarm feature, there is also a small red LED on the module. The Pilot powers the LED while the button cell battery powers the vibrator motor. The LED lights up when the vibrator vibrates. This is a nice feature because if your button cell battery would happen to die, the LED would still blink when an alarm would go off.
Inserting and removing the module is as simple as plugging it in and pulling it out. It's just like inserting a HotSync cable. Because TaleVibes extends out of the Pilot, quite a few cases won't work with it. Maybe case makers will start creating cases especially for Pilots using the TaleVibes module.
Several programs are available that work with TaleVibes. Any programs that are written for the TaleLight module will also work with TaleVibes. A really nice one that you might already be using is Snoozer. This program and hack will let you set TaleVibes/TaleLight to vibrate/light when an alarm goes off. The first time I set it to activate the TaleVibes module, I wasn't expecting much… wow, I was surprised! TaleVibes has a pretty strong vibrator. But, I was testing it holding it in my hand. I decided a better test would be to put it in a case on my belt and see if I could feel the alarm. So, I set an alarm, put the Pilot in a RhinoPak case and attached it to my belt. I wasn't able to zip the case up all the way around the Pilot because of the TaleVibes. So I zipped the case up as snug as possible. Then I went about my work and forgot about it…and didn't feel the alarm when it went off. I think the RhinoPak case is a little too padded for the vibration to carry through the material. I tried another test where I put the Pilot w/TaleVibes in my shirt pocket without a case. This time I did feel the alarm go off but it wasn't really strong or noticeable.  I think the problem is that the module doesn't do a full continuous vibrate. The Snoozer software will just let you set how many times you want a sound or vibrate to occur with 10 times being the max. So, it will beep 10 times or vibrate 10 times in short 1-2 second bursts. I think it would be better if it could be set to vibrate until you turned it off… like a pager. I did one more test where I set an alarm and placed the Pilot on the desktop. This time there was no missing the alarm when it went off. The vibration of the Pilot against a table top made me jump!  🙂
I think the TaleVibes works best when you use it without a case, close to your body (shirt pocket) or out of the case on a desktop. It would be useful while in a meeting where you didn't want an alarm sound to go off but still wanted to respond to your alarms. It's a really neat idea and make the Pilot just that much more fun and useful. Keep those great little accessories coming!
Product Information
Price:
$39.95
Manufacturer:
Tech Center Labs
Pros:

Unique accessory
Loud on a flat surface

Cons:

Extends a half inch from the body of the Pilot
Won't fit in most cases
Can't feel alarm thru padded cases