We use affiliate links. If you buy something through the links on this page, we may earn a commission at no cost to you. Learn more.
The Newton MP2K Glove by E&B Cases is a black leather play through case for your Apple MessagePad 2000 or 2100.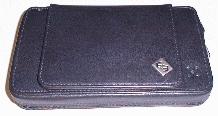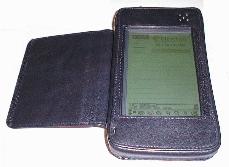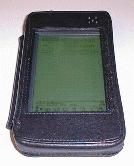 Inserting and removing the MP is easy. It slides into the case and a zipper wraps around to secure it. The screen flap on the case is very rigid and protects well. It is held closed with a Velcro strip. This flap can also be folded all the way under the case while using the MP. One thing that I'd like to see changed is to move the fuzzy part of the Velcro strip to the screen flap and the hooked part to the case. I found that when
folding the cover under the case, the hooks would sometimes 'grab' my clothes.
Some nice features of this case are the perforations for the MP's mic and speaker. The openings for the power switch and stylus are just the right size for easy use. You might have to tip the case forward to remove the stylus though because it doesn't pop up high enough to grab it with your fingers. The bottom of the case is also nicely padded.


There are a few minor things that I don't like about this case. One is that there isn't a way to access the pcmcia cards, serial port or AC adapter connector while the MP is in the case. The other thing I wish the case had was maybe one long zippered pocket on the bottom to put papers in. I don't think you'd want to add much storage to this case because that would take away from it's compact form.
The workmanship on this case is first rate. The leather feels rich, the stitching is perfect, and the zipper action is smooth. I REALLY like this case. It's my favorite Newton case so far. It's compact and is easy to carry. I think almost any Newton user would enjoy using this case.

Product Information
Price:
$79.95
Manufacturer:
EB Cases
Pros:

Very well made
Compact
Play-through

Cons:

No access to pcmcia cards, serial and AC adapter