Product Requirements:
Device:
Compaq iPAQ Pocket PC
The Compaq iPAQ Pocket PC is a terrific PDA. It is really fast, and at the
same time is really compact in size. After switching to the iPAQ as my main PDA,
the only thing I really missed was a CF slot. So, when the CF Expansion Pack became available, I ordered
one right away. My enthusiasm for the Compaq iPAQ is waning now that I have
received this product. Why? Because it is HUGE! It converts my sleek iPAQ into a
PDA that is larger and heavier than my Casio E-115. Check out the specs
below.
Weight
lbs.
Configuration
Size
inches
Configuration
.410 lbs
 iPAQ naked
5.11″ x 3.28″ x 0.62″
iPAQ naked
.175 lbs
CF Expansion Pack by itself
5.11″ x 3.40″ x 1.05″
iPAQ with CF Expansion Pack
.585 lbs
iPAQ with CF sleeve attached
5.11″ x 3.40″ x 1.05″
iPAQ with CF Expansion Pack
.563 lbs
Casio E-115
5.13″ x 3.25″ x 0.75″
Casio E-115
.581 lbs
HP 548
  5.30″ x 3.10″ x 0.60″
HP 548
Weight for iPAQ and CF Expansion Pack was done via a scale where I work. I
took the weight data for the Casio and HP from the online specs for each
machine. The Dimension measurements for iPAQ and CF Expansion Pack were done via
a set of calipers where I work. I took the size data for the Casio and HP from
the online specs for each machine.
You can see from the pictures below, how the iPAQ compares in size to the
Casio E-115, and HP 548.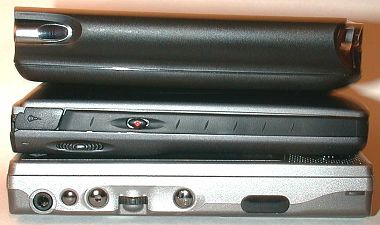 iPAQ, HP 548 and Casio E-115 stacked.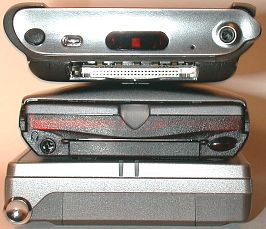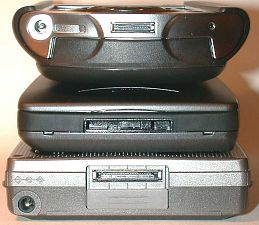 iPAQ, HP 548 and Casio E-115 stacked.
One thing to take note of is that with the CF Expansion Pack installed, your
iPAQ will no longer fit in the slip case that it came with. As a result, you'll
have to find another case to protect your PDA.
Using this Expansion Pack is as easy as it gets. You just slide it on, pop in
a CF card, turn on the iPAQ and voila, you can now access your CF cards. No
drivers to install, and no other setup necessary. When you first turn on the iPAQ, a
popup comes on the display and just as quickly disappears. It happens so fast
that I never can read what it says. This happens every time you remove and
reinstall the pack.
The CF sleeve is made from the same type of plastic as the Basic Expansion
Pack that came with the iPAQ. Just like the Basic Pack, this pack slides on to
the iPAQ from the bottom and snaps in place. I didn't have any problems with it
scratching the paint on my iPAQ as some people have mentioned with the Basic
Style Pack. My CF sleeve has no sharp edges. One nice thing is that even with
this large Pack installed on your iPAQ, you can still fit it in the cradle for
charging and syncing with your PC.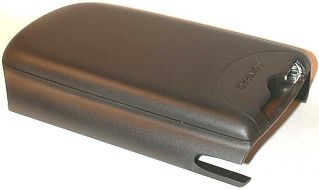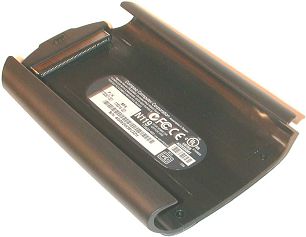 A small plastic slug comes with the Expansion Pack. This can be inserted when
you're not using a CF card in the Pack. I'm sure it will end up lost quickly
since I don't know why you would use the Pack without a CF card installed. As
you can see in the picture below, when the CF card is installed, it sticks out
just a little bit. The top of the card is even with the top of the PDA
though.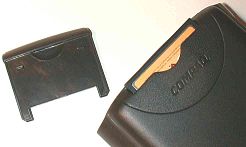 I tested the CF sleeve with 6 different cards that I have and they all worked
fine. Even my 96MB Sandisk card worked fine. I didn't have access to any
non-memory CF cards for the review. Compaq has a compatibility
web page
with various cards listed. If your card doesn't show up on this list, that
doesn't mean it won't work as not all of my cards show up on this list and they
work fine. The CF Expansion Pack can
accept Type I or Type II CF cards. So, you can use cards like the IBM Microdrive with your
iPAQ.
The CF Expansion Pack works well and is made well. The price is reasonable
especially if you use the $39 rebate coupon that came with your iPAQ. I don't have
any complaints about the unit except that it makes the iPAQ larger and heavier
than I personally care for. If you have already purchased the iPAQ and need a CF
slot, then by all means, buy this sleeve. If you're trying to figure out which
Pocket PC to buy and you need a CF slot, then you might want to look closer at
the Casio E-115 and HP 548.
Price: $69.99 (not sure about the list price)
Pros:
Allows you to use Compact Flash cards with your iPAQ.
Doesn't require installing drivers to use.
Cons:
Makes your iPAQ large and heavy.
Included slipcase no longer fits.
More of our stories that you'll enjoy: