We use affiliate links. If you buy something through the links on this page, we may earn a commission at no cost to you. Learn more.
Product Requirements:
Device:
Palm III and Palm V series PDAs
The Stabo Stylus Q, from Simple Com
Inc., is a visually appealing aluminum stylus that hides two practical items in it's otherwise playful exterior. As I am sure you are aware, there is no shortage of functional styli available for the Palm brand organizers. However, if you are looking for a stylus that has flair and individuality, then you may decide to replace your stock stylus with this one. At this time, the Stabo Stylus is available in a silver aluminum shaft with a choice of an anodized blue or red aluminum sphere on the end.
Another version is also available for the Palm V series and Handspring Visor.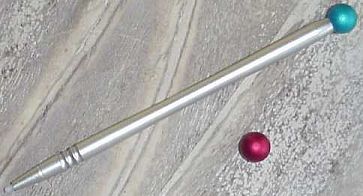 Palm III version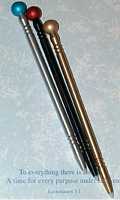 Palm V version
The stylus has a slight hourglass shape, and it slides easily into the Palm IIIc. One thing I would like to point out is that it may slide a little too easily for those who are used to having to fight their stylus to get it in & out of their Palm silo. The stylus stays in the silo pretty well. However, if you were to sling your Palm, the stylus would come out by a couple of inches. At that point, it seems to "catch" itself, and it does not come out any more. I suppose if you were to really sling it hard – your stylus would fly across the room. But then, why would you want to do that? 🙂
The tip of the stylus unscrews to reveal a reset pin that measures 8 mm. This is easily long enough to reset any Palm III. The pin fits effortlessly into the Palm's reset hole.
The end of the stylus, where the colored sphere is located, hides a ball point pen. Mine came with black ink (which I prefer), and wrote very smoothly – once I removed the protective wax that was on the tip of the pen. I like the fact that the ballpoint is basically upside down most of the time. It seems like there would be less chance of it ever leaking that way.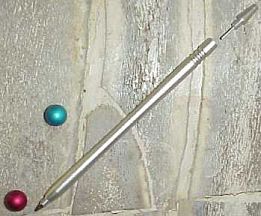 The weight of the stylus is slightly less than the metal barrel stylus that came with the Palm III. It is more comparable in weight to the plastic replacement stylus that Palm provides. If you are someone who likes a heavier stylus, it may take some getting used to. Otherwise, the stylus feels good in your hand, is not top-heavy, and unless you are taking copious notes – should not make your hand cramp.
If I could change one thing, I would give it a brighter stylus tip. I guess that the bright orange tip of my PDA Panache stylus has spoiled me.
The sphere of the Stabo stylus will stick out a bit from the top of the Palm III. I have a Palm IIIc, and as you will notice, it protrudes more than some aftermarket cases will allow. There will be no problem using the Stabo with the stock Palm flip-cover, and with many "book-style" cases. I can foresee a problem with hard cases, such as the Rhinoskin Ti Slider, and perhaps with some "play through" cases that have flip-tops.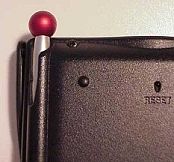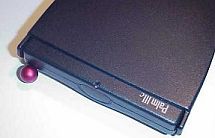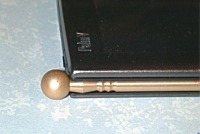 Personally, I really like this stylus. I think it is attractive and functional. It adds an element of fun to an otherwise drab black Palm IIIc case. I think it offers something for everyone in that it is not only "cool", but it also has the practical reset pin and ballpoint pen enclosed. 
Price: $20.00
Pros:

Looks great.
Very functional.
Feels good in hand.
Cons:

Would prefer easier to see tip.
Would prefer if it was more secure in Palm silo.
Will easily roll off your desk.
Product Information
Price:
20.0
Manufacturer:
Simple Com Inc.
Pros:

Looks great.
Very functional.
Feels good in hand.

Cons:

Would prefer easier to see tip.
Would prefer if it was more secure in Palm silo.
Will easily roll off your desk.