We use affiliate links. If you buy something through the links on this page, we may earn a commission at no cost to you. Learn more.
The Wallet Pen is a 3in (2.54cm) long solid sterling silver pen crafted by jewelry designer Timothy Grannis. This pen was originally designed to be used just as a
pen. But, since the Wallet Pen uses stock sized ball point refills, a stylus refill tip can also be used in it. The Wallet Pen that I received for review came with a black stylus tip and two ball point pen refill tips. I found the black stylus tip to be smooth and easy to write with. It should be noted that the Wallet Pen is not designed to be used with any particular PDA and will not fit into any stylus silo.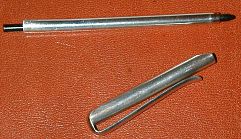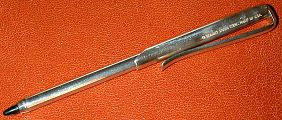 The Wallet Pen can come apart by pulling the upper and lower barrels apart. A pen or stylus refill can then be dropped into the lower barrel and then the two barrels can be reassembled. When both barrels are pushed together as far as they can go, the tip is exposed. In order to retract the tip, you hold the lower barrel and press the tip on a hard surface. This causes the tip to retract up into the lower barrel. This is fine if you are using a ball point tip, but I don't think you would want to press your stylus tip on a hard surface. Depending on the surface, doing so could cause the tip to be damaged or scratched which may result in your PDA screen later becoming scratched.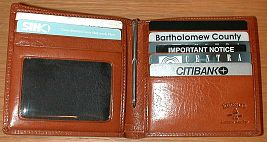 The Wallet Pen fits conveniently into the fold of your wallet (as pictured above). This way, you'll always have a pen or stylus with you and ready to use. The clip on the pen is strong and holds securely.
What about actually using this pen all the time? Since this pen is so small, it doesn't really lend itself well to being used as your primary pen or stylus. It is better suited as a 'just in case you need it' type pen or stylus. Personally, I have the ball point pen refill in mine and have been using it when I need to
write a check at a store. Since I always have my wallet with me, I don't bother taking a full sized pen anymore. I could also see using the Wallet Pen as
a stylus and clipping it to the breast pocket of a suit or possibly even using it clipped to a tie.
This pen looks classy and is made well. Being made of silver pretty much gives it a luxury item type appeal. The price isn't extraordinary though so, so it would make a very nice gift.
Price: $39.95 (Available at StylusCentral.com)
Pros:
Small, handy stylus.
Solid Sterling Silver.
Cons:
Doesn't have a convenient way to retract tip.
May tarnish.
Product Information
Price:
39.95
Manufacturer:
Stylus Central
Pros:

Small, handy stylus.
Solid Sterling Silver.

Cons:

Doesn't have a convenient way to retract tip.
May tarnish.