We use affiliate links. If you buy something through the links on this page, we may earn a commission at no cost to you. Learn more.
The Palm V Body Suit case by Extreme Limit
is a play through black leather case. This case is somewhat similar to the E&B Slipper type cases in that the Palm V slides into a holster and doesn't require any
Velcro to hold it there.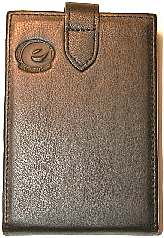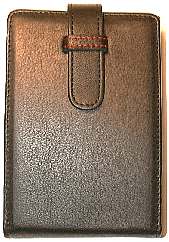 The Palm V slides easily into the holster part of case. It is held in place by friction. An oval cut out at the bottom of the holster is there so that you can use your finger to push the Palm V out of the case to remove it. I don't think this opening is really all that necessary as the Palm V is not held tightly in the holster and in fact can slide out if held upside down and shook slightly. I think it might be better to make the case just a tiny bit more snug so that this might not happen
unexpectantly. I don't think this fact detracts from the case though because I don't think many people would hold the open case upside down very often. It
would also be great if the oval cutout was in the middle over the hotsync port
instead off to one side. That way, you could sync using a hotsync cable while
the PDA was still in the case.

The holster is all leather with a satin-like material as a liner. There are cutouts for the application buttons and the right stylus. Unfortunately the leather covers over the power button so that I had to use my thumbnail to slide under it to activate it. It would be much better if they cut a small half circle out of the leather covering the power button.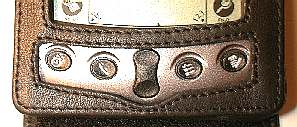 Since the holster is open at the top, the IR port, and contrast adjustment button are
both accessible.
The screen cover portion of the case is attached to the bottom of the case so that it hangs down when you're using the Palm V. This part of the case is stiffened to protect the screen when the case is closed. The inside of the screen cover has a kind of rough velvet like material. There aren't any pockets for business cards inside this cover. The cover is held closed with a slide thru leather loop.The dimensions of the Body Suit (closed) are: 5.25″ x 3.25″ x
0.875″. The case is very well made. The leather is of very good quality as is the stitching. I feel like this case provides good protection and at the same time looks and feels classy. The only real problem with the case is that it isn't easily available here in the US. Extreme Limit is a Japanese company. At this time the only way to order it is by money order.
Price: US$44.15 including freight and handling
charges
Pros:
Play through
No Velcro required
Made very well
Cons:
Power button covered
Have to remove to hotsync