We use affiliate links. If you buy something through the links on this page, we may earn a commission at no cost to you. Learn more.
The MailStation is a single purpose portable Email appliance. It's marketed towards people that do not want a computer but just need a way to send and receive email.
Specs:
Address Book stores up to 1000 contacts
Stores approximately 400 typical E-Mail messages
3-6 weeks Battery Operation via 3-AA batteries
Integrated 33.6 KBps Fax / Modem
16.5mm pitch QWERTY keyboard
512KB Flash Memory
Size : 8″w x 6″d x 1.5″h
Weight : 2 lbs
The MailStation is black plastic unit that has a keyboard and a popup LCD display. There are snap out feet on the bottom that elevate the MailStation to a comfortable typing angle. The keyboard is pretty nice. It is easy to touch-type on. I would prefer if the keys were a little more concave on top instead of so
flat. But I think I'm probably nit picking.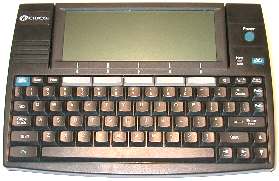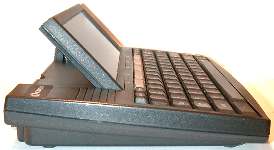 The are several nice features to the unit that I'll point out. The power button is large and easy to activate. Below it is a Get E-Mail button. This is a one touch button that connects to the mail server, downloads your messages and then disconnects. It would be nice if this button would also power up the unit and get E-mail. Beside the Get E-mail button is an LED that flashes when you have new mail waiting for you. A nice feature of the MailStation is its ability to automatically dial in and retrieve your E-mail for you at a specified time and selected intervals.
The display on the unit is fair. It is very similar in color and clarity to a first generation PalmPilot. The screen can either lay flat or pop up to a comfortable viewing angle. There is also a contrast adjustment wheel on the side of the MailStation. The most disappointing thing about the display is that it is not backlit. I will say that the screen is fine under good lighting. But, it is a bit hard to read in dimmer environments.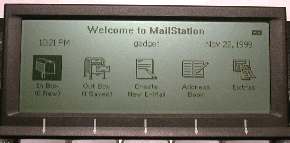 There is a standard printer port on the back of the MailStation. There is also a standard phone jack for the line in as well as a connector to plug your physical phone into. The MailStation is similar to a modem in that you put the phone line into one port and a physical phone into the other port (optional).
There is also an AC adapter port on the back of the unit (the AC adapter is included with the MailStation).
Over all, the hardware is fine and quite sturdy. I like that it's small and light weight. It's easy to just pick up the MailStation and take it with you anywhere. For example, you can connect the phone line, get E-mail, unhook the phone line and then go to another room and read your messages. You can also reply to the messages and send them later. This makes the unit pretty convenient.
Actually using the MailStation is easy. When you buy the unit, it is already pre-configured with the dialing and login information. This is great for people that are afraid of computers as it is already setup for you. The MailStation is setup to dial the city local to you for retrieving E-mail. Not all cities have a local access number though. To see if the MailStation service is available in your area, check the Dialup access numbers at the MailStation website.
The MailStation has support for up to 5 individual E-Mail accounts. This is good for a family as each person can have their own address. The addresses are formatted like: [email protected], [email protected], or [email protected] According to the MailStation FAQ's on their website, the unit will not work with a regular ISP. The MailStation was designed to work only with MailStation's E-mail service. However, you can forward your E-mail from your other accounts to your MailStation. But, being the curious person that I am, I played around with the settings and was able to get the MailStation to work just fine with my Mindspring.com acct. I was able to send and receive email with no problems at all.  Being able to do this really makes the unit more attractive I believe. I'm not saying that the MailStation will work with every ISP and POP acct though…
The user interface on the MailStation is very simple and easy to use. There is a main menu that comes up every time you power the unit on. This menu has your In Box, Out Box, Create New Mail, Address Book and Extras icons. You can either use the arrow keys to highlight the desired icon, or you can press the large gray button directly under the icon. Selecting the Extras icon gives you a few more options such as a Calculator, Calendar, User Info, Sent Mail folder and Settings.
The Address Book stores up to 1000 contacts, including: First and Last Name, E-Mail Address, Home Telephone, Office Telephone, Pager, Cellular, Telephone, Fax, and Notes. In addition, MailStation provides one-touch addition of E-Mail addresses from received E-Mail messages and auto-fill of E-Mail address from Address Book.
Composing a new message is easy. There aren't many options available to you, just the address, subject and main message input fields. There is one nice feature, a Spell Checker with a 20,000 word dictionary. The Spell Checker will give you suggestions in a popup window. The only bad thing about the Spell Checker is that it is SLOW! I'm talking VERY SLOW. It took about 5 secs to find the spelling error in the following sentence:  "He's got the wieght of the world on his shoulders." You also can't add words to the dictionary.
The MailStation can store up to 100 8.5″x 11″ typewritten pages of E-Mail, or approximately 400 typical E-Mails. For individual messages, the MailStation limits the message size to 8K. This is approximately 66 lines per E-mail. If you are replying to an E-mail you received from someone else, their original message, along with the headers and routing information, is included in those 66 lines of allowable space. As far as receiving attachments with your E-mail, you can but you can't open them on the MailStation. You are provided with a special Web Mail account, at no additional cost, to open your attachments using a PC. Access to that account is available at mail.mymailstation.com. Since the MailStation is being pushed towards people that don't want a computer, I'm not sure how they would actually access that website.
The MailStation works as advertised. It is easy to learn and use for anyone that just wants to send / receive E-mail. If you want a device that doesn't require a learning curve and is easy to take from room to room, the MailStation might be for you. If you think you might want to surf the web or do more than just send E-mail, then you should not get the MailStation. You would be better off looking into WebTV instead. I'm thinking that the MailStation might be a nifty little E-mail terminal that I can use with my Mindspring.com acct. It would be a quick way to see if I have E-mail waiting for me when I don't want to go down to the computer room in my basement.
Product Information
Price:
$99.95 (device), $99.95/yr. of service - Value Plan Plus$149.95 (device), $9.95/mo. of service - Value Plan
Manufacturer:
Mailstation
Pros:

Small and portable
Good battery life
Easy to use

Cons:

Can't use with multiple regular ISP (POP accts)
No backlight on display
There aren't dialup numbers for every city