We use affiliate links. If you buy something through the links on this page, we may earn a commission at no cost to you. Learn more.
OP/TECH USA is a well known maker of
rugged camera straps, cases and pouches. Lucky for us PDA users, they have just added two
new cases to their collection. The Macro and Micro Soft Pouch PDA neoprene cases. These
cases come in various colors (black, steel, royal and forest) and include a belt clip.
The Micro is

3.375″ x 5.25″ x 1″


and the Macro is

3.75″ x 5.75″ x 1″

in size.
The Micro case can hold a PalmPilot, Palm III, IIIx, V, V with modem, Casio E-10,
E-11, Everex Freestyle and others. The Macro works great with a Philips Nino, Casio E-15,
E-100, HP Jornada 420 and Compaq Aero sized PDAs.The case is made of Neoprene and is
slightly stretchy. The PDA slides in easily and quickly and can removed easily as well.
The flap is held closed with Velcro.

The cases do offer some protection in the event of a fall. But the one thing that these
cases lack is a stiff panel on the screen side of the case. I'd like to see the case
upgraded with this feature.
Both cases have a belt clip on the back. The clip is plastic and is sewn into the back
of the case. A special locking mechanism keeps the case from sliding off your belt. I like
this lock as I've had the common metal spring type belt clips slide right off my belt
before when stooping or swatting down. Although the clip is plastic, it feels very strong.
Since it is so strong, I found it pretty hard to slide it on my belt one handed. After
fighting with it, I decided that the best way to put it on is to actually slide the belt
through the opening instead of trying to slide it over the belt. Removing the case from
your belt isn't as difficult.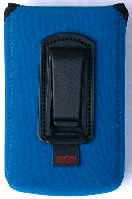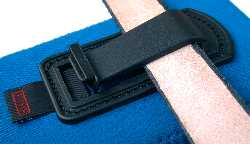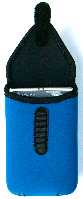 During the review period, I used the Micro and Macro cases with my Palm V
and my Casio E-100. Both cases worked equally well. The cases ride well on your belt and
although they don't swivel, they didn't get in my way when I was sitting down or driving
in a car.The OPTECH/USA cases are made well. They are made of quality materials and the
stitching is first class. The pricing on these cases is also very reasonable.

I'm currently using the Macro sized case as my primary case for my Casio E-100. So far
it has worked great and I'm sure others would also like using this case.
Price: $14.50 (Suggested Retail Price for both models)
Pros:
Fits many different PDAs.
Belt clip locking mechanism.
Cons:
No screen stiffener inside the case.
Product Information
Price:
$14.50
Manufacturer:
Op tech
Pros:

Fits many different PDAs.
Belt clip locking mechanism.

Cons:

No screen stiffener inside the case.