We use affiliate links. If you buy something through the links on this page, we may earn a commission at no cost to you. Learn more.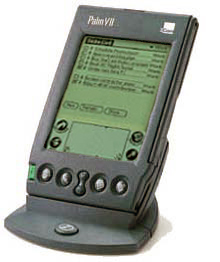 The Palm VII is the highly anticipated wireless device from 3Com.  It uses the same processor as the Palm IIIx and the Palm V, so it is very fast.  The device has 2MB of ROM and 2MB of RAM just like the Palm III.  I am very disappointed that the Palm VII has only 2MB of RAM. Although the web clipping apps are small, it would still be nice to have some more memory. It also has the new screen as seen on the Palm IIIx and the Palm V which looks fabulous.  It is a bit wider and longer than the Palm III.  The extra width is from the wireless antenna.  The length of the unit is greater to accommodate the wireless battery and other hardware.  There is no access to the wireless
battery.  It is charged automatically by the AAA batteries when needed.  The device schedules recharges of this battery for when you are not using it.  When it is charging, you cannot use the wireless functions.  The antenna is made of a thin piece of metal coated with thick plastic.  It is sturdier than it looks.  Since it is made mostly of plastic, it can bend a little.  I have had no problems with it in the past two months.  3Com is definitely expecting people to break these, removal instructions are listed in the manual.
Hardware Specs:
Processor: Motorola Dragonball (Same as Palm III)
Operating System: Palm OS 3.2
User Storage Memory: 2MB
Display: 160×160 pixel, high contrast and backlit
Power: 2 AAA Alkaline batteries
Size and weight: 5.25″ x 3.25″ x 0.75″, 6.7oz
What sets this device apart is the new iMessenger and Web Clipping Apps.  iMessenger allows you to send and receive e-mail via the Palm.Net service.  Web Clipping allows you to use custom-built PQAs (Palm Query
Applications).  These PQAs allow you to check news, weather, stock quotes, and any other information that someone wants to write a PQA for.  The device also has the new 3.2 ROM.  It is not a major difference over the previous ROM though.  One
problem with this new OS is that it does not show HackMaster Hacks in the Delete application.  I still have not figured out how to delete Hacks.
iMessenger
iMessenger is the Palm VII's e-mail program.  The device does come with the standard Palm Mail program.  But, the two do not integrate at all!  This could cause confusion for some users.  iMessenger works like any standard mail program.  You
can compose, send, and receive mail from it.  The interface is very simple and straightforward.  If you can use a standard e-mail program, you can use this one.  iMessenger allows you to send and receive via your Palm.Net login.  Since
you are paying by the KByte, it is best to only give this e-mail address to people you want to receive e-mail from.
The program does not allow attachments or encryption.  You can, however, set up a signature file and an alternate reply to address.  This is a very nice mail program.  On the server side, Palm.Net keeps a copy of all of your messages until you
delete them.  This is in case you accidentally hard-reset your Palm VII or crash the device.  The program also allows you to file messages and cut and paste into other applications.
iMessenger is a great app.  It is simple and easy to use.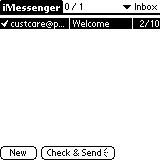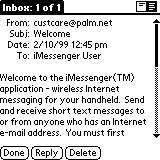 Web Clipping
PQAs are great little applications.  They are usually only a few kilobytes but can really pack a punch.  There is a new Category in Applications called Palm.Net. It holds all of the PQAs, iMessenger, and Diagnostics (for checking signal strength and other information) by default.  Whenever you install a new PQA, it will go into this group.  This group cannot be deleted.
All PQAs have a standard interface.  They are one screen wide and one or more screens high.  At the top of the screen, there are four areas of interest:  the title bar, the progress/stop button, the back button, and the optional history combo box.  The title bar shows either the title, or the status of the PQA.  The progress/stop button allows you to stop the transfer of data to or from your Palm VII.  When it is transferring data, it pulsates.  The back arrow takes you to
the previous screen of information.  Finally, the history combo can be either visible or invisible.  It depends on whether there is history data or not.  This history is great.  I used the ESPN PQA to get the schedule of the Cleveland Browns for next season.  I can now go to that history and look it back up for a short period of time.  (The history will get full and start dropping entries off the bottom based on the date and time).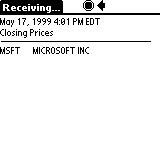 PQAs are created by using a subset of HTML code which is then compiled using a simple program.  On the server-side, a CGI or other type of script handles the queries to that web site.  So, what you are looking at on your Palm VII are basically web pages.  They are small pages, but still web pages.  These include pictures and text.  Any link that will take you to another site (thus forcing another wireless transaction) is marked with a special symbol kind of like a sunburst.  Anytime that you click one of these links or buttons, you must put up the antenna of the Palm VII.  If you forget, it will let you know so that you can continue.
PQAs generally take about 10 to 15 seconds to return the data that you request.    Take for example ESPN.  If you click on the Baseball link from the main screen, you are taken to the Baseball screen.  This does not require a wireless connection.  Next, you click on the AL Standings link and wait for the data to be transferred.  This is about a 10 second wireless transaction.  Once the data is received, it is put into the history and you can scroll up and down through the
data.  If you click on the title bar, you will receive detailed information on how large this transaction was.  Since this transaction was over 1K, the title bar shows !! after it.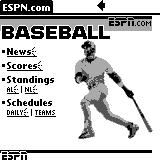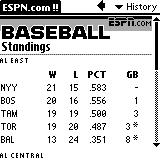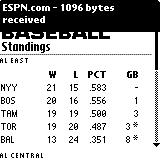 A nice feature in web clipping is that you copy and paste information into other Palm applications.  But this has its limitations.  If you copy a table for example, it does not paste properly into MemoPad.  This is a shame.  I'd like to see a better way to save data from PQAs.  This is my biggest gripe with PQAs and web clipping.  Generally, it is fast, useful, and fun. One of my favorite PQAs to come out is a link to slashdot.org.  It's great to get my daily dosage of geek news on the road.  PQAs like this will help the Palm VII to gain popularity.  Another nice feature is that many PQAs allow you to retrieve information on where you currently are.  A prime example of this is the Weather channel PQA.  It has a "My Weather" button that will find the weather forecast for wherever you are.  Very nice!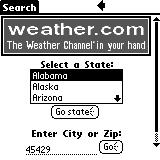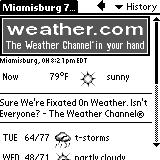 Overall, I really like the web clipping features of the Palm VII.  They are easy to use and you can fit a lot of them on your Palm VII.  However, since PQAs can be created by just about anyone, they are inconsistent.  Copying information from other Palm apps is difficult as well.  For example, MapQuest's PQA forces you to input a starting and destination address every time you use it.  But, the pros definitely outweigh the cons.
The Service
The most controversial part of the Palm VII is the monthly service charge.  Usage is based on KBytes.  Each time that you initiate a wireless transaction, a packet of data is sent.  These packets are very small, but they can add up.  It is that
data that you should worry about.  When I transferred the Cleveland Indians schedule, it was about 4K.  That's big!  Each K is about 3 screens worth of information.  iMessenger warns you before transferring large amounts of data and some PQAs will warn you,  But others do not.  It's up to you to figure out how much data could be transferred.
There are two service plans available at this time:  $9.99 for 50K/month or $24.99 for 150 K/month.  If you exceed the given K in a month, you are charged $0.30 per each additional K.  So, what does this mean to the end user?  If you use less that 100 K per month, the best choice is the $9.99 plan.  150 K is a lot of data (at least for me).  If you are using the device as your only source of news, weather, and e-mail, it's going to cost you a bundle.  But, if you do a couple of queries and an e-mail or two a day, you should be fine.  You can check the Palm.Net website to see your usage.  (It is delayed a day or two).  3Com estimates that with the $9.99 plan, you can get about 150 full screens of information or about 30 e-mails and 40 web clippings per month.  With the $24.99 plan, you can get about 450 screens of information or about 90 e-mails and 120 web clippings per month.
I originally chose the $24.99 plan, but have since changed to the $9.99 plan.  It works better for me.  I have an internet connection at work and at home.  So, it would be silly of me to check the Weather channel's forecast via the Palm VII while sitting at my desk at work.
Overall
I must say that I really like the Palm VII.  The device itself is not much different from the Palm III.  But, the software and wireless capabilities are.  I find it to be somewhat useful, and a great conversation piece.  While travelling, it is a great way to keep in touch and find out information.  The web clipping is fast, and iMessenger is very easy to use.  However, I do feel that the price for the device and the service are high.  For $599, I could buy a Palm V and have money to spare.
A few weeks ago, I was waiting in line for Star Wars tickets and had my Palm VII with me.  It was the first time I really enjoyed using the Palm VII.  I kept up with the news, Slashdot, and sent e-mail to everyone I know.  I was finally able to use the device to its' full potential.  But, the Palm VII is not something that I have to have.  It's more of a toy than a tool for me.  If you travel a lot or can't always access e-mail or the internet when you want, this device might be for you. That is if the price tag doesn't scare you away first.
Product Information
Price:
$599.00 + $9.99 (50K/month) or $24.99 (150K/month)
Manufacturer:
Palm
Pros:

The device has a lot more functionality than its predecessor the Palm III.
Web clipping PQAs are useful and fun.
iMessenger is a a great way to send short e-mails on the road.
New screen.

Cons:

Only 2MB of RAM.
Service is inconsistent and has limited coverage.
Price is high.