The Palm Glove 3 case for the Palm III is made by E&B
Company. This is a leather 'play-through' case made esspecially for the Palm III. The
screen cover portion of the case is re-inforced with a hard insert. There is one business
card slot in the cover. On the outside of the cover is the E&B logo. A nice thing
about the cover on this case is that it can be folded all the way behind the case for
easier use. It is like the cover on a reporters notepad. The cover is held closed with a
strip of Velcro. There is also an opening on the left side of the case where you can
access the contrast wheel. There is even an opening at the top of the case for the IR
port.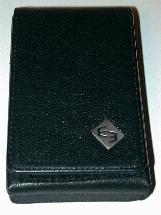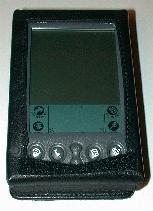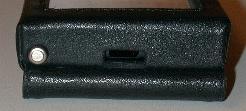 The Palm III slides into the case from the bottom and is held in place
with a Velcro tab. It's a pretty snug fit, so removing the P3 might take a bit of effort.
You also have to remember to remove the stylus before you take the P3 in and out of the
case. One bad thing about the Glove is that the stylus that came with your P3 will not
work with this case. You will need to either have the !Point or the Palm III stylus by PDA
Panache. You also must remove the P3 to hotsync or you can use a hotsync cable. 
The main buttons on the P3 can all be accessed relativly easy. The leather and Velcro
make that part of the case a little thicker than the rest so if you play games that use
the buttons, it might be somewhat harder than playing with the P3 out of the case.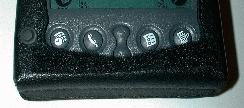 The Glove also incorporates E&B's rubber power button. I've not been a real fan of
this button on their other cases, but with this case, it's great. It usually took me two
pushes to get the Pilot to either turn on or off. This rubber version is a very easy to
use and takes only a light press.
The Palm Glove 3 is a very nice leather case. The stitching and leather quality are
both first class. The case looks good, feels good, and is easy to use. I believe that this
case could protect your Palm III very well from most bumps and short drops.
The main annoyance of the case is that you need to use a different stylus with it. This
case also adds a little to the weight and bulk of the Pilot. Other than that, this is a
very nice case that most people would enjoy using with their Palm III.
Price: $32.95
Pros:
Made very well.
Cover flips all the way behind the case.
Cons:
Cannot use the stock stylus with this case.
Must remove to HotSync.
More of our stories that you'll enjoy: