The PalmJacket by PilotGear H.Q. is a leather
screen protector. I don't consider it a case because it leaves the sides of the Pilot or
Palm III exposed. All the PalmJacket really does is protect the screen. It is made of one
piece of black leather with the PilotGear logo embossed on the front. The Pilot or Palm
III is held in place by a piece of velcro attached to the back. The screen cover is also
held closed with velcro.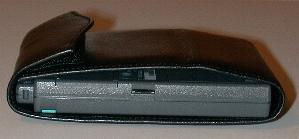 To me it seems as if the leather needs to be about 1/4inch longer. The velcro closure
doesn't want to lay flat as it should. Because of that, only about 1/2 to 3/4ths of the
velcro is actually hooked when the cover is supposed to be closed.
The PalmJacket has one business card slot in the screen cover portion of
the case. The screen cover part of the case does have a medium thick stiffner in it.The
back of the cover is 'hinged' so that you can put the Pilot in the cradle without removing
the PalmJacket. You can also use this case with The Bridge.

The quality of the leather and stitching are all top quality…. but I just don't care
for this case. I prefer the Wrap2 case from Innovations to
Industry. I think it has a better fit.
Price: $19.95
Pros:
Can hotsync while attached to case.
Compact
Play Through
Cons:
Velcro closure doesn't fit that well.
You have to attach velcro to the back of your Pilot.
Sides of Pilot are exposed.
More of our stories that you'll enjoy: