We use affiliate links. If you buy something through the links on this page, we may earn a commission at no cost to you. Learn more.
PDA Panache seems to put out some of the best
PDA styli around.  They've just come out with a few new offerings that I'm sure
you'll be interested in checking out. I've already posted a review of their new Casio E series styli for the
Casio Palm size PC so I won't be including it in this review.  What I will include is
their new Trio-1 3in1 stylus, Laser stylus and Stick Styli. All of these styli are
standalone… by that I mean that they do not fit in the stylus silo of any PDA.
Trio-1



The Trio-1 is a new stylus that is a stylus, pen and pencil all in one package. It is very
similar in shape and size to the AutoPoint Stylus+
that Don Damiani reviewed. But, the Trio-1 beats the AutoPoint both in style and quality.
The Trio-1 has a brushed aluminum finish and rubberized black finger grips. It has
a nice balanced weight to it that I really like. It also has that great orange stylus tip
that PDA Panache is famous for.
At the top of the Trio-1 near the pocket clip is a red dot, black dot and black arrow.
These 'icons' are what you use to switch between the stylus, pen and .5mm pencil. You just
hold the instrument so that the desired tip icon is displayed on top and then press the
button. It uses some type of gravity method for selecting the correct tip.  Another
button on the pocket clip lets you retract the tip.  Using the Trio-1 is easy and
becomes second nature quickly.
I'd have to say that right now, this is my favorite stylus for use with my Palm III.
Price: $21.95 (3pk refills are $2.49)
Pros:
Stylus, Pen and Pencil all in one package.
Looks and feels great.
smooth orange tip.
Cons:
Rattles when no tip is exposed.
Laser Stylus (LS-400)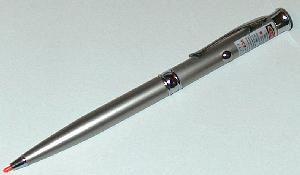 Their new Laser Stylus is one of the coolest gadgets that I've seen in awhile. Not only do
you get a stylus, but a really bright red laser pointer.
This instrument has a nice solid feeling. The body is brushed metal that has a slight
bronze or gold tint to it. The top, tip, clip, and middle band are a polished silver.
To expose the stylus, you just twist the body. The stylus is their typical easy to
see orange tip. Writing with this stylus is smooth and the body feels great because it's
heavy and balanced.
The laser pointer part of this instrument is great. To activate it, you just press the
silver button on the upper half of the body. The laser itself is a bright red dot.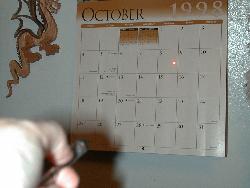 It is a lot of fun to play with this pointer. My dog went nuts chasing it when I shined
it on the floor.  It is also quite strong…while at work (day job), I was able to
shine it across the expanse of our whole building to a far wall and still see it. The
building is quite large maybe as much (I'm guessing…) 100ft across.
If you use a stylus and need a pointer, this is the instrument for you! Check it out.
Price: $29.95
Pros:
Stylus and laser pointer in one package.
Smooth orange stylus tip.
Strong bright laser pointer.
Cons:
Drives dogs crazy  🙂
Stick Styli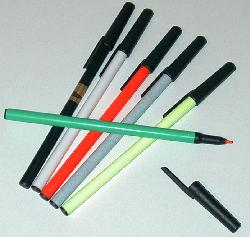 These stick styli are almost exactly like a typical BIC pen. Same weight, plastic barrel
and top with pocket clip. But, instead of being an ink pen, they have the PDA Panache
famous screen safe orange stylus tip.
These styli come in a variety of colors and PDA Panache can custom imprint your logo on
them (for extra $$'s).
Priced at almost $2 each, they are perfect for use as a spare. Throw one in your
backpack or purse, one in your desk at work, and one in your car.  I don't think
you'd want to use this as your main stylus as they are pretty light weight (I prefer a
heavier stylus) but if you do, they are a perfectly adequate stylus.
Price: $1.95ea. (also sold in 3 and 10pks)
Pros:
Inexpensive.
Orange screen safe tip.
Cons:
Light weight
Product Information
Price:
Manufacturer:
PDA Panache
Pros:

Inexpensive.
Orange screen safe tip.

Cons: