One of the latest products to come from PDA Panache is a replacement stylus for the Casio E10
(or E11) Palm size PC. This stylus comes in two variations.  A black chrome and a
silver chrome model.Like all the other styli that PDA Panache carries, they include a
screen safe bright orange tip. This tip feels far superior to the writing tip on the
stylus that was included with the Casio E10.  The tip has a lifetime guarantee where
PDA Panache will repair it if it ever becomes damaged.
These styli are made of brass which makes them probably 50% heavier than
the original E10 stylus. In my opinion, this added weight makes writing much easier.A neat feature of this stylus is the reset pin that's hidden under the screw off cap. I
really love this feature because I seem to always need to reset my E10 and find myself
searching for a paperclip or other pointy object. PDA Panache has said that they hope to
include reset pins in most all their new stylus models.

These styli also include fingertip grips that make them easy to hold and use.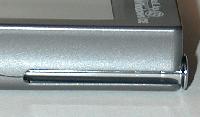 The stylus fits nice and snug into the silo of the E10 and is easy to insert. It
doesn't actually click into place, but is held in the silo via friction.  To remove
the stylus, you have to use your thumbnail to pry at the flat cap top of the stylus. This
is the only drawback of this stylus because removing it isn't as easy as the original
stylus that was supplied with the E10.
The Casio E10 Stylus by PDA Panache is a great replacement for the styli that came with
your E10. It is made very well and the tip is covered by a lifetime warranty. If you don't
like or have already broken the stock styli that came with your E10, check this one out, I
think you'll agree that is a welcome change.
Price: $15.95
Pros:
Reset pin hidden under cap.
Lifetime warranty on tip.

Cons:
Not as easy to remove from the stylus holder as original stylus.
You'll love these stories too