We use affiliate links. If you buy something through the links on this page, we may earn a commission at no cost to you. Learn more.
Note: This product is no longer available.
The Xpress Newton Stand by Hi-Rizer is an adjustable stand for any Newton model. This stand is just what I needed to prop up my MP2K while using it at work.  I seemed to always be searching around for a book or something else to use as a prop. The Xpress is made of a light weight (6 oz.) alloy metal. The construction is top quality. I didn't find any rough or sharp edges. The platform that the Newton rests on is padded. When your Newton is in the stand, it will not touch any metal. On the bottom of the Xpress are 6 non-skid rubber feet. These feet will keep the stand from sliding around on your desk while the Newton is in it.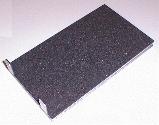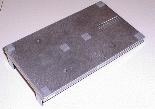 The Xpress is an adjustable stand. It can be adjusted from its flat position all the way up to 60 degrees. There are actually 11 different positions counting the flat position. Adjusting the stand is easy. You just lift the platform as high as you would like it, and the prop will slide into the appropriate notch.


Your Newton can be placed in landscape or portrait mode. Two padded stops hold the Newton in place no matter which position it is in.



In summary, the Xpress is a great stand for your Newton. It's light weight, and easy to use. It's also very easy to travel with because it can fold flat to fit in a briefcase or backpack. I couldn't find anything that I didn't like about this stand. If I had to pick one thing that I would change to make it absolutely perfect, it would be a way to fold the padded stops. This would allow the Xpress to be folded totally flat for travel.
Price: $39.99
Construction: A
Usefulness: A
Overall Rating: A

Product Information
| | |
| --- | --- |
| Price: | $39.99 |
| Manufacturer: | N/A |