We use affiliate links. If you buy something through the links on this page, we may earn a commission at no cost to you. Learn more.
PDA Panache make some very nice replacement styli for various PDAs/HPCs. Their Newton Messagepad 2×00 styli is no exception. There are three different models of the newton styli.  All three styli will fit the stylus holder of your MP2K or MP21K just as well as the original stylus.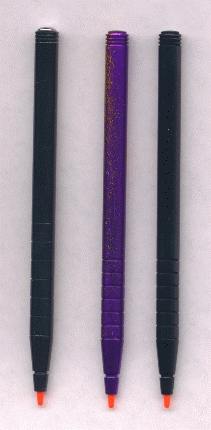 Referring to the picture above, the leftmost stylus is their Black Chrome model. This is a custom crafted brass stylus that has a nice heft to it. The 'cap' of the stylus has a silver chrome accent which gives it a classy look. The middle stylus in the picture to the left is their Multi-colored Anodized Aluminum stylus. This stylus is lighter weight than the Black Chrome model, but it is well balanced. The finish is a cool purple, gold, and red speckle. The rightmost stylus is the Black Anodized Aluminum model. It has the same weight as the multi-colored stylus, but this one is all black.
All three styli are very well crafted with fingertip grips, and a smooth finish. What I like best about them all is the orange writing tip. It feels so much smoother to me than the stock stylus tip. Writing with the PDA Panache styli is easier, more fluid. I think my HWR even has improved! The orange tip is also easier to see in low light. After using these styli, I don't think I'll ever go back to the original Newton stylus… it just feels inferior. Another great thing about PDA Panache is that they will replace damaged writing tips for free for the lifetime of the stylus. You can't beat that!  Was there anything that I didn't like about this product? Well, just one thing… The tubes that they ship the styli in are a %$&@ to open!  🙂
Price: $32.95 (Black Chrome), $19.95 (Black Anodized Aluminum),
$19.95 (Multi-colored Anodized Aluminum)
Construction: A
Usefulness: A
Overall Rating: A