We use affiliate links. If you buy something through the links on this page, we may earn a commission at no cost to you. Learn more.
The BetterCase for the PalmPilot or IBM WorkPad is made by Bettercase. This is a black leather wallet type case. The case is held closed with a snap. This snap is on the bottom side of the case and closing it does not put pressure on the Pilot's screen. The case is like that of a nice wallet. The stitching, and leather quality are both very good.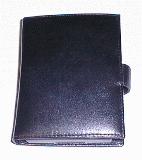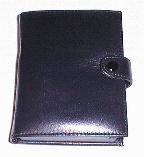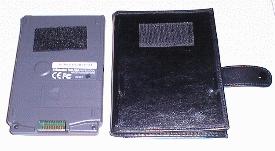 The Pilot is held in the case with Velcro. There are also 2 raised leather covered metal tabs which hold the Pilot stationary. I believe they also help you to avoid applying to much pressure to the Pilot when closing the snap. Being a wallet type of case, the Pilot has 3 sides that are unprotected. There is some padding so that if the Pilot was dropped and fell flat, I think it would be protected.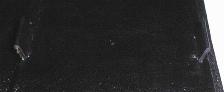 These tabs are pretty hard to see in this picture…
Some nice features of this case are that the cover can fold all the way under the case to make it easier to hold and use.  The case also has a hidden wallet under the cover flap.  This flap is held closed with Velcro. Under it are 3 credit card slots and a money pocket.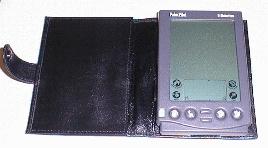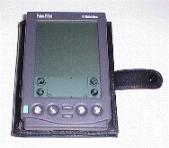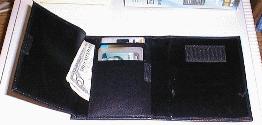 Another nice feature is that you can hotsync without having to removing the Pilot if you use the hotsync cable or The Bridge.
The case when closed is a little larger than what I would typically like. It was a little hard for me to put into the pocket of my leather jacket. I don't think a person would have problems fitting it into a suit coat pocket though. All in all, this is a very nice case at a reasonable price.
Price: $29.95
Construction: A
Ease of Use: B
Overall Rating: B+

Product Information
| | |
| --- | --- |
| Price: | 29.95 |
| Manufacturer: | N/A |