Note: This product is no longer available.
The Voyajer by Hi-Rizer is an alloy case for the PalmPilot. This case has some unique features that set it apart from the other metal cases on the market. One such feature is the see through lens. The lens is made of polycarbonate and can be opened like a reporter's notepad. There is a slight gap where the lens covers the screen. This gap will let you use the DATES app to navigate through the days of the week while the Voyajer cover is closed.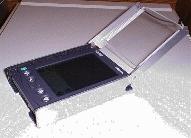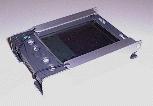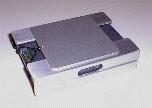 Some other features of the Voyajer are access to the contrast knob, access to the stylus, access to the HotSync port (via a HotSync cable or The Bridge), unrestricted access to all buttons and the ability to attach the Pilot modem without removing the Pilot from the Voyajer. These features are important because once you have put your Pilot into the Voyajer, you probably won't remove it often. Inserting and removing the
Pilot from the Voyajer is relatively easy. The Voyajer holds the Pilot in place via its surround padding (no Velcro, yeah!). You have to slide the Pilot in with gentle pressure. Once the Pilot is in place, you can turn the open case upside down, and even shake it without any fear.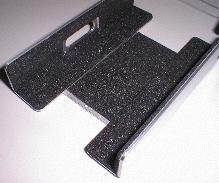 The screen cover on the Voyajer is held closed with an elastic band and a hook that attaches to the back of the case. This is a safety feature to keep the cover from flying open in case of a drop. This is the only thing that I don't like about the Voyajer. I personally found that the cover was quite stiff and never came open on its own. After lots of use, this would probably change, making the cover more loose. If you don't like
the elastic band, you can cut it off and re-attach it later.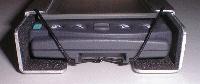 The Voyajer is a very nice case. It's not too heavy and doesn't add much to the size of the Pilot. The finish and edges are smooth and polished. The actual finish is anodized. The Voyager that I reviewed is anodized silver. There will be a black model soon as well as red and blue. There are also different colored lens that are available for the cover. They are made of polycarbonate (the mirrored ones are made of acrylic). Some other options on the way for this case are a belt clip, portfolio clip and a car mount.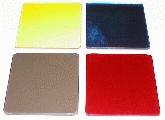 In summary, I really like this case. The price is terrific for what you get. If you want a metal case, I think you will like this one. There have been some derogatory comments about Hi-Rizer in the news groups. I believe that Hi-Rizer has recovered from their low supplies and will be shipping orders now. I've had nothing but good communications with them so don't be afraid to order.
(4/23/98 : Hi-rizer has announced (several weeks ago) that cases will be special ordered from now on and may take quite a while to fill orders…)
Price: $29.99, (Special $24.99 through February)
Construction: A
Usefulness: A
Overall Rating: A
More of our stories that you'll enjoy: