We use affiliate links. If you buy something through the links on this page, we may earn a commission at no cost to you. Learn more.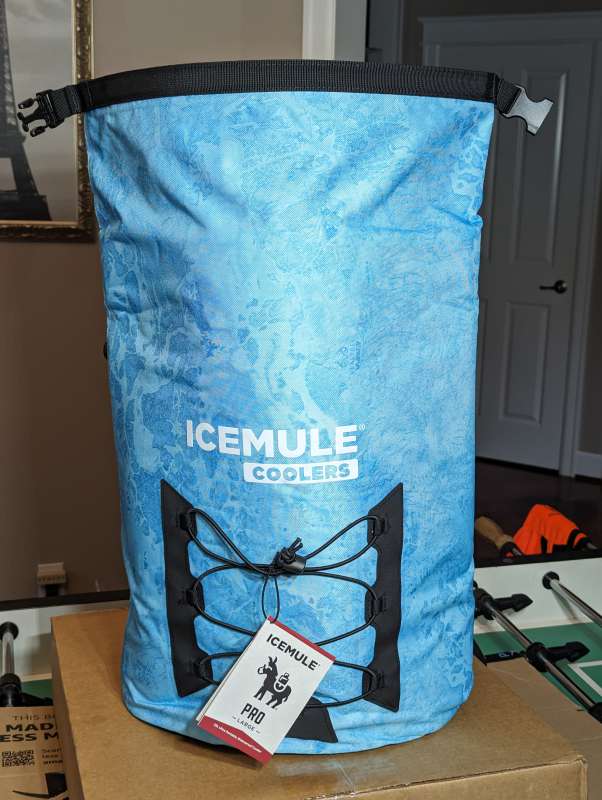 REVIEW – I have a few soft coolers but they can be awkward to carry long distances so when Icemule offered their backpack-style cooler for review I decided to give it a try. Let's see how the Icemule Pro Large 23L cooler performs.
What is it?
The Icemule Pro Large 23L Backpack Soft Cooler is a folding top cooler that has a 23L capacity. It can hold up to 24 cans of your favorite beverage with room for ice or 47 cans without ice.
What's in the box?
Icemule Pro Large in Realtree Wave camouflage
Hardware specs
Model: Pro Large 23L
Closed: 14"x11"x18"
Open: 14"x11"x25"
Height laying flat: 25"
Top opening: 19"
Capacity Cans with Ice: 24
Capacity Cans without Ice: 47
Capacity Ice Only: 30 lbs
Weight: 3.2 lbs
Materials: 1,000 denier ripstop tarpaulin/ripstop/nylon
Bungee cord for gear
Breathable back panel & ergonomic padded shoulder straps for comfort and chest strap
Design and features
The Icemule Pro Large 23L Backpack Soft Cooler is designed similarly to a typical dry bag in that the top folds over a few times then clips closed. The outer material is 1,000 denier ripstop and the Realtree Wave camouflage pattern I received did not have a rubbery coating like the grey and green colors appear to have.
The straps are wide and well padded and the chest strap is adjustable and includes little stretchy keepers which is a nice touch. The back is padded and ventilated to keep you and the cooler cool.
Performance
I loaded the Icemule Pro Large 23L Backpack Soft Cooler with 12 cans and then was able to fit one more in the corner and then threw in all the ice in my freezer. I added a little air through the air valve which easily twists open and close and then left the cooler in my garage which was around 60 degrees for 24 hours.
After 24 hours there was no ice left but the cans were still cold. I took the cans out and closed it up again then turned it over just to see how good the seal was. That's when I found that it wasn't sealing since water leaked out.
I decided to run the test again with 24 cans and more ice. I also added my fridge thermometer to see what the temp would be. With everything loaded the Icemule Pro Large weighed in at 28 lbs. I then went for a walk to see how the straps fared and they were pretty comfy. Even after 2 miles, I didn't have any hot spots and the back panels were comfortable. Compared to lugging a hard cooler around a backpack style cooler is a lot more convenient if you have to walk any type of distance.
Icemule claims that the Pro Large could keep ice frozen for 24 hours but unfortunately, that did not hold true for me. I tested this three times and I found that the Icemule Pro Large is not totally airtight when sealed. I may have gotten a defective one but despite that it did work really well and was able to keep my beverages at 44 degrees F for 24 hours.
I'm not sure if they test them for proper seal before they leave the factory so I may have just received a bad one. I would recommend testing yours out first before you throw the receipt away. I think the grey and green Pro Large's with the rubberized outer may fare better. Although I got one that won't seal I still like it and will definitely use the Icemule Pro Large on beach outings and my son's soccer games. If I get another one I will definitely test it out first to ensure it seals properly because I had hoped to be able to use it as a dry bag as well. Also, except for the $375 Icemule Boss or the $225 Icemule Urbano none of their other coolers have pockets so it would be nice if some of their less expensive coolers had pockets and side water bottle holders added so if you take a drink out you have somewhere to carry it.
What I like
Much easier to carry compared to hard coolers
Comfy straps
What I'd change
Test for air tight seal
Add bottle holder side pockets
Final thoughts

I really like the Icemule Pro Large backpack cooler! I think I just got unlucky with this one not sealing but it still kept my drinks cold for 24 hours which is plenty for most trips I'll use it on. The straps are comfy and it was way more convenient than trying to wheel a hard cooler across six soccer fields to my son's game. I do wish some of their less expensive options had side pockets but overall they definitely deserve a look if you're in the market for one.
Price: $134.95
Where to buy: Icemule Coolers website and Amazon
Source: The sample for this review was provided by Icemule.