We use affiliate links. If you buy something through the links on this page, we may earn a commission at no cost to you. Learn more.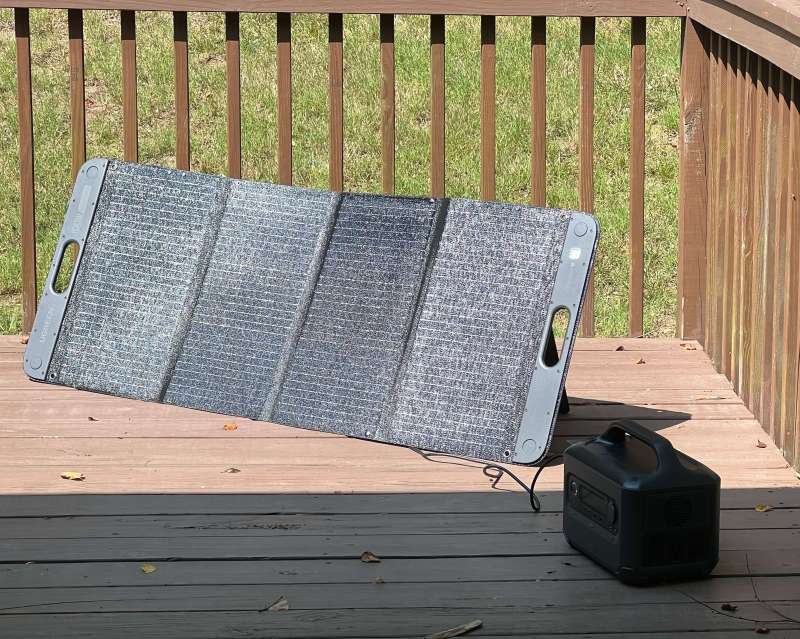 REVIEW – With the crazy weather patterns that the global climate emergency is causing, it is only a matter of time before you will have a need for off-grid power. Here at the Gadgeteer, we have shared stories of those flooded or burned out of main dwellings for a time being assisted by power systems, even as this fairly new type of power has become available. The current system under review is from UGreen, a company whose power adapters and cables I have tested and reported on in the past. Let's check on their latest, the UGreen Power Station PowerRoam 600 with their dual 200W solar arrays.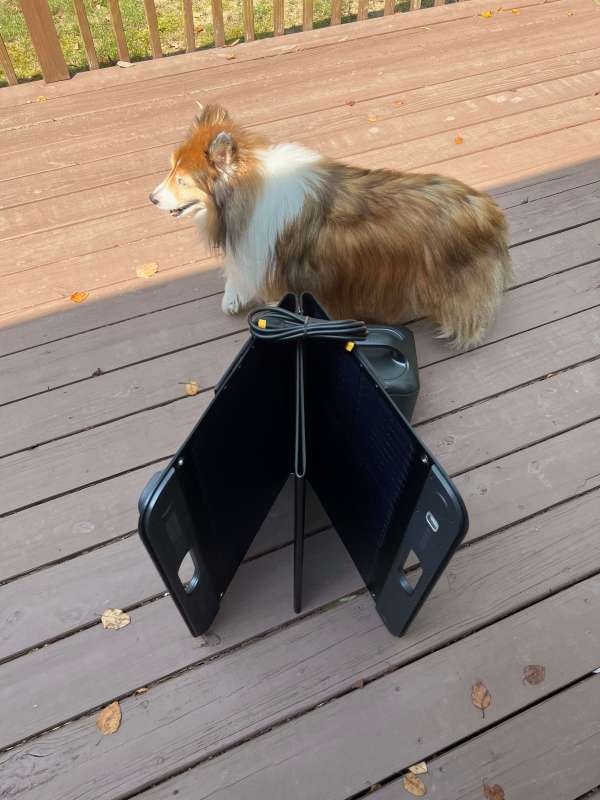 What is it?
The UGreen PowerRoam 600 is a heavy-duty power station that can offer DC and AC power via many connections, and a solar charging array.
What's in the box?
The UGreen PowerRoam 600 includes:
The PowerRoam itself
Ripstop Nylon Carrying case for cables
Heavy gauge 60″ AC charging cable
Medium gauge 60″ 12-volt charging cable
Medium gauge 27″ Y-connector cable for solar panel array
Medium gauge 42″ DC connector cable
Each 200W solar array includes:
1 200W solar panel
6.6′ XT60 <=> XT60 cable
4.9′ XT60<=>MC-4 cable
Instruction sheet
Hardware specs
From the manufacturer's webpage
UGreen PowerRoam 600 power station Specs:
0-80% Recharge in 50 Minutes.
Power High-Wattage Devices.
12 Ports For All: 2 USB-C ports of 100W output each, 2 USB-A ports, 5 AC ports with a wattage of up to 600W, 1 car outlet, and 2 DC5521 ports.
10-Year Battery Life.
App Control In Your Hand.
The 200W Solar array features:
High Conversion Efficiency.
Smart Sunlight Alignment.
Portable and Foldable Design.
Water-Resistant & Durable.
Power Wherever You Go.
What You Will Get: 1xUgreen 200w Solar Panel, 1×6.6ft XT60 to XT60 Cable, 1×4.9ft XT60 to MC-4 Cable, 1xUser Manual.
Design and features
The UGreen PowerRoam 600 power station is a heavy-duty portable unit about the size of a car battery (12.2″L x 7.5″W x 9.4″H) with an integrated handle arched across the top. It weighs 19.8 pounds, so you're not going to tote it around unnoticed.
Under a plastic flap on one small side are the inputs: regular wall power and an XT60 input. There is also a circuit breaker reset button and a screw to attach to a ground wire. (If you're on an OSHA-inspected site, be sure to use a green wire. Long story.) Below this panel is a cooling air intake.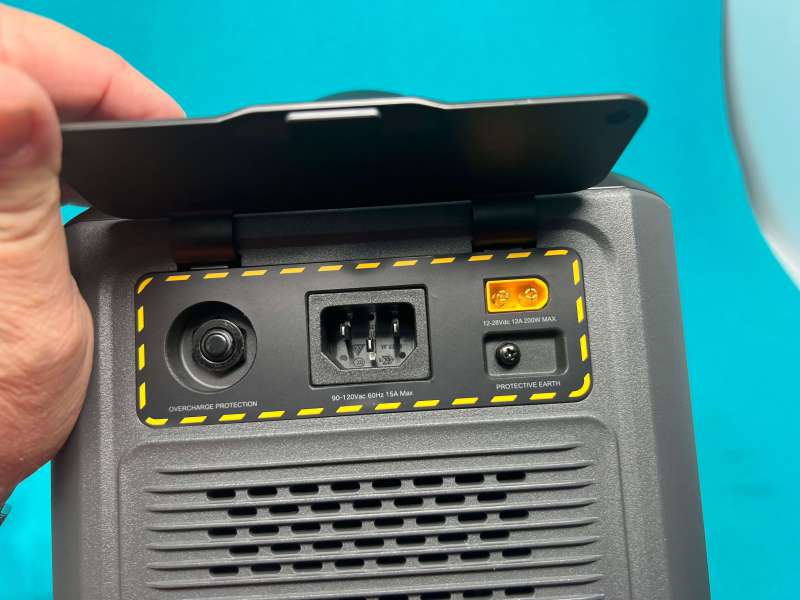 On the opposite small side, there is an open panel with AC outputs – three 3-prong grounded outlets and two 2-prong ones. There is a button to activate this panel. Above the panel is a cooling fan.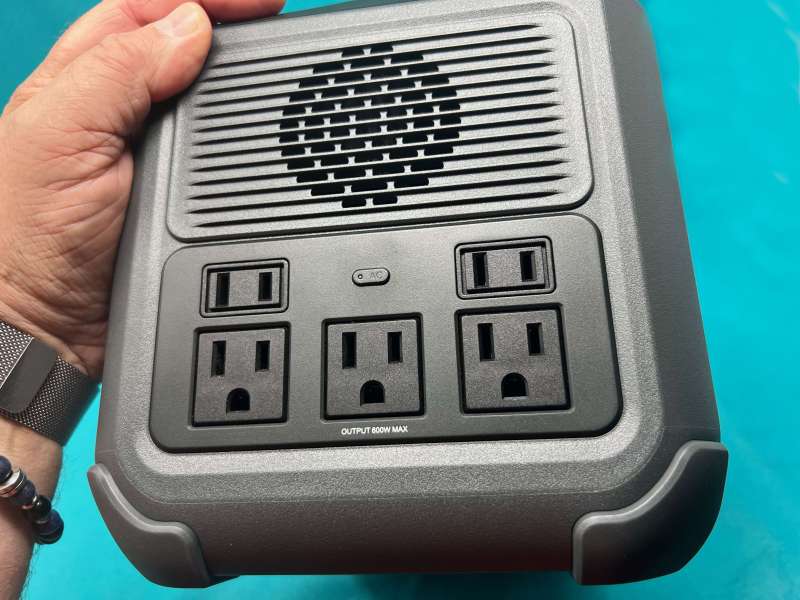 On the front side of the UGreen PowerRoam 600 power station, there are three buttons under an LCD display area. Within the LCD area, there are your DC outputs: two USB-C at 100W, two USB-A at 22.5W, and two center pin ports at up to 120W. Behind a protective cover is a 12V vehicle-type port. Opposite the 12V port is a light with a single button under it. (More on this later.) The center of this section is a bright LCD status display. The buttons below turn this on or off and change the display from monitoring DC to AC. "Voltage in" is on the left, "voltage out" is on the right, and the current battery percentage is in the center. Very intuitive.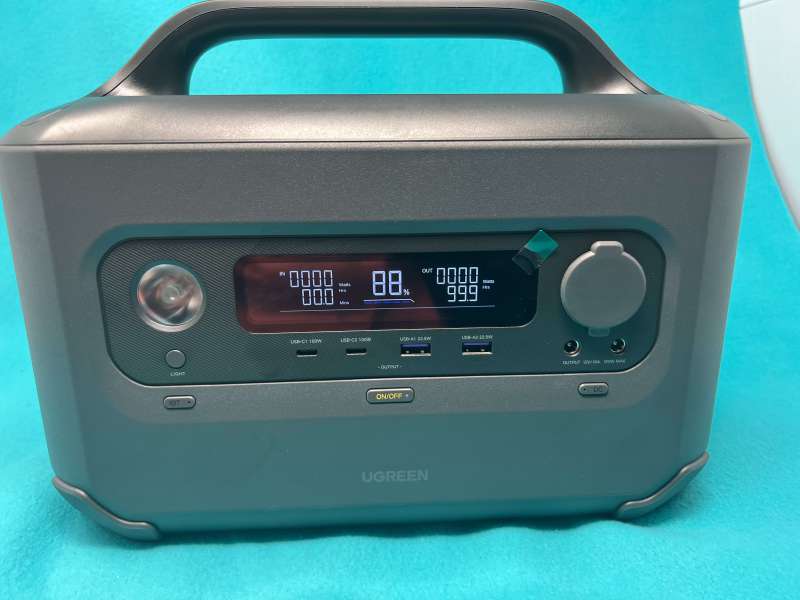 The battery chemistry is lithium iron phosphate, which is a fairly new discovery (1996). This mineral is being increasingly used in the EV industry. As an example of how much battery chemistry changes, this just came out regarding Toyota's future use of solid-state batteries (which includes LiFePO4). I like that the industry is moving away from cobalt, which is a difficult mineral to find ethical sources of these days.
What this means for the current unit is that it's a solid-state battery with high performance which should last a long time and will be highly recyclable for a long time.
The 200W Solar arrays I was sent are really large: 25.2″ x 21.26″ x 2.76″. They are kept manageable by folding about a third of each side up into a little gusset when they are folded for travel. (See the picture above with Jack to see how this is arranged.) The two halves snap together at the bottom and are held with magnets at the top, where there are molded handles to enable easy carrying. Similar to other portable arrays, there are two fold-out legs to hold them up and get the best angle for charging. To get the best angle for charging, there is a little red dot inside a window. You just have to get the shadow of the dot to fall into the center of a red circle just under it. It's easier to see and do than to explain.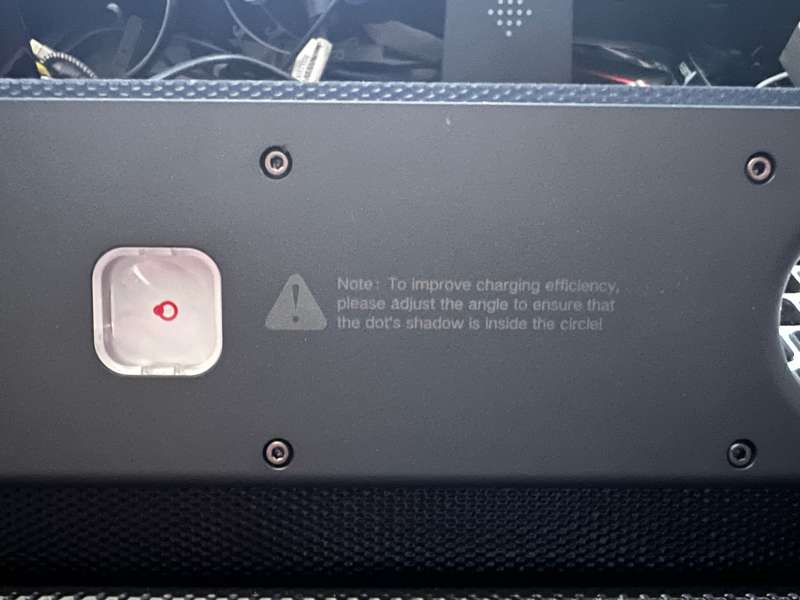 The solar arrays I was sent give you several options. You can charge a single power station, or you can hook the two panels together to charge the UGreen PowerRoam 600 power station twice as fast. The cables are not difficult to parse out and are flexible enough that you can relax about your off-grid power.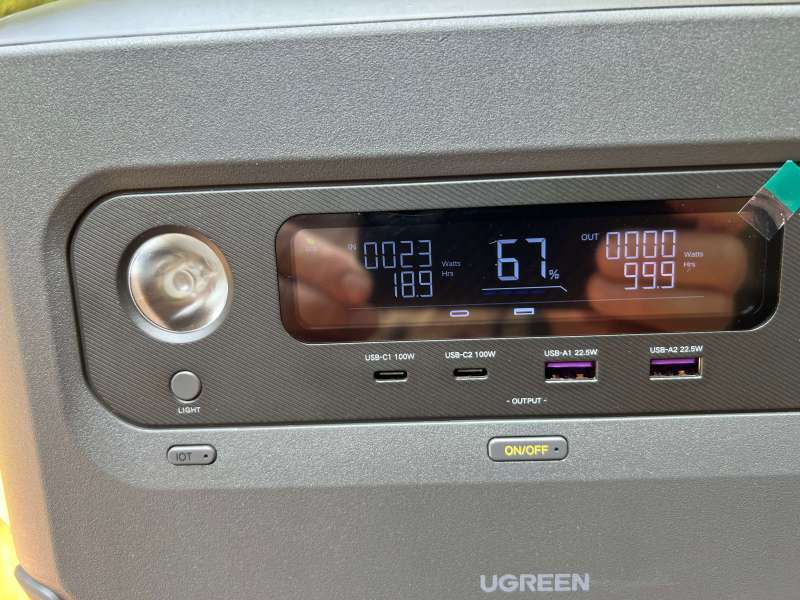 Performance
Charge time was pretty much in line with what UGreen states in the literature, which is four hours from empty to full. The readout on the device shows the current level and actual draw from each port. This is also shown in the app. Charging from my home power was quick, and charging from a single solar cell was also quite fast. I've not had a "battery emergency" while using the UGreen PowerRoam 600 power station, but am not as worried as we move into hurricane season that I'll be without power for a long stretch. I've tested charging with the solar panels, and under an hour with just one of the arrays gets the station back to 100% from 85%. Depleting these batteries takes work. The solar arrays are very efficient if you have even moderate sun exposure.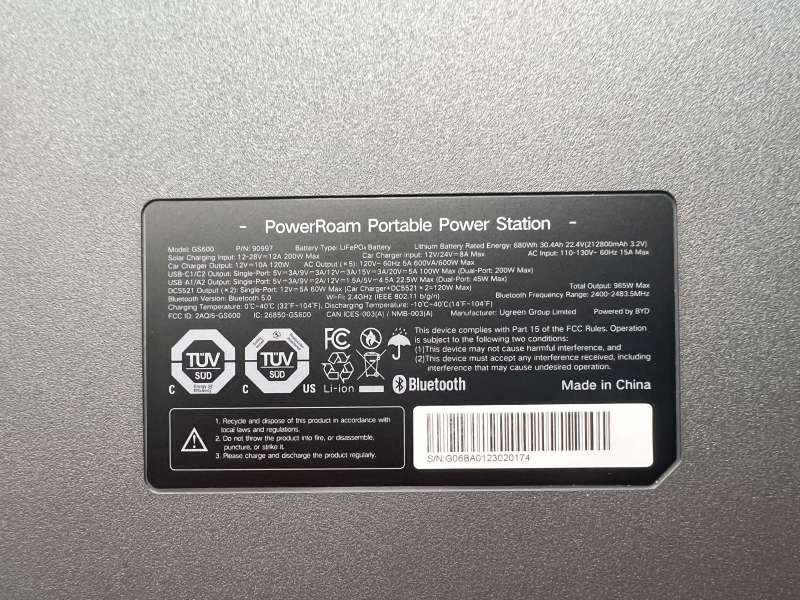 All the various plugs and cables were of sufficient length and gauge for their task. I did find that both of the solar arrays had broken screw fittings in exactly the same place. (It's a plastic fitting for a self-tapping screw.) I don't know if this was a shipping issue or if they were overtightened in the factory and it's a manufacturing issue. I think I can repair it with some super glue, but thought I'd note it since it happened to both arrays in exactly the same place, and they were shipped together but packed in two different boxes.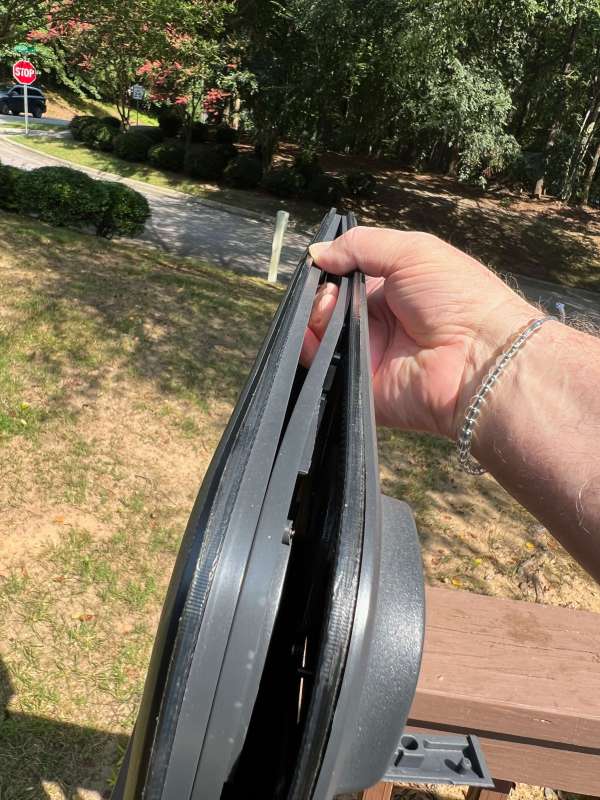 The app was a really nice surprise. You can see all the same information as what's on the display while only being Bluetooth-range away from the UGreen PowerRoam 600 power station. You have more control over the flashlight, in that you can go from, say, off to medium. With the button, it just cycles through all modes, which includes SOS and strobe. Strobe? Why? (This is a petty thing, but this shouldn't be such a concentrated beam. You're not going to use this to walk to the shower at your campground, it's going to be a reading and ambiance light at best. Why does the reflector need to be so concentrated?)
What I like
Many different sources for charging
Good selection of outlets
More sustainable battery chemistry
Grounded outlets – not always available with a portable supply
What I'd change
The "flashlight" cycles through all modes every time it's turned on unless you're using the app. It would be nice to have a quick way to get to a useful mode or emergency mode on the device itself.
Another thing about the flashlight: it's too focused a beam. A diffuser, for general area lighting, rather than a "searchlight" focus would better suit a device in this weight class.
Final thoughts
Large-format power supplies are not something the average user wants to have to rely on regularly. Unless you camp a lot or are living/working in a place without power from the grid, your use will probably be sporadic. But when you need it…
I was mowing the grass while testing the UGreen PowerRoam 600 power station. With the mower halfway across the yard, I noticed that the rear tires were flat. Not squishy, but riding-the-rims flat. (In my defense, I wear earplugs when mowing, so hadn't heard the sound of the tires while driving across the driveway. I just thought it was running slowly due to it having been a while since I last mowed. When it choked out at the usual height I mow at, I started looking at other causes.) As a mostly-electric power tool person, I have long power cords, but my oldest daughter has them at her place for some tree-trimming work, so I was going to have to push/drive the mower closer to the house to re-inflate the tires. Then I thought of the UGreen PowerRoam power station and took it and my little inflator pump out to where the mower was. I was able to fill both tires in under three minutes and get back to mowing before dark set in. First-world problems, I know, but here we are.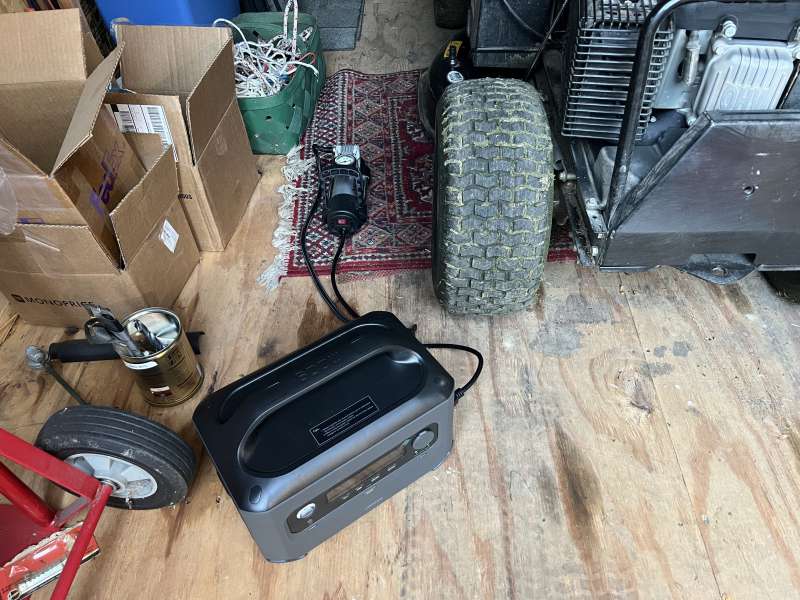 What these portable power stations have done is to untether power from the grid. You no longer have to be "in a building" to get real, usable amounts of electricity. Sure, there have always been folks off the grid, but they weren't posting on social media, running large server instances from their van on the beach, or doing wildlife data gathering (like with drones or trail cameras that are downloaded and recharged regularly) in a wilderness area for weeks at a time. With the UGreen PowerRoam 600 power station and one or two solar panels, you can be as independent of grid power as you choose to be.
Price: $799.00 (bundle with solar panel/$599.00 without the panel),
Where to buy: UGreen and Amazon
Source: The samples of these products were provided by UGreen.