We use affiliate links. If you buy something through the links on this page, we may earn a commission at no cost to you. Learn more.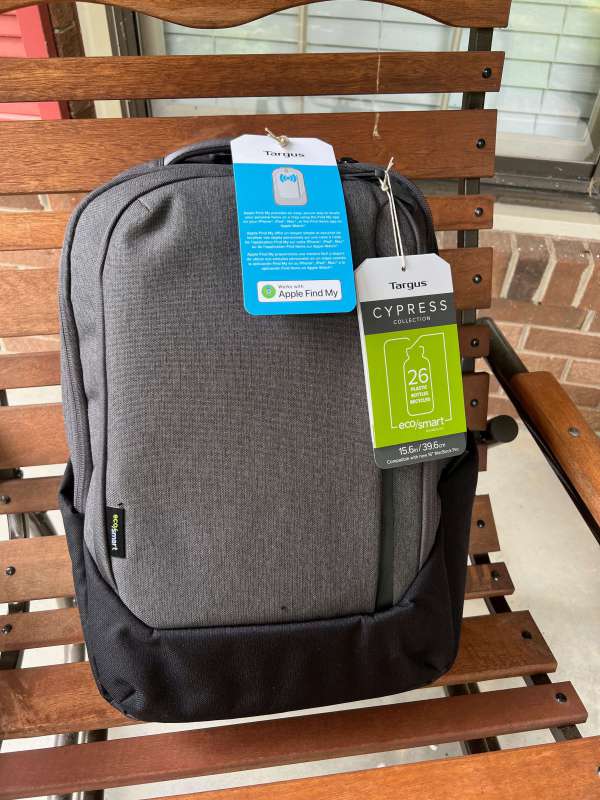 REVIEW – Things get mislaid. With as much gadgety goodness as most of us have littering our lives, this is especially true for Gadgeteers. Some companies even have gone into the business of helping us keep track of our stuff – we've reviewed various tracking devices and services here over the years. Targus has recently released their Cypress™ Hero™, a full-sized backpack with a built-in Find My® compatible tracker, and I was sent one to test. I've played with it for a few weeks now and can safely report that I still have it in my possession. Let's explore more details.
What is it?
The Targus Cypress Hero is a multi-pocket backpack with a built-in tracking device.
What's in the box?
Just the Targus Cypress Hero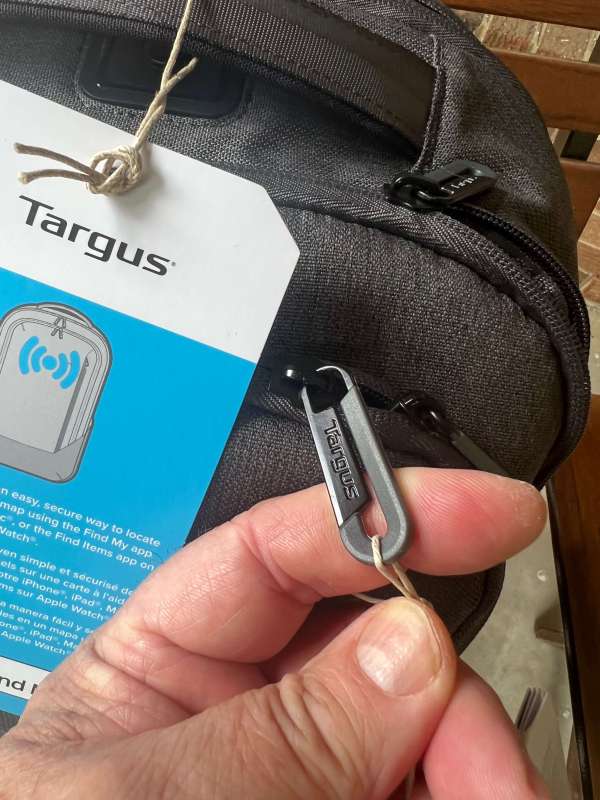 Hardware specs
From the manufacturer's website.
Made from sustainable materials (26 recycled PET water bottles)
Integrated Apple® Find My® functionality
Dedicated, padded laptop compartment accommodates laptops up to 15.6"
Large main compartment for files and gear
Workstation for smaller accessories
Front, quick-stash pocket
Structured design keeps bag standing upright
Ergonomic shoulder straps and padded back panel for a comfortable carry
Luggage pass-through trolley strap
Comfortable and durable backpack carry handle
Design and features
The Cypress Hero is part of Targus' EcoSmart™ series, which uses fabrics made from PET, the same material that clear soda bottles are made from. The main body of the bag is a medium grey, with black accents on the lower sides and across the bottom. As expected these days, there are drink-holder pockets on each side corner – tightly sealed but with a gusseted elastic expansion on the back. Also, a quick-access pocket on the front, with a covered and recessed single zipper.
There are three pockets that have covered double zippers that arc from the black accent area on each side. The front-most one has what is now being called a "workstation" area – it holds pen-shaped things and business-card-shaped things in corresponding appropriately shaped pockets. Two silos for pens, one for cards. Also a few other slip pockets with enough play to actually hold something. Behind this area is a 7.5" deep pocket that has netting across the top 1.5" and a single zipper across the full width of this 9" x 2" x 15" section of the bag. My little Kindle slips in here easily. There's also a nice plastic swivel key hook attached to the top of the compartment. There is a two-inch gusset on either end of the zipper path to keep small items from falling out (shown in the photo below).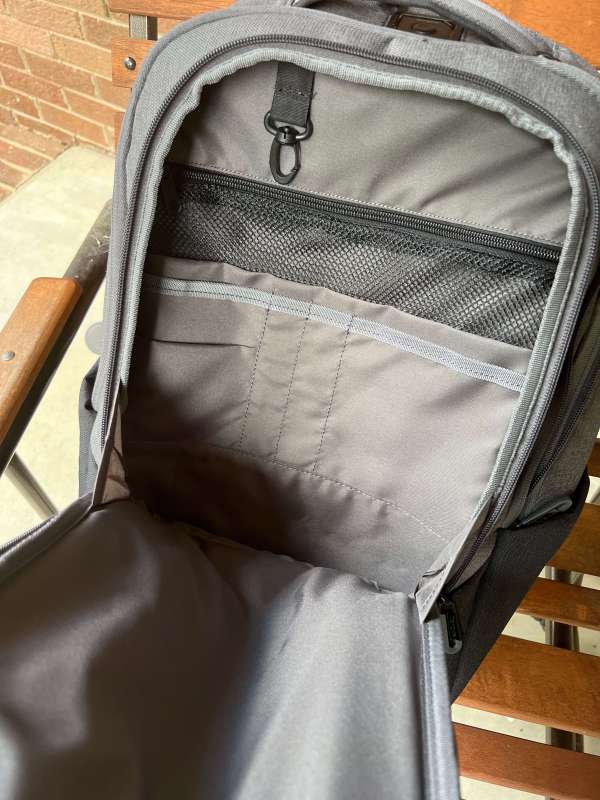 The next section back has the 1" wide padded handle sewn into the top of it on the outside. This hides the black square plastic tracking module. There's a button here, which lets you test the battery by holding it down for a few seconds.
The speaker is part of the button and has a very distinctive, very not Apple Find My™ sound. Access to the tracking device is through a zipper in the top center of this section. If you decide to remove the tracker, there is a plug that you can use to fill that hole, as well as a SIM removal tool that is needed to remove the tracker.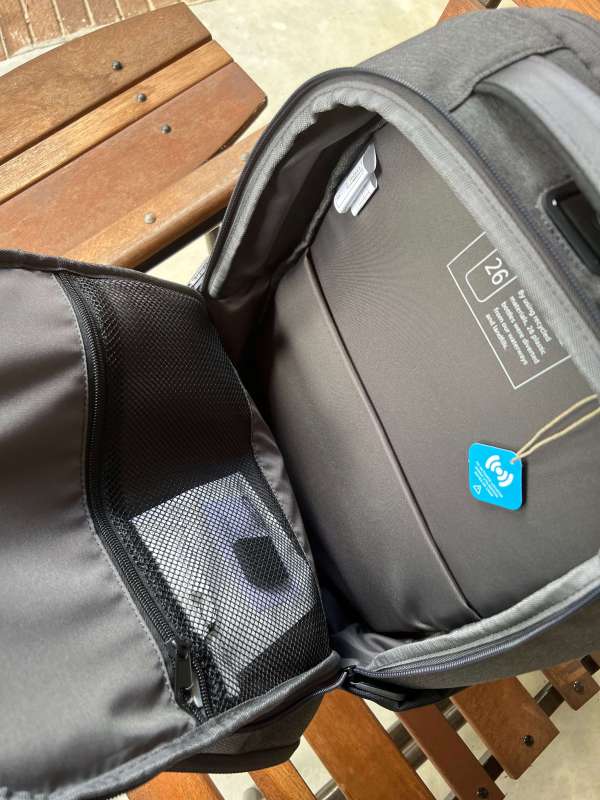 This section of the Targus Cypress Hero backpack measures 11" x 3.5" x 18". There's a net pocket 5" down from the top of the zipper on the side facing that administrative area on the previous pocket that is 6" deep. On the opposite side, a padded slot pocket extends from about an inch off the bottom up 9". This is usually where I carry my secondary device. My 12.9" iPad Pro almost fits in here sideways, and only shows 3" or so above the top vertically. It's a decent size. You could fit most modern 13" screen laptops in here.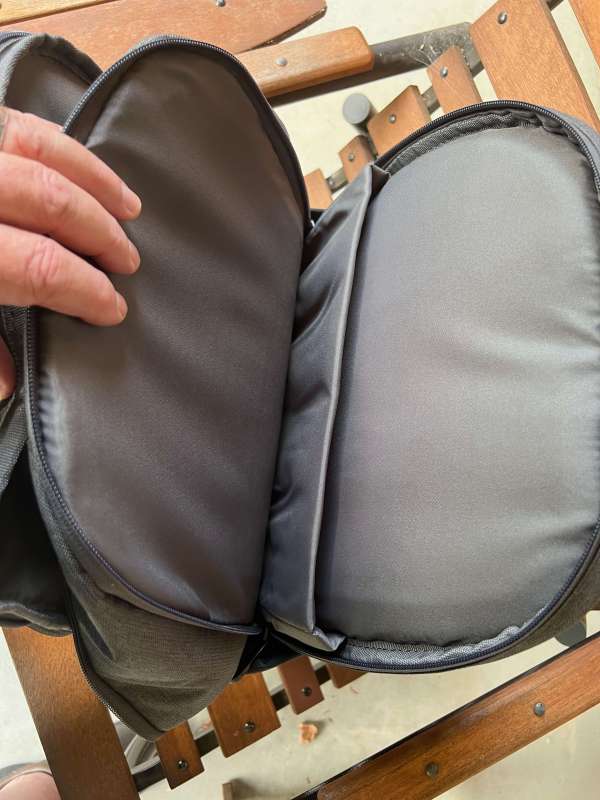 The final rear pocket has only one slot, which extends from an inch or so up from the bottom 11.5". The section itself is 12" x 1" x 18". It's pretty much just for your largest screen. I can put the Hongo portable monitor I just reviewed in here along with a single cable but could put more. If you have a large gaming laptop, you'll use the space, but you won't stretch it.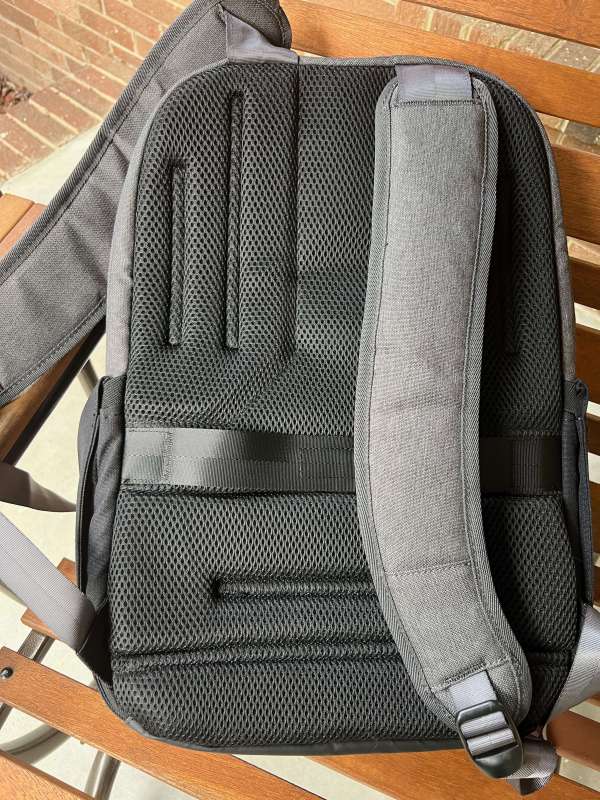 The rear of the Targus Cypress Hero backpack has a thick waffle-like molded panel of foam-filled mesh that lets your back breathe. There's a 1.5" webbing luggage cart strap sewn in about 6.5" from the bottom. It has a 2" strip of hook-and-loop centered on it to keep it out of the way when not needed.
The straps are 1.5" quality seatbelt webbing, but are covered with sewn-on padded pieces almost their entire length. They attach at the corners to 1" webbing, and are adjusted through standard metal school bag buckles. Interesting note on the straps – they end in a little loop that prevents it from feeding back through the buckle easily but also lets you catch your thumb in it to pull and adjust.
Setup
Setting up the Find My device is perfectly in line with setting up any Apple® AirTag® or MagSafe® Wallet – power on the device within range of a device that has FindMy enabled, "name it and claim it" when the dialog comes up.
You can name it anything you want and choose any icon to represent your bag, but there's only one real backpack, and it's red. Go figure.
Performance
The Targus Cypress Hero backpack is a big bag, but it actually feels bigger inside than it looks outside. Many bags that can carry gaming laptops look like you're assaulting Everest. For the amount of carrying capacity, it is very svelte and doesn't call attention to itself. It also feels really nice on your shoulders. There's no yoke, but the straps are nicely padded almost all the way to the top. The grab handle is wide and padded so that hefting it in and out of the car or a locker (or an overhead bin) is a snap.
The FindMy integration works as expected. It shows up in the app, plays the sound when triggered, and gives the appropriate warning when left behind. You can add certain "safe" locations where it will not trigger the "left behind" warning. (These are all features of Apple's OS-level FindMy service.)
What I like
Sleeves do not reach the floor – there's an "air gap"
Enough space in sleeves and pockets to actually put things in
Covered zippers
What I'd change
Nothing! This is big, but a nearly perfect pack!
Final thoughts
I no longer have to travel all the time, but I still pack things into the job a few days a week. The Targus Cypress Hero backpack makes it easy to carry all the things I "need" for work, in addition to those things that I may "want" to carry along. The easy adjustment straps and all the sleeves mean I can carry a variety of things easily. I look forward to really using this next vacation with more gear, like my camera and lenses.
While I was still testing the bag, we had a heavy rainstorm as I was leaving work. I'm not talking a mere cloudburst, I'm talking a rain of Biblical proportions – ankle-deep water flowing across the parking lot, wind, lightning – the works! My car wipers couldn't get the rain off the windshield enough for me to see to drive for a few minutes after I finally got in it. I had to walk about a quarter-mile from the store to where I had parked and only had a small umbrella. Needless to say, I was soaked from my shoulders down. But the Hero kept everything inside the bag safe and dry. I was half expecting to have to dump out a few cups of water, but it wasn't even damp inside! I was mightily impressed (especially since I had two iPads, a Kindle, and my AirPods Pro in there, in addition to battery packs and a keyboard!) So, this bag has been tested and is monsoon-weather approved, at least anecdotally!
Price: $149.99
Where to buy: Targus and Amazon
Source: The sample of this product was provided by Targus.