We use affiliate links. If you buy something through the links on this page, we may earn a commission at no cost to you. Learn more.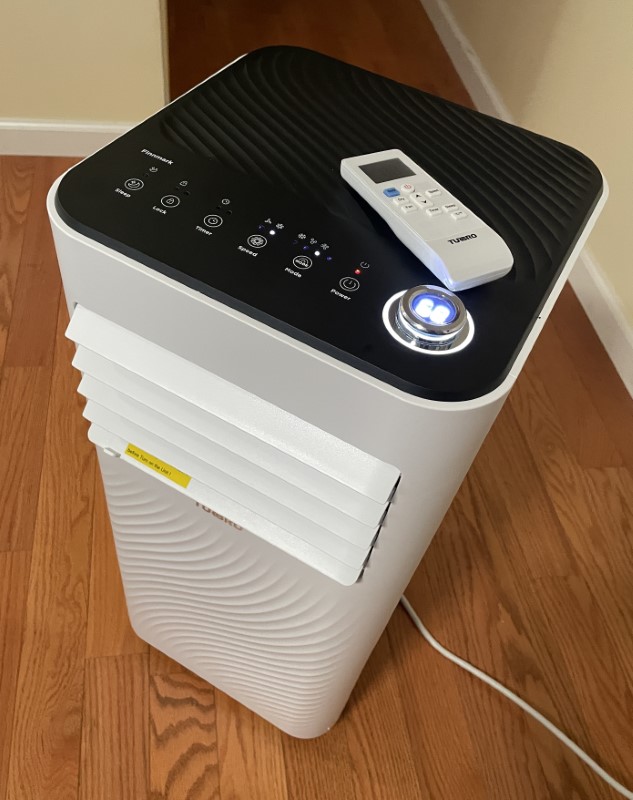 REVIEW –  I remember my first apartment well. It was a 200 square feet hovel above a lawyer's office and in the summer it was so hot I tapered candles would melt. I would have loved to have an air conditioner like the Turbro Finnmark FMP05AC!
What is it?
The Turbro Finnmark FMP05AC is a 5000 BTU portable air conditioner/dehumidifier with adjustable temperature, remote control, and an included window installation kit.
Hardware specs
Model: Turbro FMP05AC
Dimensions: 14 x 15 x 34.4 inches
Weight: 55.1 pounds
Power consumption: 800 watts, 120 volts, 7 Amps
Cooling capacity: 8000 BTU (5000 BTU SACC)
SEER rating: 2.6
Noise level: <54dB
Fan, cooling, and dehumidifier modes
Up to 43 pints per day of dehumidification
Remote control
Fast cooling
Side discharge with hose set and window panel kit
Dual fan speeds
Adjustable temperature: 61 to 90°F
ETL and R32 certified
Reusable, washable filter
Sleep timer
Soft-touch buttons
Coverage area: Up to 300ft²
Six-foot cord
What's in the box?
Turbro Finnmark FMP05AC 8000 BTU portable air conditioner
Hose inlet
Exhaust hose
Hose outlet
Window installation panel
Window adjustment panel
Window Extension panel
Screws and nuts for adjustment panel (two sets)
Remote control with two AAA batteries
Drainage hose
Self-adhesive foam seal (two)
Foam seal (two)
User manual
Quick-start guide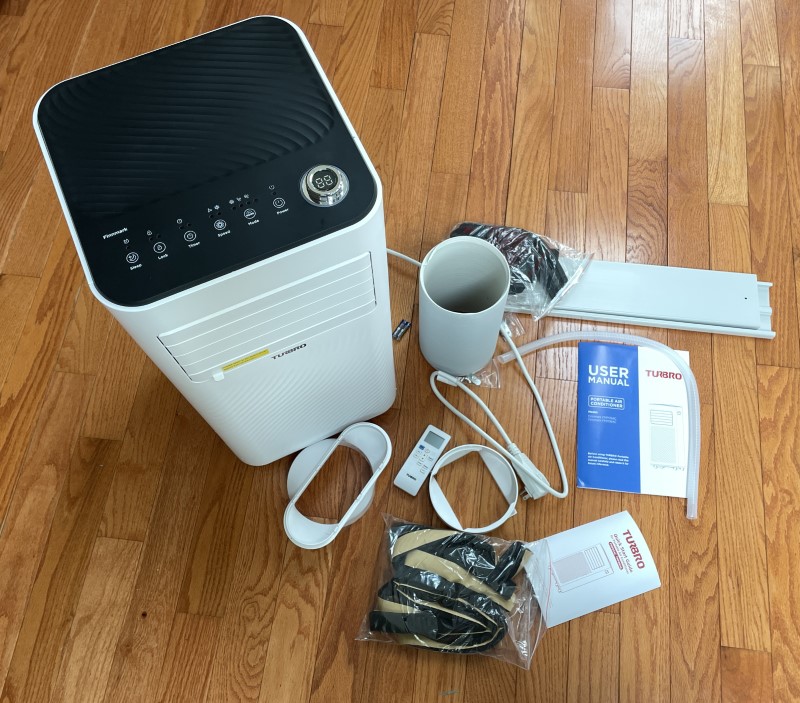 Design and features
The Turbro Finnmark FMP05AC arrives in a cardboard box. It weighs 55 pounds so use caution hefting it around.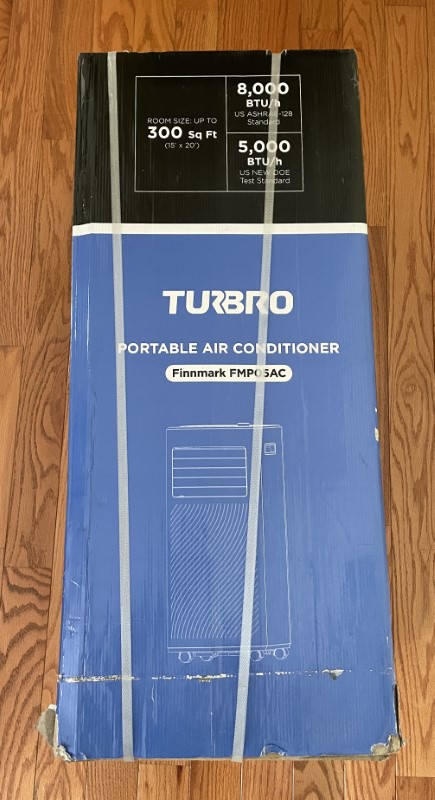 The packaging is solid and protects the air conditioner well.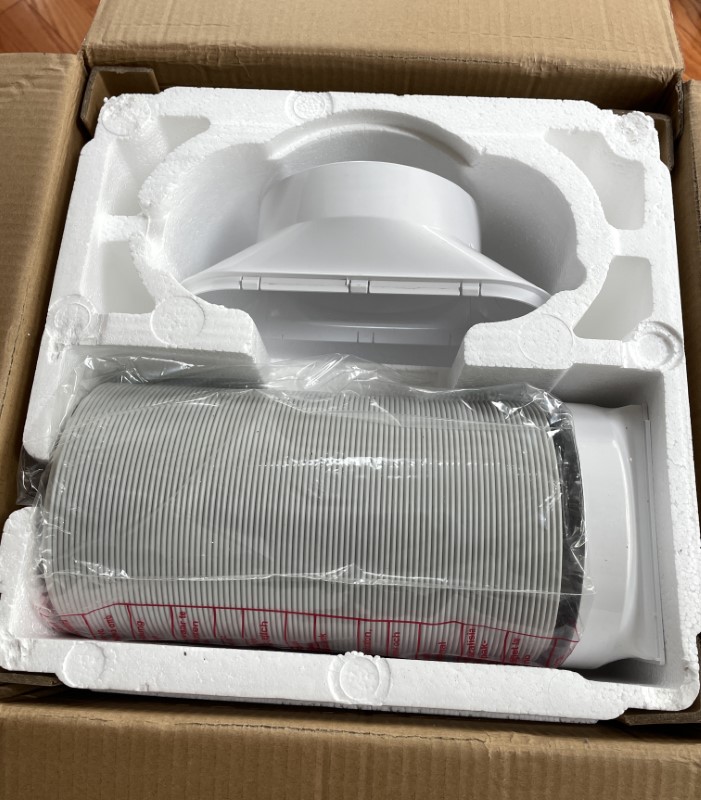 Turbro has several warnings on the box, air conditioner, and manual to keep it upright for several hours before turning it on to prevent damage to the compressor. Multiple pieces of tape hold the removal FMP05AC together during transport. Other than peeling them off, there's not much more to prepare for the electrical part.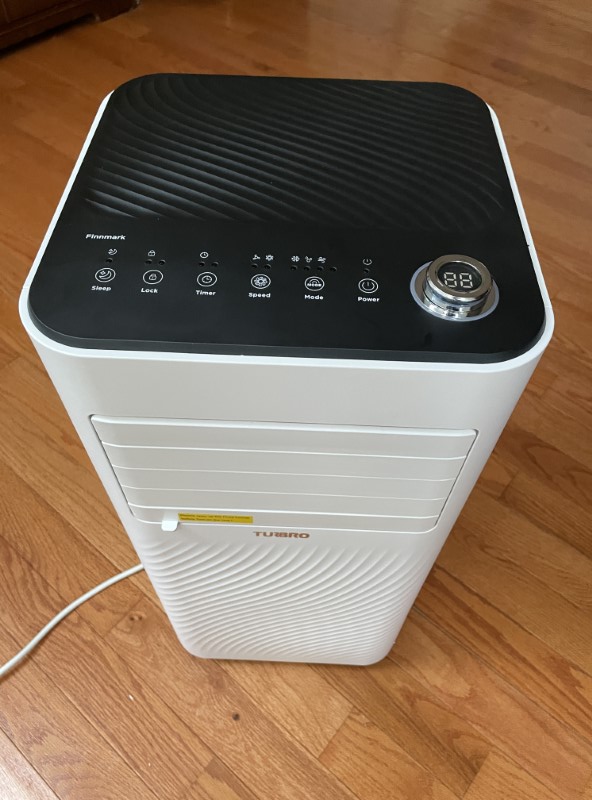 I appreciate that Turbro made the filters removable and washable!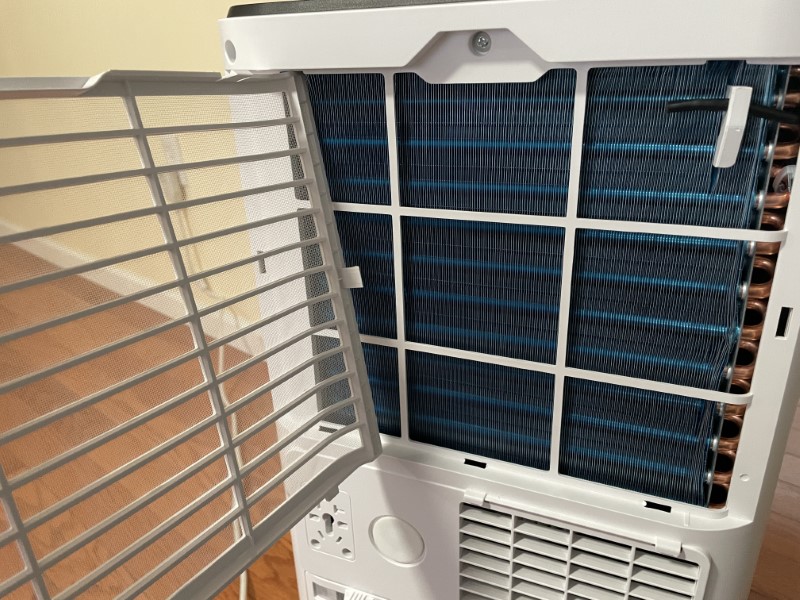 The plug has a GFI built in. This is an outstanding feature, particularly because condensation water accumulates inside. Water and electricity are not known for playing nice together.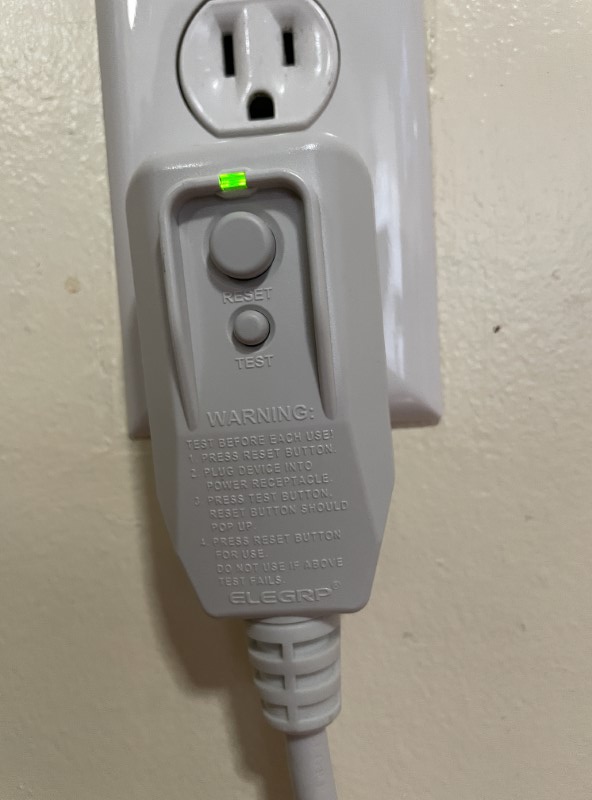 There is a storage socket on the back for keeping the cord contained. Nice touch!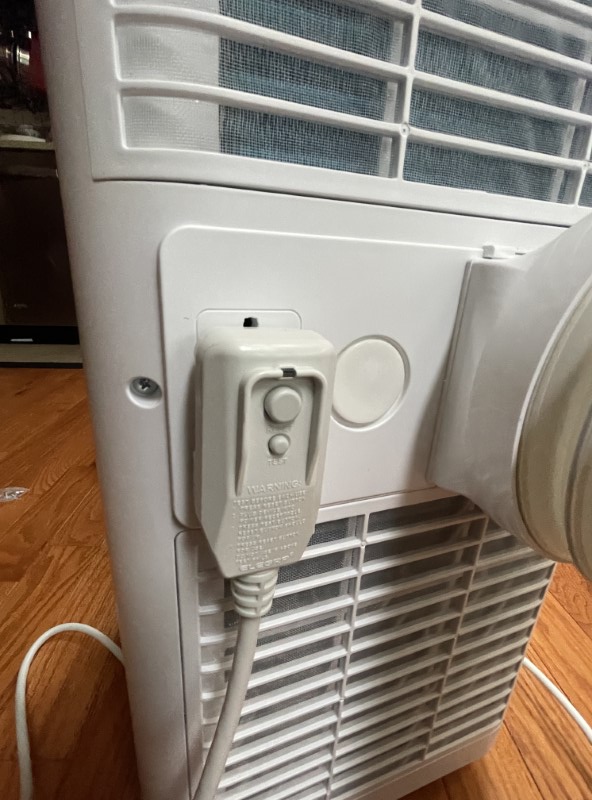 The Turbro Finnmark FMP05AC 8000 BTU portable air conditioner is mobile but produces warm air that needs to be vented somewhere. There's not a lot of logic to have the heated air pushed back into the room that you're trying to cool, so Turbro wisely includes a window vent kit consisting of foam seals, panels (window, adjustment, and extension) for the window, nuts and bolts to put it all together.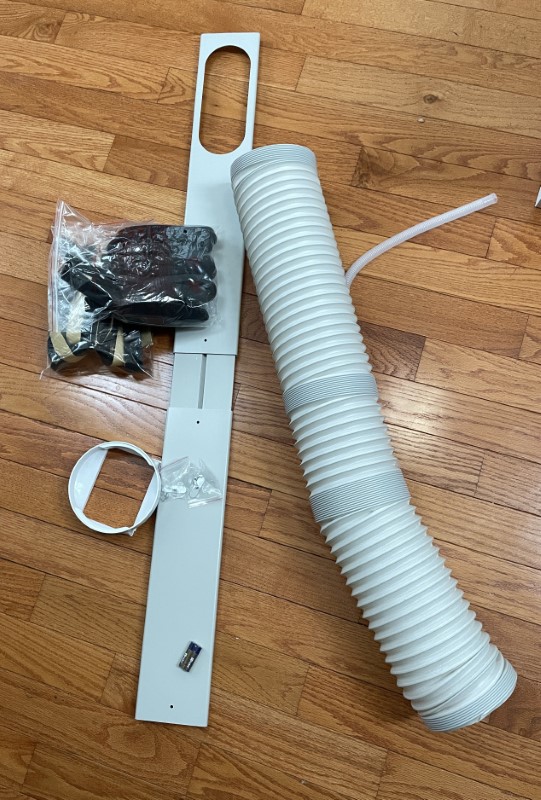 The manual is well-written and has an excellent description of how to assemble the window kit.  Plan on having a few tools (Phillips screwdriver, flat-head screwdriver, saw, measuring tape, scissors, and a pencil) handy to complete the operation. I imagine the Turbro AC is eventually going to find its way into my daughter's apartment so I'm not going to make any cuts until then.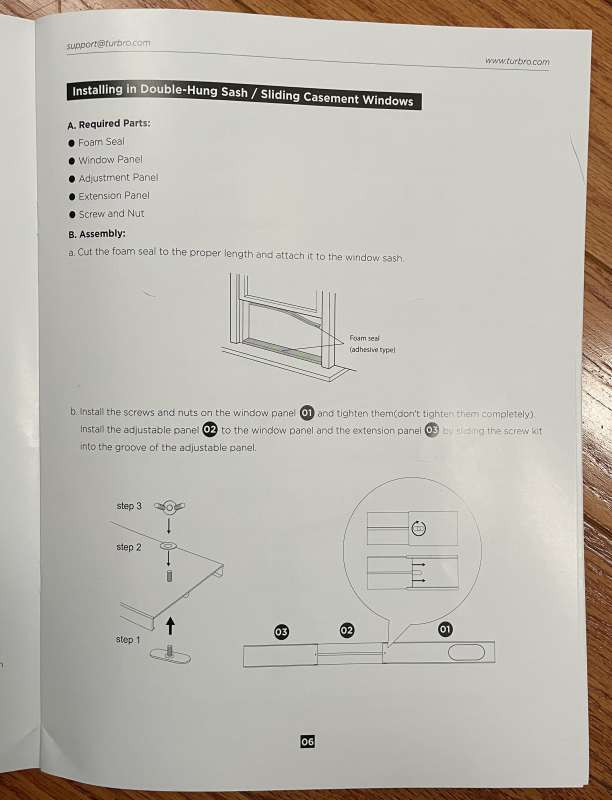 The exhaust hose connects to the air discharge using a bracket. It's easy to remove.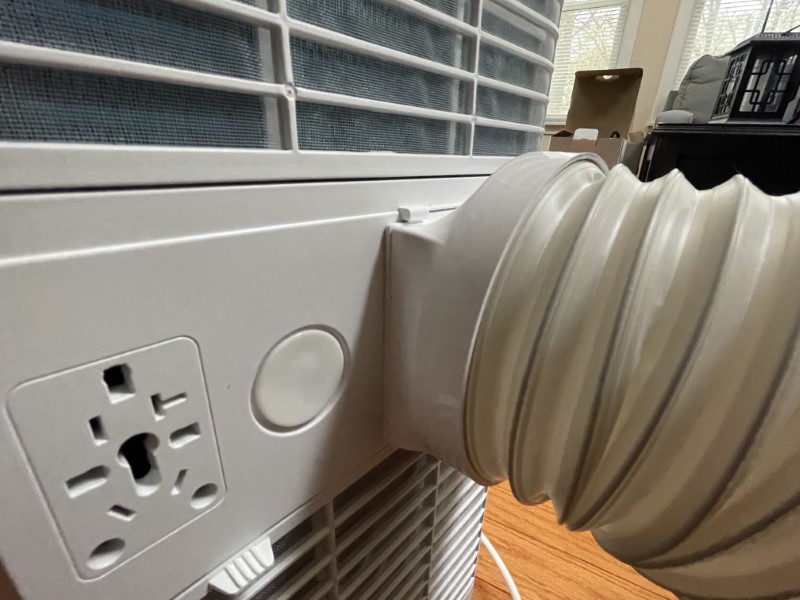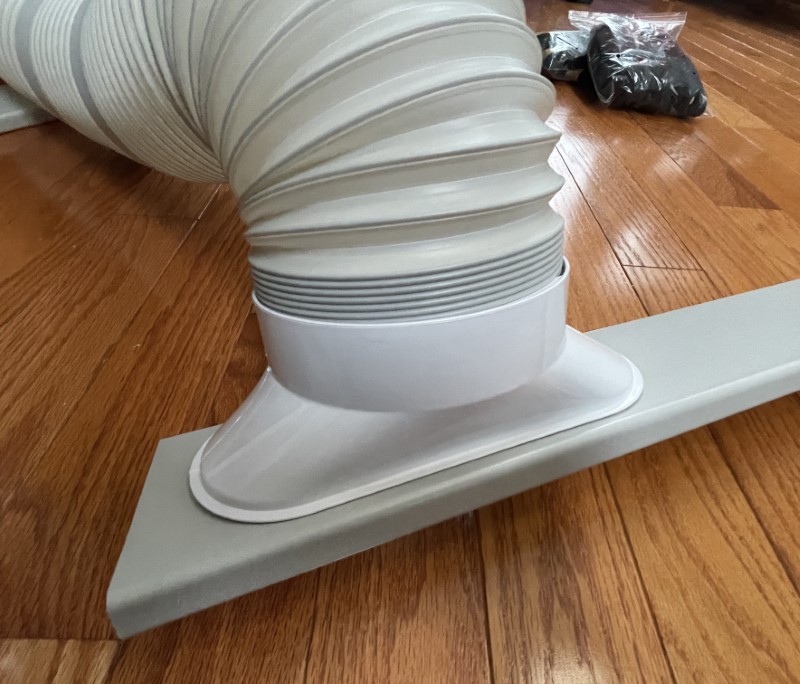 The front louvers are where the cool air comes out. Open them before use.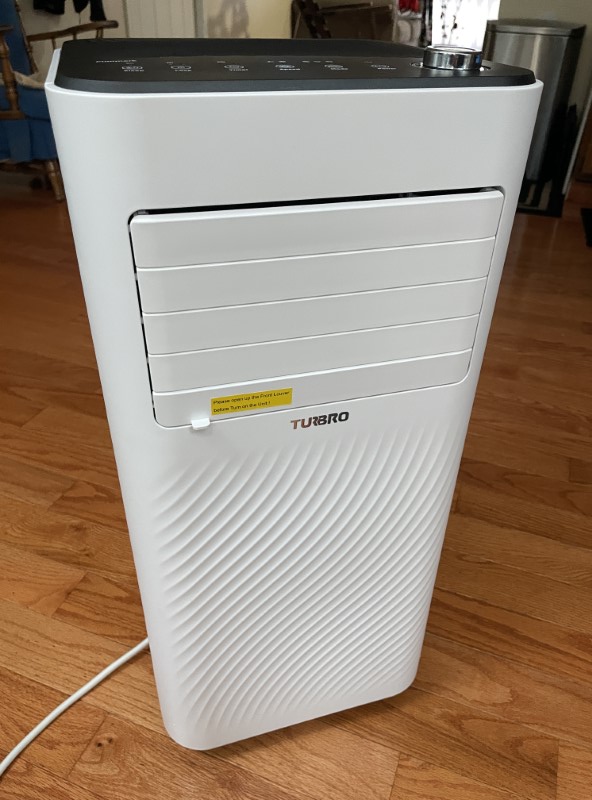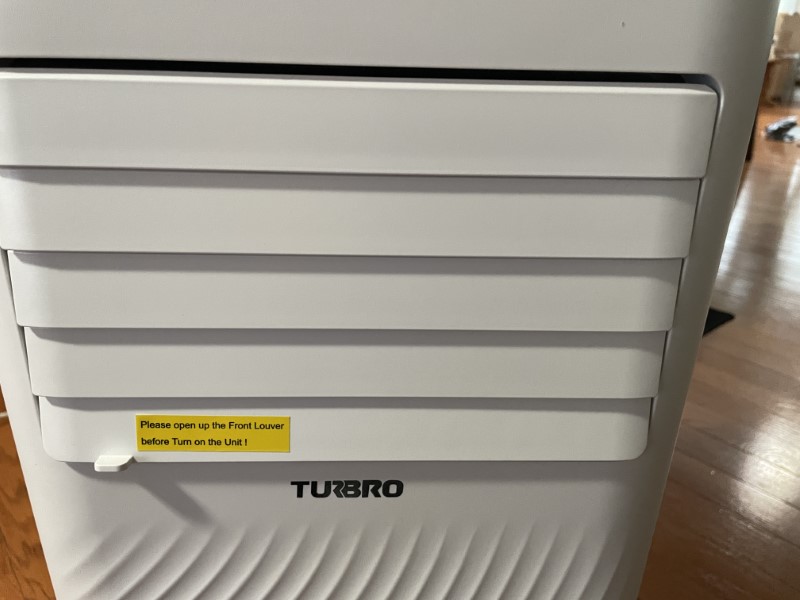 Like all air conditioners and dehumidifiers, the Turbro Finnmark FMP05AC 8000 BTU portable air conditioner can produce copious amounts of condensed water that needs to go somewhere. There's an internal tank that can store some, but it will need to be emptied periodically. If not, it will stop working with "Ft" (full tank) on the display. Water can be manually drained using the included hose and the upper drain outlet.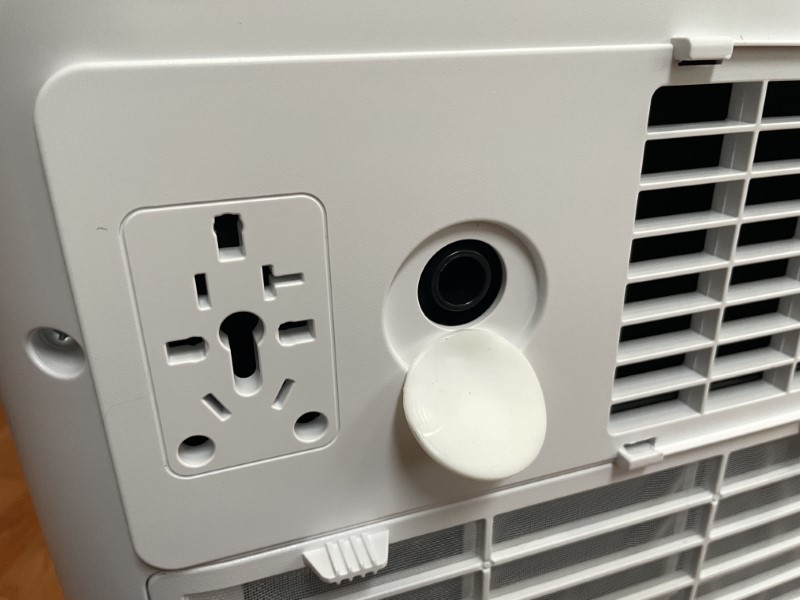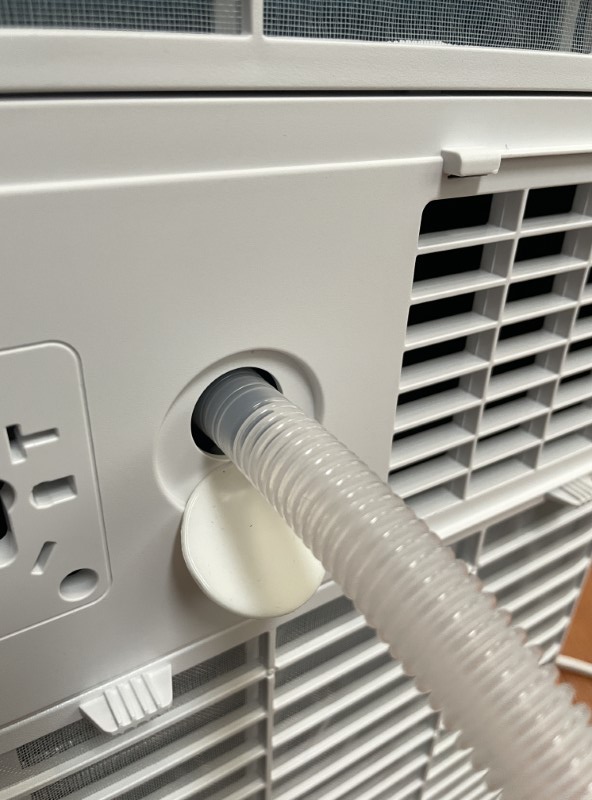 Alternatively, the hose can be attached to the lower outlet for continuous drainage but needs to be routed into a sump that's lower than the Turbro to be effective. Please don't be tempted to let the hose drain on the floor and definitely (!) protect it from your dog/cat/rabbit/robot vacuum. If the hose becomes dislodged from the Turbro, you will have a flooded floor.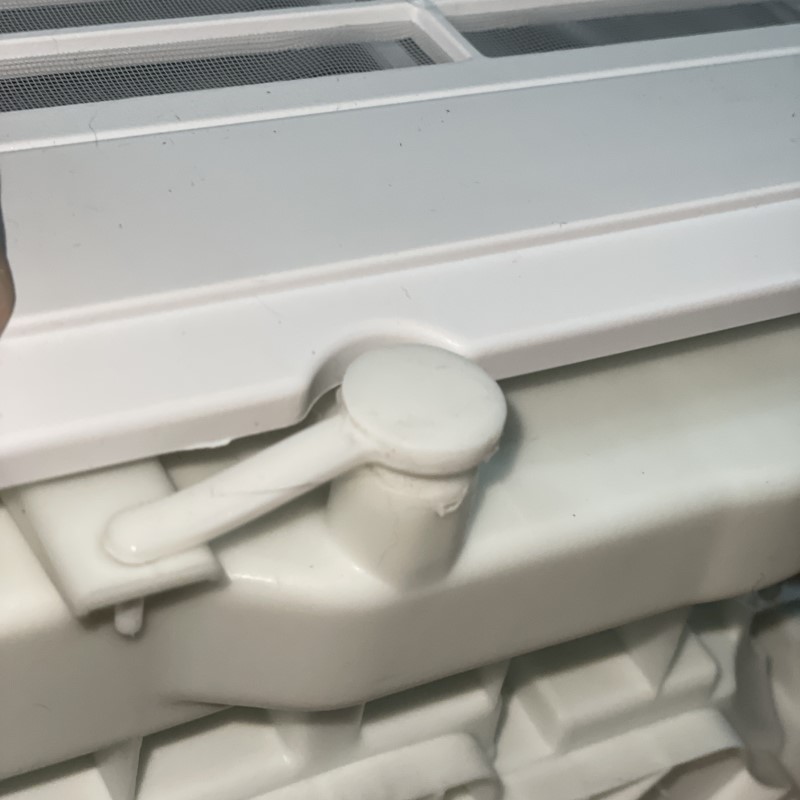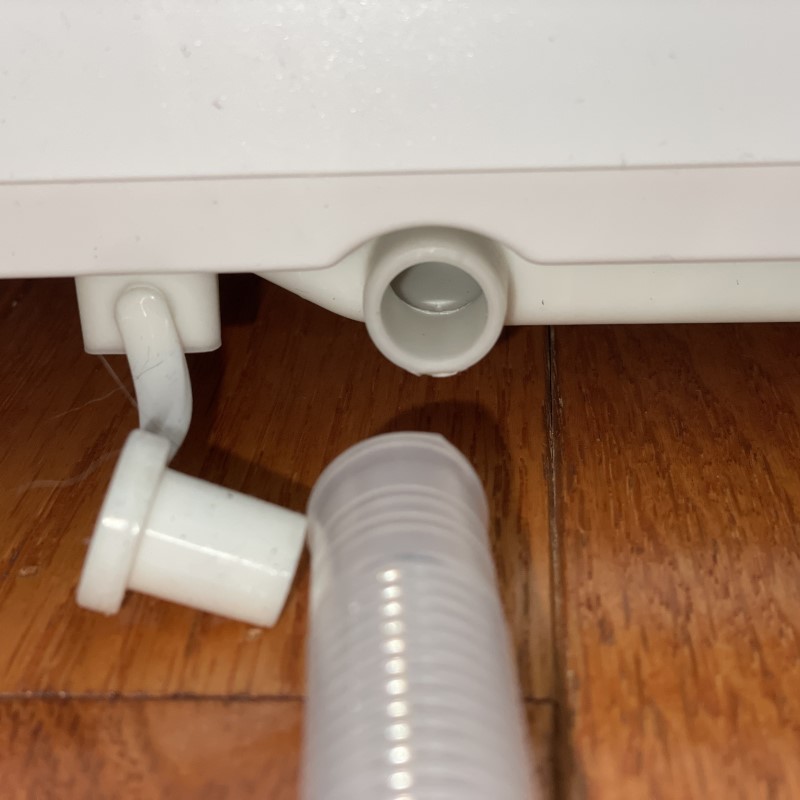 After everything is assembled, the Turbro has top-mounted controls for operation. From left to right, "Sleep," "Lock," "Timer," "Speed," "Mode," "Power," and …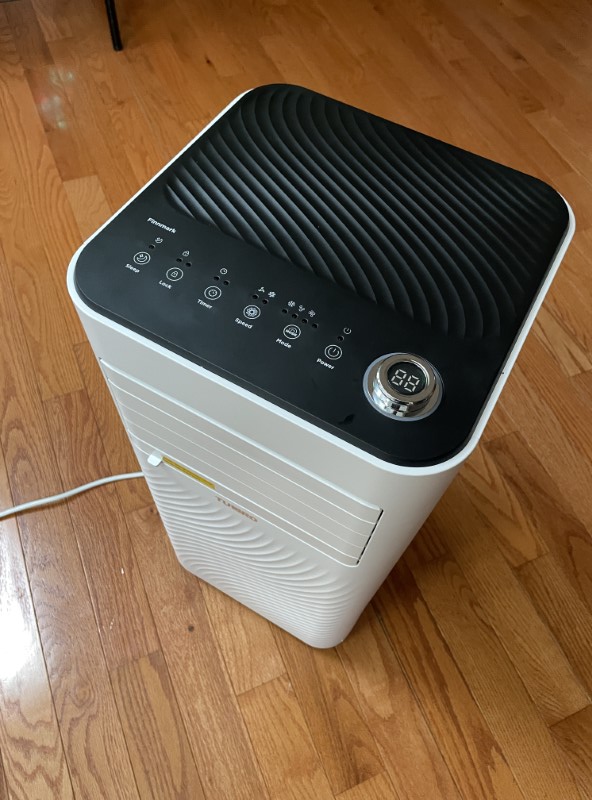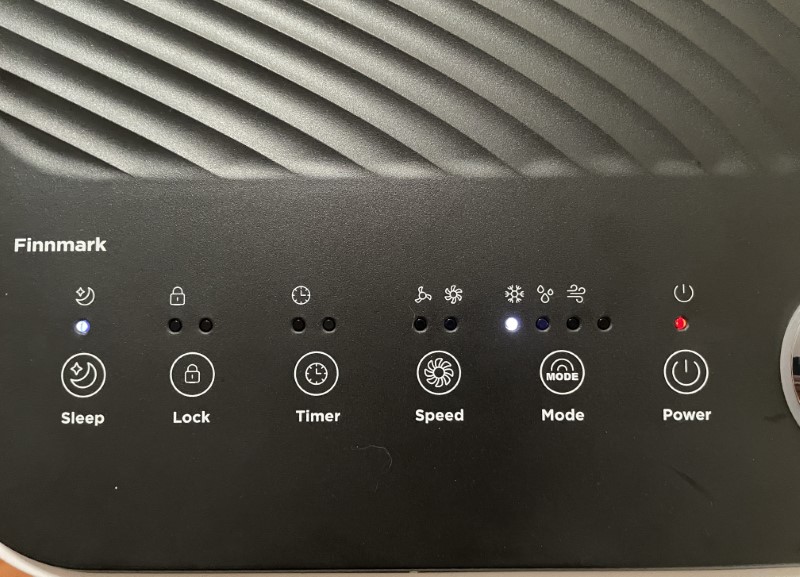 …The control knob and screen.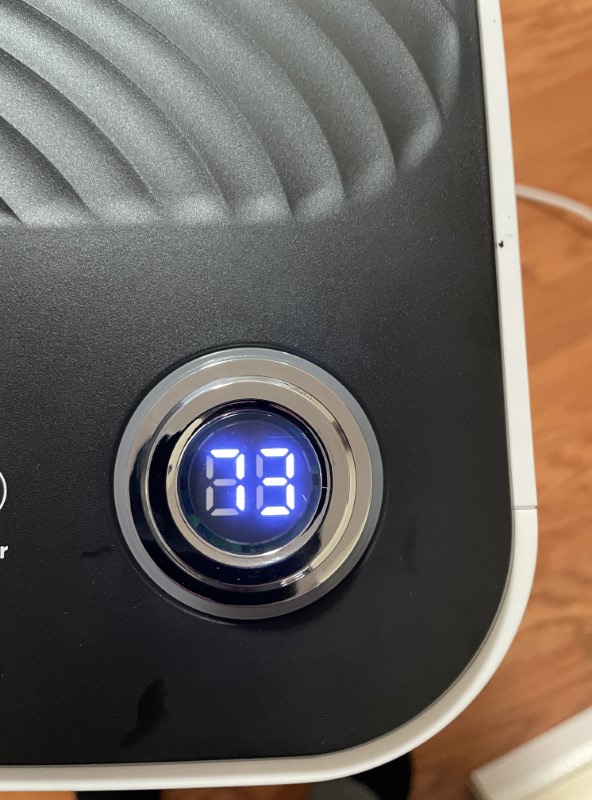 "Mode" cycles through "Fan" (no cooling), "Cool," and "Dry" modes. The speed button toggles between higher and lower fan output. "Cool" Is the air conditioning mode and the temperature is adjustable by rotating the control knob. Holding the mode button for three seconds switches between Celcius and Fahrenheit.
"Dry" is for use as a dehumidifier and can remove moisture from the air from a humid attic or basement. I've used a dehumidifier to help dry a damp carpet and de-stink a musty spelling basement and found they work very well.
"Mode" cycles through "Fan" (no cooling), "Cool," and "Dry" modes. The speed button toggles between higher and lower fan output. "Cool" Is the air conditioning mode and "Dry" is for use as a dehumidifier.
The "Timer" can be used to delay power-up or shutdown. With the power off, pressing the button displays the number of hours to turn the Turbro after the displayed countdown. Adjustment is made by turning the control ring up or down.   If it's on, the unit will turn off after the delay elapses.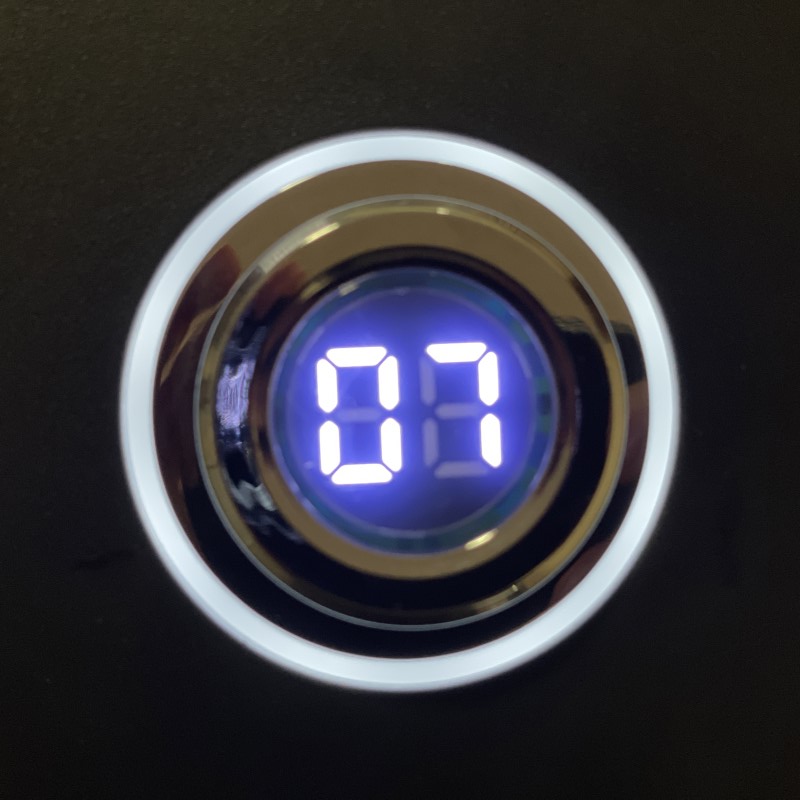 "Sleep" (only available in "Cool" mode) keeps the fan turned on at the lower speed, dims the display, increases the temperature by two degrees after one hour and another two the second hour, then turns the Turbro off after 10 more.  For clarification, the temperature will stay at four degrees warmer than the initial temperature after four hours and the power-off is 12 hours after starting.
Holding "Child Lock" locks the controls to keep your toddler from twiddling with your settings. Use caution with kids or pets because the wheels on the bottom allow the FMP05AC to scoot around hardwood, tile, and laminate floors with ease.
Included with the Turbro Finnmark FMP05AC 8000 BTU portable air conditioner is a handy dandy remote control that duplicates the functions available on the main unit. Instead of the control knob, the remote uses increase and decrease buttons. Two AAA batteries are included.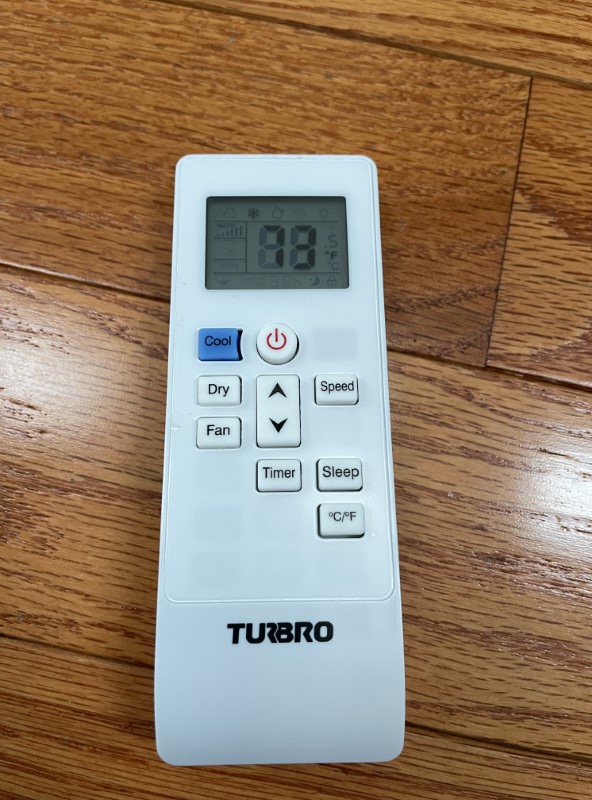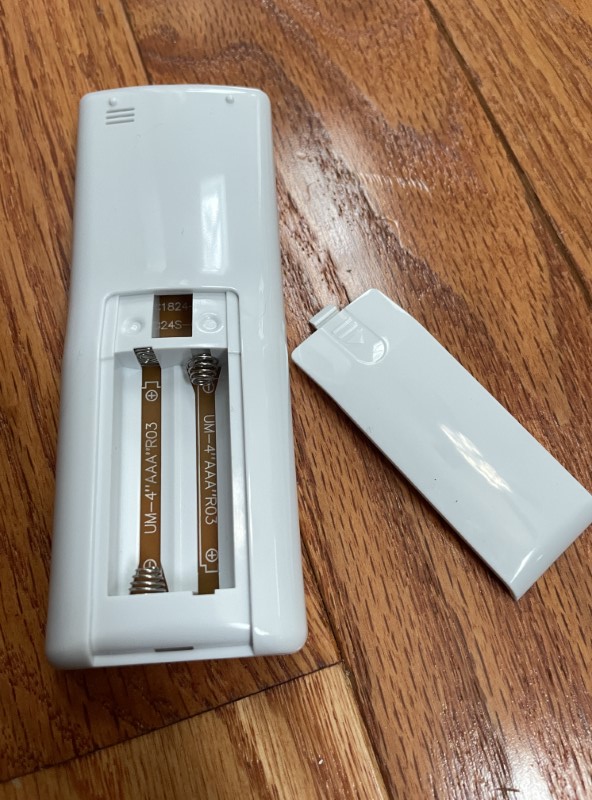 What I like
Solid, portable performance
Three-function fan, cooling, and dehumidification
Remote control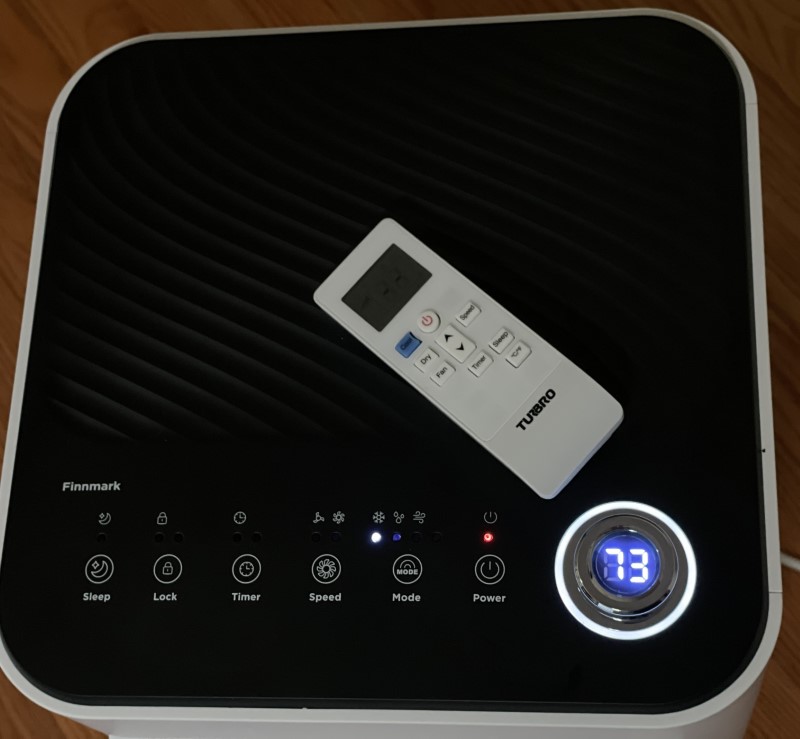 What I'd change
Final thoughts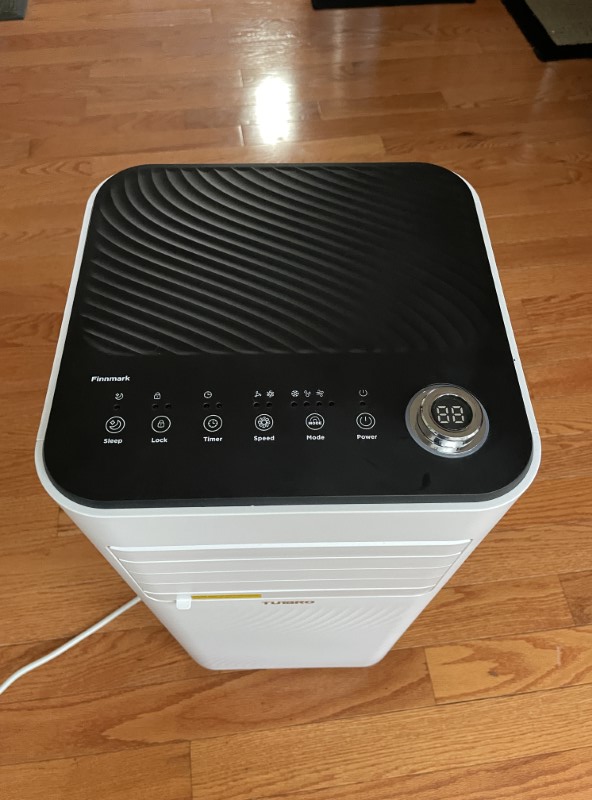 With lots of features and great cooling, the Turbro Finnmark FMP05AC 8000 BTU portable air conditioner could be the difference between, "I'm melting! Oh, what a world!" and "There's no place like home!", especially in places where permanent installation would be impractical, expensive, or prohibited. I would hate to see my daughter lose her security deposit because of window damage caused by a bulky window AC unit. The price is appealing, everything but the tools are included and it's a welcome addition to any hot bedroom, apartment, or dorm. Thank you, Turbro!
Price: $289.99
Where to buy: Amazon
Source: The sample for this review was supplied by Turbro.