We use affiliate links. If you buy something through the links on this page, we may earn a commission at no cost to you. Learn more.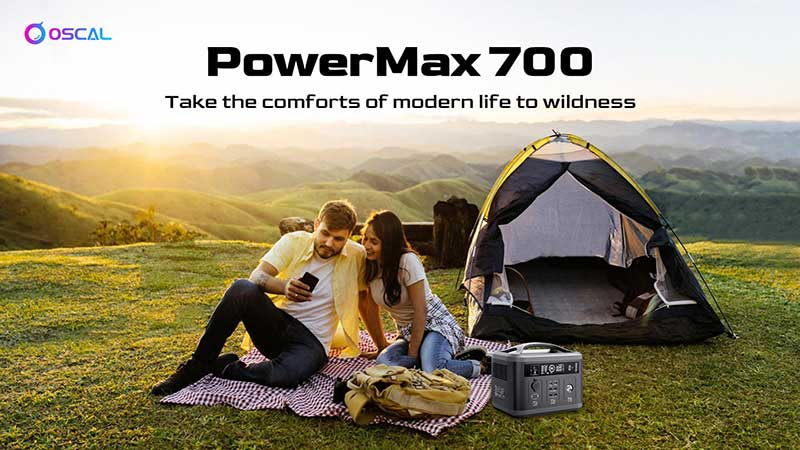 SPONSORED NEWS – As one of the most promising high-tech brands, OSCAL has always focused on product performance, environmental friendliness, design, quality, and service. This company has launched its first portable power station- PowerMax 700.
With cutting-edge technology and innovation, Oscal designed PowerMax 700 an eco-friendly body with a portable and intuitive design, multiple ports, and more to provide a highly convenient, fast, clean, stable, and safe power source, whether as an energy backup during home outages, or a mobile power provider for outdoor activities like camping, tailgate party, hiking, cycling, or an emergency power supply for everyday health equipment like CPAP machines during natural disasters like earthquake, flood, fire disaster, and other situations.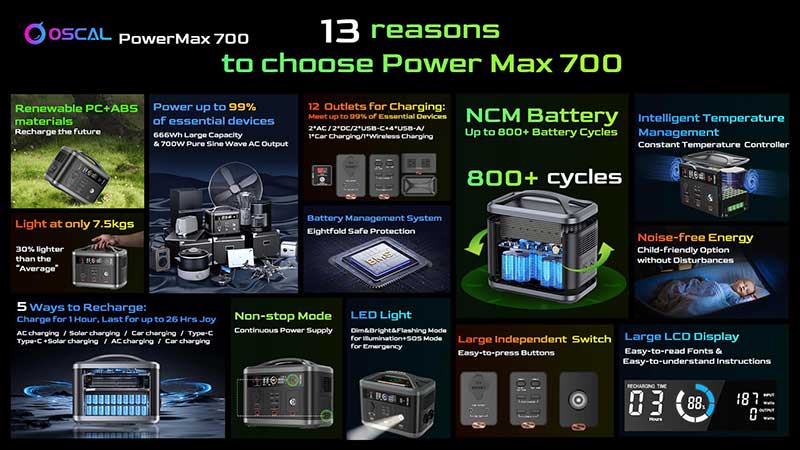 Lightweight & Eco-friendly Body with Mega Battery & Portable Design with a Reinforced Handle
The PowerMax 700 is made to be eco-friendly, with a renewable PC+ABS outer base and a RoSH-certified Nickel-plated steel battery shell. At only the weight of a dumbbell about 16.5 lbs (7.5kg), the Oscal PowerMax 700 features a pure sine wave inverter with two 700W AC outlets (1200W surging power), along with a 666Wh capacity. With portability in mind, it is designed with a compact size of only 31.2*19.0*24.8 cm and is even equipped with a reinforced handle and rubber anti-slip base, making it even easier to carry and transport wherever you go. This lightweight power station has enough juice to run a mini fridge for half a day. It can also provide over 35 charges for a camera.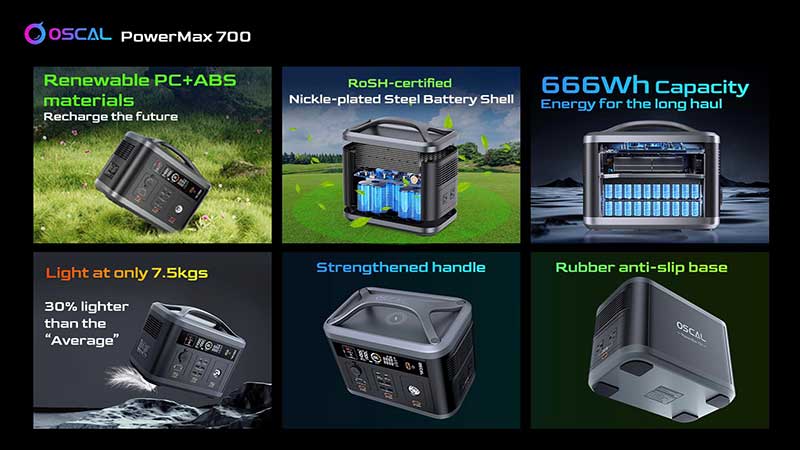 Great Durability with Stable and Safe Power
Taking into consideration its longevity and high safety usage, the Oscal PowerMax 700 utilizes safe, stable and durable NCM battery cells. It also incorporates the Battery Management System (BMS) that can intelligently monitor and manage the performance of the batteries to ensure that they are charged or discharged within safe limits, protecting them from damage and thus extending the life span. Intelligent temperature management with a constant temperature controller ensures that there will be no explosion or fire events during usage. Besides, with considerate care, Oscal assigned Non-Stop Mode to PowerMax 700 to escort continuous energy for CPAP machines.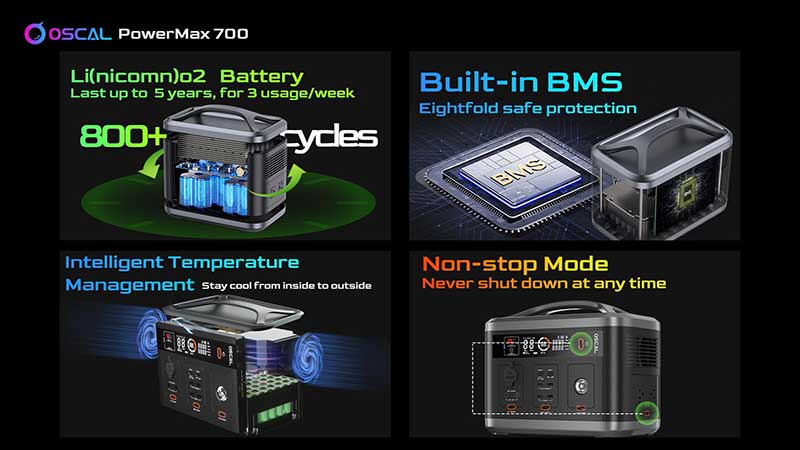 Fast and Flexible Recharging
The Oscal PowerMax 700 is truly an innovative and cutting-edge power station with up to 5 recharging options. With dual charging technology supporting up to 150W input and USB-C fast recharging (PD 65W), the PowerMax 700 can prolong users' daily joys for up to 26 hours longer with only 1-hour charging. Plus, its flexible design allows for charging on the go with a maximum input of 150W using solar panels, AC charging, car charging, or a PD 65W fast charging.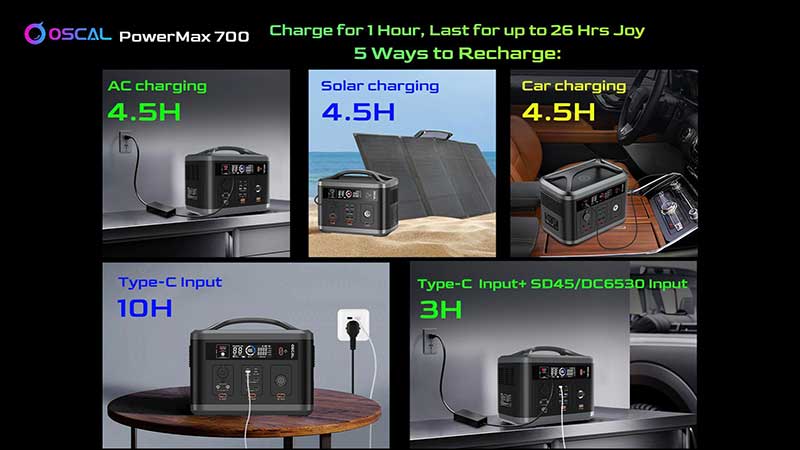 Versatile Usage in Any Situation with Up to 12 Outputs
Oscal designed the PowerMax 700 to meet the needs of the modern age by featuring up to 12 outputs. For phones, earbuds, and pads, it offers a 15W wireless fast charging pad on top. Just set your phone or wireless earbuds on top and charging begins immediately. Two 700W AC outlets cover almost all power demands of essentials at home or in the wild, even high-powered devices like mini kettles, mini-fridges, mini cookers, and juice machines. The two DC outputs for speakers, cameras, drones, laptops, portable DVDs and more. Four USB-A outputs, 1 USB-C output and a bi-directional USB-C port can be used for smartphones, projectors, lamps, and more. One car charging port even adds more fun for users on the go. Additionally, a 100W USB-C PD fast charging port ensures even more efficient power, charging a 50Wh laptop from zero to 80% for only 30 minutes, 1 hour shorter than with a normal charger. As useful as it is, for people who like travel and outdoor activities like camping, tailgate party, hiking, and cycling, or need to cope with emergencies like earthquakes, floods, and fire disasters to transmit power for first-aid equipment like CPAP machines, it is an ideal mobile power provider.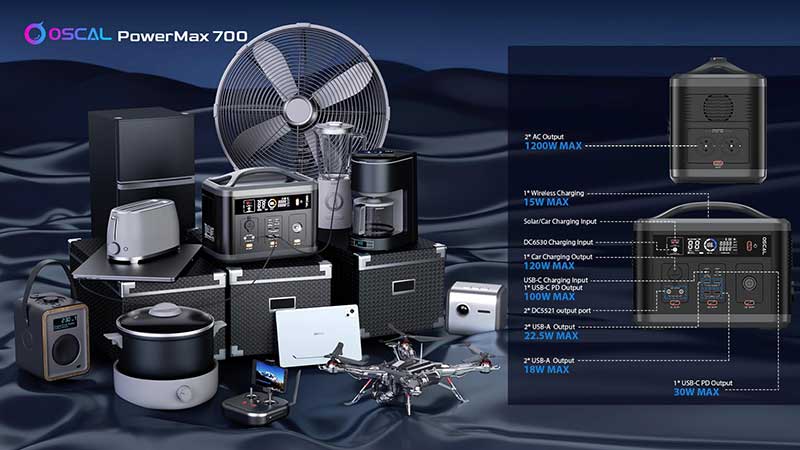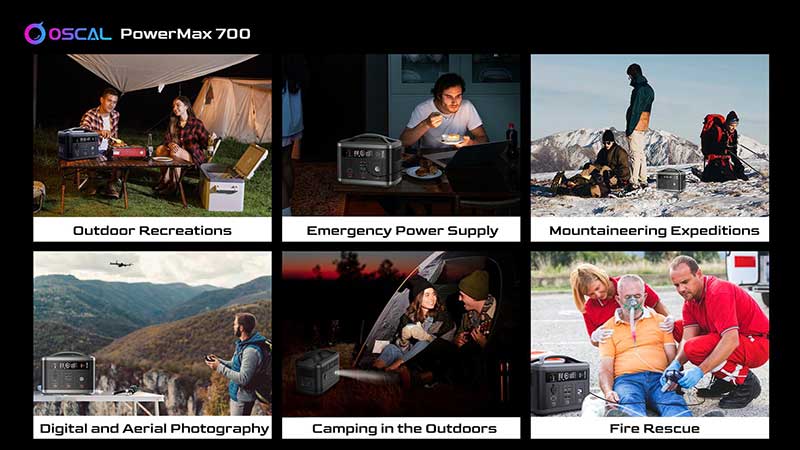 Use with Ease, Safety and Peace of Mind
Oscal sticks to making PowerMax 700 user-friendly. While in operation, the PowerMax 700 is silent, rather than gas-powered generators that are noisy and have fumes. It houses a foolproof control panel. Independent large switches effectively control different kinds of ports and illumination modes with an easy tap. Intuitive LCD display with big-sized fonts and lucid instructions clearly shows essential battery information. Furthermore, it is equipped with an LED light with three illumination modes, including dim mode, bright mode, flashing mode, and SOS mode for emergencies, catering to different user needs during nighttime operations.
Price & Availability
The Oscal PowerMax 700 will be available at Amazon for only $240 (60% OFF with the time-limited discount code "60POWERMAX") with a free adaptor charging cable and a free car charging cable. What's more, buy PowerMax 700 now, Blackview Bluetooth Headphones (green version) will be offered for free. Just add them to the cart, place orders together and don't forget to use the discount code on the checkout page, then you can get them both at such a cost-effective price. Time awaits no one, grab them together and start your exploration for more fun!