We use affiliate links. If you buy something through the links on this page, we may earn a commission at no cost to you. Learn more.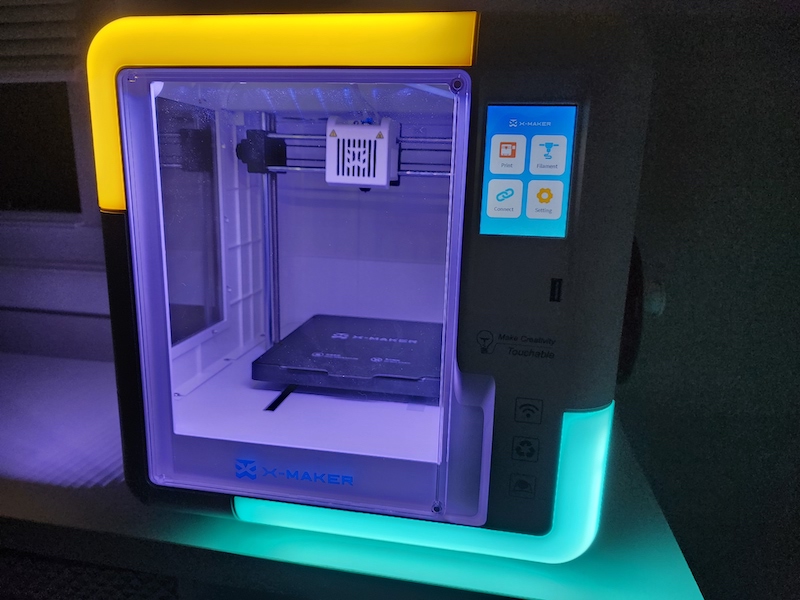 REVIEW – Interested in 3D printing but put off by how unapproachable it can seem?  The learning curve to get into 3D printing can seem steep, but it doesn't have to be.  The X-Maker 3D printer by AOSEED has been designed around making 3D printing accessible to anyone by simplifying not only the hardware but the software aspect as well.  Can it really be made simple while still maintaining efficacy?  Let's see what the X-Maker brings to the table.
What is it?
The AOSEED X-Maker is an FDM 3D printer that uses thermoplastic filament to create an object.  AOSEED has designed this printer around being approachable, and accessible to creators of all ages.
AOSEED (All Originates from a Seed) is based out of China, and also offers a robotics-building kit that can be used in tandem with the X-Maker.  The X-Kit allows a creator to design a robot around a control module, then 3D print the required components.  Where was this stuff when I was growing up?
What's in the box?
AOSEED X-Maker 3D Printer
PLA Filament
Tools (cutter, wrenches)
USB Storage Drive
Quick start guide
Hardware specs
| | |
| --- | --- |
| Nozzle temp | ≤260℃ |
| Nozzle size | 0.4mm |
| Bed temp | ≤110℃ |
| Maximum build volume | 150 x 150 x 150mm |
| Printer dimension | 360 x 360 x 380mm |
| Input | AC 100V-120V |
| Control panel | 3.5″ touch screen |
| USB2.0 Output | 5V 0.5A |
| Connectivity | Wi-Fi / USB-A |
| File type | Xcode / G-Code |
| Applications | X-MAKER App (iOS, Android, Windows) / X-PRINT (Windows) |
| Language | Chinese / English |

Design and features
The fun, vibrant design of the AOSEED X-Maker 3D Printer caught my eye, and as expected it fits perfectly into our kid's playroom.  In line with its intention of making 3D printing fun for a younger audience, the external and internal lighting of the printer add a touch of whimsy.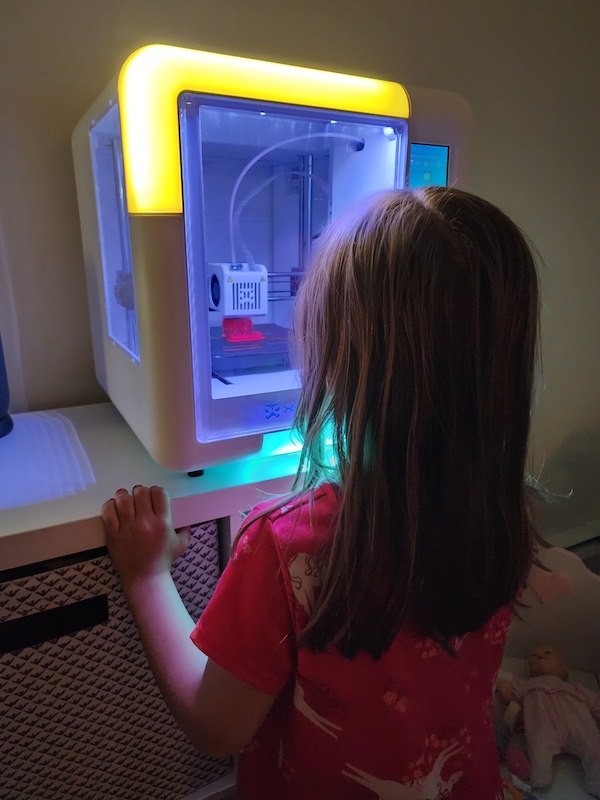 One of my favorite quality-of-life features is the wireless printing.  Not having to load an SD card into an adapter and travel back and forth to the printer invokes a bit of magic to the experience.  Unexpectedly I also found the onboard storage to be quite useful.  You'd think I'd know by now that printing something for one kid means I need to do the same for the other, and being able to reference and execute previous prints from the onboard storage saved a bit of time.  The color touch screen makes interacting with the printer intuitive and offers a great HUD while a print is in progress.
Functionally, the design of the door and filament access point to the printer is well executed.  Magnets hold everything in place for secure but easy access.  The run-out sensor and filament loading mechanism are positioned well to make it easy to feed filament through.
Perhaps the most important feature of the AOSEED X-Maker 3D Printer isn't in the printer itself, but rather its companion app.  The X-Maker app on iOS, Android or Windows, dramatically lowers the learning curve to get printing.  There are no user facing STL files, G-Code or complicated setup processes.  From the X-Maker app, you can browse a selection of curated prints that are ready to go at the push of a button.  I had a lot of fun browsing the catalog with my son on my iPad, and sending prints straight to the printer from the couch.
For those instances where you do need a traditional slicer to design or print an STL file, the X-Print application on Windows has you covered.
Additional features include:
Regularly updated catalog of 3D models in the X-Maker app
Filament run-out detection
Power-off resume functionality
X-Maker and X-Print applications are free
Printer arrives leveled and ready to print
Flexible, magnetic print surface
Setup
Out of the box there isn't much to do – remove the packaging throughout, plug in the AOSEED X-Maker 3D Printer, load the filament, and you're ready to go.
As a wireless-capable 3D printer, there is an out-of-the-box setup you will be prompted through to get connected to your home wifi.  It worked perfectly, and we were ready to print.
Up until getting my hands on the AOSEED X-Maker 3D printer, every printer I've tested required some degree of assembly and therefore pre-production printing calibration with leveling the bed, etc.  As the X-Maker arrived fully assembled, I threw caution to the wind and went straight into printing – and the results were fantastic.  The resultant Benchy came out very well – possibly better than some that I've dialed in with trial and error on other printers.
All in all – it will probably take longer to find and install the X-Maker app than it will to set up the hardware.  We're off to a great start!
Performance
Hardware
The AOSEED X-Maker 3D Printer rocketed out of the gate with an excellent Benchy test, and each print thereafter has been great.  AOSEED has produced a printer that "just works" – which means less time fiddling around and more time printing.
Some of the objects printed from the X-Maker catalog do require some assembly and are press-fit together.  Depending on the object and how it will be used, some gluing may be advisable to ensure it doesn't come apart.
AOSEED has advertised the X-Maker as a PLA/ABS printer, though the specs should support more durable filaments such as PETG.  While there is no advertised speed I can find, the X-Print slicer allows you to set it up to 300mm/s.  Prints demonstrated throughout the review were done at 60mm/s.
On the topic of ambiance… while the lights are cool, they aren't for everyone in every scenario.  The external and internal lights can be turned off, however, there is no setting to adjust the display brightness.  The enclosed design of the printer does help cut down on the sound of the printer fans and motor, and this is certainly quieter than any other printer I've used.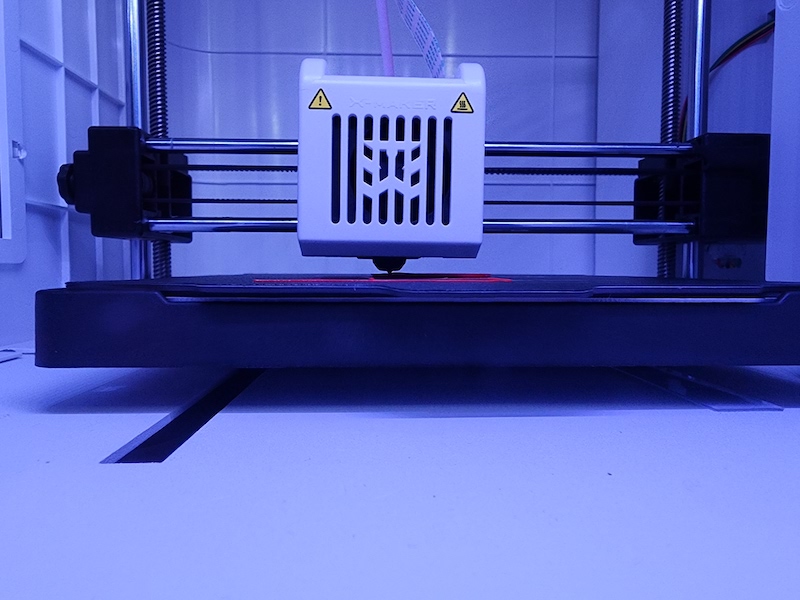 From a hardware performance perspective, the only issue I ran into with the AOSEED X-Maker 3D Printer was the extruder fan would cause a buzzing sound at power on while in the home position.  Once the extruder moved to begin printing, the noise self-resolved.  The hot end has not exhibited any issues with maintaining consistent temperature so this doesn't appear to be a performance-affecting issue, annoying though it may be.
Software
The software that AOSEED has developed to work with the X-Maker is generally intuitive and well supported with video instructions on how to get the most out of it.  Outside of the catalog of prints, there is a DrawX feature in the X-Maker app which allows you to freestyle a design.  I was able to quickly create a Gadgeteer placard from the application, and it came out great!  You can also create a 3D print based on a photo of a 2D drawing.
Everything on the software side is in line with the intent of making 3D printing approachable to the novice.  If I had to complain about anything in the X-Maker application it would be some of the localization issues with the translations from Chinese to English.  Occasionally, graphical issues would manifest in the preview image of the print bed when sending a print to the printer.
For those that need a more traditional slicer experience, X-Print is available (Windows only).  In the same vein as the X-Maker app, X-Print is very pared down to be straightforward.  This does mean that it is not as feature-rich as a slicer such as Cura.  Settings such as retraction speed, z hop, etc are not present in X-Print.
What I like
Fantastic print quality out of the box
Genuinely useful applications which complement the printer's features
Achieves its mission by making 3D printing fun, and uncomplicated
What I'd change
Buzzing sound from extruder fan in home position
Some application UI and graphical glitches
Final thoughts
AOSEED has delivered a thoughtful, well-executed ecosystem in the X-Maker 3D printer and application.  Augmented by the X-Print app for traditional slicer prints, this printer should easily cover the bases of beginner and casual hobbyists alike.  While the X-Maker application leans towards a younger audience, there are some genuinely useful features in there that are worth the time to check out.  All in all, this is a very well-done product, and I hope to see AOSEED continue to build on this platform.
Price: $399.99
Where to buy: Amazon
Source: The sample of this product was provided by AOSEED