We use affiliate links. If you buy something through the links on this page, we may earn a commission at no cost to you. Learn more.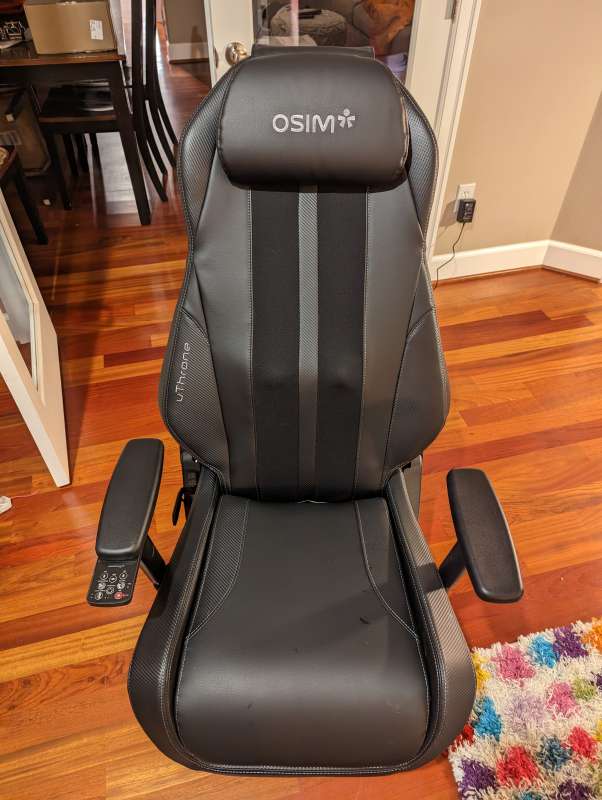 REVIEW –  What's better than a comfortable gaming or office chair? One that can give you a massage while sitting in it! When I sit too long I start to have lower back pain so when Osim asked me to review their uThrone Massaging Gaming Chair I jumped (or rather sat) at the chance to try it out. Let's see if this chair is as comfy as it sounds.
What is it?
The Osim uThrone Massaging Gaming Chair looks like a typical office or gaming chair but has two massage rollers that provide neck, lumbar, and shoulder massage. The two massage rollers traverse from the lower back to the neck area. It even has two built-in Bluetooth speakers.
What's in the box?
Osim uThrone Massaging Gaming Chair
Assembly guide with pictures
User manual
Bolts and Allen wrench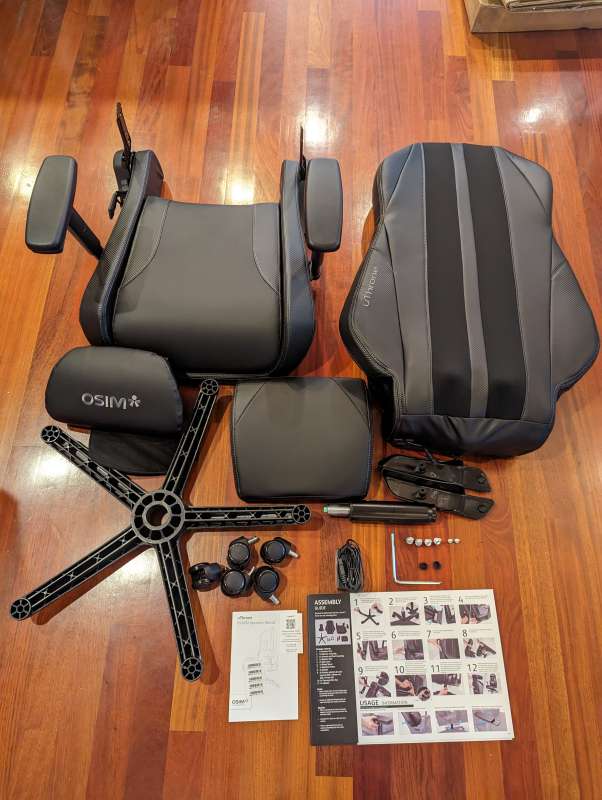 Hardware specs
Model: OS-8201 Osim uThrone Massaging Gaming Chair
Weight: 60 lbs
Dimensions:  46.6in H x 25.7 in W x 26.7 in D
Recline: Up to 145 degrees
Two built in Bluetooth speakers
Seat foam density: 50KG/M3
Upholstery: Leatherette
Adjustable armrests: 2 directional (up/down and forward/backward)
Maximum weight: 242 lbs
Warranty: One year excluding wear and tear
Design and features
The Osim uThrone Massgaing Gaming Chair features two Bluetooth speakers and two massaging arms to ease your back pain during long gaming or working sessions. It is available in four colors: black, orange, purple, and pink. The back is able to lean back to 145 degrees and the headrest height is adjustable or can be removed.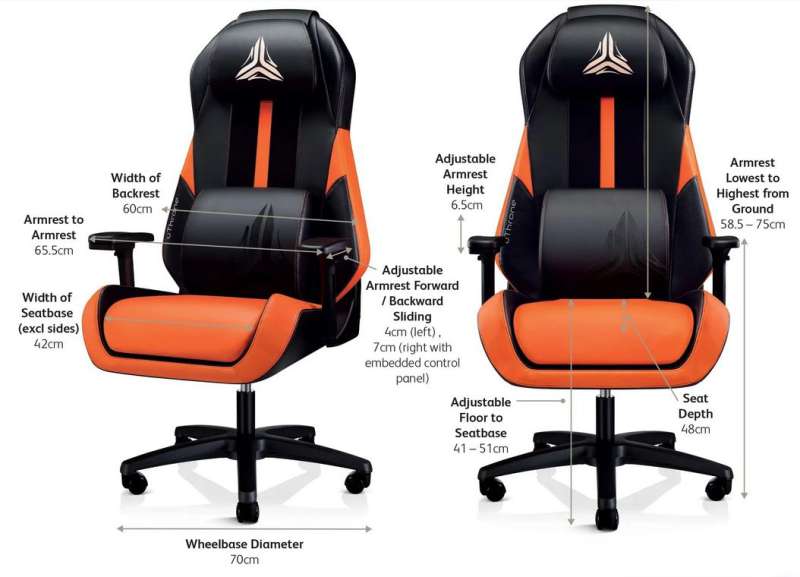 Setup
The Osim uThrone arrived well packaged in cardboard and Styrofoam. A very nice clear and detailed assembly sheet was included in English with pictures.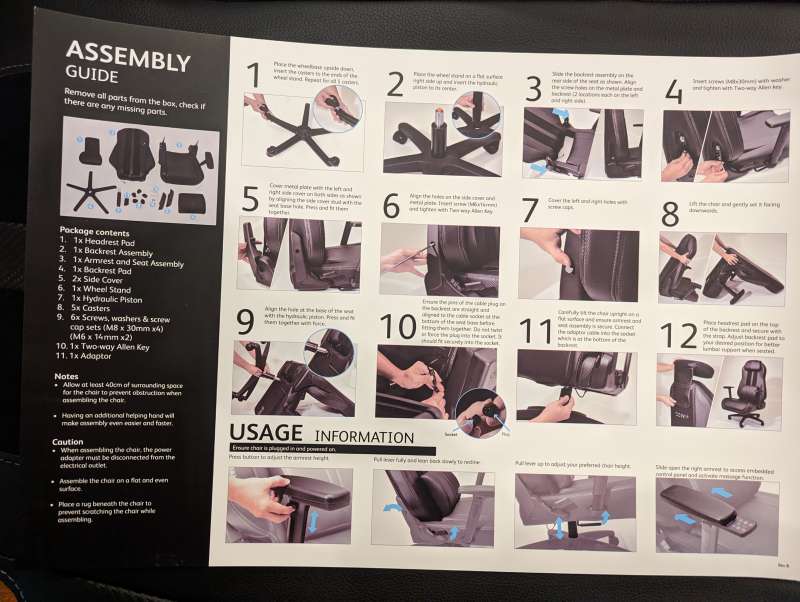 A separate user manual was included that explained all the massage functions and how to connect to the Bluetooth speakers. It was nice to not have to look up the instructions online so kudos to Osim for including printed copies.
It only took four bolts and two screws to put it together in about 10 minutes and most of that was because I was taking pictures.
After attaching the five wheels to the base I flipped it over and inserted the gas piston. Then I aligned the base and popped it on. I then connected the barrel plug and plugged the AC adapter in.
The speakers were easily found on my phone to pair via Bluetooth. They beeped when connected and beeped again upon disconnecting. They were capable of getting pretty loud and the music was nice and clear. I connected my Nintendo Switch to them and did not experience any lag or static while playing a game so these will come in handy when I need to keep the TV volume down.
Performance
The Osim uThrone massaging gaming chair has very comfortable foam in the seat and back. The padding is nice and I would even say plush where it needs to be. The headrest is adjustable and the included lumbar cushion is soft yet supporting when you put it where you need it. The armrests are concave and were well placed. Once my wife and mother-in-law found out it was a massaging chair I could barely get a turn on it. I was originally going to take it to my office but the wife vetoed that and said it's staying at the house.
The main controls are all on the right side. The two levers control the back lean and the seat height. The massage control panel is hidden under the right armrest which keeps it handy and avoids losing a detached remote control. The armrests of course adjust up and down but also slide forward and back. This was the only thing we had to be careful about since we found when trying to push back in the chair we would inadvertently slide the armrests forward. After figuring that out though it is easy to avoid sliding the armrests when trying to get situated.
There are three auto-massaging functions to choose from. Once you select one, the massage will last 15 minutes before turning off automatically so we all took 15-minute turns. The three auto massaging functions are awesome and they focus on different areas but do a great job of hitting the lower back up to your shoulders and neck area. You can also select the manual program and fine-tune where you want the rollers to focus and also adjust the roller width.
The pressure of the rollers could be pretty intense depending on how hard you lean back but you can relieve the pressure by just leaning up a bit. I actually preferred that though over having something weak that didn't dig in enough.
What I like
It massages!
Still comfy when not massaging
What I'd change
Would be nice if you could adjust the armrests sideways or in/out from the chair
Final thoughts
I will not get another office chair that doesn't massage from now on. The Osim uThrone gaming chair has totally spoiled me but at $999 it isn't necessarily cheap but is on par with nicer ergonomic office chairs without the massage feature. I don't think I will use the Bluetooth speakers that much unless I need to keep the volume down on the TV or if I want to listen to music while gaming but it is nice to have the option. Overall the Osim uThrone Massgaing Gaming Chair is very comfortable to sit in for long periods and feels very well constructed with quality materials. Add in the massage capabilities and I think this chair is a must have for any office or gaming setup where you sit for long periods. Very well done Osim!
Price: $999.00.
Where to buy: Osim website
Source: The sample for this review was provided by Osim.