We use affiliate links. If you buy something through the links on this page, we may earn a commission at no cost to you. Learn more.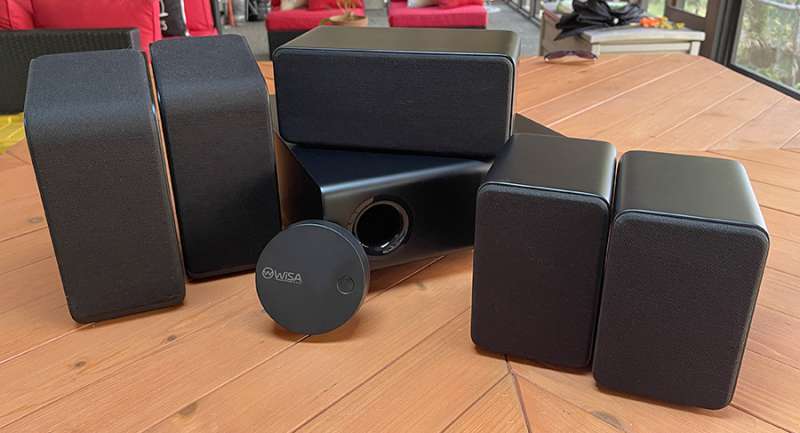 REVIEW – 6 months ago, I packed up my wonderful Bowers & Wilkins 607 speakers I used for music and TV sound ( along with a subwoofer and two Audioengine speakers for surround) and replaced them with the Platin Monaco 5.1 wireless surround sound speaker system. The Monaco 5.1 is a complete surround sound system—in a box. 
And yes, I was skeptical—especially since the setup was nowhere near as easy as Platin advertised it would be. But I got it to work and boy, was I glad I did! I became a convert and the Platin system remained in our (awful for audio) living room—until now. Platin sent us the new Monaco 5.1.2 wireless surround sound system to try. And yes, it has replaced the much-loved Monaco 5.1. But it too came with some headaches and frustration. More on that later.

What is it?
The Platin Monaco 5.1.2 wireless surround sound system is an upgrade to the original Monaco 5.1. Even though it shares some components with the 5.1, I wish Platin had renamed it. Its subtle name change undersells the system's improvements.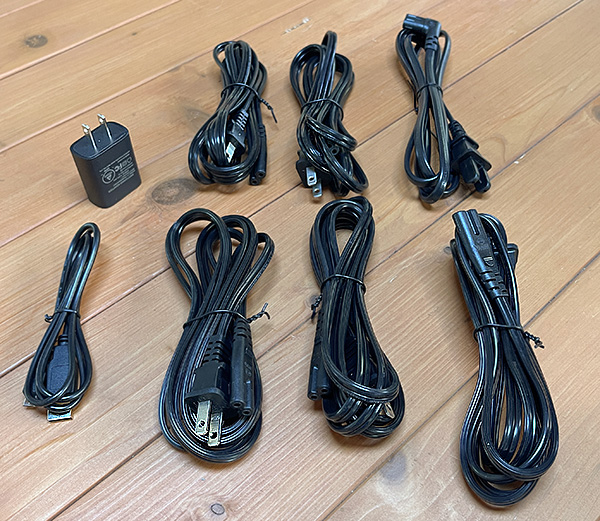 The Monaco 5.1.2 is a six-speaker system (like the 5.1) with a caveat. It comprises 2 L/R stereo speakers, 2 L/R rear speakers, a center channel speaker, and a subwoofer. Also included is a WISA wireless controller, plus all the necessary power cords. Even though the system is wireless, each speaker must be plugged into an outlet. With the original 5.1 system, the individual speaker power cords were a bit on the short side. Not anymore. Platin added another 20″ to the cord length—from 60″ to 80″!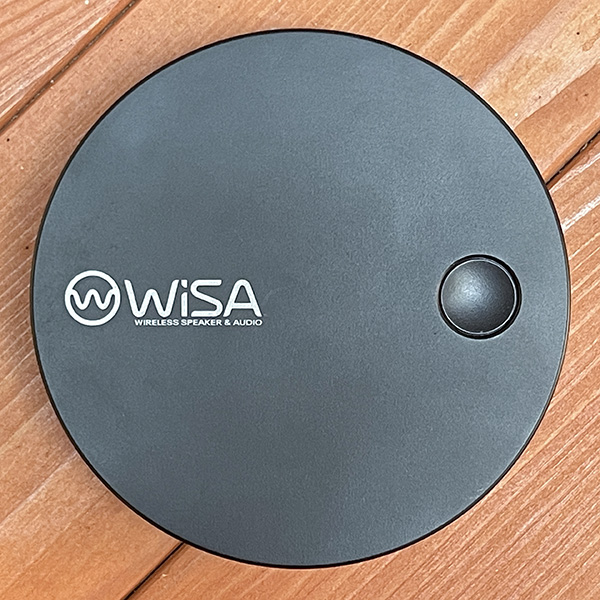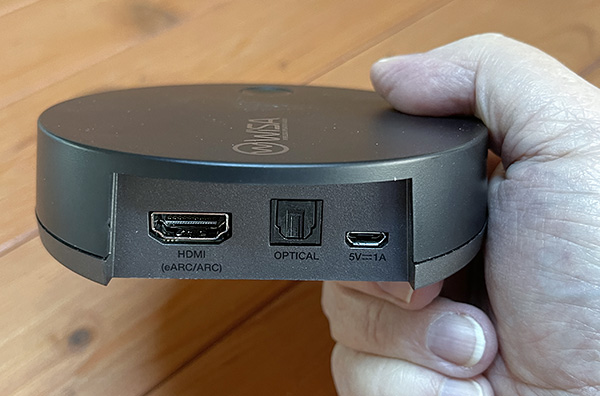 The WISA controller is the heart of the Platin Monaco 5.1.2 wireless surround sound wireless speaker system. It's the color and shape of a hockey puck. It's hardwired to a TV via an HDMI port. Optical is available, but not advisable. More later on that.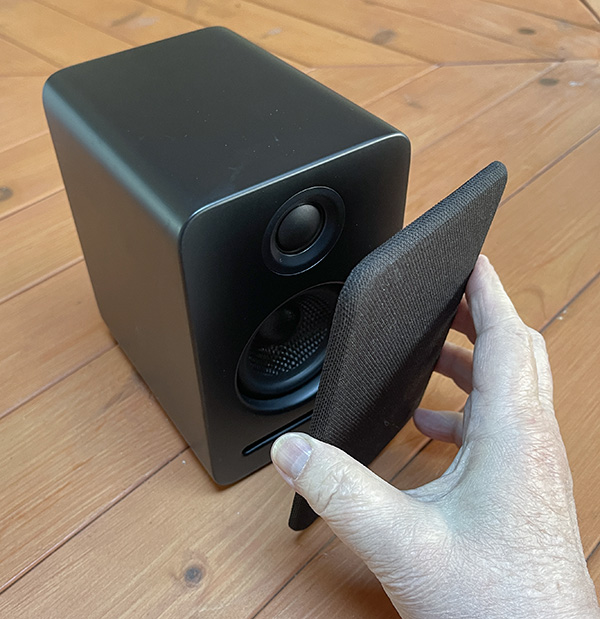 The speakers now include magnetic grills (a nice improvement). These grills both protect the speakers (the silk tweeters are easy to poke) and make them look more sophisticated.
The caveat to the six-speaker setup mentioned earlier is the addition of Dolby Atmos—a drama all its own which I'll get into later in the review.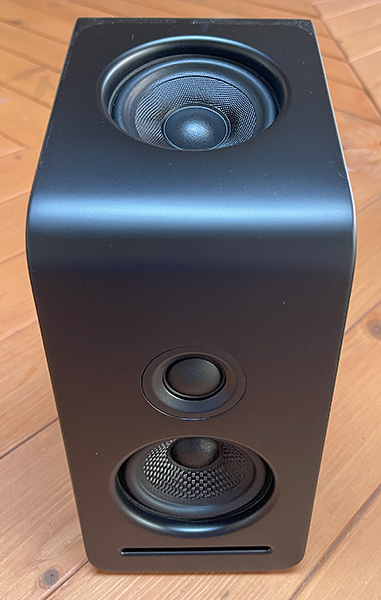 The 2 front L/R speakers in the Monaco 5.1.2  feature additional up-firing midrange speakers nested into the top of each speaker. Except for the added grills, the center, subwoofer, and surround rear speakers have identical specs. 
As with the Monaco 5.1, the WISA SoundSend smartphone app controls the speakers in many more ways than just volume. 

Specs
Dimensions:
Front speakers: 9.8"x4.3"x5.7″ (HxWxD)
Rear speakers: 6.7"x4.3"x5.7″ (HxWxD)
Center channel speaker: 4.4"x4.10.2"x5.7" (HxWxD)
Sub: 5.3"x15"x12.2" (HxWxD)
WISA SoundSend: 1"x4.3 (HxW)
Upfiring speaker drivers
THX Tuning
Dolby Atmos
24-bit 48 kHz uncompressed audio

Design and features
Let's begin with a story. As I said, setting up the Monaco 5.1 system was a bit of a headache, but after a few calls to Platin support, I finally got it to work. Kudos to the Platin tech team. They were patient, knowledgeable and a pleasure to work with. Why can't all companies be like this? 
When I unpacked the new Platin Monaco 5.1.2 wireless surround sound wireless speaker system, I thought it would just be a matter of swapping the 5.1 parts with the 5.1.2 and instant Dolby Atmos! How naive I was. Over the next 3 weeks, I became a quasi-expert in home theater and all its quirks. I now know way more about home theater compatibility than I ever wanted.
While my 2017 55-inch Samsung TV could handle 5.1 surround sound, it could not pass through Dolby Atmos. It was a rude awakening. 
Let's pause the story here to explain what Dolby Atmos is. Atmos is a surround sound technology developed for movie theaters by Dolby Labs. It's now available in many home theater components. Atmos increases the audio sound stage many ways—one of them by introducing what's called "height channels". This makes surround sound appear more three-dimensional—not limited to just horizontal and vertical. This effect is achieved either through in-ceiling speakers or speakers aimed towards the ceiling—as with the Monaco speakers. Back to the review.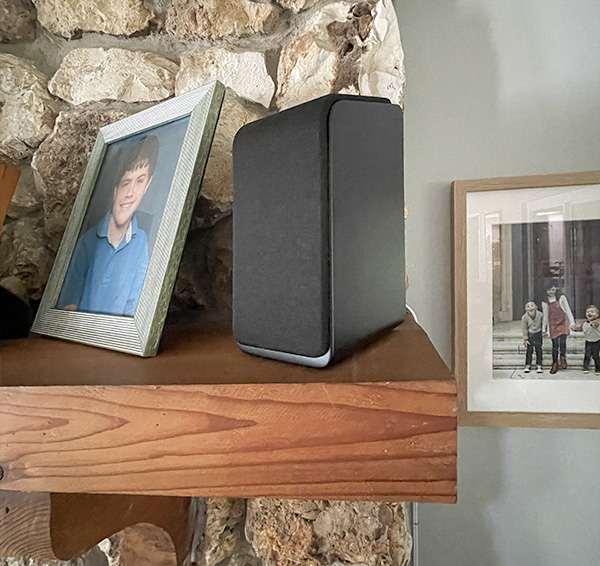 After I connected the Monaco 5.1.2 system to the Samsung TV, I sadly realized that the TV only had an ARC HDMI port (necessary for surround audio), not eARC. Not having the eARC port is my Samsung TV's way of saying "No Atmos for you!" Note: If your TV only has ARC, save yourself some headache (and money) and get to the Monaco 5.1. It still sounds really good!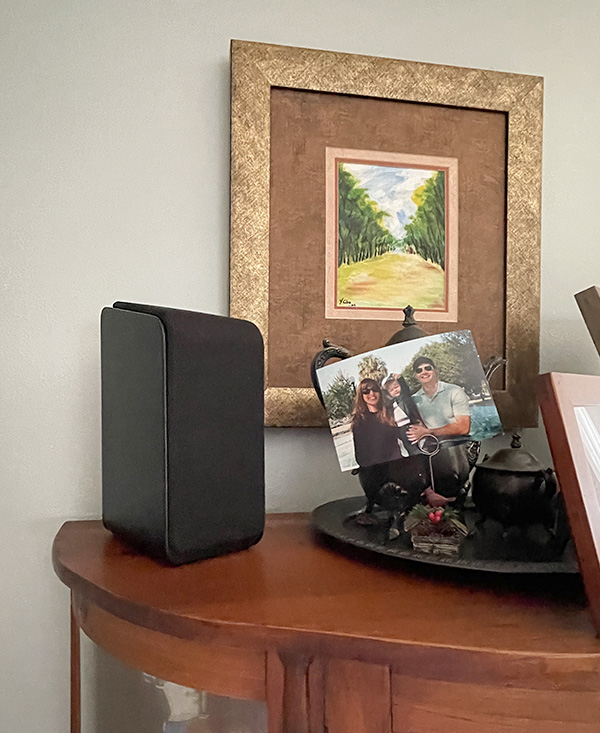 I thought there had to be a way around the "no Atmos" problem. Surely a 5-year-old Smart TV could do Dolby Atmos, right? Nope—only newer TVs (and many receivers, but that doesn't apply here). Adding insult to injury, the 5.1.2 system did not want to play nice with Samsung. I was experiencing dropouts, broken connections, and smartphone app voodoo. Call me slow, but I was beginning to understand that different technologies separated by a only few years can introduce all kinds of ghosts in the machine.
It turns out that the only solution was a new TV that could handle Dolby Atmos. That fixed everything—and I mean everything! 
With a new 65-inch TV set up in the living room, we started the Monaco 5.1.2 system setup from scratch. I disconnected all the speakers.  I then deleted and re-downloaded the WISA SoundSend app for a fresh start. I followed the steps in the manual inside the app (the printed quick-start guide is not great). 
Not only did the app, WISA controller, and speakers all work seamlessly together, my iPhone now controls things better than it ever did on the original Monaco 5.1. Platin brags about the ease of their setup, and I now believe it—if you have a more recent TV.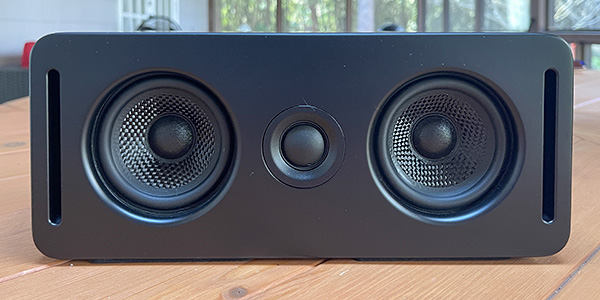 Let's talk wireless. Even with Dolby Atmos being a big selling point, Monaco's primary appeal is that it's wireless. You can't appreciate that feature until you experience it. When the TV is turned on, The WISA automatically turns on and syncs the speakers to the TV picture. Sometimes, this syncing can take a few seconds so having a little patience is a good thing. Once synced, there are no lag or out-of-sync issues. WISA uses its own wireless protocol—not Bluetooth or your home WiFi. That way, there's no interference with other wireless gadgets in the home.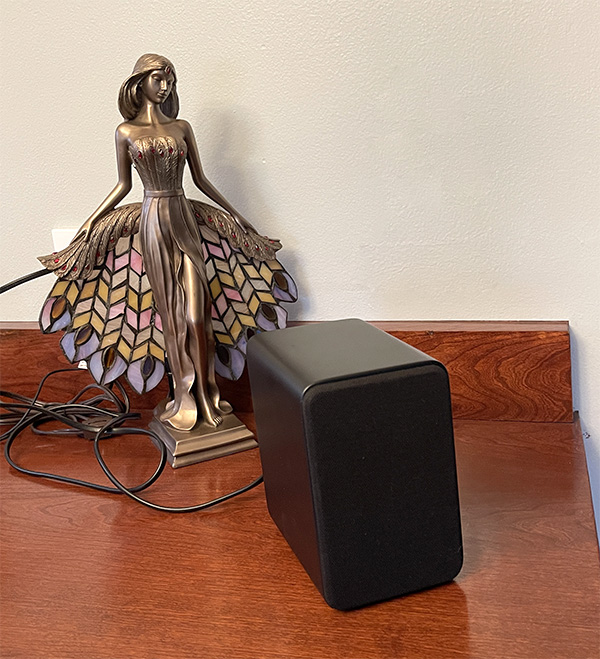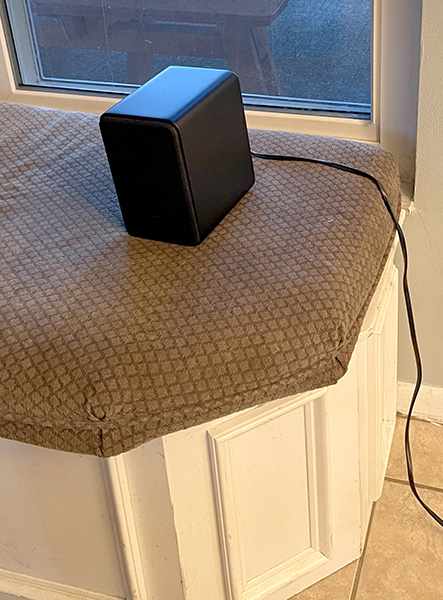 Our living room setup prevents us from leaving the rear surround speakers out in the open when not watching movies. If we are watching a movie or Atmos TV show,  we bring them out and plug them into an outlet. The WISA controller does the rest. We just sit down and enjoy.
The addition of Dolby Atmos raises the Monaco system to a new level—literally. We've already watched quite a few movies with the 5.1.2 and the surround is even more immersive than the 5.1 was. I didn't think that was possible.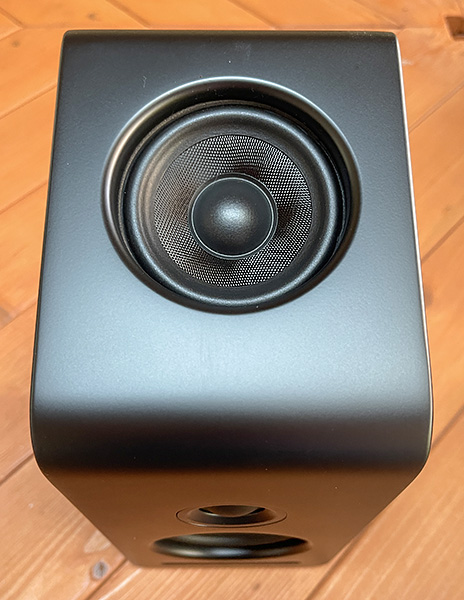 Granted, there are no true in-ceiling speakers with the Monaco 5.1.2 system, but the up-firing speakers are the next best thing. These speakers bounce the audio off the ceiling reflecting it back down to the listener. For instance, if something in a movie is flying over, you will experience that with the up-firing speakers. Combine them with the rear channel and center channel speakers, and it makes a more complete surround package than just 5.1. I'm not kidding when I say that our date nights at the theater have been cut way back. Platin has made date nights at home a much better option. 

Even though our beloved Bowers & Wilkins speakers technically sound better than Platin's speakers, in a surround setup using our Denon receiver, they never felt immersive or involving—especially with movies. So I was happy after switching to Platin—and even happier after the 5.1.2 upgrade. Platin's speaker systems are tuned by THX, known for its expertise in movie theater sound systems. It shows—and is heard.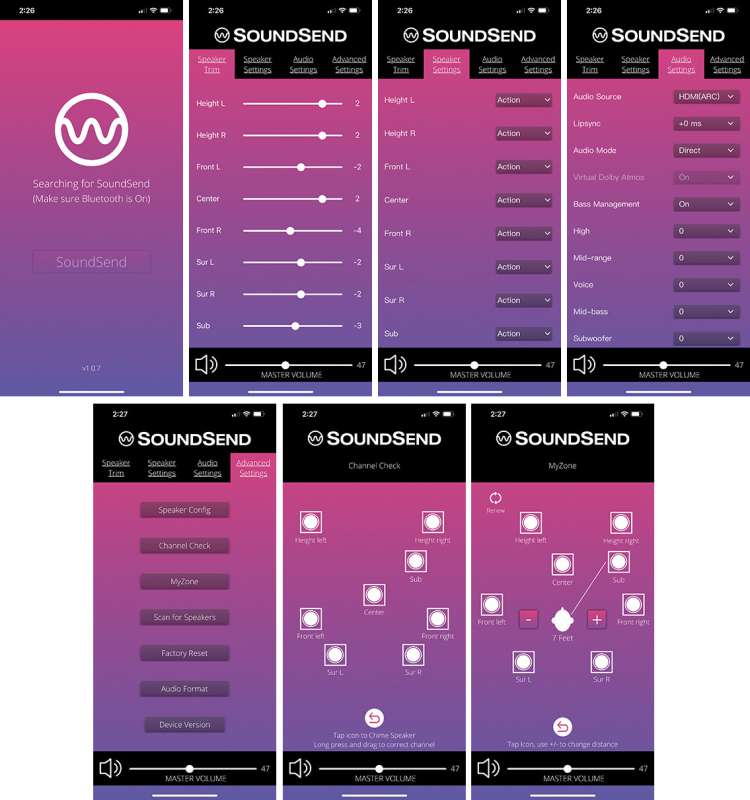 What about the SoundSend app? Unfortunately, it is in need of an update. I didn't know what many of the button's functions were until Platin tech support explained it to me. And once again, they did a terrific job. I now can navigate the app knowing most of the selections. It would be good if Platin dedicated a web page explaining the SoundSend app in detail—at a third-grade level I can understand. Note that I used the iOS version of the app. The user experience with the Android version may be different.
The SoundSend app has four major sections—each with various features:
Speaker Trim This weirdly-named section allows independent control volume control of each speaker. This is a welcome feature.
Speaker Settings Chances are that you may never need to bother with this unless you need to check something. This section should have been placed on a less conspicuous page in the app.
Audio Settings This section contains an equalizer (EQ) along with a few other settings. I found that leaving the EQ settings at "0" works for us but it's nice to have options.
Advanced Settings Here, you can reset the speakers, check to see if all the channels are working properly, and even adjust speaker placement and distance. For instance, if the left speaker is 3 feet away and the right is 5 feet away, the difference in distances can be accounted for in the app. Due to our weird living room setup, this turned out to be a great feature.
Our Apple TV (used for streaming) and the WISA controller work well together. I can adjust the system volume with the volume button on my iPhone—something I couldn't do using our older TV.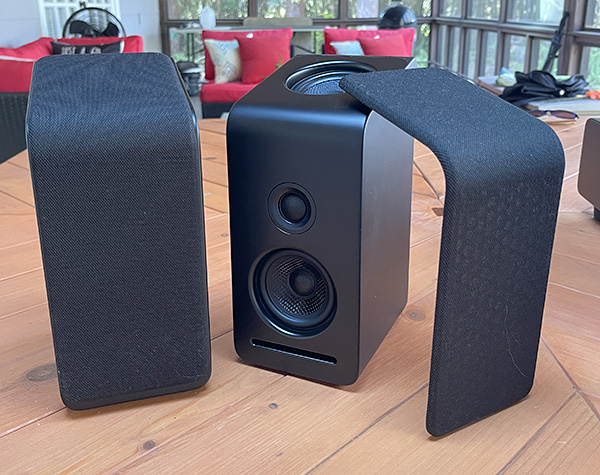 As good as Movies and TV shows sound on this system, that is not the best feature of Dolby Atmos on the Monaco 5.1.2. Its most amazing feature is music. 
I am addicted to music. It is always playing somewhere in the house throughout my day. I am also a fan of Apple music. Apple recently introduced what they call Spatial Audio, which is another word for Dolby Atmos. Listening to an album recorded or mixed in Atmos surround is revelatory. I never knew some of my favorite albums could sound this involving. When listening, I feel like I am part of the music. Again, you have to experience it to appreciate it. Apple Music (using Spatial Audio and lossless) alone almost makes the Monaco 5.1.2 worth it. It sounds that good.

What I like
Quick setup
Easy to use once set up
Great wireless performance
No lag
Immersive audio
Atmos a worthy upgrade
Makes (spatial audio) music sound incredible

"
What I'd change
Expensive
Doesn't play well with older TVs (use Monaco 5.1 for older TVs)
Requires eARC for Atmos to work

 

Final Thoughts
Since we began using the Platin Monaco 5.1.2 wireless surround sound system, streaming movies and TV shows have sounded so good, our Blu-Ray player and Denon 5.1 receiver are collecting dust. We now only use the TV, WISA controller, and Apple TV. That's it. And with the Monaco 5.1.2 system, It's all we need.
Yes, The Monaco 5.1.2 is expensive, but when you factor in the savings from not getting in the car and driving to a theater along with the hassle of movie crowds, the Monaco 5.1.2 system quickly looks like a bargain.
 Price: $1,299.00 US.
Where to buy: Platin and Amazon
Source: The sample of this product was provided by Platin.