We use affiliate links. If you buy something through the links on this page, we may earn a commission at no cost to you. Learn more.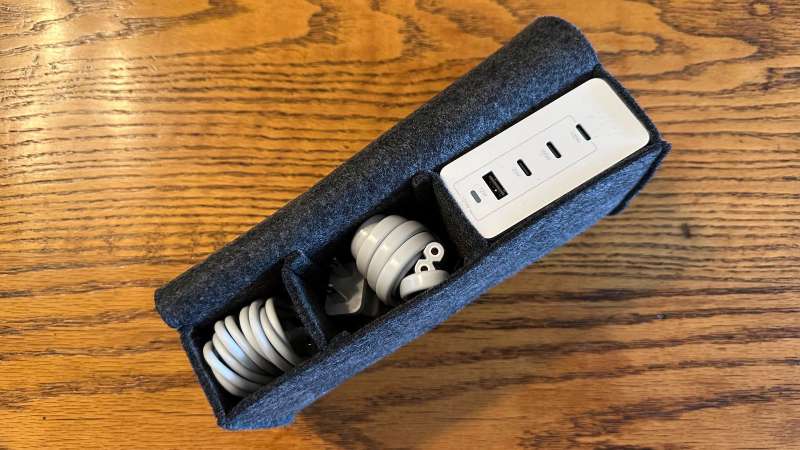 NEWS – Back in the Spring, I reviewed a new product from Mophie, their MagSafe travel charger kit. It was one of my favorite products for the year. With MagSafe for iPhones, AirPods, and the Apple Watch, it's the trifecta of wireless power.
There is a whole other world out there, however. What about those who need wires to charge? They may carry MacBooks and iPads. According to MacRumors, Mophie has recently used their GaN power for good and brought out a kit using their new SpeedPort 120 4-port charger, (in white, rather than black) which includes a USB-C<=>USB-C cable, as well as a USB-C<=>Lightning one. It's listed on their site as an Apple Exclusive and listed on the Apple Online Store site as well.
What is it?
The travel kit uses the same idea as the wireless one: all the things you need, neatly gathered into a grey, felt, button-enclosed travel kit. At $97.98 (the current holiday sale price) the kit is less than the SpeedPort 120 alone!
One of the beauties of the Speedport design is that the power cord is removable and uses a standard figure-eight attachment (and is thus easily replaceable), and an EU or UK cable can be purchased as well. I actually first saw kit this listed on the Australian Apple store page with an Australian power cable! It would also be very easy to fit in a USB-C<=>MagSafe power cable for a 14″ or 16″ MacBook Pro, or a second USB-C<=>USB-C if you needed to.
There seem to be some adjustments to the layout, size, and trim of the felt case for the new product. I think Mophie has once again hit it out of the park!