We use affiliate links. If you buy something through the links on this page, we may earn a commission at no cost to you. Learn more.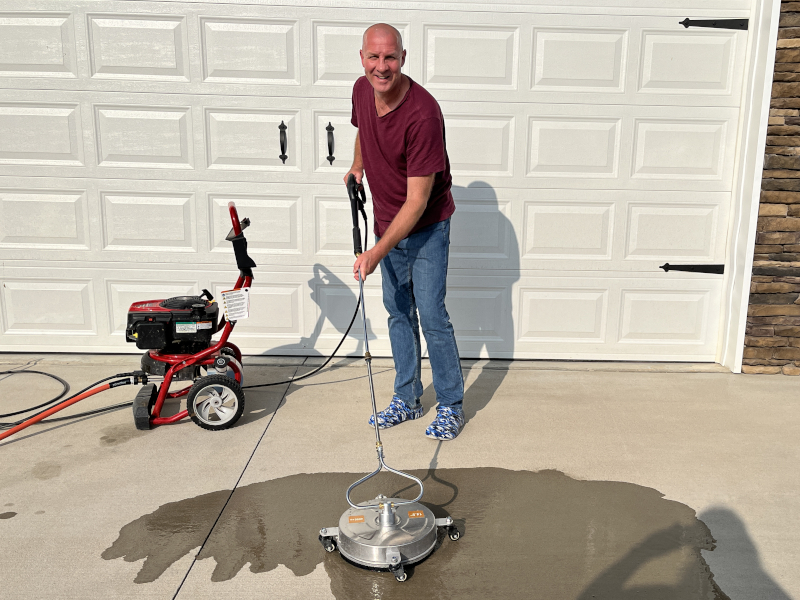 REVIEW – Pressure washing the driveway is an annual event where I live.  A year's worth of dust and dirt from all the red clay we have around here gives my pavement a rather reddish, muddy look, something that's definitely not very attractive.  Every fall I haul out the pressure washer, fill it up with gas, and set about to painstakingly wash it all away.  The work is back-breaking, and it's never quite done perfectly, as I leave stripes from sweeping the little yellow nozzle back and forth.  There should be a better way to do this, and I am hoping that the EVEAGE 14.5″ Pressure Washer Surface Cleaner is what I need.
What is it?
The EVEAGE 14.5″ Pressure Washer Surface Cleaner is an attachment for your existing pressure washer.  Its purpose is to help me apply consistent, even washing to my sidewalk and driveway while reducing stress on my arms and back.  It does this by taking the output of my pressure washer and splitting it between two nozzles that are rotating, while keeping them a consistent distance above the ground.  If everything works as expected, it should be easier and faster to pressure wash the pavement, and it should look better as well.
EVEAGE is a brand that specializes in designing and selling of garden cleaning tools.  Their brand slogan is (rather unfortunately), "Wipe out in a flash," and obviously I'm hoping that doesn't happen while I test their gadget.
What's in the box?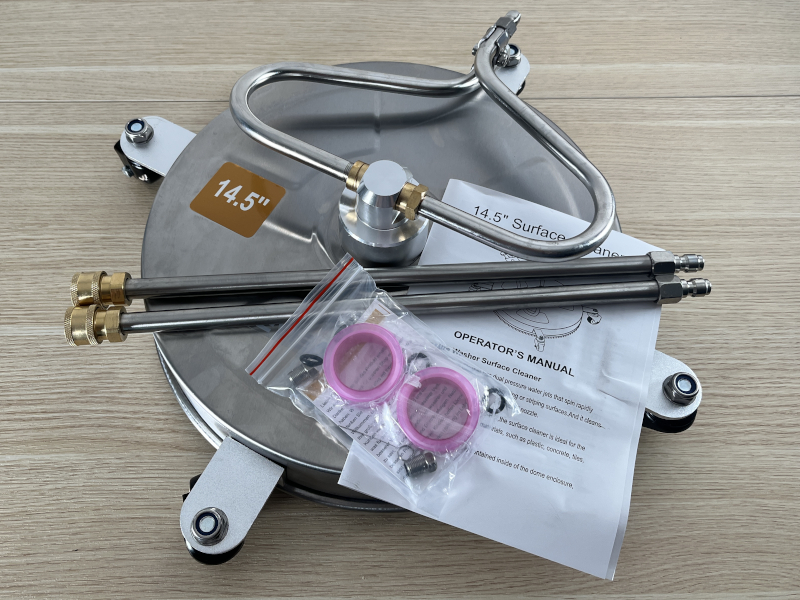 EVEAGE 14.5″ Pressure Washer Surface Cleaner
A pair of 15-inch extenders
A pair of replacement nozzles
Four replacement O-rings
A pair of spools of Teflon tape
A needle to unclog the nozzles
A manual
Hardware specs
Connectors:  ¼ inch quick-release
Material:  Stainless steel
Pressure:  Any pressure washer with 2000-4000 psi
Weight:  8.3 pounds
Dimensions:  19.5 in diameter (from caster to caster) and 3.5 in tall (not including the rod on top)
Cleaning surface: 12 inches (the interior diameter)
Both EVEAGE's website and a little sticker on the cleaner claims that it has 14.5-inch cleaning reach, but the interior diameter is only 12 inches.  EVEAGE is exaggerating the range of its product.
Design and features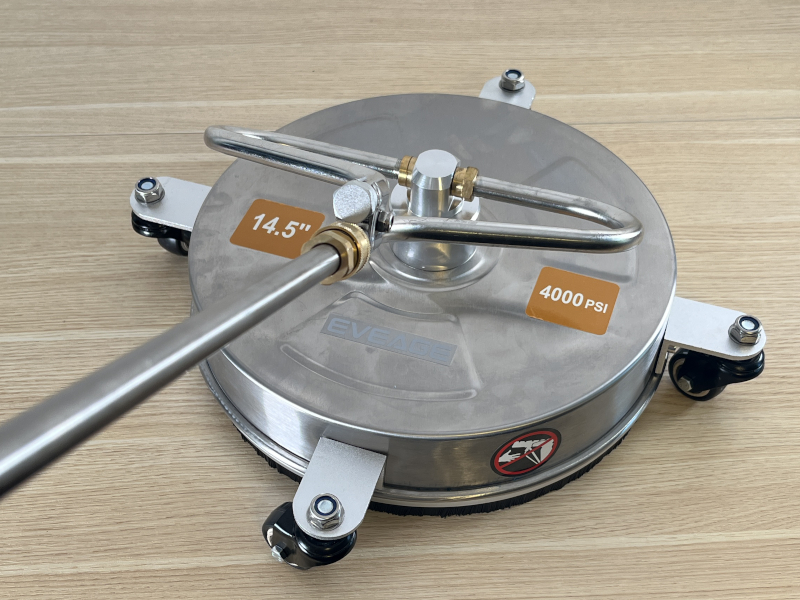 The EVEAGE Pressure Washer Surface Cleaner looks like an upside down round baking cake pan with wheels protruding out the sides and a pair of tubes coming out of the top.  EVEAGE says that it's made of stainless steel—everything is certainly nice and shiny—so there should not be any rust.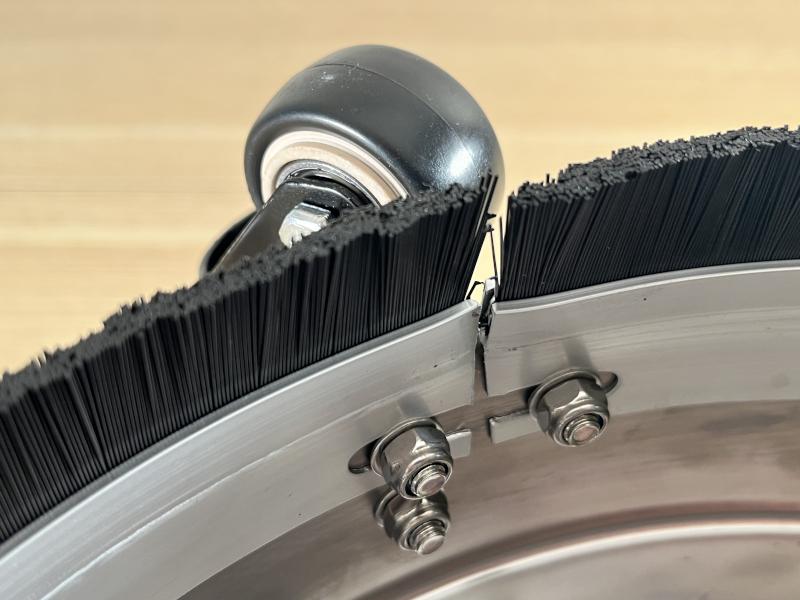 The parts look like they were all machined by hand in a shop, with bolts holding the L-brackets and casters in place as well as the mount on top.  There are plenty of scuff marks and bits of residue left on it from the manufacturing process, but that shouldn't prevent it from doing its job.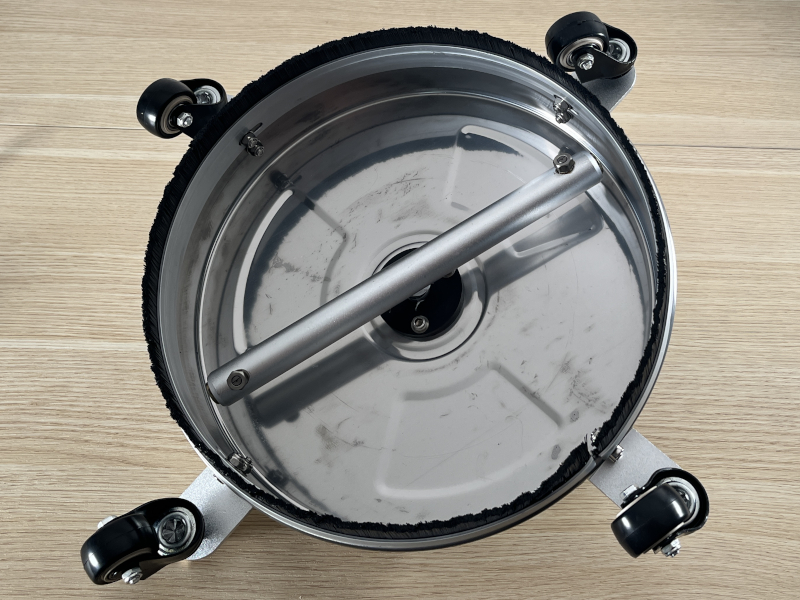 Underneath the EVEAGE Pressure Washer Surface Cleaner, there is a horizontal bar with a pair of angled nozzles at the end where the water will squirt out; the entire bar rotates freely in the horizontal plane, ensuring that the entire surface under the cleaner is washed evenly.  While the cleaner doesn't look professionally made, it does have a very solid and durable feel to it; I'm thinking that this cleaner is going to last a long time.  Overall, this is clearly a function over form design, and I'm optimistic that it's going to work well.
Setup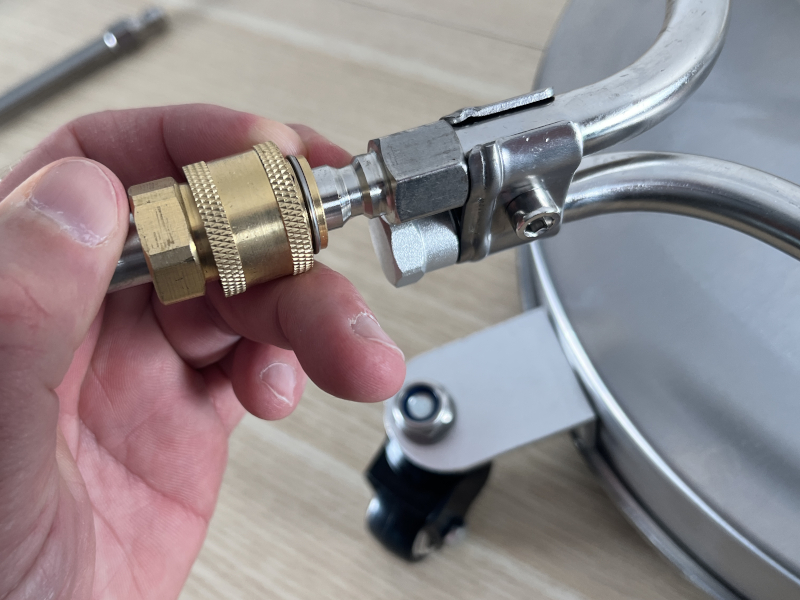 The manual is a single sheet of paper, printed on both sides and folded over.  There's really no setup or assembly; the only thing I had to do was connect it to the end of the pressure washer wand.  For those washers whose wand is a bit short, like mine, EVEAGE included a pair of extenders that can increase the length by 30 inches (if both are used).  This allowed me to remain upright while cleaning, instead of having to hunch over, as I typically do when cleaning the driveway; using the extenders does make the connection from the wand to the surface cleaner less rigid and more wobbly.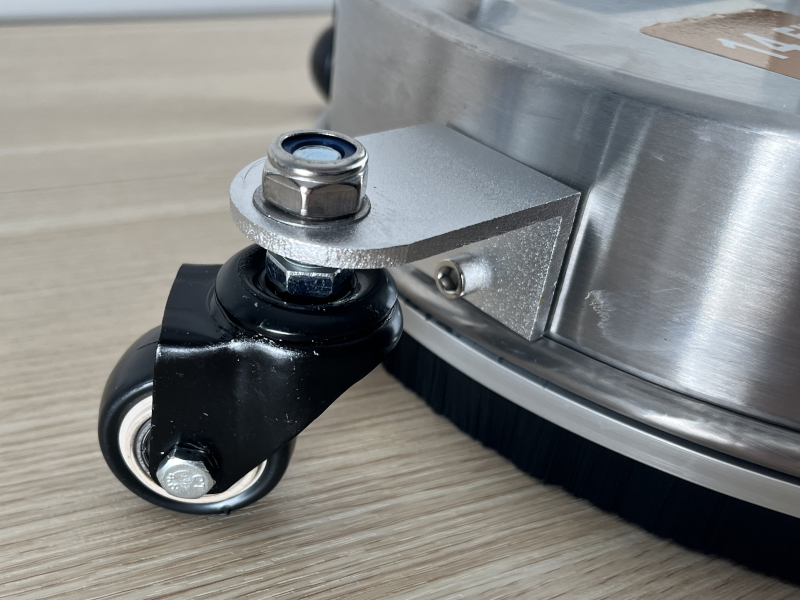 The EVEAGE Pressure Washer Surface Cleaner's manual gives some common-sense safety precautions, such as don't put my hand down near the bristles, keep the cleaner on all four wheels, and be prepared for the recoil when I turn on the pressure washer.  It also encourages me to sweep my driveway before washing and to turn off the washer if the cleaner starts to vibrate.  I rather imagine that the rapidly spinning bar could be a serious safety hazard if it came loose and spun off.  It also has some instructions on cleaning and replacing the nozzles, should that be required.
The bottom line is that this gadget is super easy to set up.  Time to put it to good use!
Performance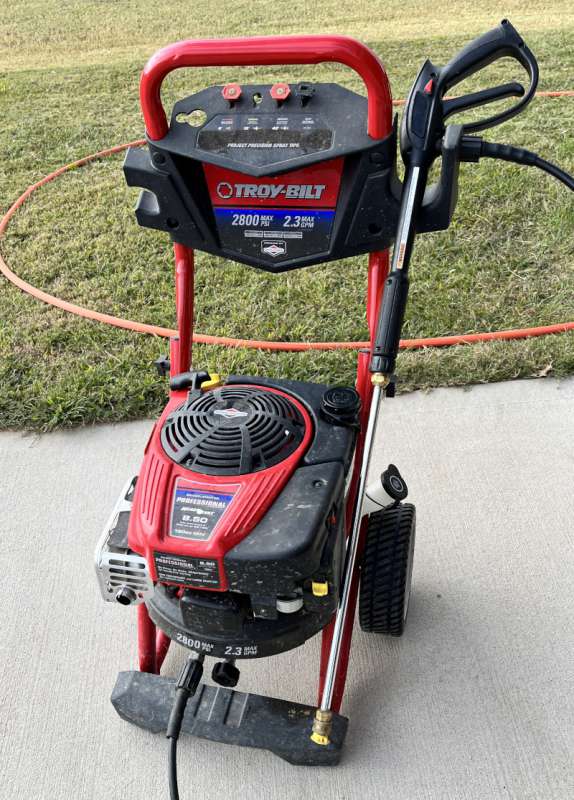 I have a Troy-Bilt gas-powered pressure washer.  It has 2800 psi, which is in the middle of the allowed range of the cleaner.  It uses the same ¼ inch quick connectors that the surface cleaner uses, so connecting it was (literally) a snap.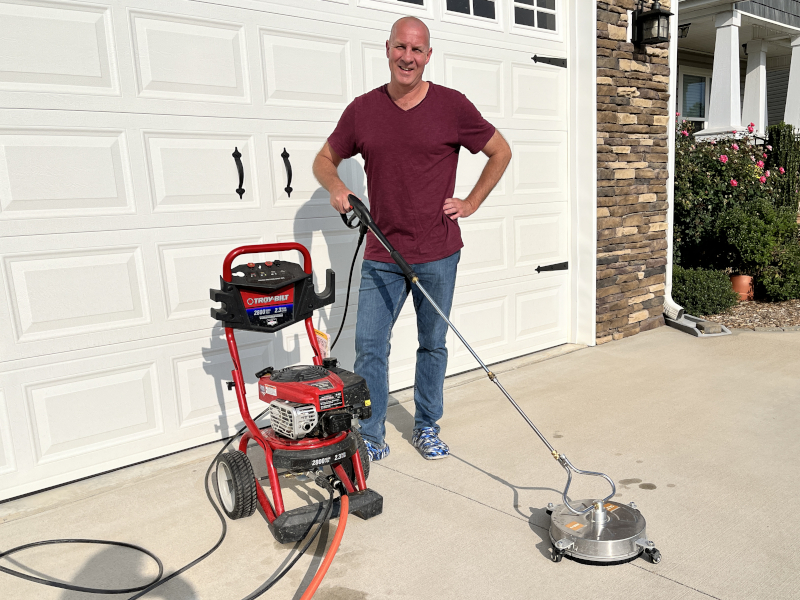 This gadget is easy to use.  It's like it converted my pressure washer into a vacuum cleaner.  All I have to do is push it back and forth or sweep it left to right over my driveway.  It has four wheels, which are really casters that can rotate 360 degrees, that keep it super stable and ensure that the nozzles are at a consistent height above the driveway.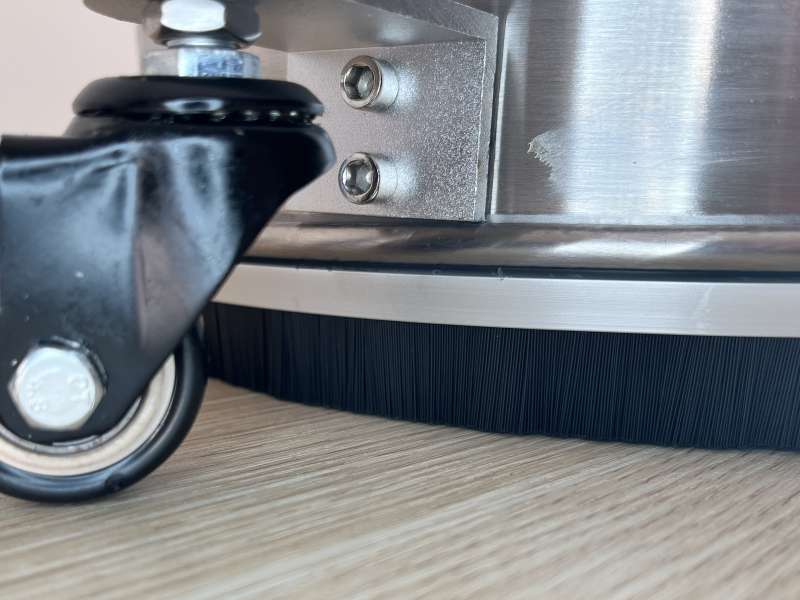 There is one problem with the EVEAGE Pressure Washer Surface Cleaner.  At first, I thought that the bristles were too long on one side, as whenever I am pushing in that direction, they drag too much on the ground.  This made it a little harder to use, but it was still useable, and the bristles certainly prevent any debris from flying out and hitting me.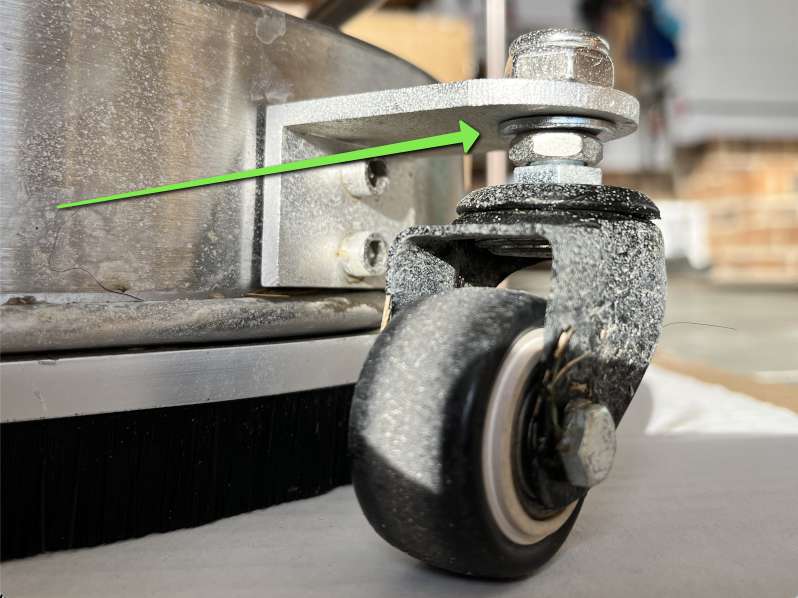 After taking a closer look, however, I realized that the real problem was that the wheel on one side was too short.  I got out my SnapFresh impact wrench, popped the nut off, and added an extra washer.  That significantly reduced the amount of drag.  I think I'm going to buy more washers and add an extra one to each of the wheels.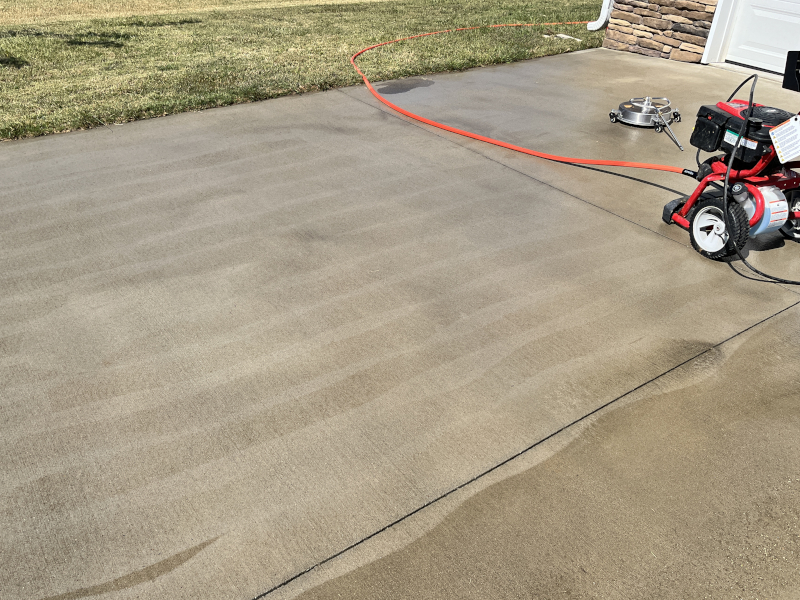 As soon as I started using the EVEAGE Pressure Washer Surface Cleaner, I noticed that it was washing the dirt and clay off of my driveway.  I could see a clearly visible difference between where I had washed with it and where I had not.  I pushed it back and forth across one of the squares in my driveway, thinking that everything was perfect.  When I looked back over the work I had done, however, I found a lot of stripes.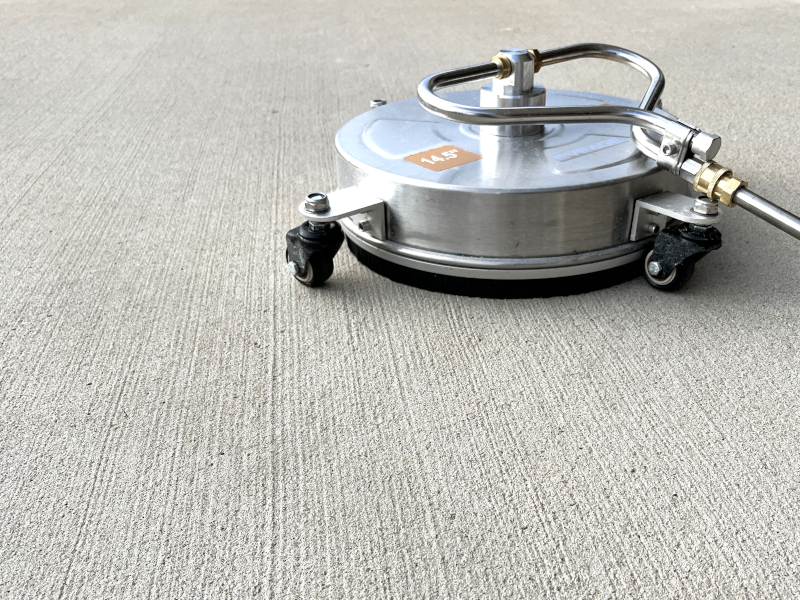 At this point, I took my time and began to experiment.  I learned a few tricks for getting a better clean with the EVEAGE Pressure Washer Surface Cleaner.  One, go slow and steady with an even pace.  Two, overlap each pass with the previous one.  Three, once finished going back and forth over an area, go back over it in the opposite direction.  In other words, if I went horizontally the first time, do it again going vertically.  These tricks removed nearly all of the stripes from my driveway.  Here's a video that I created showing how it worked for me.
(This video is 1080p.)
Once I finished each section, I removed the surface cleaner, put the regular nozzle back on, and sprayed off all the nasty gunk that the cleaner had washed off the driveway.  The end result was a crisp, clean-looking driveway.  As a bonus, I finished in about 1/3 of the time that it took doing it the old way.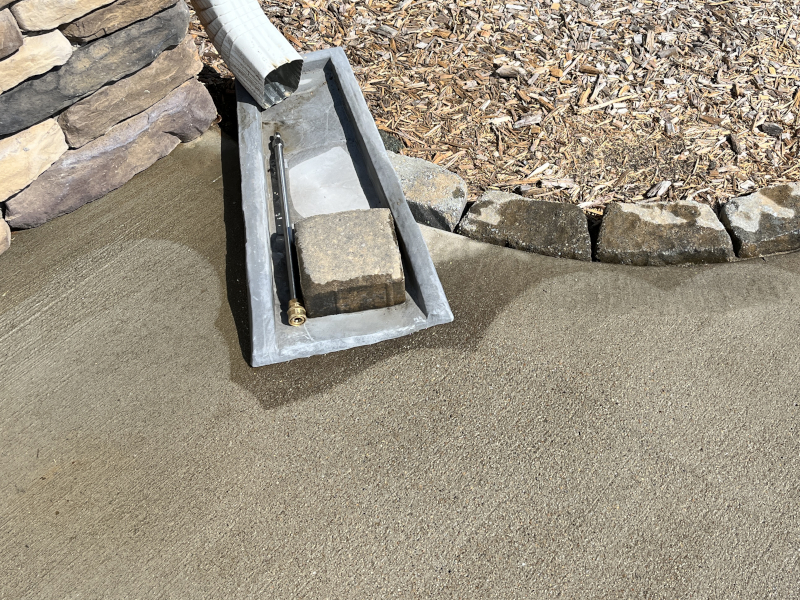 There are a few limitations to the surface cleaner.  Just like my robotic vacuum cleaner, it doesn't clean in the corners well, due to its round shape.  It's a pain to use on stairs.  It doesn't really work with bumpy areas, like the paver patio we built in the backyard.  But for normal concrete sidewalks, porches, and driveways, however, it works great.
What I like
Durable build
Included extenders for longer reach
Easy, effective cleaning!
What I'd change
Make sure the wheels are at the right height to prevent the bristles from dragging
Clean off all the residue before shipping
Final thoughts
The EVEAGE Pressure Washer Surface Cleaner is an attachment for your pressure washer that makes it easier to clean concrete driveways and sidewalks.  It sprays water out of a pair of nozzles that are rapidly rotating underneath a stainless-steel cylinder.  After just one use, I'm sold.  I will never go back to pressure washing my driveway by hand.  The surface cleaner is a lot less stress on my arms and lower back, it finishes the work in about a third of the time, and it does a better job cleaning off the dust and dirt.  While EVEAGE's gadget has a "we machined this by hand" vibe, it more than makes up for that with its durable, solid build.  I'm looking forward to using this cleaner for years to come, and I commend this product to you.
Price:  $109.99
Where to buy:  EVEAGE's online store and Amazon
Source: The sample for this review was provided by EVEAGE.