We use affiliate links. If you buy something through the links on this page, we may earn a commission at no cost to you. Learn more.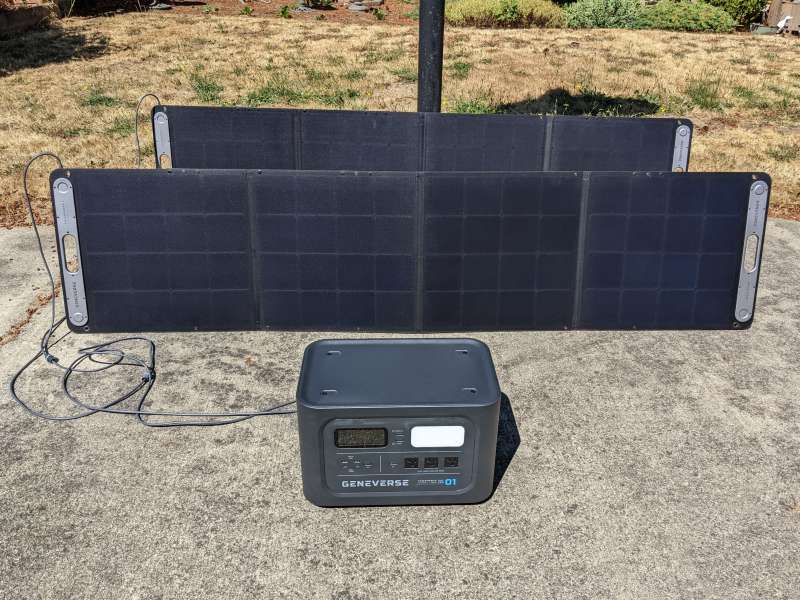 REVIEW – As summer comes to a close and the days get shorter it's time for me to gather and clean all of my outdoor gear and store it for next season. Usually, as I put my gear back into storage I do quick assessments of things I need to replace or upgrade. One item I definitely need to find a spare for is my Goal Zero Yeti 1000 Core Portable Power Station, which I reviewed almost a year ago today as I write this. I don't need to replace or upgrade the Goal Zero though, in fact, it's become so invaluable to me that I need to find a second power station like it to use at home so I can dedicate my Goal Zero to year-round outdoor duty.
Using the Goal Zero along with the FlexSolar 120W Foldable Solar Panel Kit which I reviewed back in April, has opened up a world of possibilities and made my outdoor living this summer quite enjoyable. The problem is that I've been using the Goal Zero in my apartment as well as sort of a makeshift Uninterruptible Power Source (UPS) on my workbench. Lugging the hefty Goal Zero back and forth has been a pain so I started looking for other options. It turns out the Geneverse Solar Generator HomePower ONE PRO was exactly what I was looking for, and so much more. The price is quite high at $2599 but for all that, the Geneverse system delivers it's well worth it.
What is it?
The Geneverse Solar Generator HomePower ONE PRO is a system made up of a lithium iron phosphate (LFP) battery power station, two 200W monocrystalline portable solar panels, and an 8mm power adapter to connect everything together.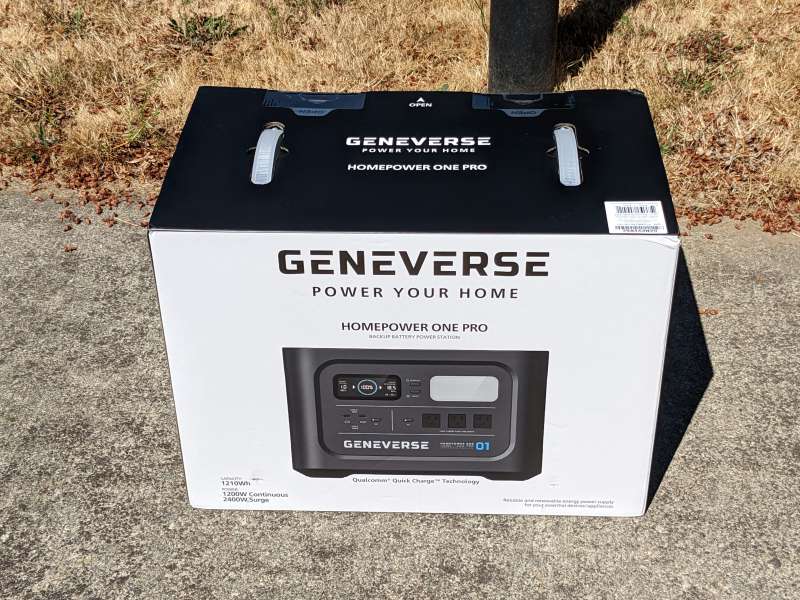 The Geneverse Solar Generator HomePower PRO Series power station comes in several different configurations. The one I reviewed includes the Geneverse HomePower ONE PRO Backup Battery Power Station, two Geneverse SolarPower 2 Portable Solar Panels, and a Geneverse 2-to-1 Converter.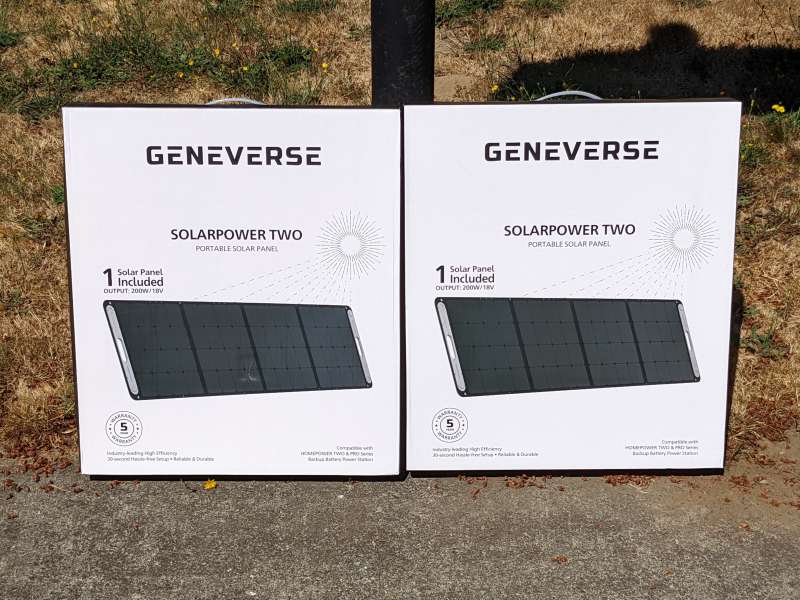 The packaging for the Power Station and Solar Panels is quite substantial.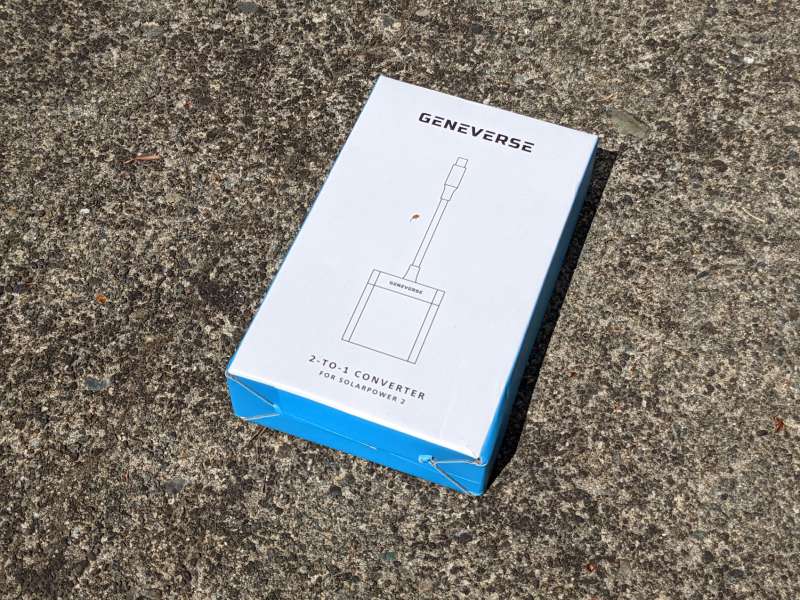 The boxes have photos of the products on them as well as detailed descriptions of their features.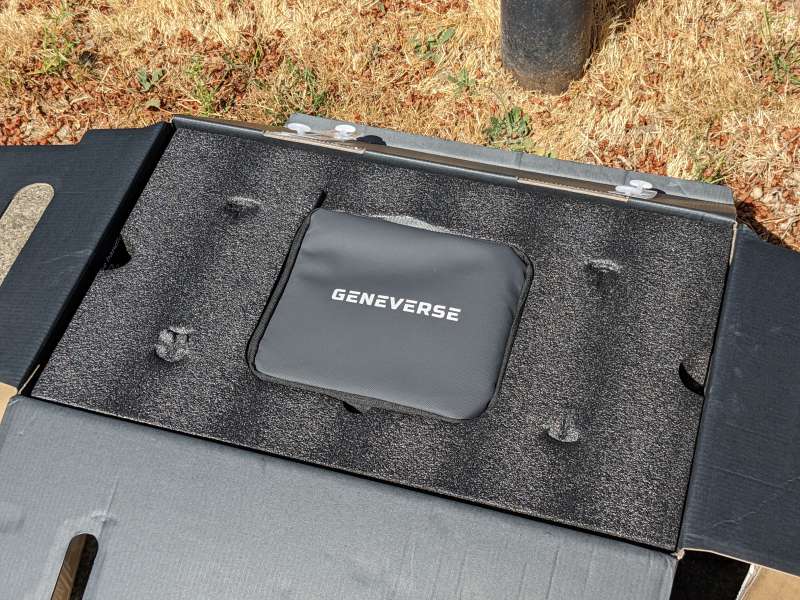 Strong foam protects all of the sensitive components of the system during shipping as well as an exterior shipping box.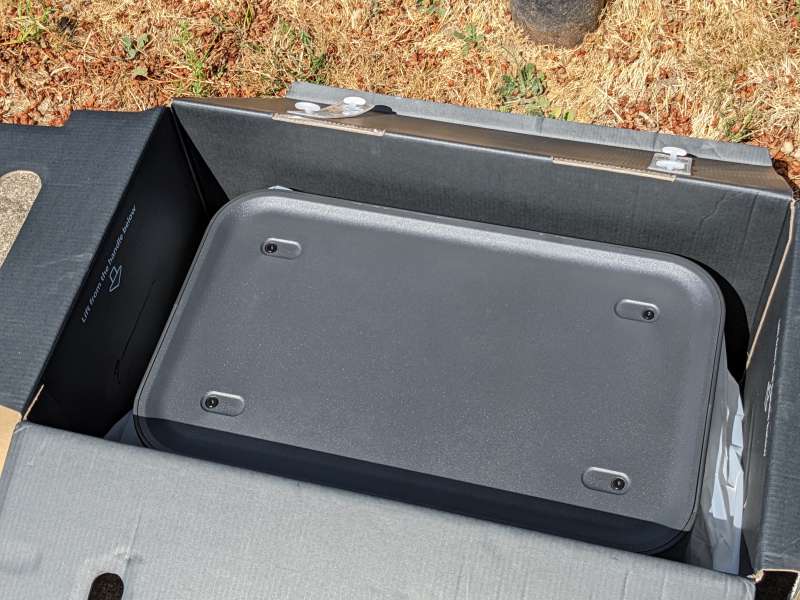 What's in the box?
Geneverse HomePower ONE PRO Backup Battery Power Station

AC Charging Cable
Car Charging Cable
Accessory Case
User Manual

2 – Geneverse SolarPower 2 All-Weather Portable 200W Solar Panels

User Manuals
Panel Protection Covers
Output Cables (8mm port)

Geneverse 2-to-1 Converter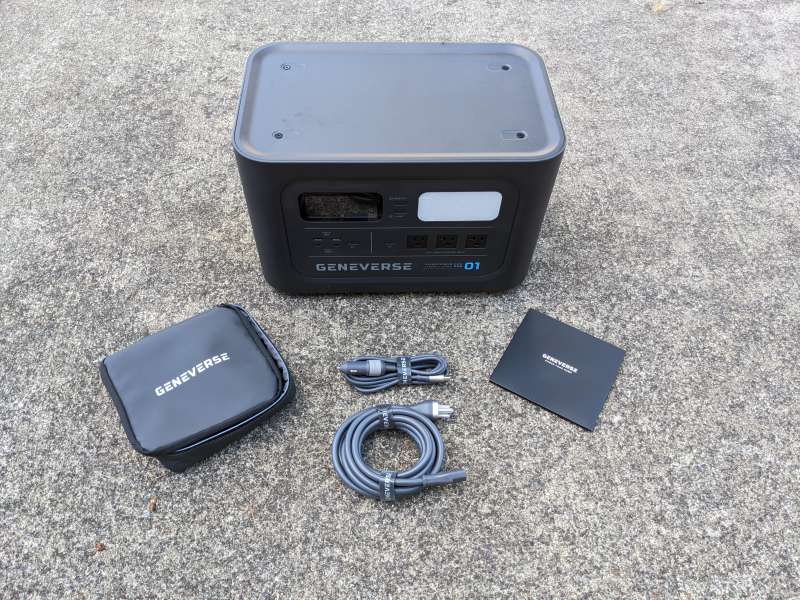 Hardware specs
HomePower ONE PRO Backup Battery Power Station:

Capacity: 1210Wh
Battery Type: Lithium Iron Phosphate (LiFePO4/LFP)
Cycle Life: ≥3000 cycles
Inputs:

Charge Controller: Built-in Maximum Power Point Tracking (MPPT)
AC: 3-pin Port: 120V~60Hz/9.5A, 800W Max
DC: 2 – 8mm Charging Ports

Solar Charge: Supports 400W Max each (21A, 800W in total)
Car Charge: Supports 8A Max each (16A Max in total)

Outputs:

3 – AC: 120V, 60Hz

1200W Rated, 2400W Surge Power

2 – USB-C: 100W PD
2 – USB-A: 18W Qualcomm Quick Charge 3.0

Dimensions:

L 17.83″ x W 11.02″ x H 11.79″ (45.3 x 28 x 29.95 cm)

Weight: 38.36 lbs (17.4 kg)
Operating Temperature:

Charging: 32°F ~ 104°F (0°C ~ 40°C)
Discharging: 14°F ~ 104°F (-10°C ~ 40°C)
SolarPower 2 All-Weather Portable 200W Solar Panels:

Solar Cells:

Type: Monocrystalline
Number of Solar Cells: 64 each solar panel
Transformation Efficiency (EFF): ≥23.4%

Power (each panel):

Max Power (Pmax): 200W
Open Circuit Voltage (VOC): 23.2V
Short Circuit Current (ISC): 11.76A
Max. Power Voltage (Vmp): 18V
Max. Power Current (Imp): 11.12A

Dimensions:

Folded: L 24.2″ x W 21.3″ x H 1.97″ (61.5 x 54 x 5 cm)
Unfolded: L 91.3″ x W 21.3″ x H 0.98″ (232 x 54 x 2.5 cm)

Weight: 17.64 lbs (8 kg)
Operating Temperature Discharging: 14°F ~ 149°F (-10°C ~ 65°C)
Waterproof Rating: IP67 – Totally protected against dust. Protected against the effects of temporary immersion between 6″ (15cm) and 3ft. (1m) of water.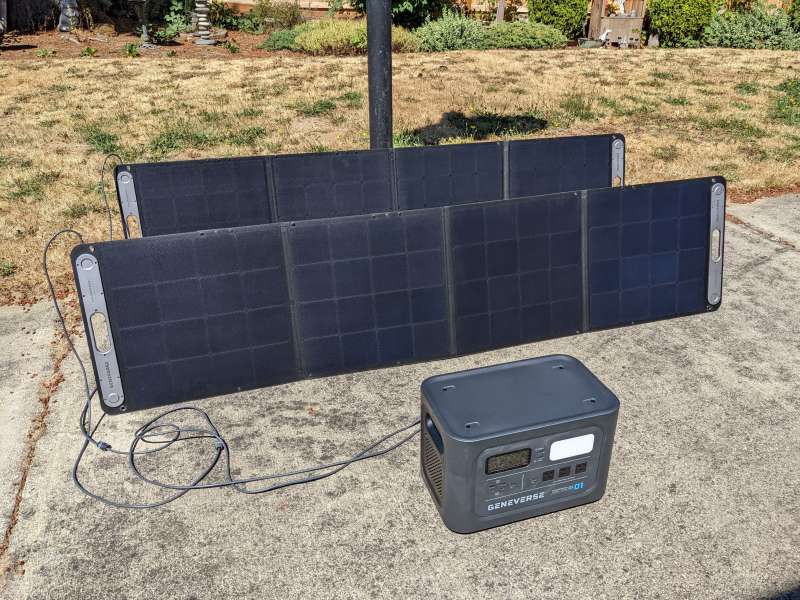 Design and features
The design of the Geneverse HomePower ONE PRO Power Station and the SolarPower 2 Portable Solar Panels is intuitive, functional, and quite appealing.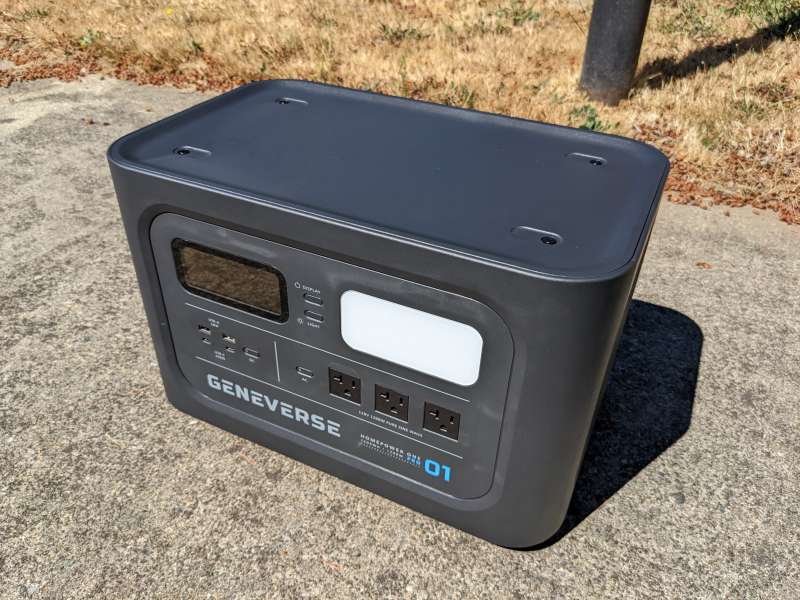 Sleek, black, and futuristic looking, I've found that both the Power Station and the solar panels for the Geneverse Solar Generator HomePower ONE PRO excel in both form and function.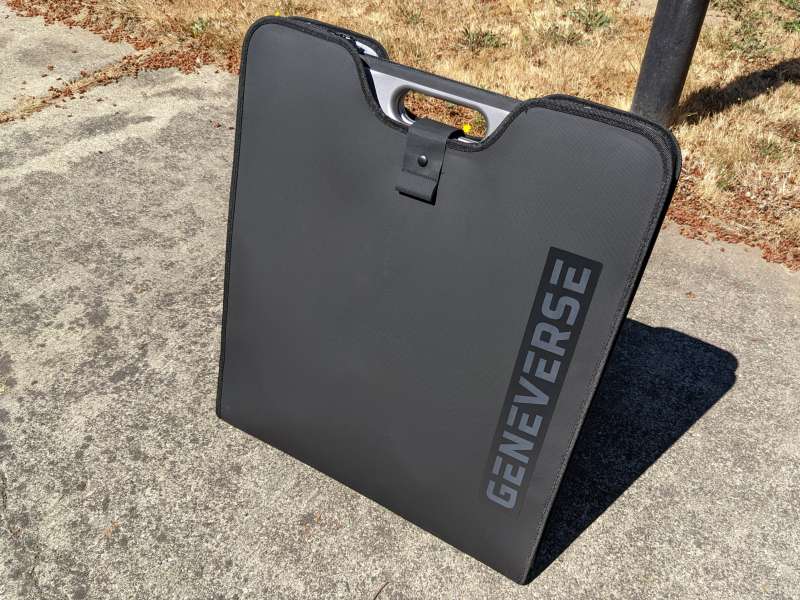 The top of the power station is strong, textured black molded plastic.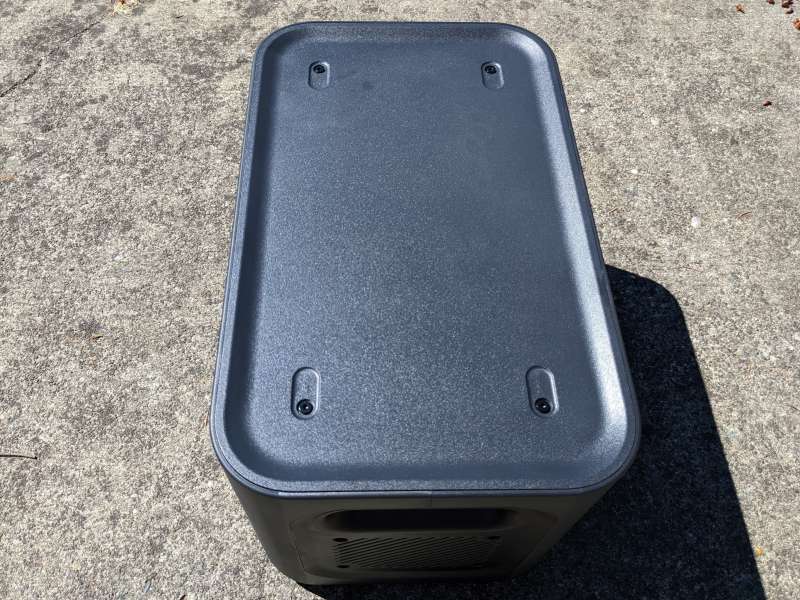 There are four indentations on the top of the Power Station to allow for stacking multiple units securely.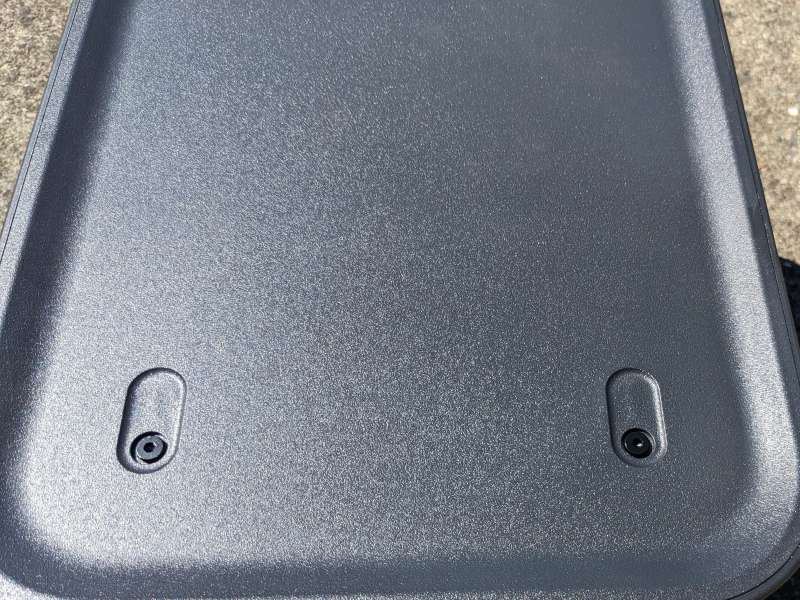 The face of the Geneverse Solar Generator HomePower ONE PRO power station houses a high-quality display screen, a built-in LED light, and buttons for both their operation.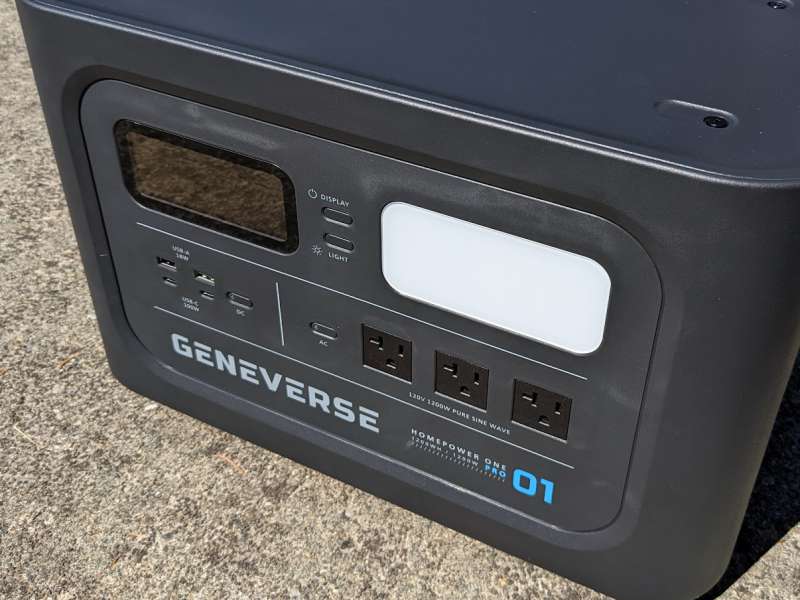 There are also seven power output ports; the DC ports, two USB-A, two USB-C, and the AC ports, three 120V standard power outlets. Both the AC and DC power ports have buttons to activate them. The Power Station has a Pure-Sine Wave inverter which regulates the energy output and ensures that the unit charges smoothly.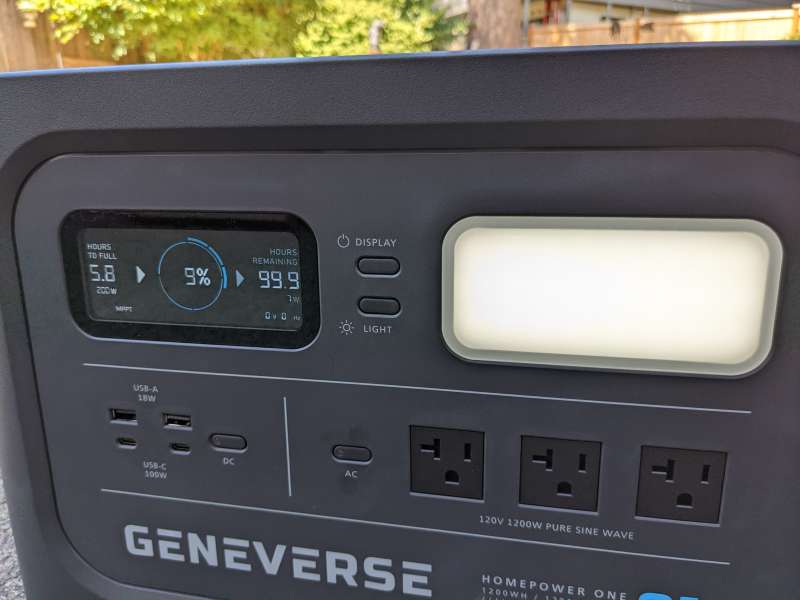 On either side of the power station, there are integrated carrying handles and vents for the internal fans.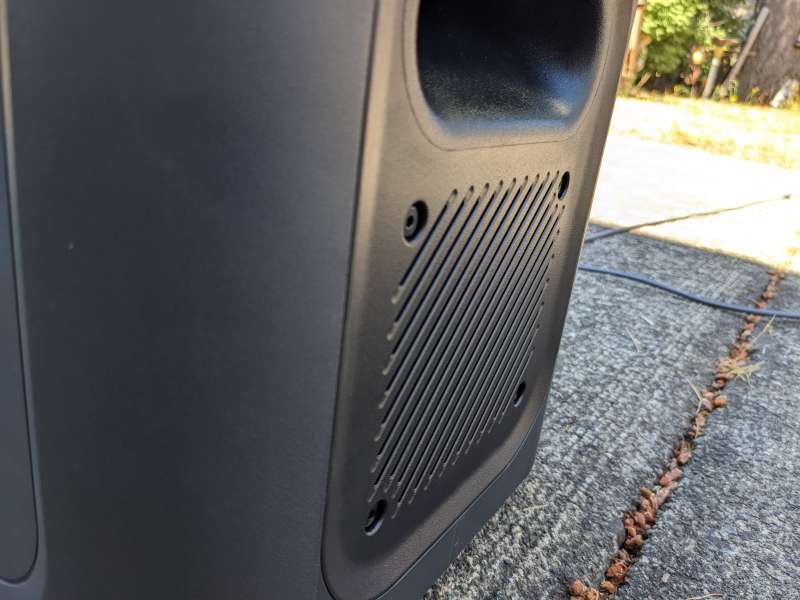 The back of the Geneverse Solar Generator HomePower ONE PRO power station has a small rubber lid covering the unit's input ports. One great feature of the Power Station is that it can be used during charging to charge other devices simultaneously.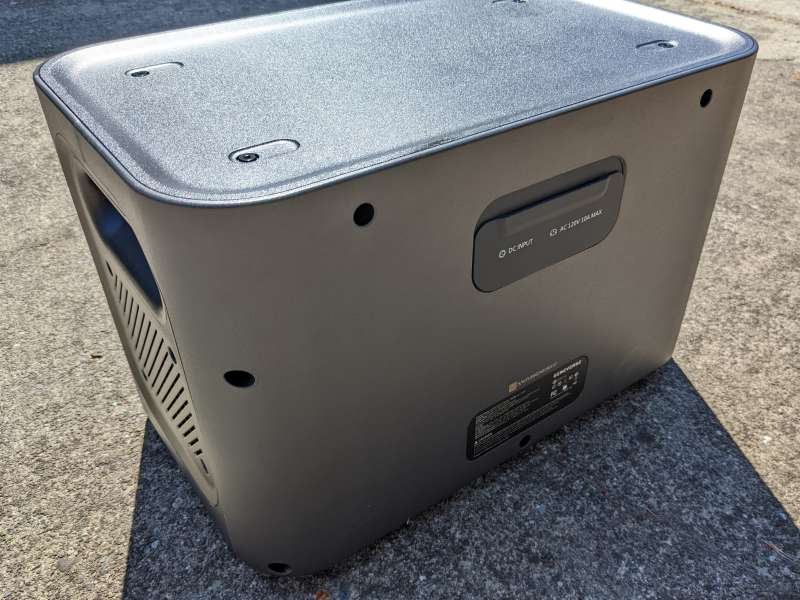 There are two 8mm ports for charging from the solar panels or a car charger and a 3-pin 120V port for charging from a standard power outlet.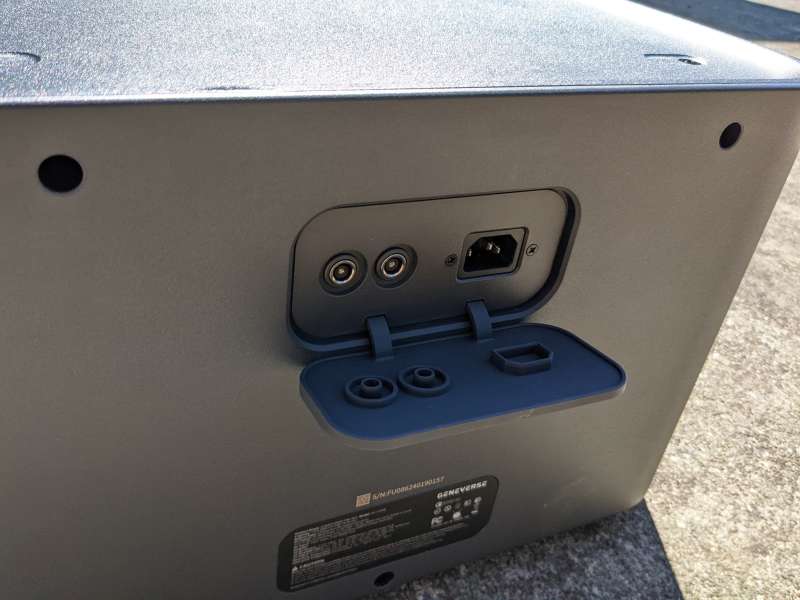 The power station comes with an 8mm to 12V charging plug cable for charging from a car.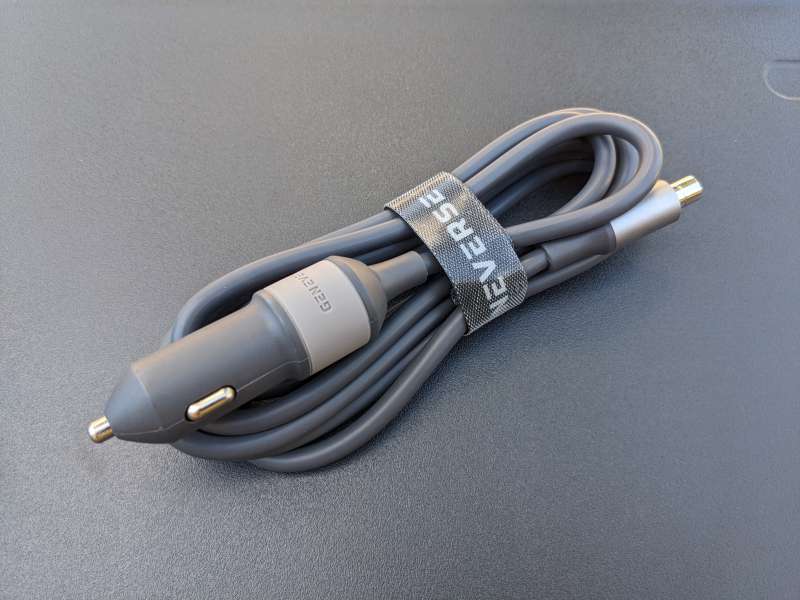 For charging from a standard outlet the power station comes with a standard 120V to 3-pin power cable.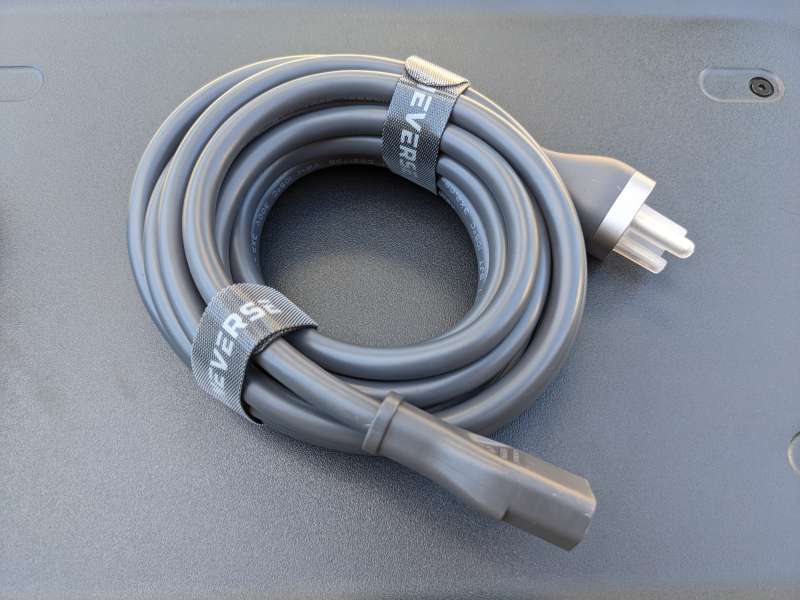 Also included with the system is an 8mm 2-to-1 converter for connecting two solar panels to the back of the power station. Using two converters allows up to four solar panels to be connected to the Geneverse Solar Generator HomePower ONE PRO power station. To speed up solar charging the power station has an internal Maximum Power Point Tracking (MPPT) charge controller which helps it get the most efficient solar charge possible.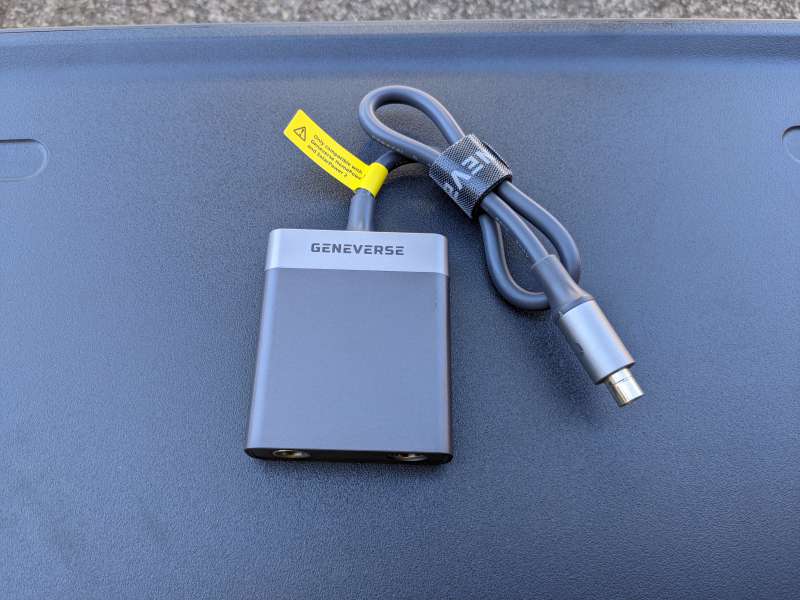 The SolarPower 2 Portable Solar Panels are just as well-designed and striking as the Geneverse HomePower ONE PROpower station with an integrated handle and protective carrying case.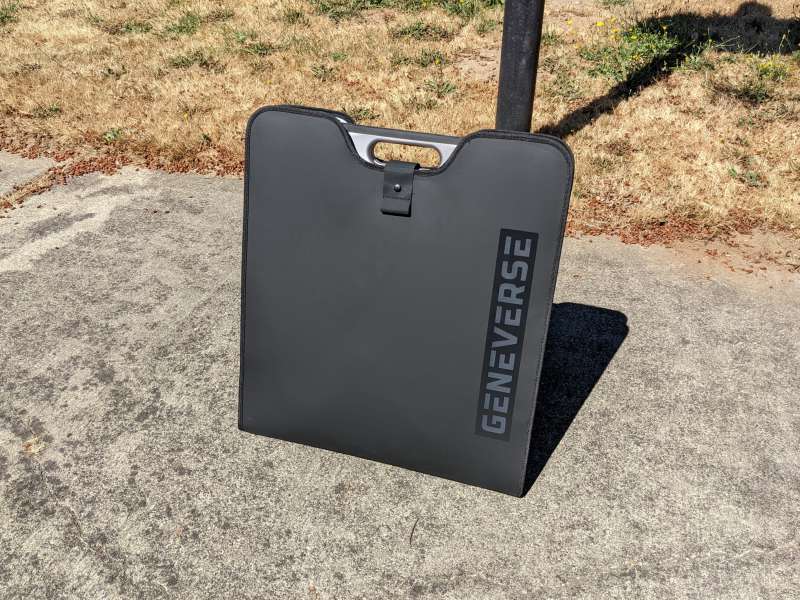 The case snaps securely to itself through the carrying handle built into the panel.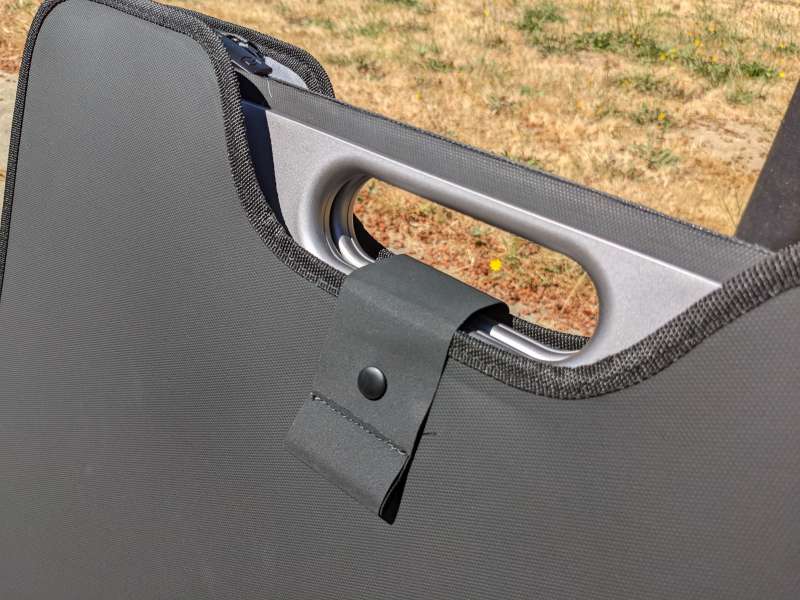 Strong rubberized zippers close the case around the panels to keep them safe from damage.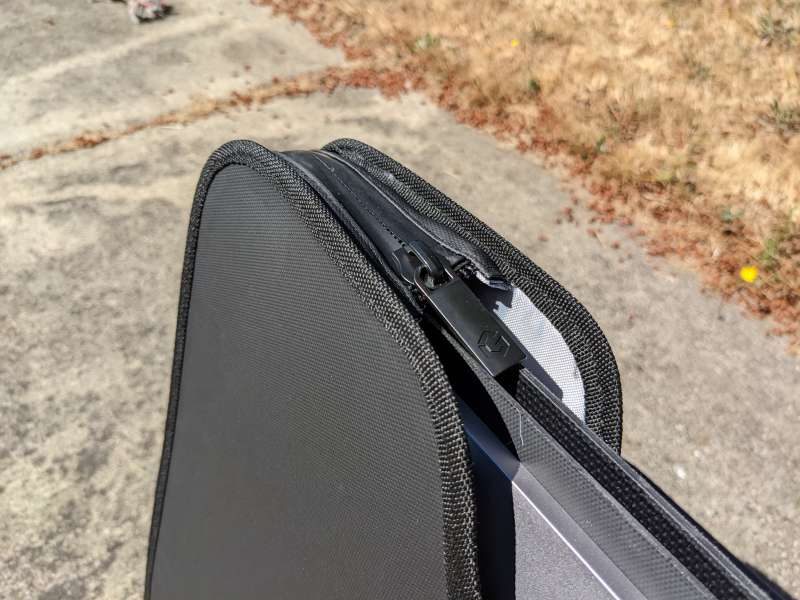 Despite the relatively compact size of the panels in the carrying case, they are impressively large when unfolded.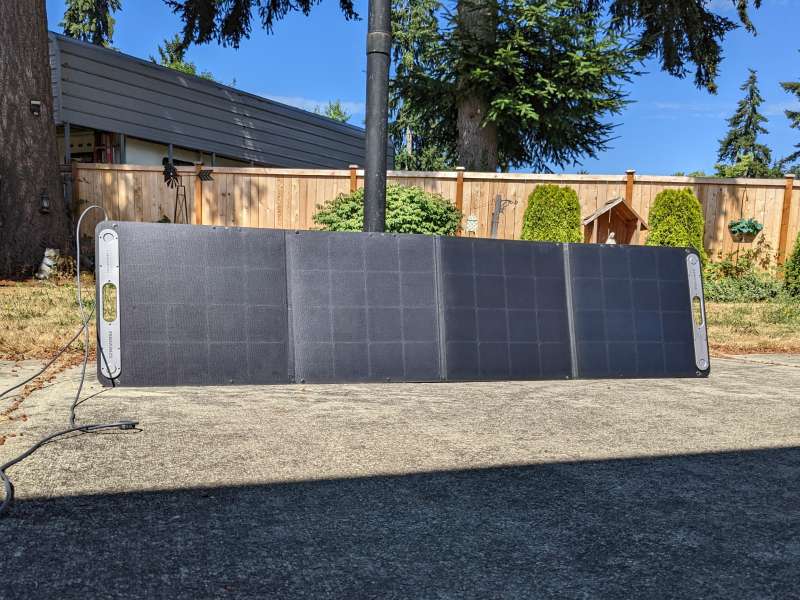 Small magnets embedded along the edges of the panels help to keep them folded whether in the case or not.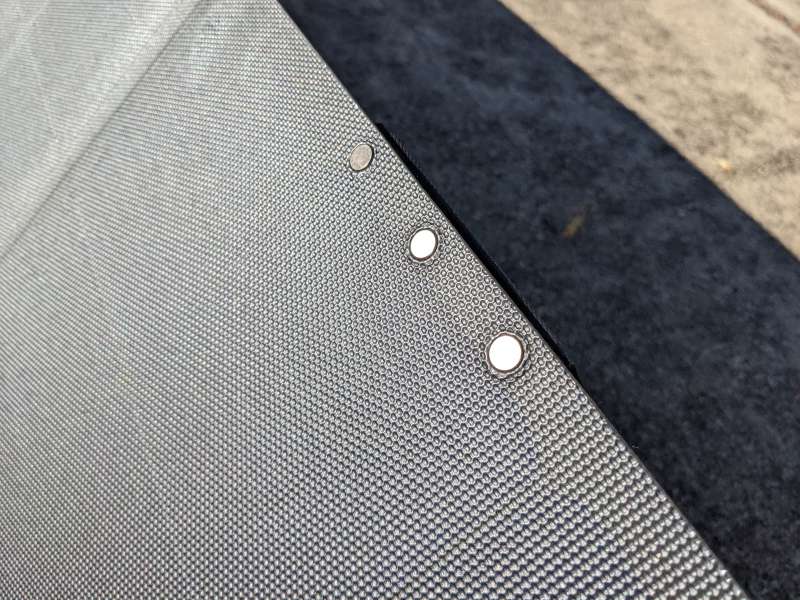 The edges also have strong grommets for hanging the panels during use.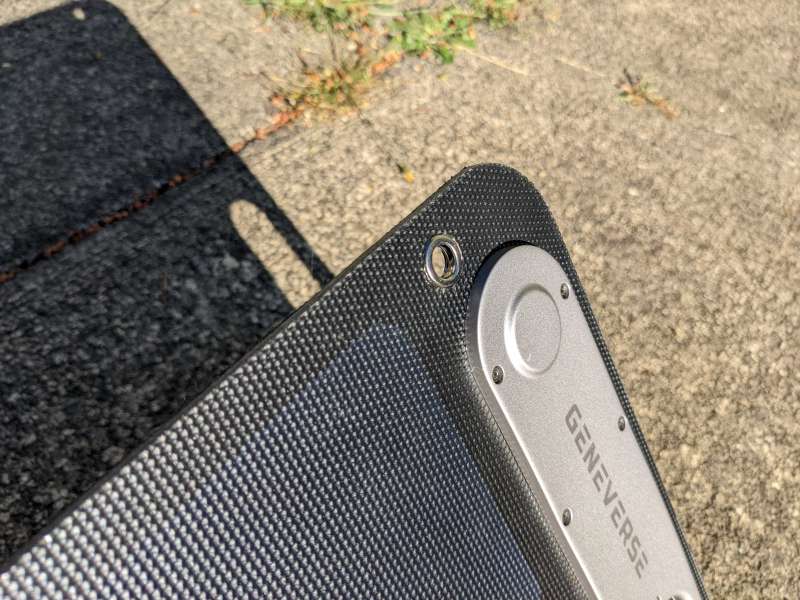 Both solar panels come with a 10-foot (3m) 8mm output cable.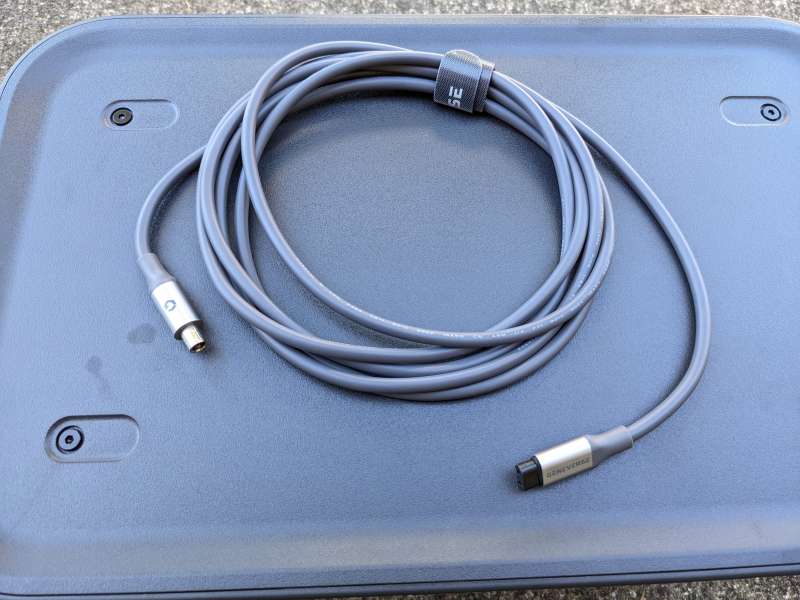 On the back of the solar panels is the port for the output cable, protected when not in use by a small rubber plug.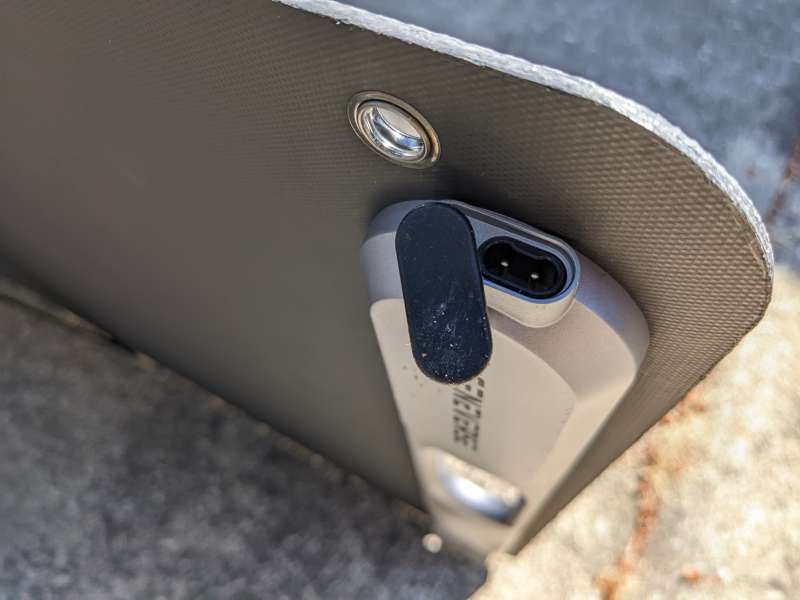 Connected to the back of the panels are three long, adjustable legs. The legs are attached to the panel with elastic strips.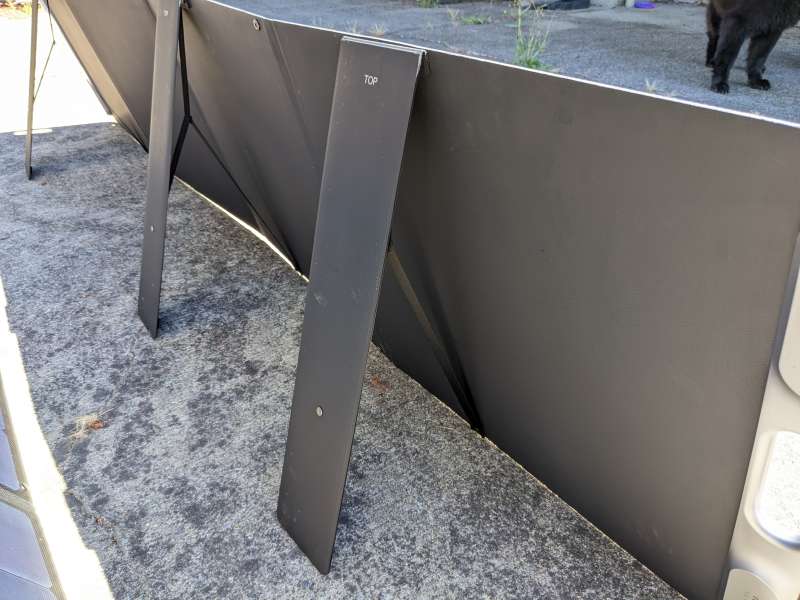 The further out you pull the legs the larger the angle of the panels. This is especially useful for getting the best position for optimizing the sun's energy.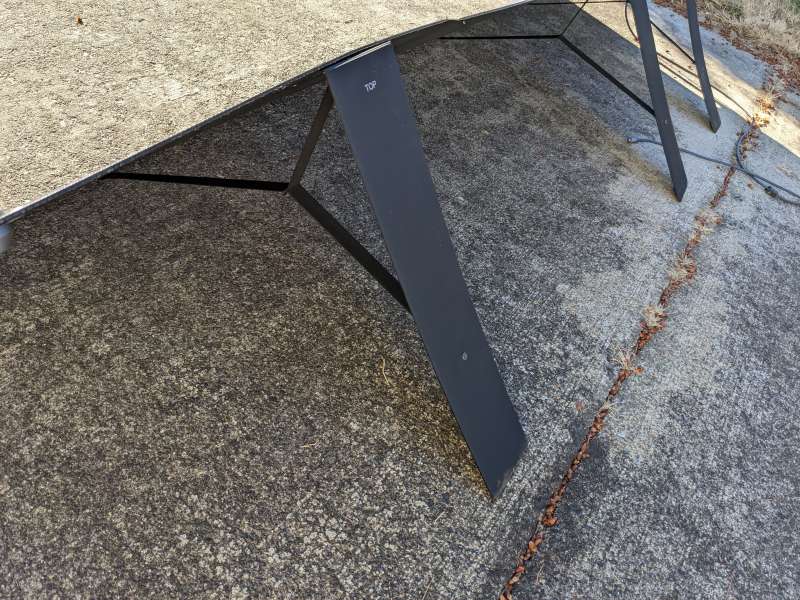 Setup
Setting up the Geneverse Solar Generator HomePower ONE PRO is as simple as connecting it to a power source. I chose to charge the power station initially from the SolarPower 2 Solar Panels using the included 2-to-1 converter.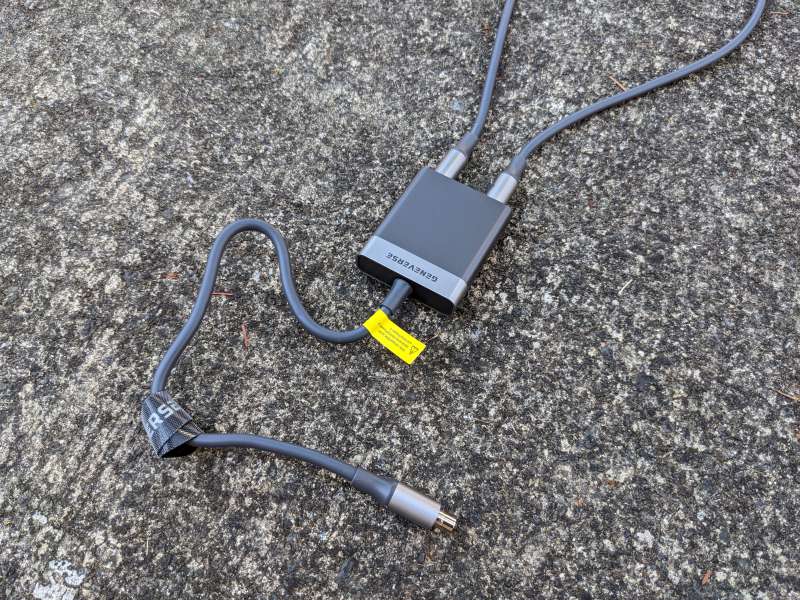 Once I connected the converter to the power station I then connected the output cables from the solar panels.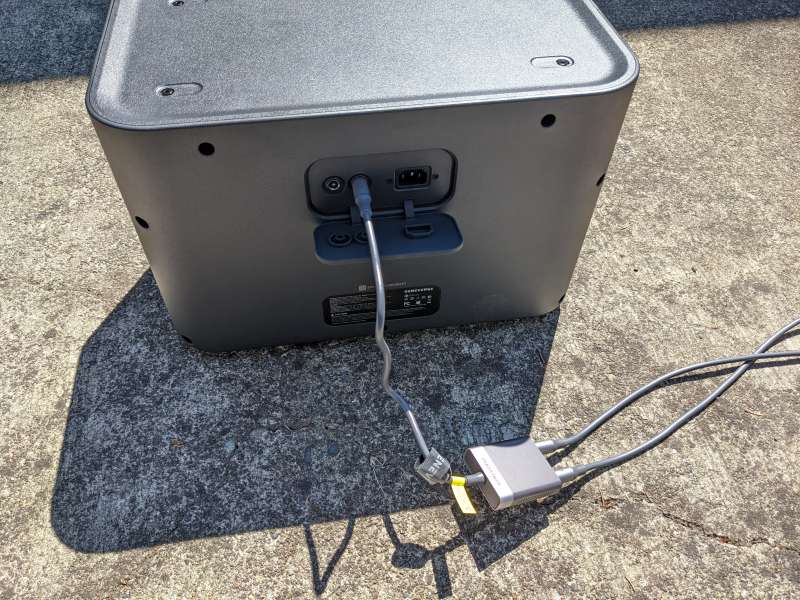 I made sure that the panels were getting as much sunlight as possible and let the sun do its job.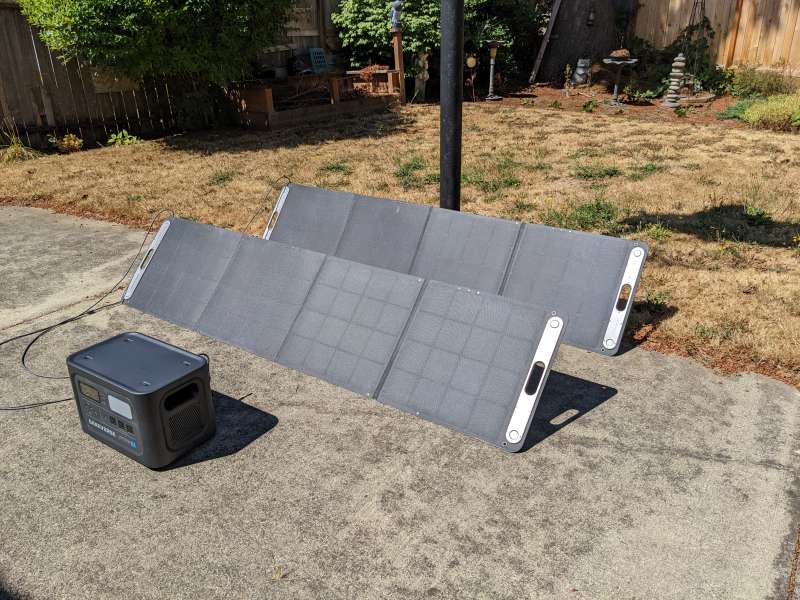 Performance
After setting up the Geneverse Solar Generator HomePower ONE PRO power station to charge from the solar panels and starting with a 9% charge, the display on the device indicated it would be about six hours to a full charge.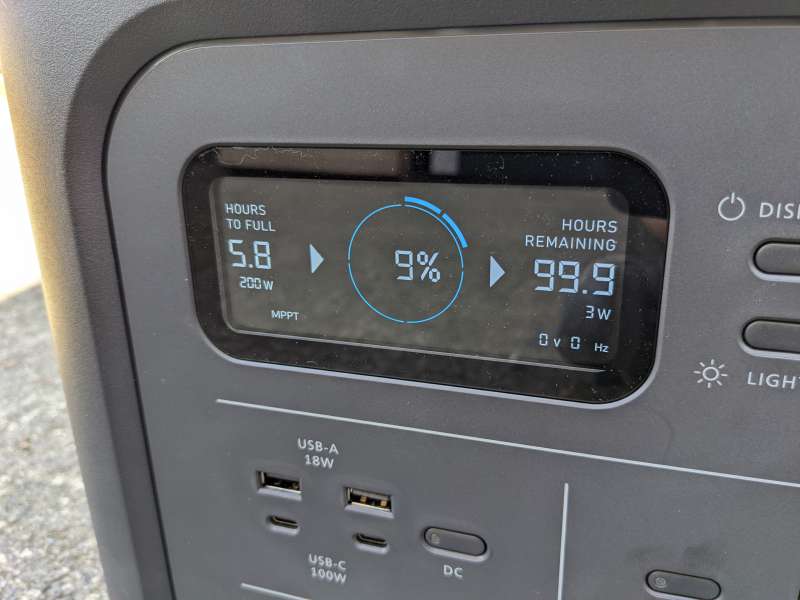 I made sure to move the panels when needed to track the sunlight.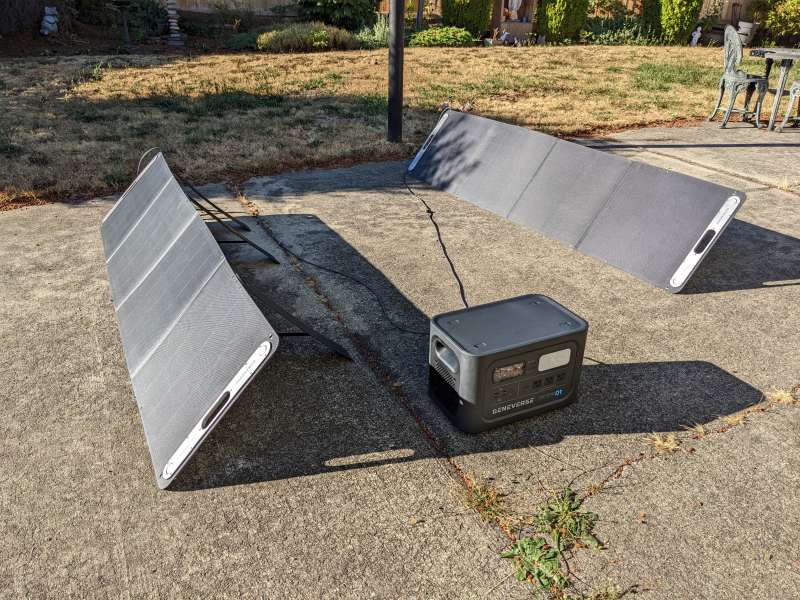 Sure enough after about four and a half hours, the power station reached 100% charge, a full ninety minutes faster than the display originally indicated. I was really impressed with how quickly the unit charged.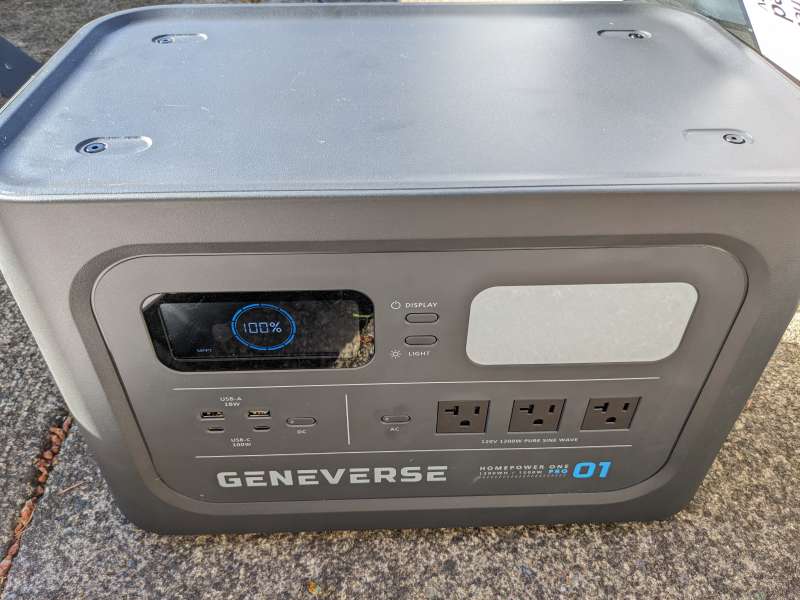 I quickly put the power station to good use powering the portable AC unit in my apartment. I chose the AC unit because it's one of the more demanding appliances in terms of power.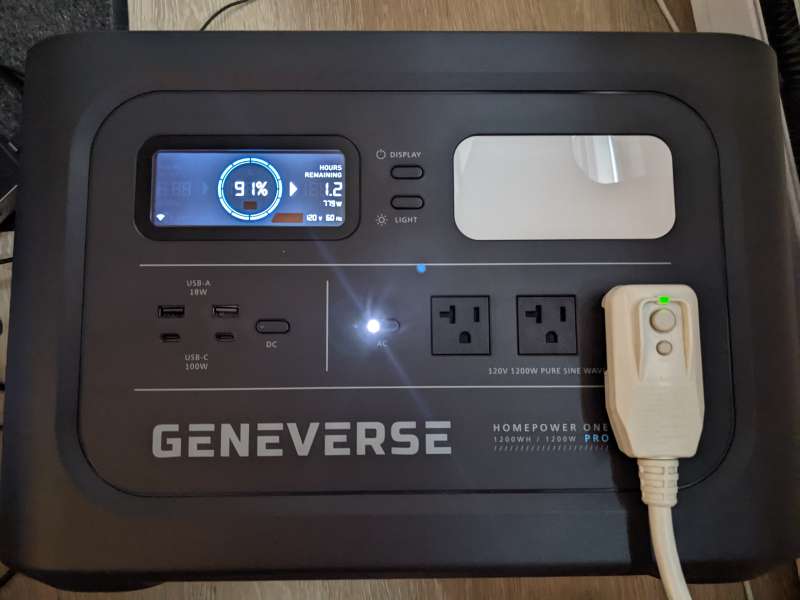 Both the power station's display and the Geneverse app confirmed my assumption, estimating that the AC unit would only be powered for a little more than an hour. Along with showing the charge level of the power station, the Geneverse app also allows you to control any of the inputs or outputs. By using the app I was able to turn my AC unit on and off extending the time it was powered significantly.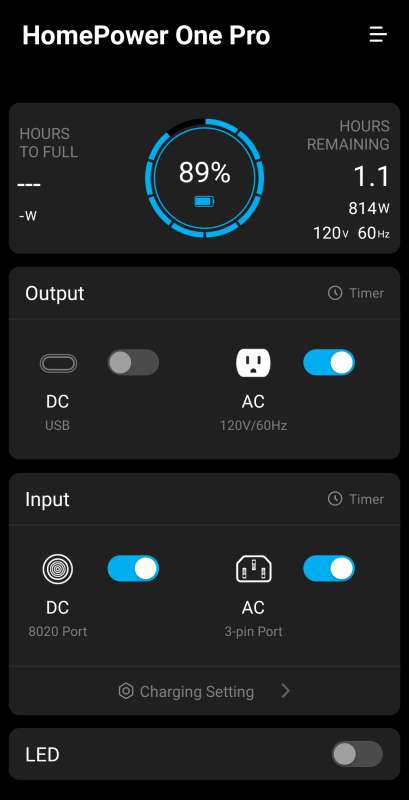 The app is really well-designed and has more options for configuring the Geneverse Solar Generator HomePower ONE PRO power station for the most efficient use. Changing charging modes and turning on the Battery Saving Mode can really help prolong the life of the unit as well as optimize the power it provides.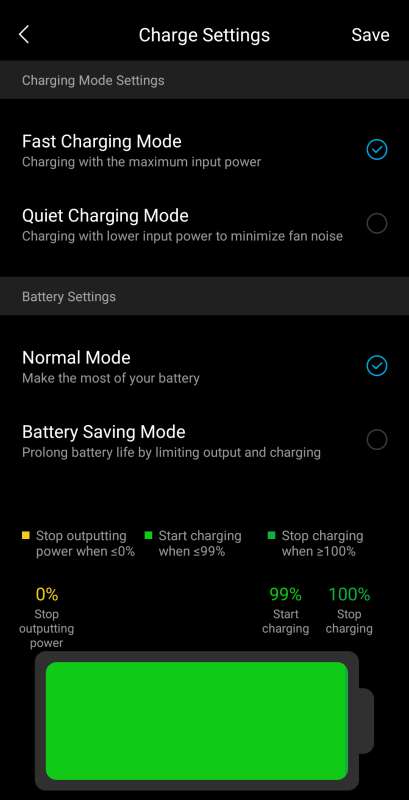 As the Geneverse Solar Generator HomePower ONE PRO power station's battery drained I started receiving errors via the app when the AC would lose power. I was not able to determine exactly what the code meant though and recharged the power station via a standard power outlet in my apartment once its power level fell to 5%.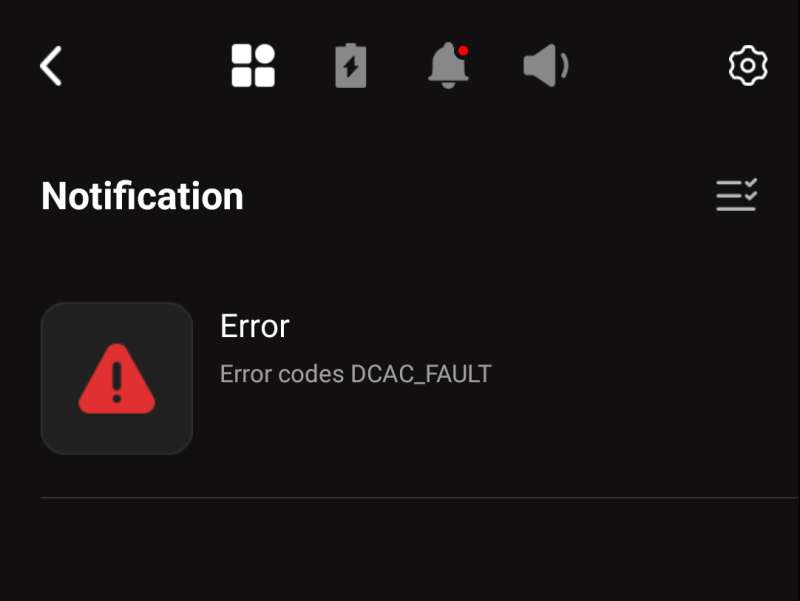 Along with the AC unit, I tested the power station by using it to power my CPAP machine, charge my laptop and cell phone, and run a small weather radio. I tried to simulate the devices I'd most likely have to keep powered in an emergency. The HomePower ONE PRO worked exactly as it was designed to, keeping everything charged and running as long as I used them conservatively.
With an overall capacity of 1210Wh the power station should be able to provide up to seven days of emergency power to certain devices and home appliances and my testing appear to confirm that. Another aspect of the power station that inspires confidence is that when fully charged, the Geneverse HomePower ONE PRO can store and hold the power for at least a year.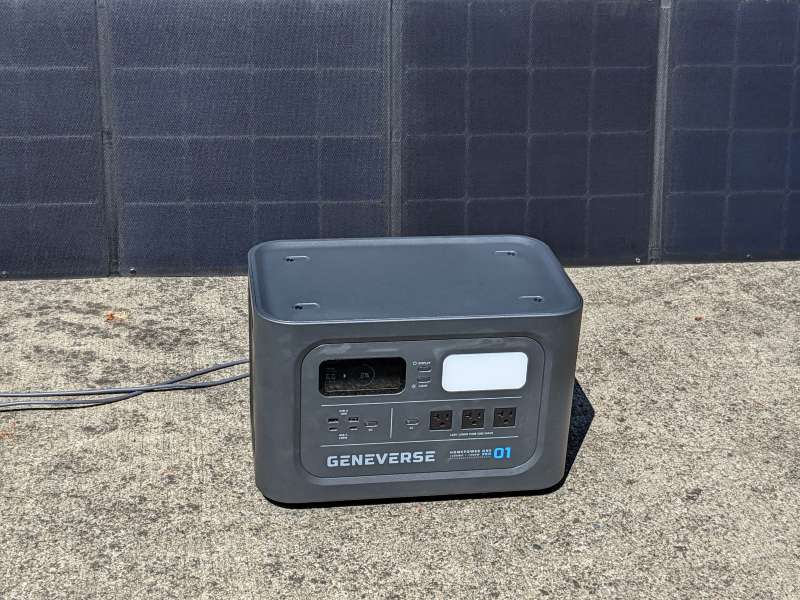 After using the Geneverse Solar Generator HomePower ONE PRO for about a month I can honestly say that I've found a counterpart to my Goal Zero Yeti 1000 Core. In a lot of ways, the Geneverse surpasses the Goal Zero, especially when you consider the Geneverse's app functionality, Solar Panel charging power, and excellent compact design. I'll definitely be putting both of these units to good use whether at home or out on my next adventure.
What I like
Easy setup
Sleek, modern design
App controlled
Built-in Charge Controller for fast charging times
What needs to be improved
No tie-down handles or connection points
Expensive
Final thoughts
The Geneverse Solar Generator HomePower ONE PRO is an incredibly powerful and versatile system. With or without the system's SolarPower 2 Solar Panels, the HomePower ONE PRO excels in uses ranging from RVing, camping, and overlanding to disaster preparedness and home backup power. The $2599 price might seem high, but it's a good deal taking into account all of the well-designed components bundled in the Solar Generator package along with the ability to control the system from an app. The internal MPPT Charge Controller for instance significantly increases charging time from the massive Solar Panels. The biggest bonus of all though is that the Geneverse Solar Generator HomePower ONE PRO's powerful functionality comes packaged in a very well thought out, compact, and modern design that fits right into any home.
Price: $2599 ($2564 at Amazon with a $135 voucher link)
Where to buy: Geneverse and Amazon
Source: The sample of this product was provided by Geneverse