We use affiliate links. If you buy something through the links on this page, we may earn a commission at no cost to you. Learn more.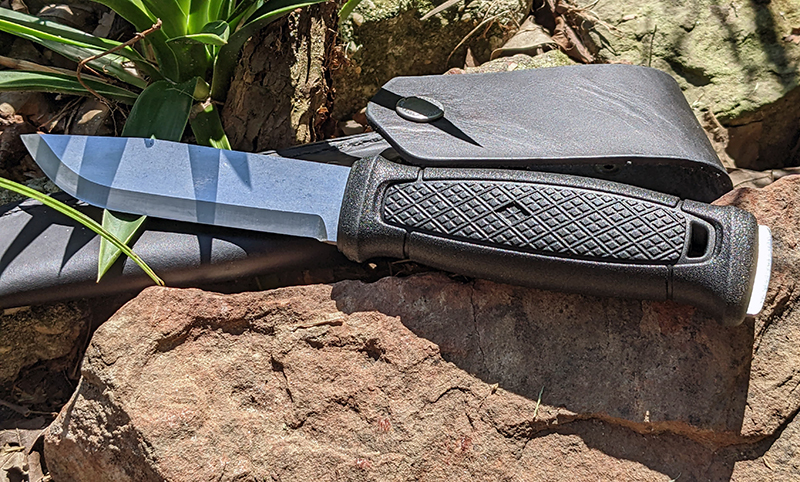 REVIEW- The Morakniv Garberg is a heavy-duty full tang fixed blade knife in the Morakniv Bushcraft and Survival series. If you're looking for a knife with some heft that can hold a razor sharp edge during your outdoor adventures, check this out.
What is it?
The Morakniv Garberg is "a powerful outdoor full tang knife for challenging situations" according to the manufacturer. They aren't wrong.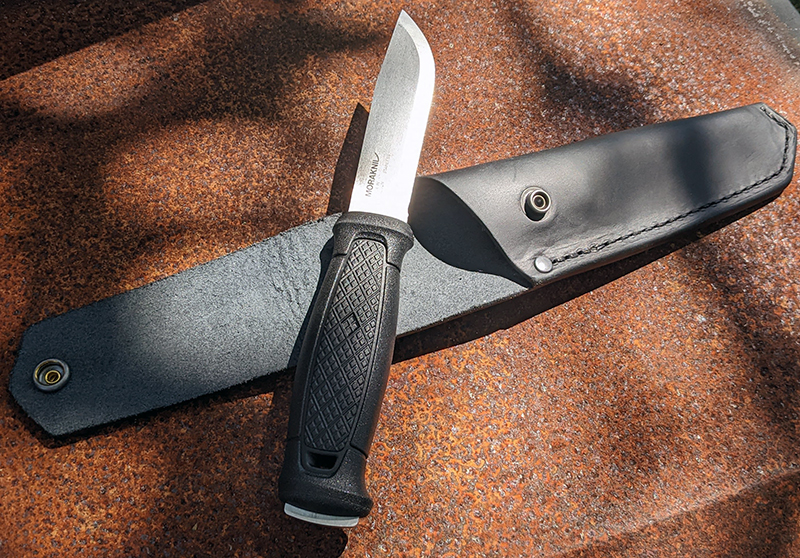 What's in the box?
Morakniv Garberg fixed blade knife
Black leather sheath with belt loop
Hardware specifications
Blade Length: 109 mm – 4.3 in
Blade Thickness: 3,2 mm – 1/8 in
Knife Length: 229 mm – 9 in
Total Length: 248 mm – 9 ¾ in
Net Weight: 272 g – 9.6 oz
Steel Type: Stainless Steel
Blade Shape: Straight
Fire Steel Compatible: Yes
Flex Grade: Stiff
Handle Material: Polymer
Handedness: Left Handed, Right Handed
Edge Protection: Leather Sheath
Sheath Orientation: Right
Design and features
The Morakniv Garberg knife arrives packaged in a cardboard box along with the leather sheath if that's the combination you choose. There are other sheath options, but Industrial Revolution, providers of the review sample sent me the leather one. Got to admit, that would be my choice if I were buying it. You just can't beat the feel and smell of leather.  If you're looking for a companion for the Garberg, (we wouldn't want it to be lonely), check out my review of the Moraknive Kansbol knife and Morakniv Eldris Light Duty knife reviews.
Unlike the other two Morakniv knives I'm currently testing; I was able to find exactly what steel is used in the Morakniv Garberg knife. Industrial Revolution has listed in its description as being made of Swedish stainless 14C28N steel. It's also referred to as Sandvik 14C28N stainless steel. Not knowing much about this steel, I promptly did a web search. Briefly, this steel has a higher amount of chromium, resists chipping, rolling, folding, and is easily sharpened. Sounds good to me. I don't want I knife I dread using because it takes forever to sharpen.  I also want one that can hold an edge for more than a few strokes, unlike my only "decent" chef's knife. Industrial Revolution, please restock the 1891 Utility 5" knife. I'm ready to buy it!
The Morakniv Garberg knife is razor sharp straight out of the box, so be warned. The blade has a semi-matte finish and shows grinder marks, but not in a bad way. Just don't expect it to resemble a custom knife that costs five times as much or more. This thing is built to work, do it well, for not a lot of money. I've always liked the Morakniv spartan design aesthetics but never pulled the trigger on buying one, so when I was offered not one but three to review, I immediately said yes.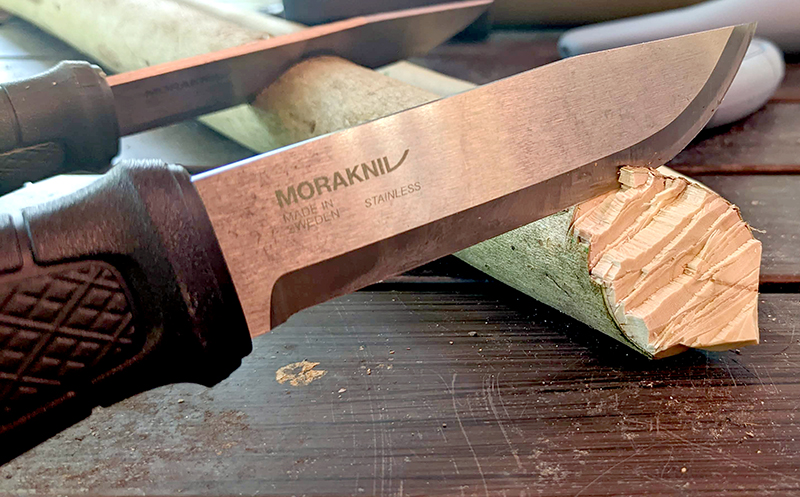 I'm pretty sure if you're reading this you already know what full tang means, but if not, a full tang extends all the way through the grip of the handle. In this case, it extends out past the end of the handle to form the pommel. This allows you to use it as a hammer for jobs like tamping down tent spikes. And since it has a 90-degree spine, it can be used with a fire starter, just like the spine of the blade.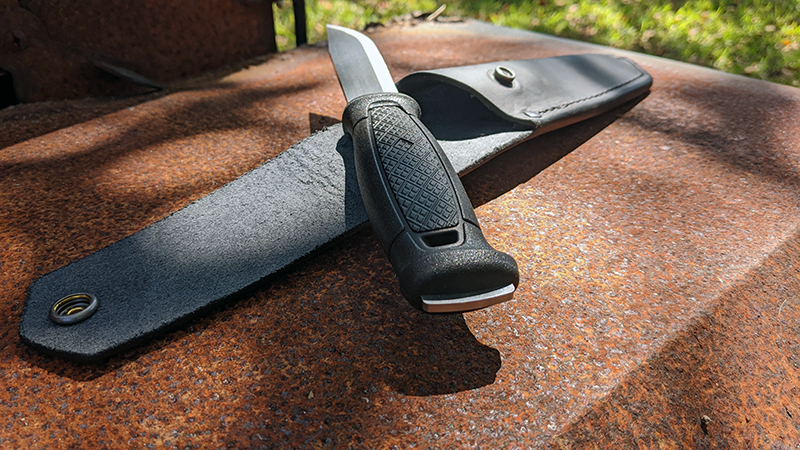 The knife handle is constructed of polymer plastic with a diamond pattern but missing is the TPE rubber around the edges. Not sure why this choice was made. I would've liked it here since this is a heavier knife. The TPE rubber provides a better grip and just feels better.
Like the Morakniv Kansbol and the Eldris knives, I started testing the Garberg knife in the kitchen. When separating chicken, it cut through bones and joints much better than the others. The blade thickness and weight helped it slice with little resistance. It will slice vegetables and fruits paper thin if you want, but because of the blade shape, it won't replace your chef's knife. It's not supposed to, but knowing it can, might help while enjoying the great outdoors.
I also chopped a dried Crepe Myrtle branch the same way I did the Kansbol knife. It was about 1 ½" thick. It outperformed it handily. Again because of the weight and blade thickness, I was able to chop all the way through in fewer strokes than I used to get most of the way through with the Kansbol knife. Checking the edge afterward, it had no chips or rolls on the edge and would still shave with ease. Nice!


Here's a shot to show you the difference in blade thickness when compared to the Morakniv Kansbol knife on the right.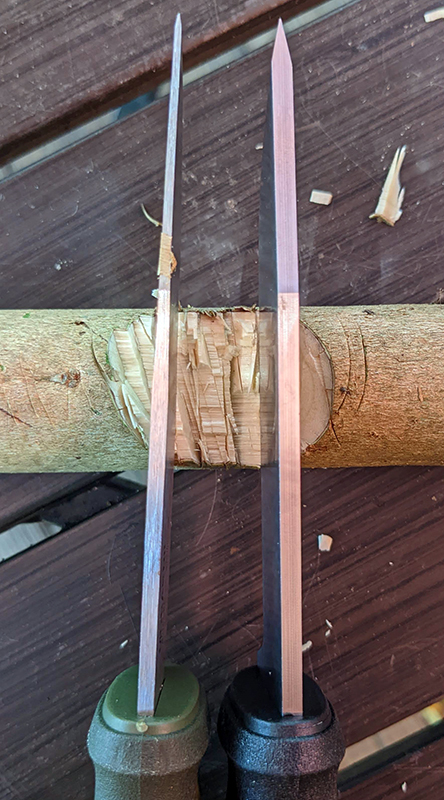 Yes, I like the Morakniv Garberg knife. I get a good four-finger grip and the size and blade shape are perfect for what it's designed to do.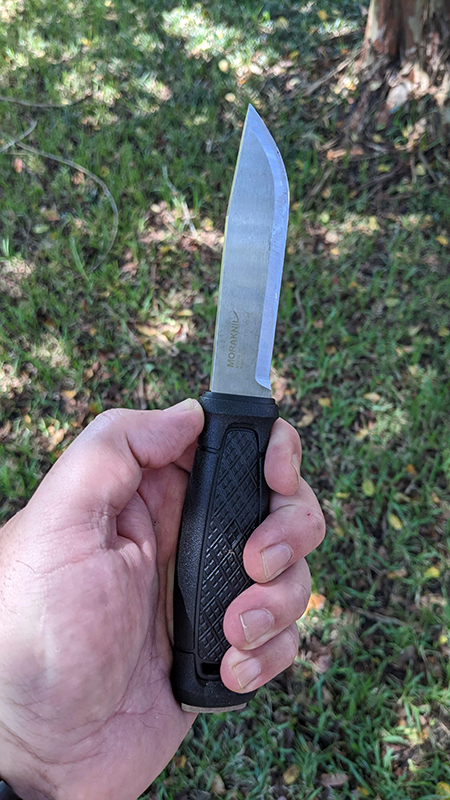 Now let's talk a bit about the sheath. Its matte black finish is flawless. The leather is supple and smooth. Just look at the burnished edge.  You can just barely see where the two edges of leather join.  And again, you get that wonderful leather smell.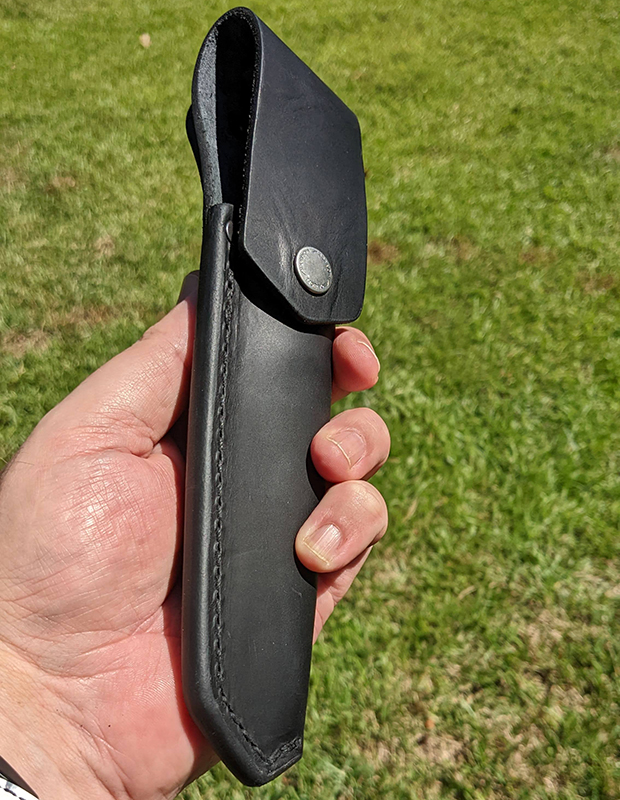 The Morakniv Garberg isn't meant to compete with custom knives with super steels and fancy handle materials. Morakniv knives are designed to get the job done well while not costing you an arm and a leg. I mean, have you seen knife prices today?!  The Morakniv Garberg with leather sheath can be found on Industrial Revolution's website, the provider of this sample, for $111.99. I think that's a bargain for what you get.
What I like
Stainless Steel
Holds an edge
Easily sharpened
Light weight
Inexpensive
Rugged
Lifetime Warranty
What I'd change
TPE rubber around the handle, like the Eldris and Kansbol
Final Thoughts
The Morakniv Garberg knife is a wonderful example of Morakniv's lineup. This knife is a tool you don't have to worry about using. If you enjoy the outdoors and need a trusty knife to take with you, check out the Morakniv Garberg knife. It's a beast and a bargain.
Price: $111.99
Where to buy: Industrial Revolution and Amazon
Source: The review sample was provided by Industrial Revolution